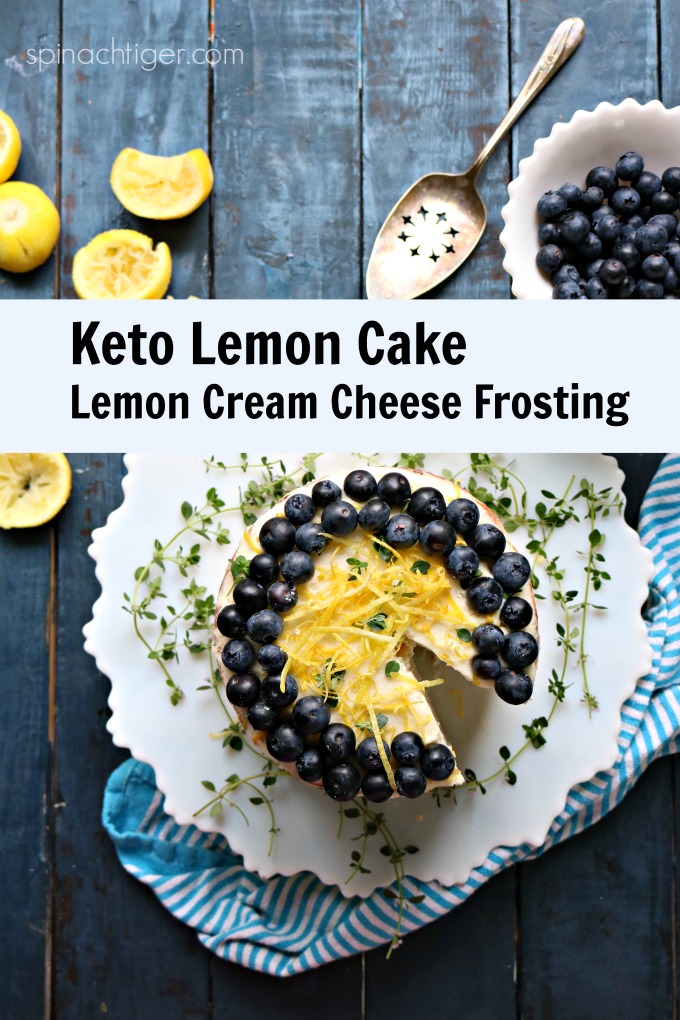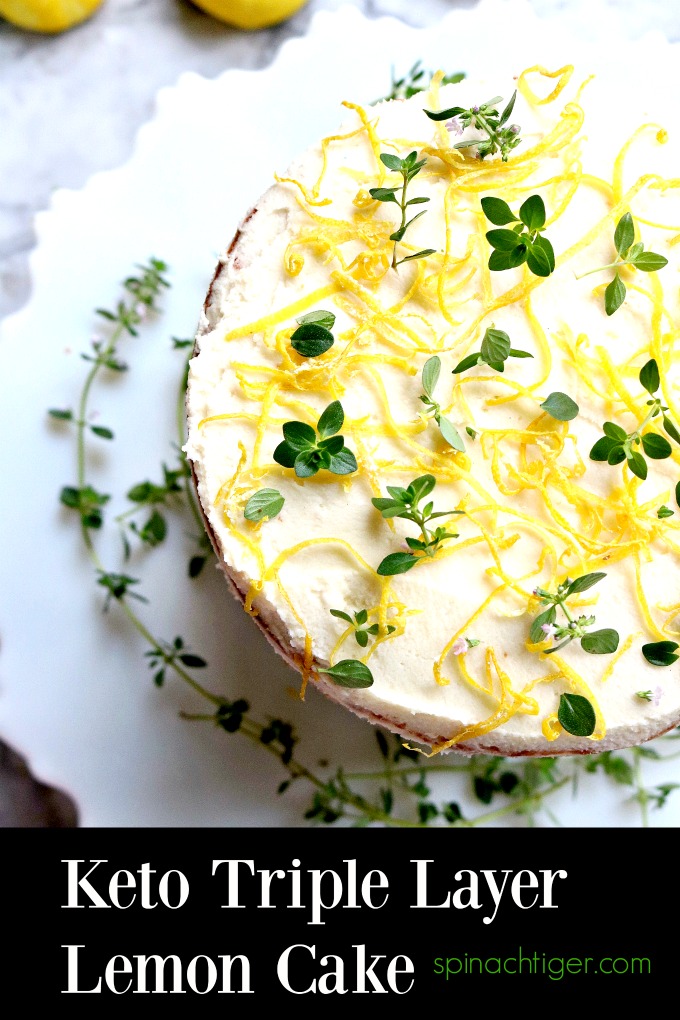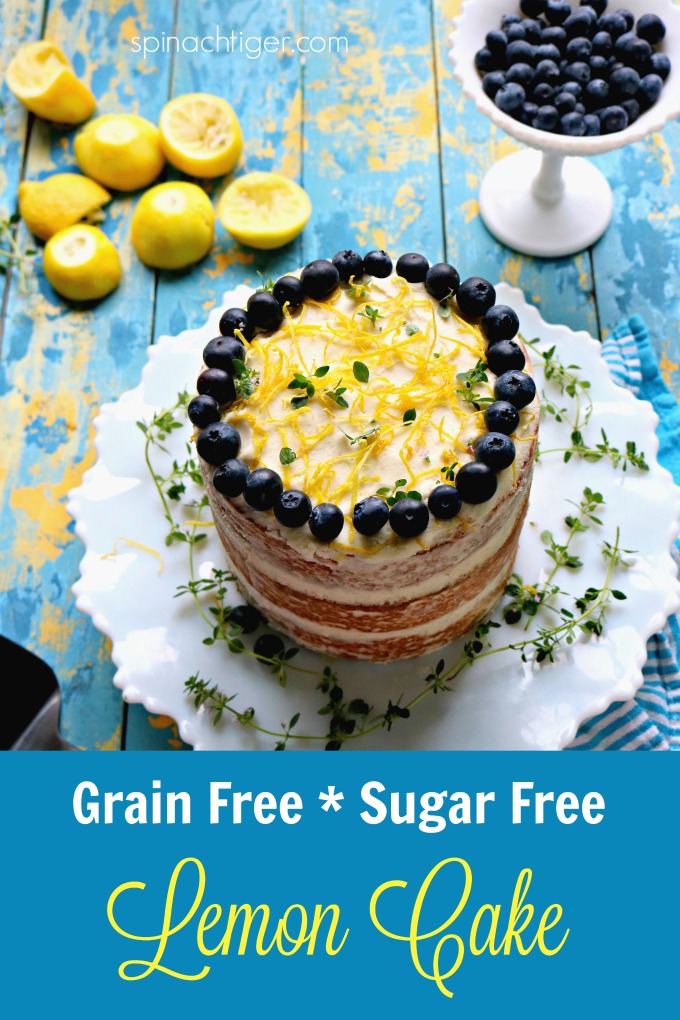 This site contains Amazon affiliate links which earn a small commission, but do not affect price.
If you're mouth is watering for a lemony cake, you're in good company. It seems that lemon cake is beloved by just about everyone. In our house, this keto naked lemon cake was such a hit, we had to quick freeze slices of it because it was hard to stop eating!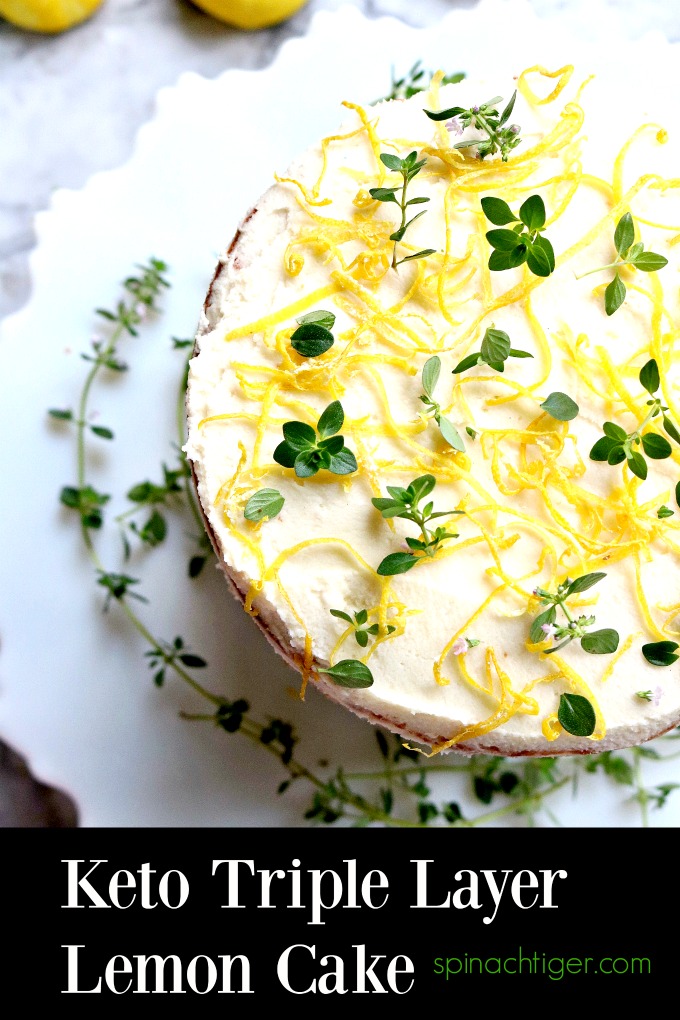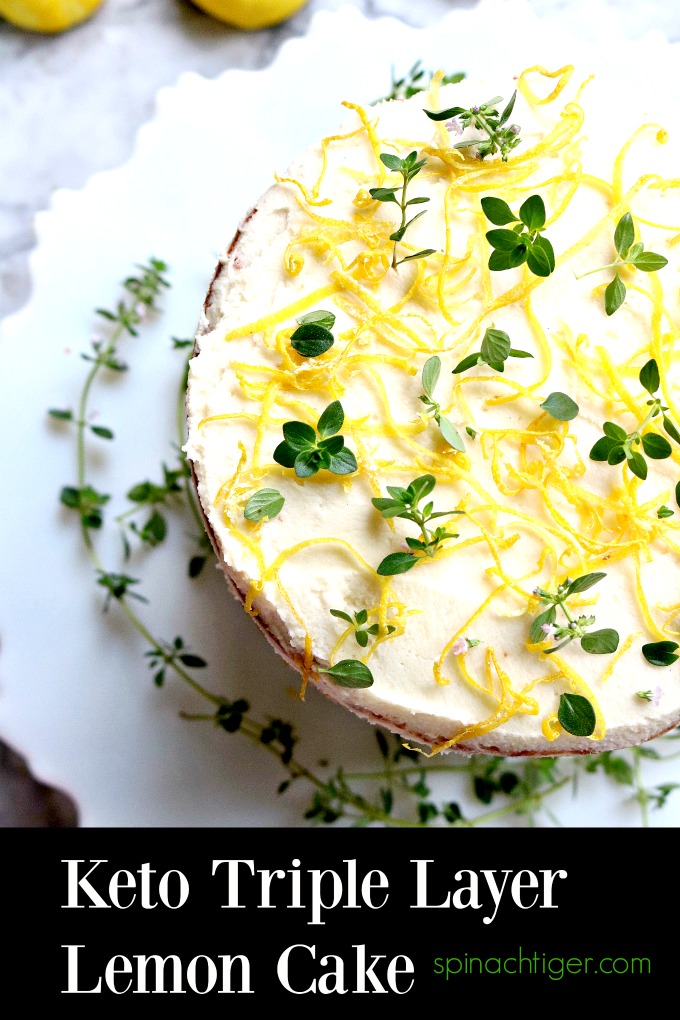 This is special occasion cake, and one I made for mother's day and our 20th Wedding Anniversary Party.
You need to know how hard I worked on getting this cake right. On Saturday morning I squeezed 8 lemons, measured out all my ingredients and the cake was a big flop. Not just a flop. A disaster, because it had to be tossed.
Here's what happened when making this Keto Naked Lemon Cake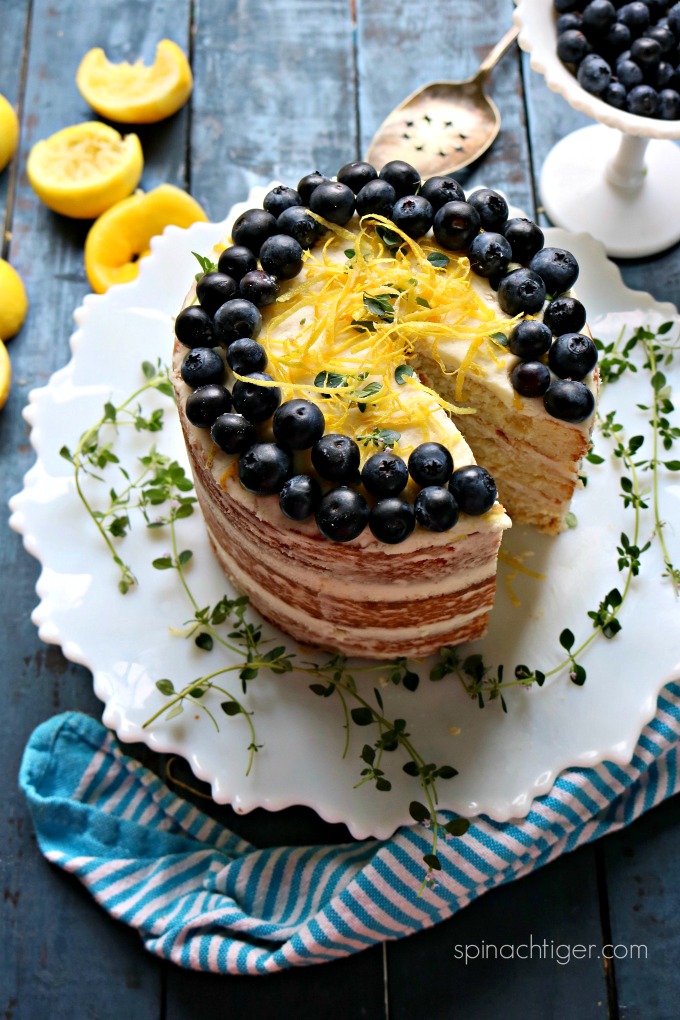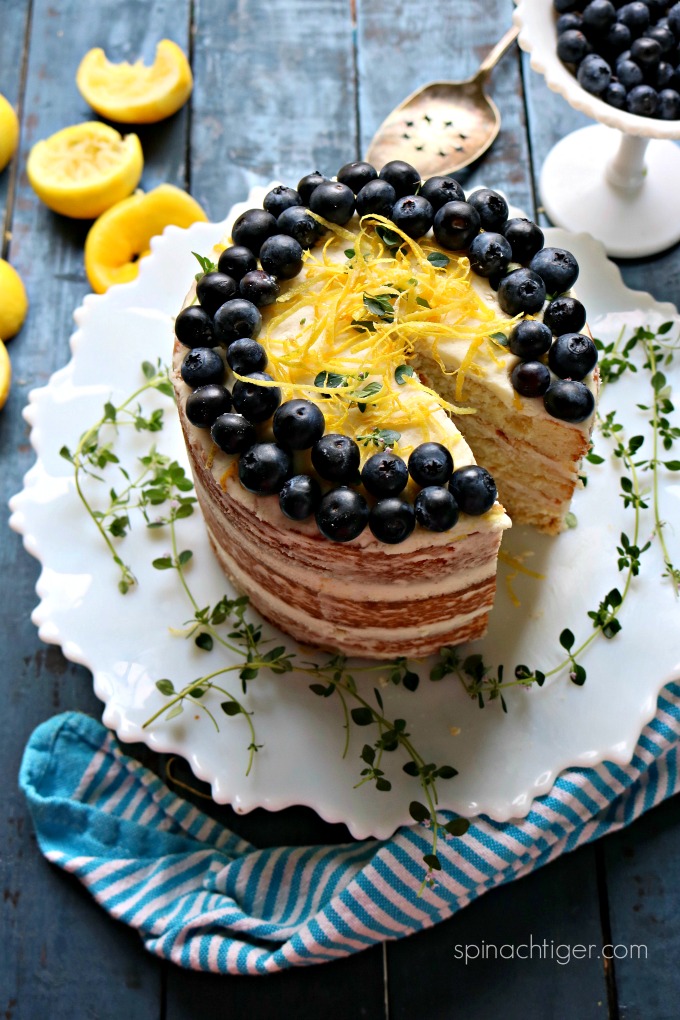 I thought I could take a different keto cake recipe and turn it into lemon cake, but it didn't get any structure at all and crumbled, not in a good way. There was no saving it, even for snacks.
While I had used only coconut flour, I realized that my success with citrus cakes like this orange cake was based on almond flour and this very popular lemon snack cake was also based on almond flour, so I immediately went back to the store and bought more lemons and started over and did some thinking. Obviously the coconut flour cake could not handle all that lemon juice. Every baking failure tells me something!
Bake Naked Lemon Cakes to a Golden Brown
When I saw how the three cakes baked to a beautiful golden, I knew I had the right lemon cake recipe.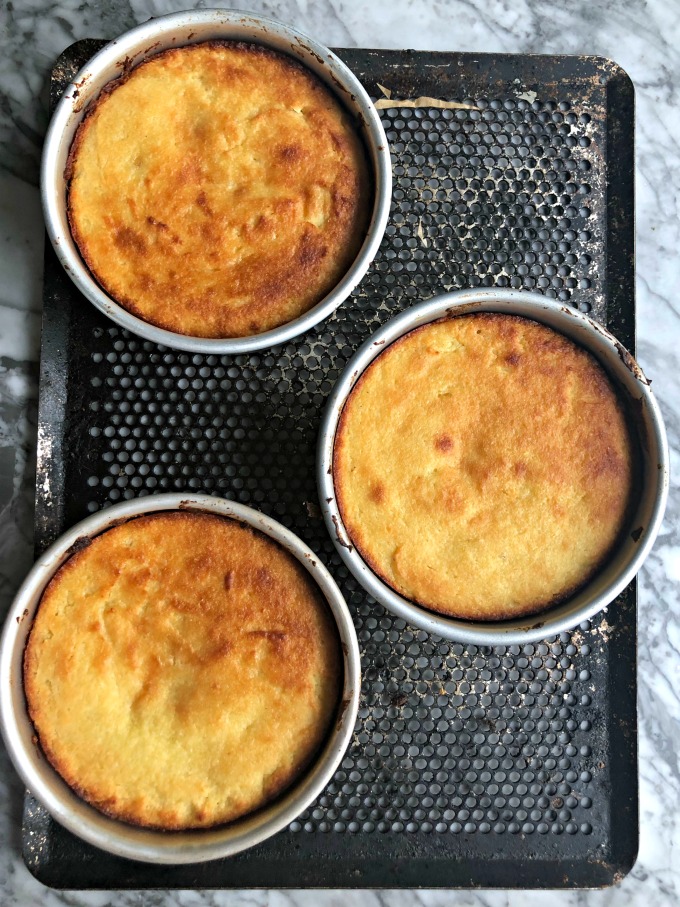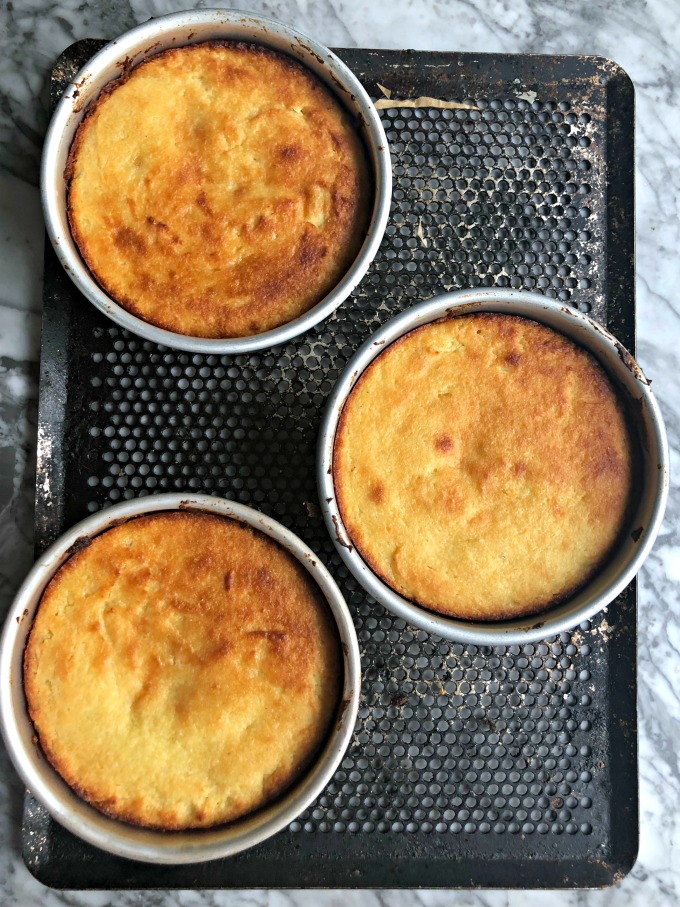 The batter will be thick. Don't worry about that. Smooth it out with an off-set spatula.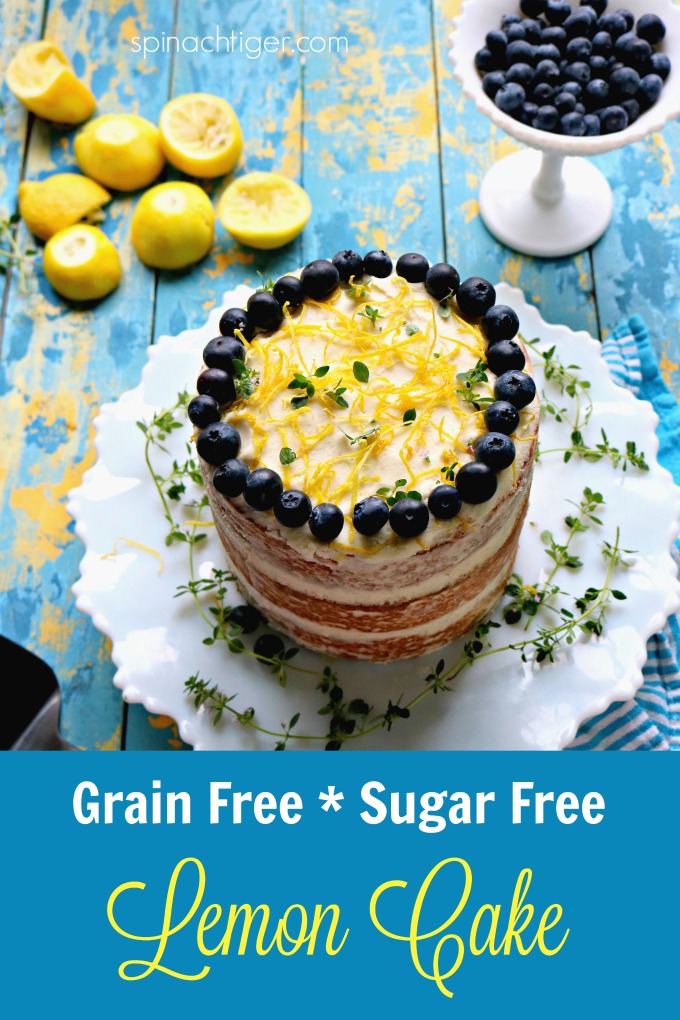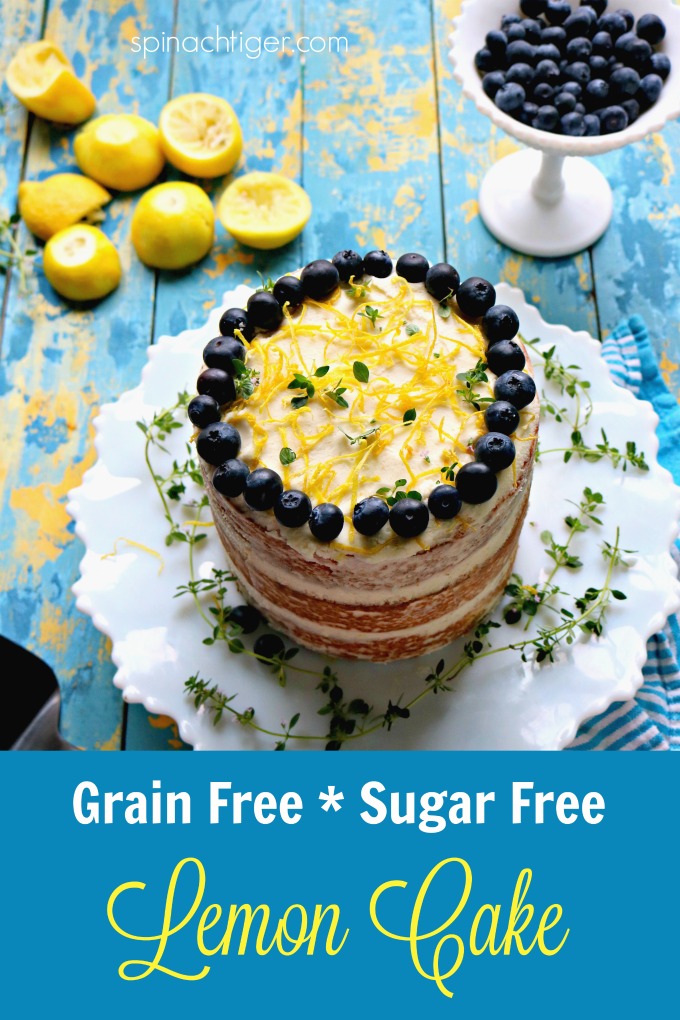 I hear over and over again about the fears of baking because of the exactness of recipes. I relish a cake baking challenge, because it's like going on a culinary scientific adventure. Every single failure teaches me something and it's usually the failures that bring amazing success.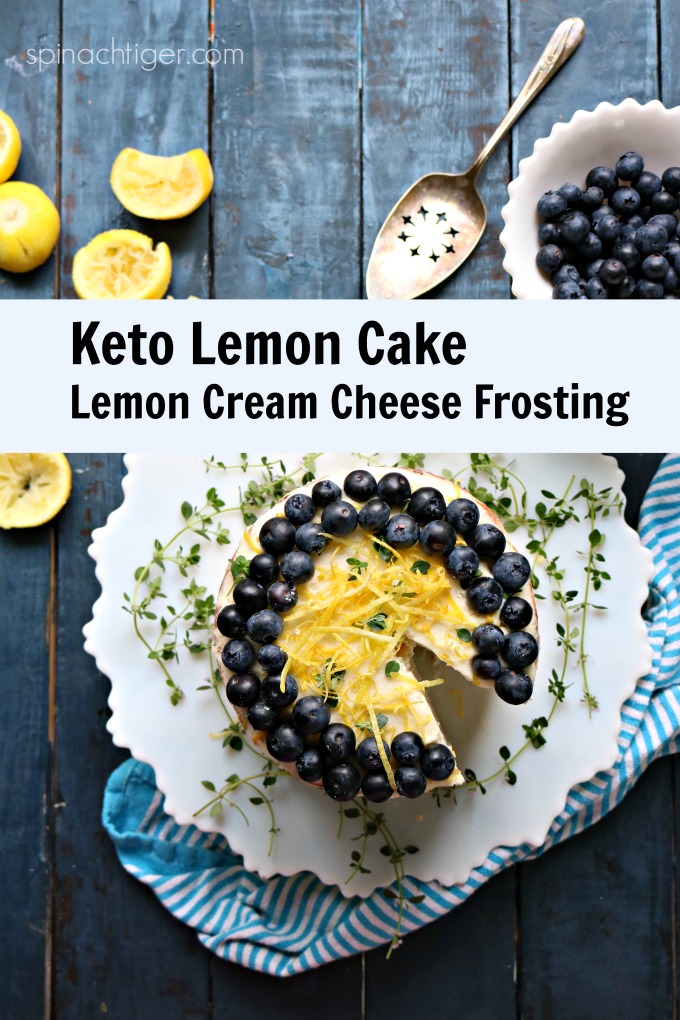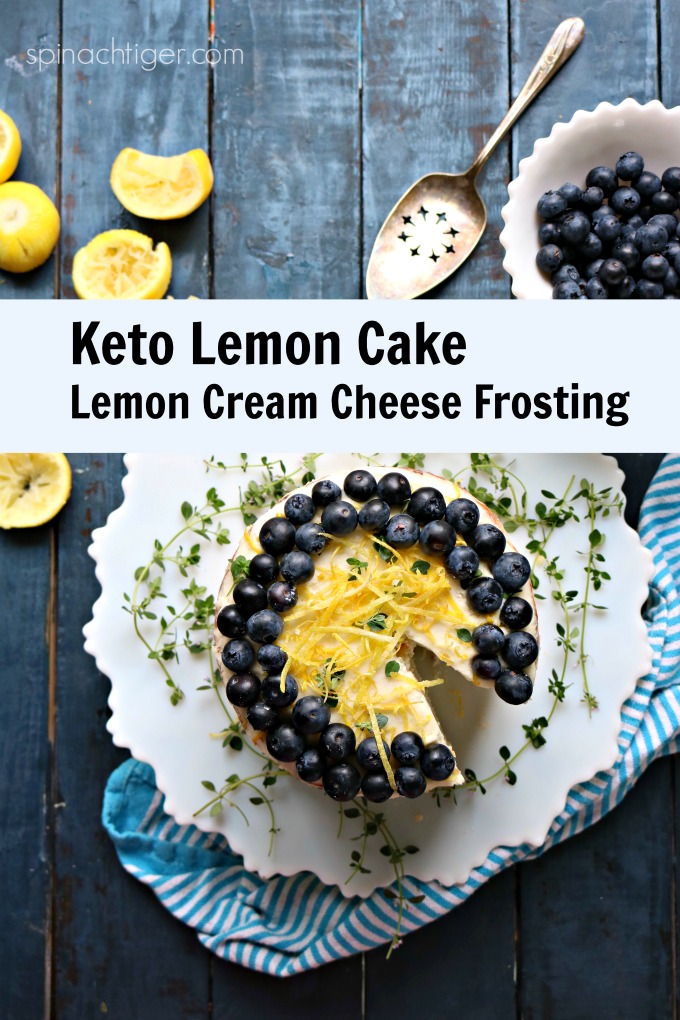 No matter how many times I bake with alternative flavors (a few times a week) there is always something to learn. For a while now I have been using avocado oil (which I love), but I was out of oil and forced to use butter in this recipe. I discovered something. Butter is better, at least in this lemon cake.
It brings out more flavor, even if it makes the cake a little more dense. Since this is a triple layer cake, dense works out, as it's sandwiched between lemon cream cheese frosting.
Decorate with lemon peels, blueberries, and if you like fresh lemon thyme.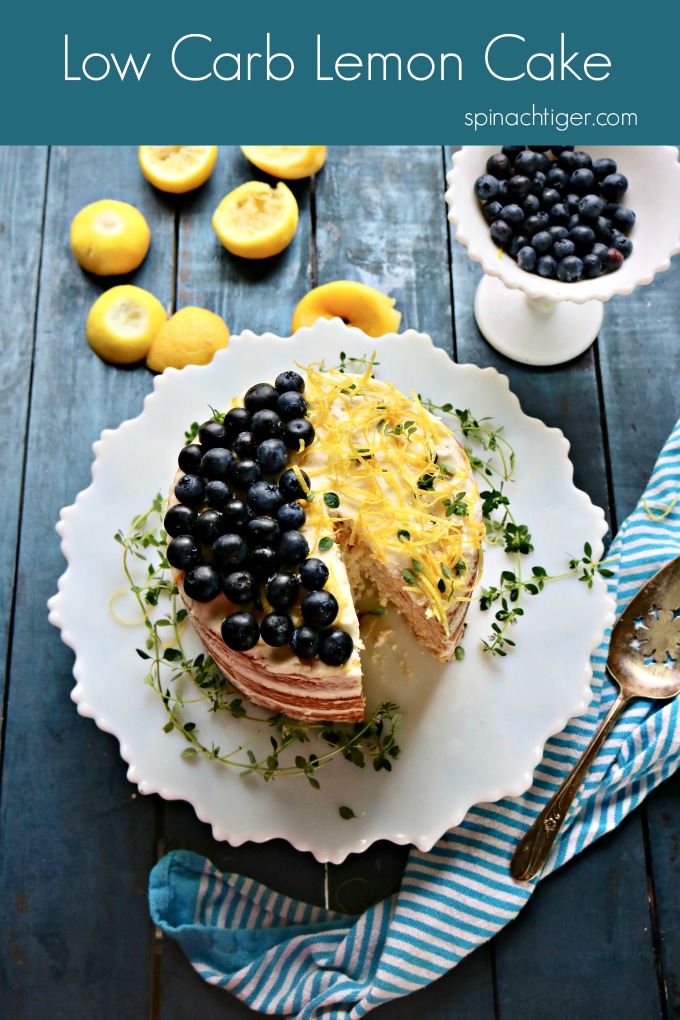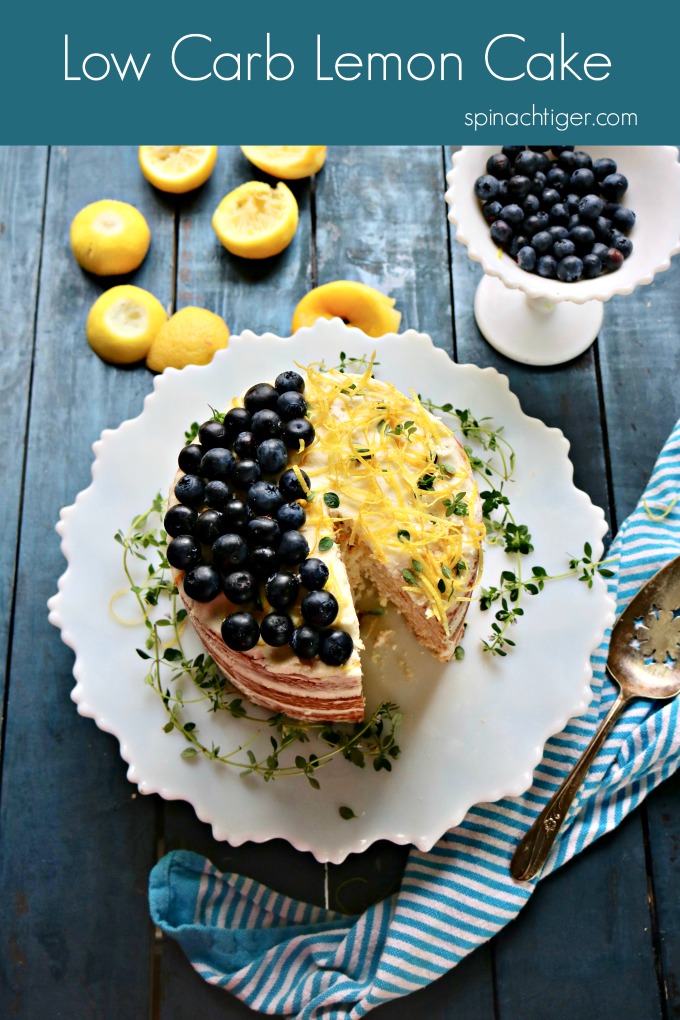 Keto Naked Lemon Cake
Naked cakes are my favorite cake to make. You get to have more frosting in each slice, and they are so pretty.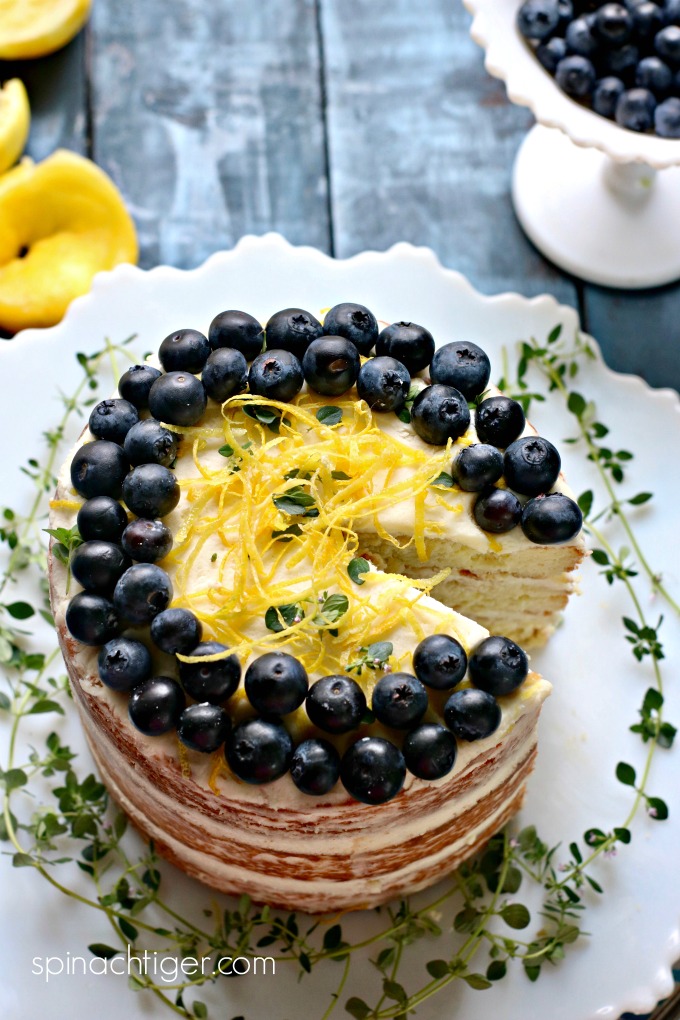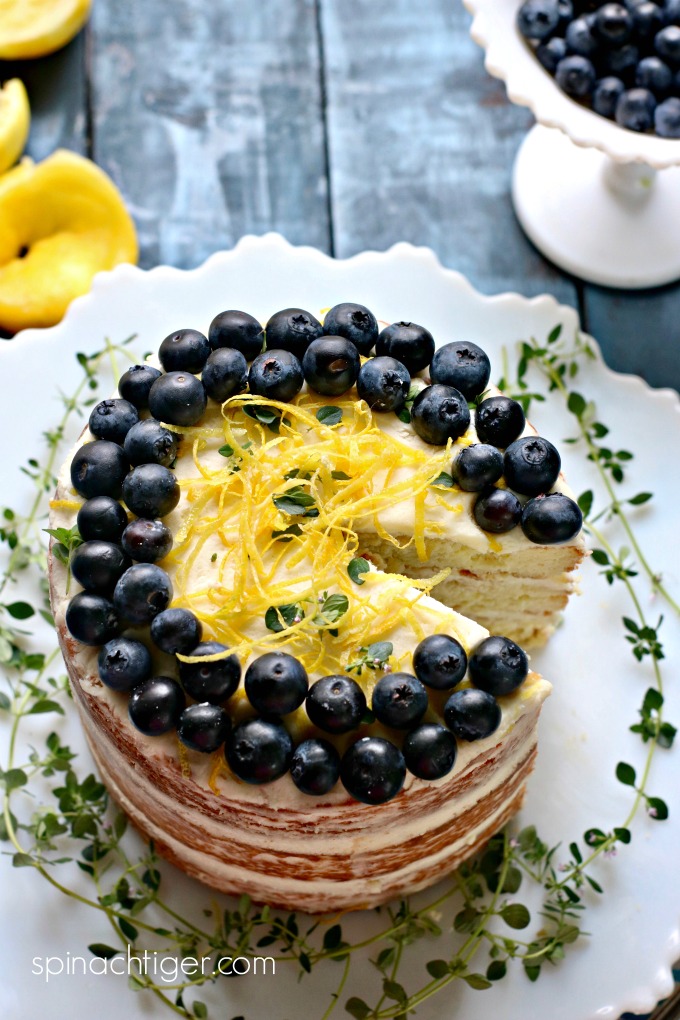 What is a naked cake?
Basically, most naked cakes do not have icing or frosting on the sides, and are often triple layered. I lean towards them, because they are beautiful and use less frosting (or you can stuff the frosting inside the layers, which is marvelous.
What do I need to make this Keto Naked Naked Cake?
This naked cake requires three 6-inch pans. I love the idea of not having to frost the sides. The key to having good sides is make sure you cool your cakes well, and freezing them before you frost them. A broken piece of cake does not look good naked. By the way, if you don't have six inch pans, you can use this recipe to make a 9 inch layer cake.
How many lemons make a cup of lemon juice?
Typically, it takes 8 large lemons to make a cup of fresh lemon juice. The zest is really important as almond flour is challenging to flavor.
Can you buy bottled lemon juice for this recipe?
You can, but it won't be as lemony. If you do, at least use one fresh lemon with all the zest..
Why did you mix coconut flour with almond flour?
Using both improves structure.
What is Swerve?
Swerve is powdered erythritol and I talk about it extensively here.
Why use xanthan gum?
Xanthan gum adds structure as alternative flours lack gluten and tend to fall apart. It's pricy but lasts a long time because you don't use much per recipe.
How many servings are in this keto naked lemon cake?
This is a very rich cake and can be cut into 16 servings, which yield 6 net carbs.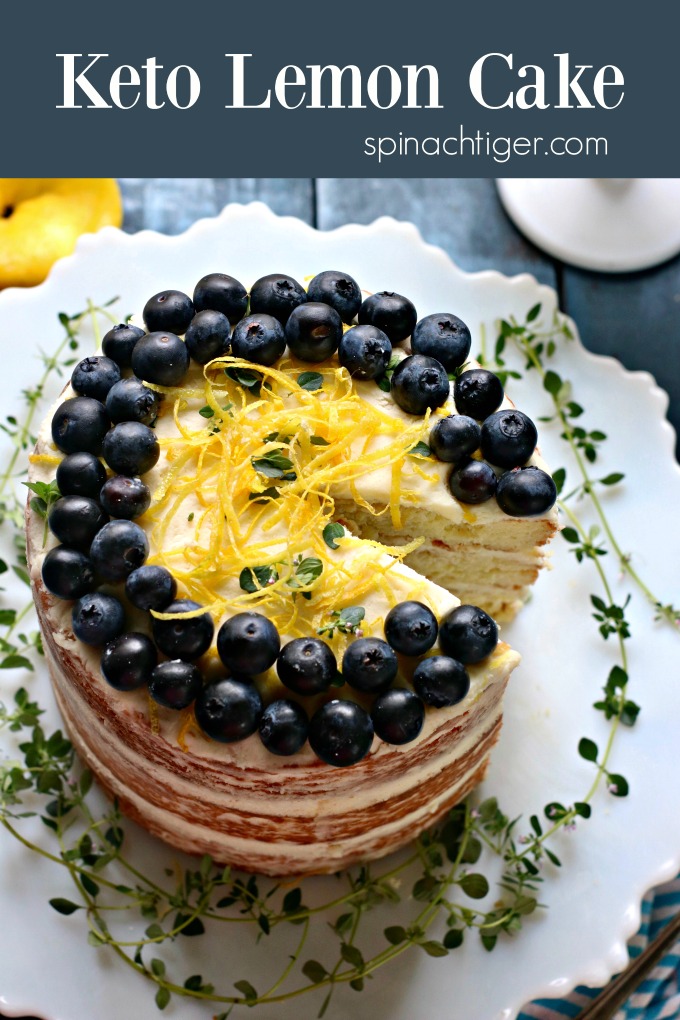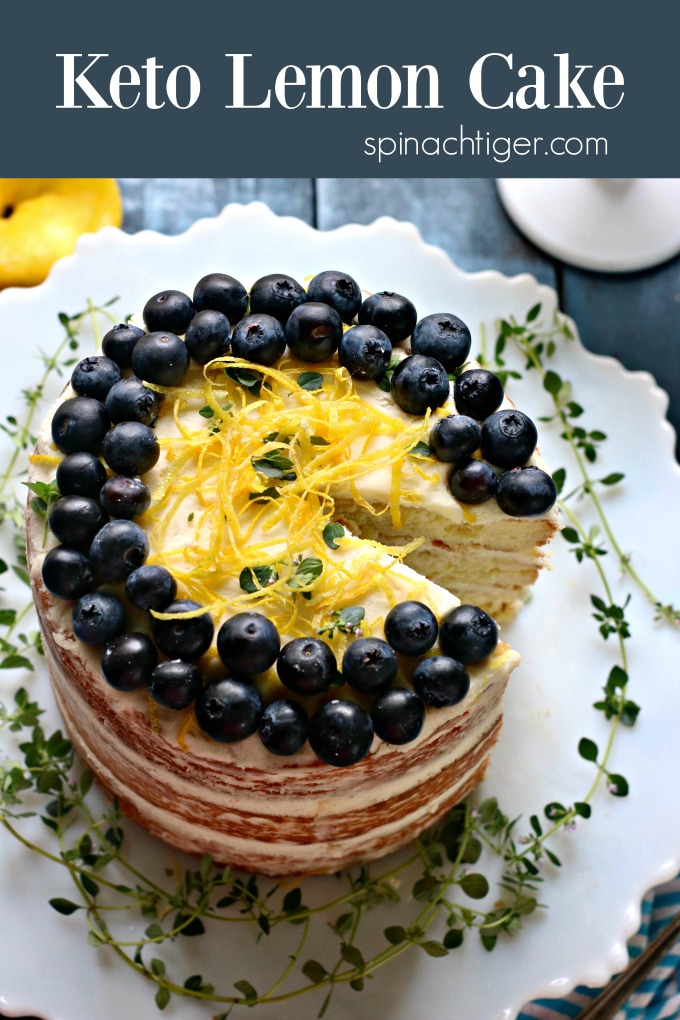 Nutrition Value for Keto Naked Lemon Cake: 6 Net Carbs
This cake is sold in mini's as lala cakes in my Keto Home Bakery, which I started last July.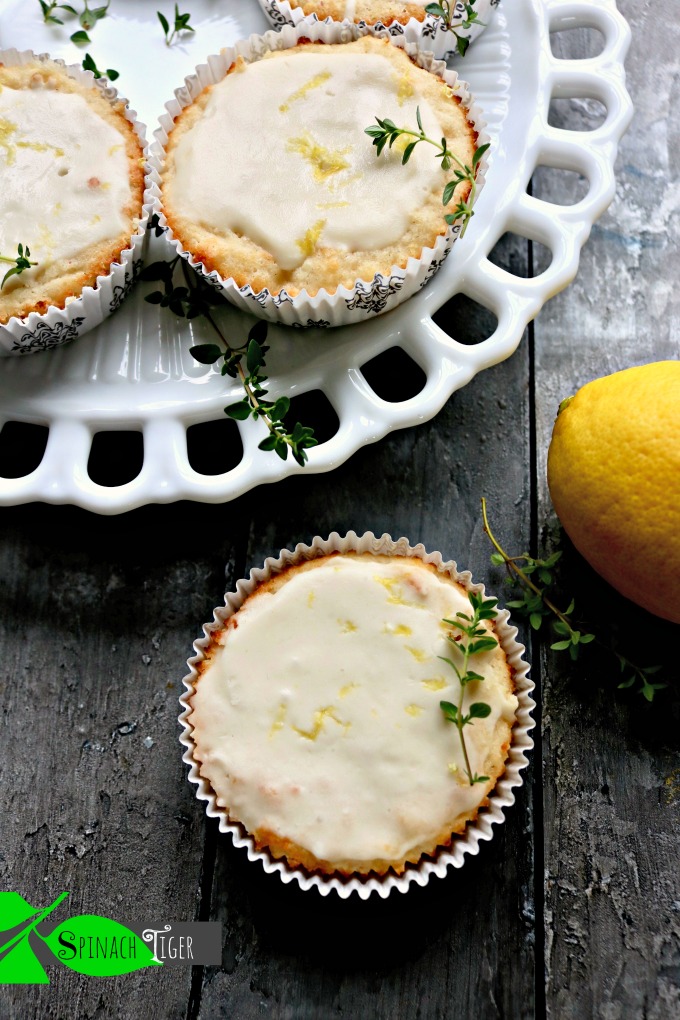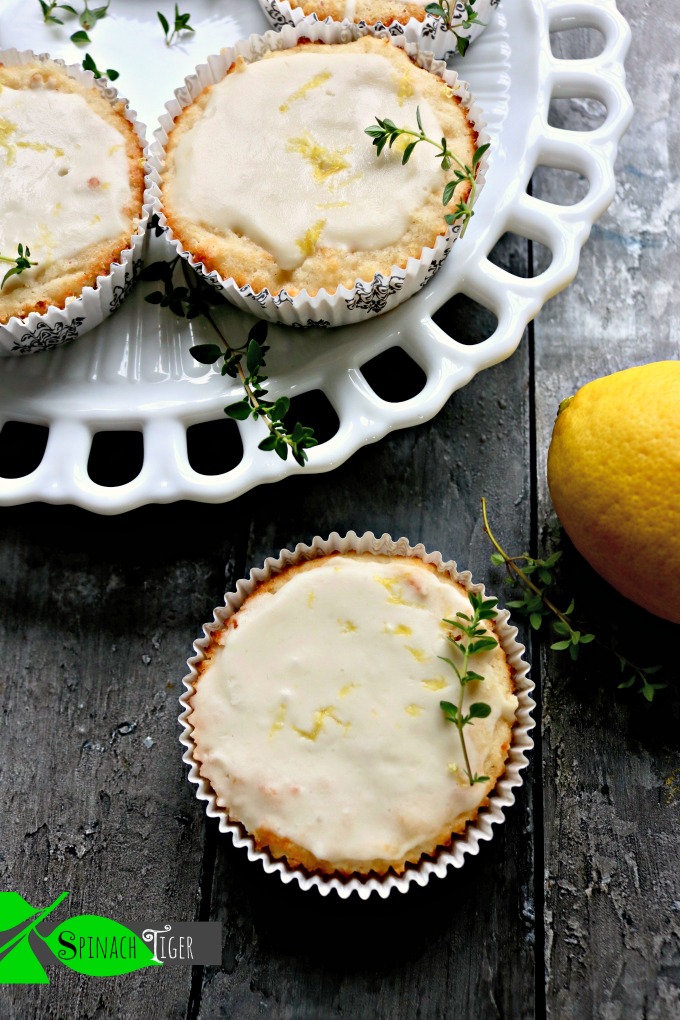 More Keto Desserts from Spinach Tiger
Keto White Chocolate Raspberry Bundt Cake
Grain Free Chocolate Hazelnut Cake
Keto Italian Orange Olive Oil Cake
Keto Triple Layer Coconut Cake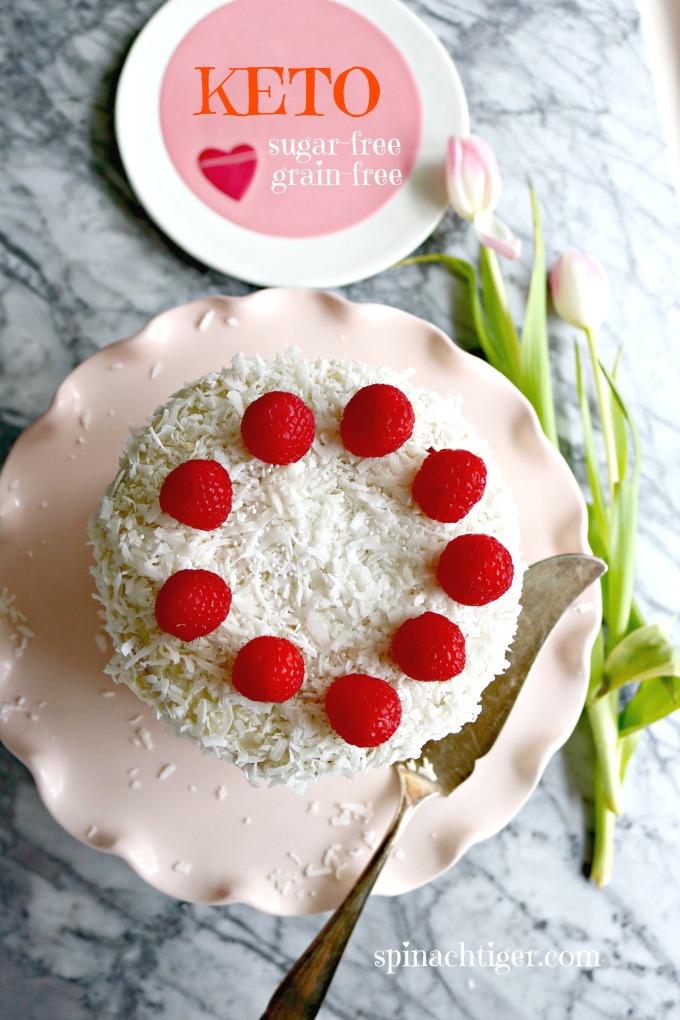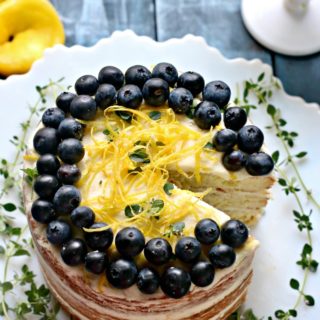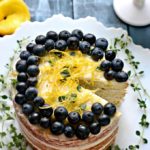 Print Recipe
Keto Naked Lemon Cake with Lemon Cream Cheese Frosting
The very best Keto Naked Lemon Cake you will ever eat. Perfect for Special Occasions.
Ingredients
Instructions

Use three six-inch cake pans.

Cut parchment paper to fit each round. Spray or butter on top of parchment paper and sides.

Mix flours, salt, baking soda, baking powder, xanthan gum together. Set aside.

Zest all lemons. Reserve some zest for topping cake later.

Rub zest into swerve with your fingers to release the lemon oil.

Cream butter. Add sugar and beat until fluffy, about two minutes.

Add eggs one at a time. Mix each well.

Add lemon juice.

Add dry ingredients to wet ingredients.

Mix just until incorporated.

Bake at 350 degrees, 180 C, Gas 4, for 25 to 30 minutes. Make sure to check at 25 minutes.

You want to bake to golden brown.

Cool completely in pan before removing, as this cake is tender.

Once cooled, remove from pan, freeze for at least one hour before frosting cake.

You can freeze each cake separately, wrapped in plastic and frosted at another time.

If you're only freezing cake to frost, no need to cover.
Frosting Instructions
Beat cream cheese until very smooth. Beat butter separately for five minutes.

Add together. Beat again until very smooth.

Add juice and lemon zest.

Add confectioner's sugar a little at a time.

Beat until very smooth.

To apply frosting, decide how your cake will stack. Even out with serrated knife if necessary.

Put a third of frosting on first layer. Smooth out with an offset spatula. Repeat on next layers.

Smooth all frosting out on sides.

Add optional fresh lemon thyme on top with remaining lemon zest.

Add blueberries or raspberries if desired.

This cake is rich. Cut into 16 thin slices.

It's best served cold.
Notes
At 16 slices, 6 Net Carbs per slice.
You can add in some lemon peel for garnish. Peel and toss with some granulated swerve.
Nutrition
Calories:
393
kcal
|
Carbohydrates:
10
g
|
Fiber:
4
g
Please follow me on instagram. If you make this recipe,  please tag me #spinachtiger.
If you love this recipe, please give it five stars. It means a lot. xoxo