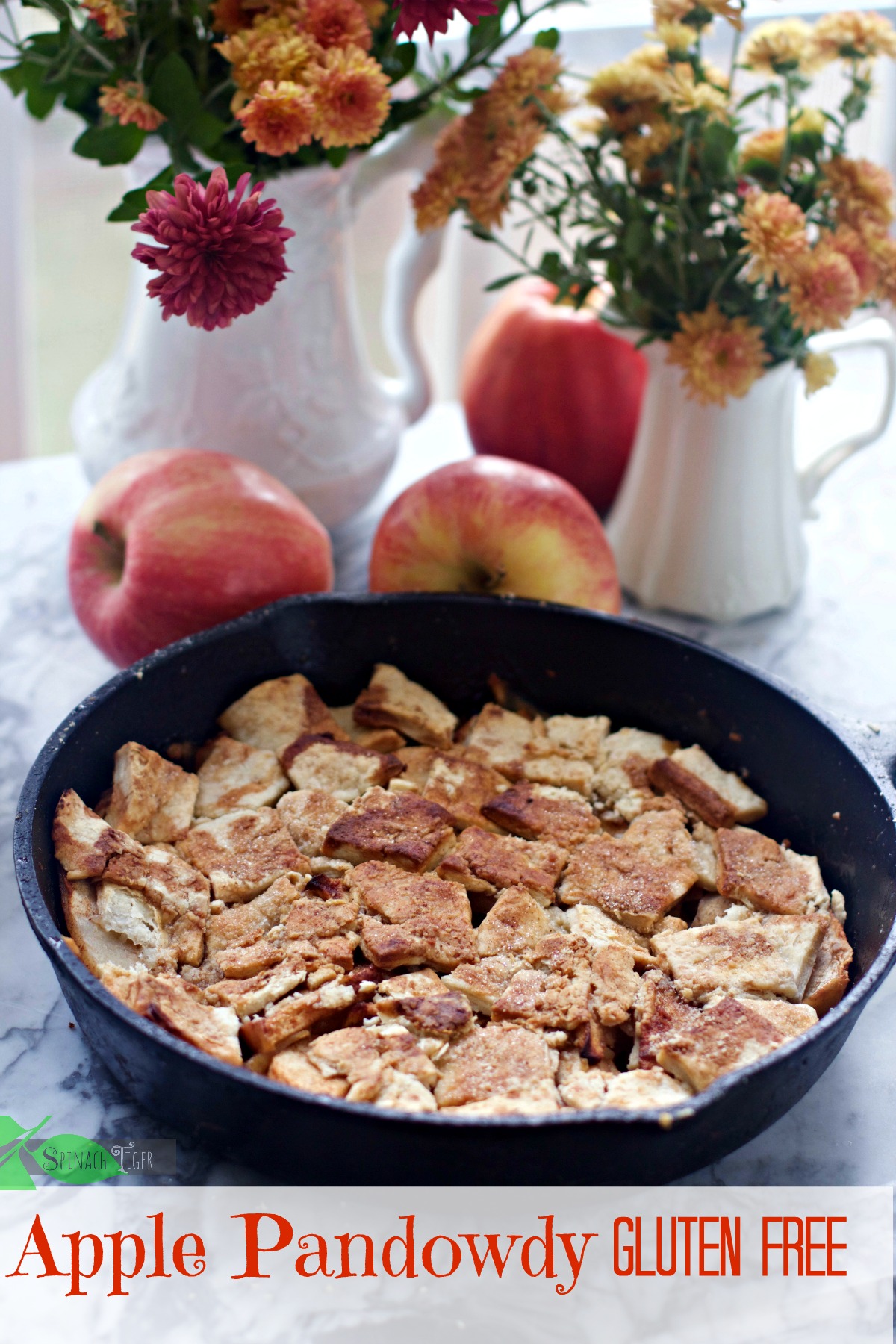 Unless, you're familiar with Pennsylvania Dutch cooking you've probably not heard of Pennsylvania Dutch Apple Pandowdy?
It's actually a dish that dates back to at least 1805, where it first appeared in a cookbook, and was a favorite of Abigale Adams. Some recipes use a biscuit dough, but that first recipe used pie dough and that's how I know apple pandowdy best.
You may be asking yourself what is apple pandowdy?
It's a sort of top-crust apple pie, as there is no bottom crust.  The pie is cut into squares, placed atop the apples and as it starts to bake into a pie crust, about halfway through baking, you press it into the juice.  It's sort of genius, because the crust gets all that cinnamon, maple syrup flavor from the apple juices.
This is almost like an apple cobbler, southern style, where cobbler can mean baked fruit topped with pie crust. You don't cut this into pie shapes (usually). You just scoop it out and in my world top it with ice cream.
Normally, I use gala apples for my baking because they're sweet, but feel free to throw in some granny smith apples into the mix. Instead of sugar, I use real maple syrup, in addition to lemon juice and lots of cinnamon.
I cut the dough into squares, and that's good news for some of you attempting your first gluten free pie crust. My recommendation is to roll it out on parchment paper, refrigerate for 20-30 minutes and then cut your squares.
It's best to use a shallow pan, so the crust is nearest to the juices. If the apples are piled to high, pressing the crust won't have the same effect.
You can watch the video to see how I make Pennsylvania Dutch Apple Pandowdy


You can make this into any shape. You can use a pie pan. You can use a cast iron pan. You can use a baking dish. Just adjust the amount of apples for your appropriate pan. The pie crust recipe will be enough for two pies or for one big slab pie, which is perfect for a party or your Thanksgiving table.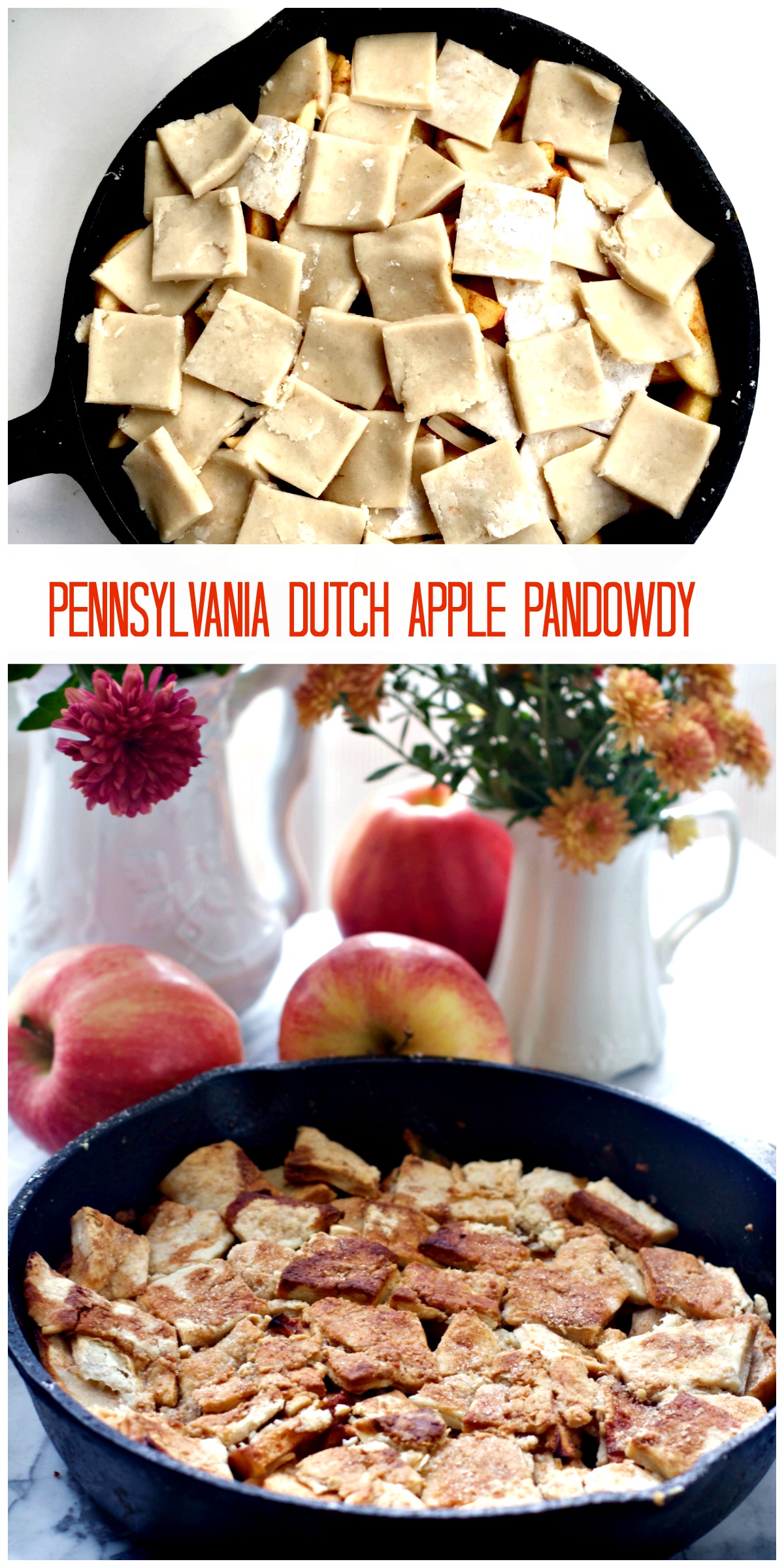 The Pandowdy Recipe below is made with all-purpose flour. See second recipe for gluten free pie crust.
Pennsylvania Dutch Apple Pandowdy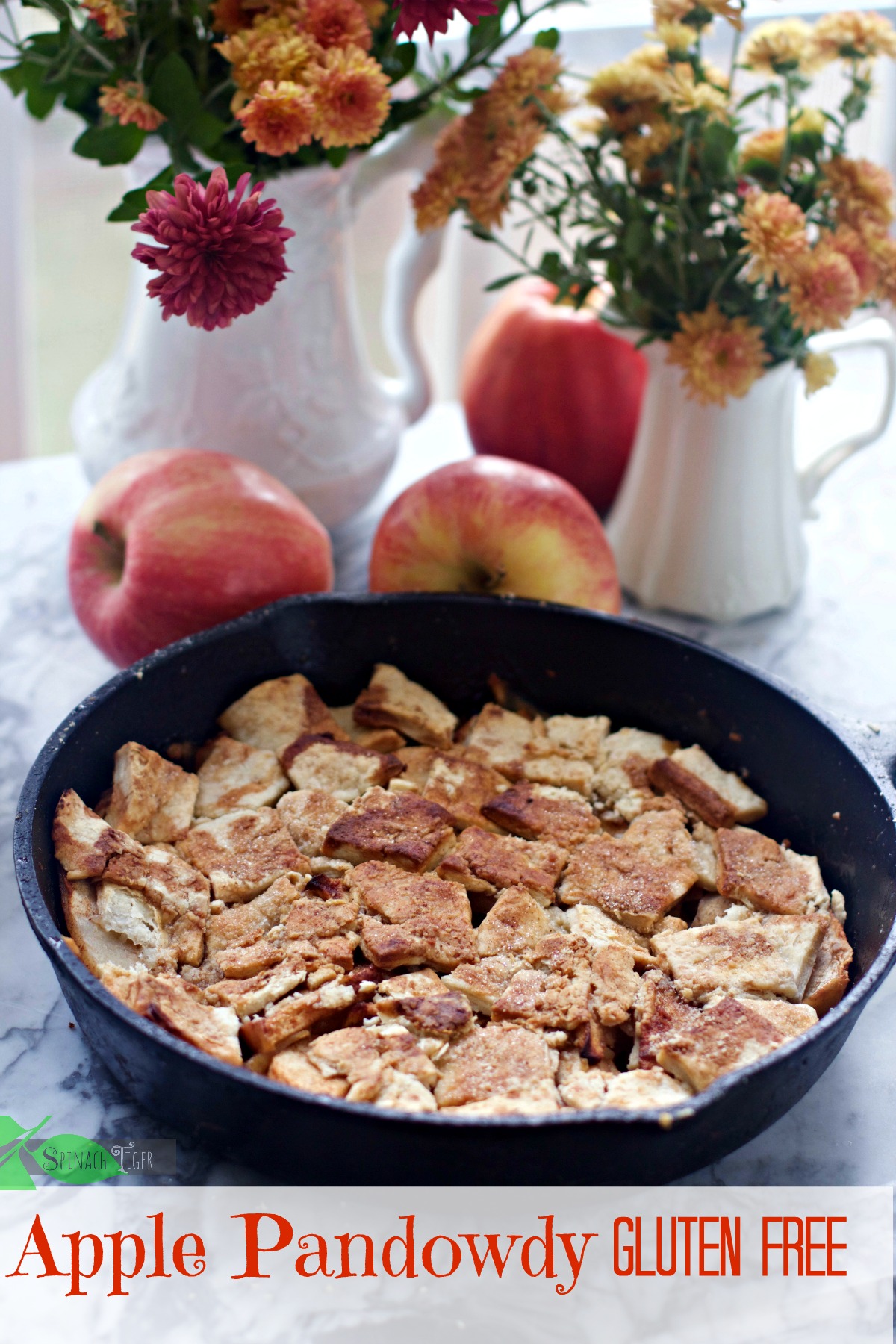 Pennsylvania Dutch Apple Pan Dowdy is a very old recipe dating back to colonial times. Mid-way through baking, the crust is pressed down into the pie, making it wet with juices.
Ingredients
Apple Pandowdy Ingredients
Pie Dough
Instructions
Apple Pandowdy
Slice apple thins. Mix with cinnamon, nutmeg, lemon juice.Allow to sit at least 30 minutes. Do not drain off juices.
Roll out pie dough onto floured parchment paper. Place in refrigerator for 15 minutes.
Put in baking pan in a shallow layer, about two inches.
Top with two tablespoons of butter, in small pieces.
Take out pie dough.Cut pie dough into squares. Place on top of apples.
Brush with milk. Sprinkle raw sugar or cinnamon sugar.
Bake at 400 degrees for 20 minutes.
Take out of oven, press pie dough into the juices of the apples.
Put back into oven for 15-20 more minutes.
Pie Dough Recipe Instructions
Cut butter into cubes. Freeze for 15 minutes.
Mix flour, sugar, salt together in food processor.
Add butter, Pulse for 10 seconds.
Add water, using just enough until a dough is formed.
Put into plastic bag. Refrigerate for 30 minutes.
Gluten Free Pie Dough
Gluten Free Pie Dough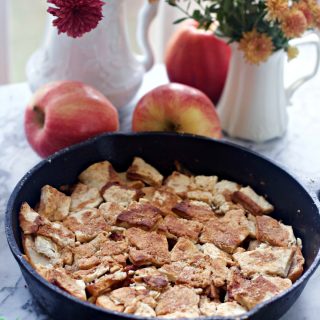 This is my recipe for gluten free pie dough, more than enough for pan dowdy or double crusted pie dough.
Ingredients
Gluten Free Pie Dough Ingredients
2½ cups Bob's Red Mill 1 to 1 gluten free flour (order here).
12 tablespoons unsalted butter (order here)
1 tablespoon organic pure cane sugar (order here)
1 teaspoon salt
2 eggs
4 to 6 tablespoons ice cold water
Instructions
Gluten Free Pie Crust Instructions
Cut butter into small pieces, freeze for 15 minutes.
Place flour, salt, sugar in food processor.
Mix well.
Add in butter. Mix just until the butter is in pea sized pieces.
Add eggs. Mix for about 5 seconds until eggs are incorporated.
Add just enough water to bring together.
Dough will be like a short bread dough, because there is no elastic.
Refrigerate for 30 minutes before using.