This post contains Amazon affiliate links which earn a small commission, but does not affect price.
I am loving this low carb peach almond tart. Almonds love peaches, and it's hard to imagine a better way to bring them together with this low carb peach almond tart. This is keto friendly, paleo friendly and gluten free.
I made many almonds tarts here at Spinach Tiger because this is one of my all time favorite desserts. Today, I have a summer version made with fresh peaches from the Peach Truck.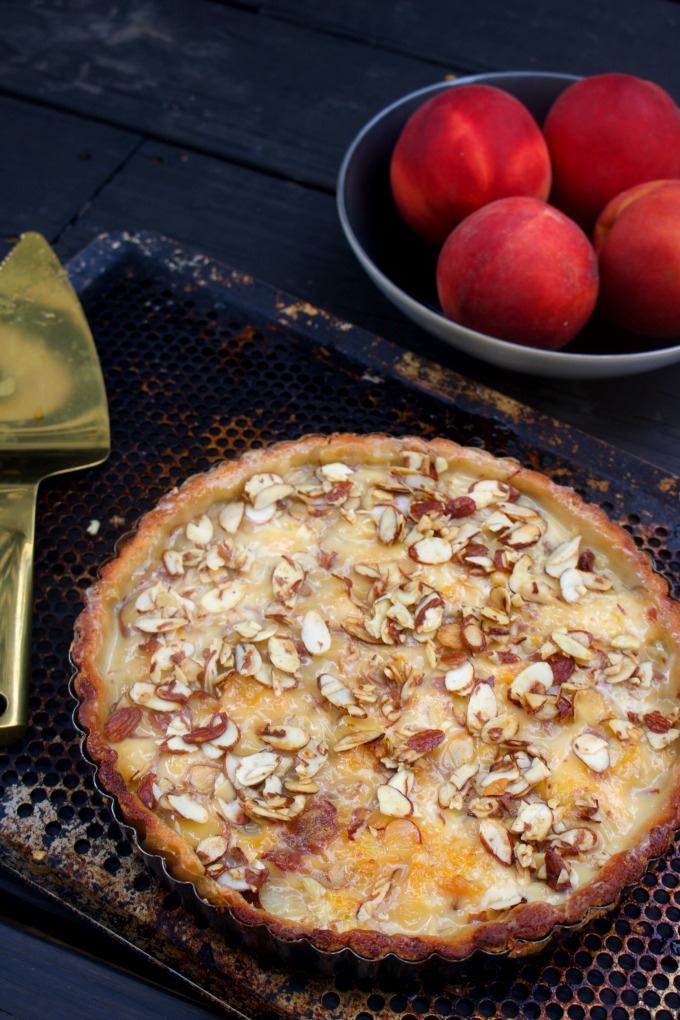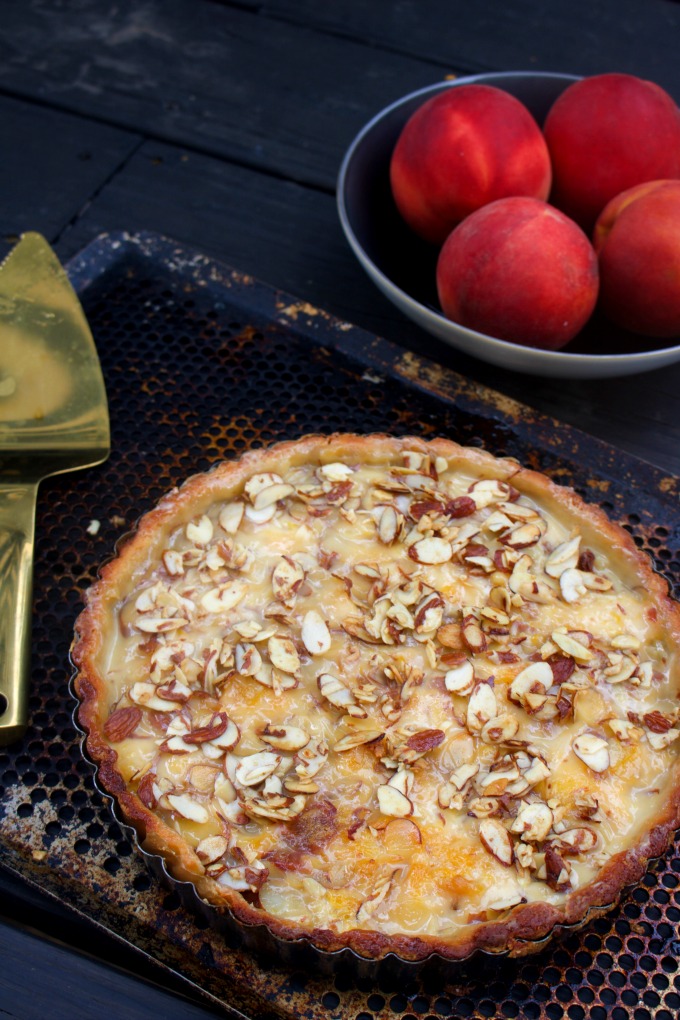 The crust is made with almond flour and butter. The filling is made with heavy cream, sliced almonds and Swerve's brown sugar replacement, making this keto friendly.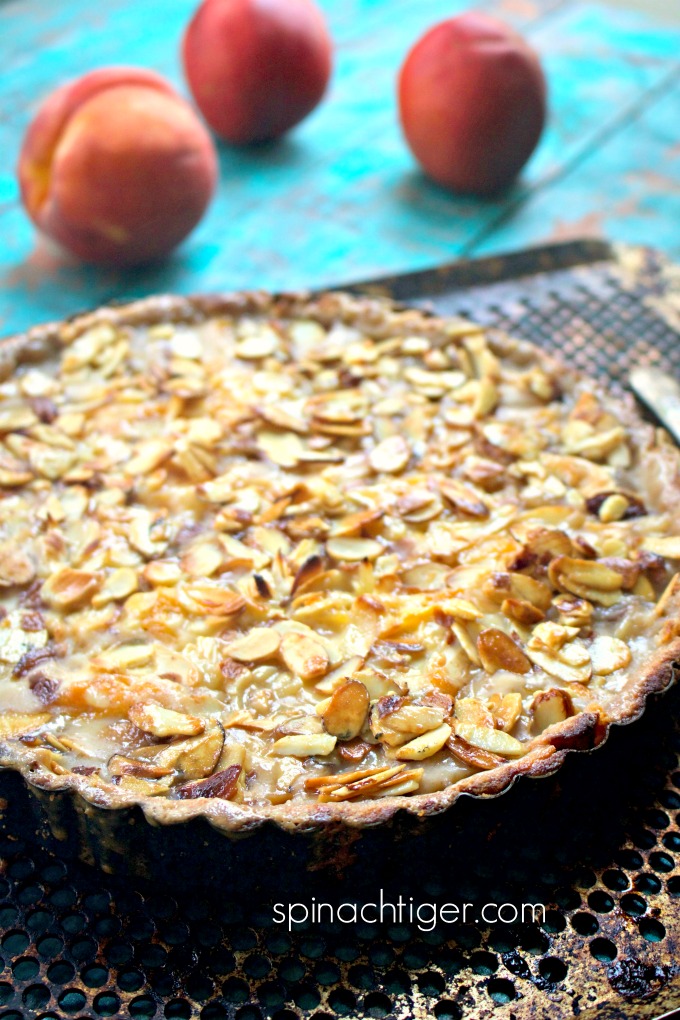 Peaches Love Almonds
This low carb peach almond tart might be the best thing that happens to you this summer. You can freeze it and it comes out of the freezer and heats up beautifully.
You cannot believe how good this is and a wonderful way to enjoy peaches and still eat low carb.
I took inspiration from the Chez Panisse Almond Tart I made here. I switched out the shortbread for a almond flour tart crust and the sugar with Swerve. The great news is that Swerve now makes a brown sugar that is amazing.
I caramelized some peaches with the almonds before adding it to the heavy cream and baking which seems like a dessert you could never consider low-carb.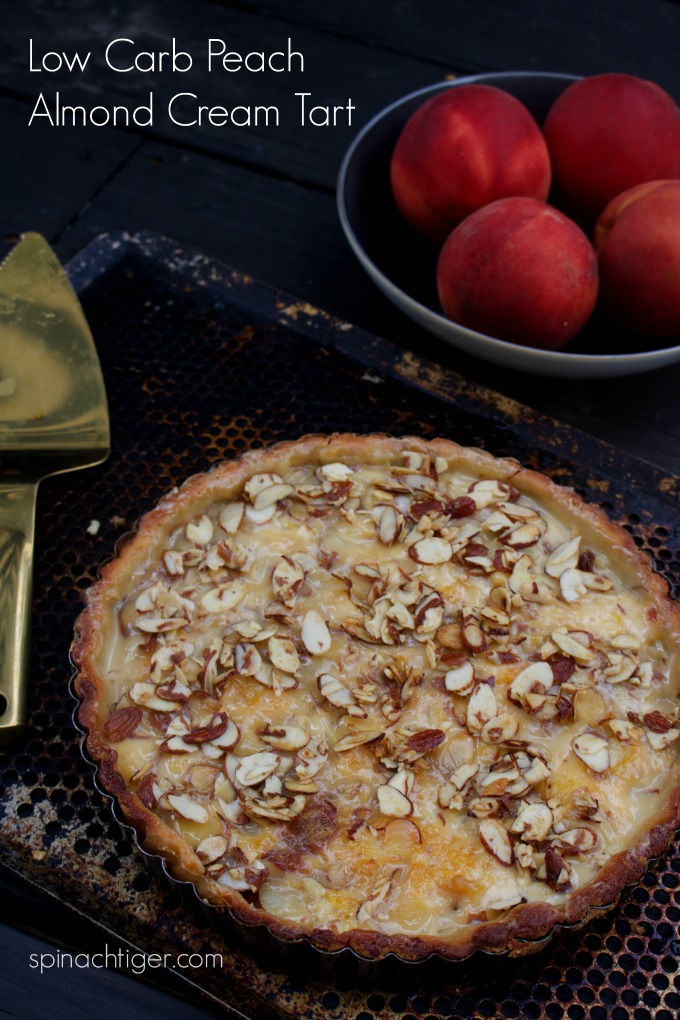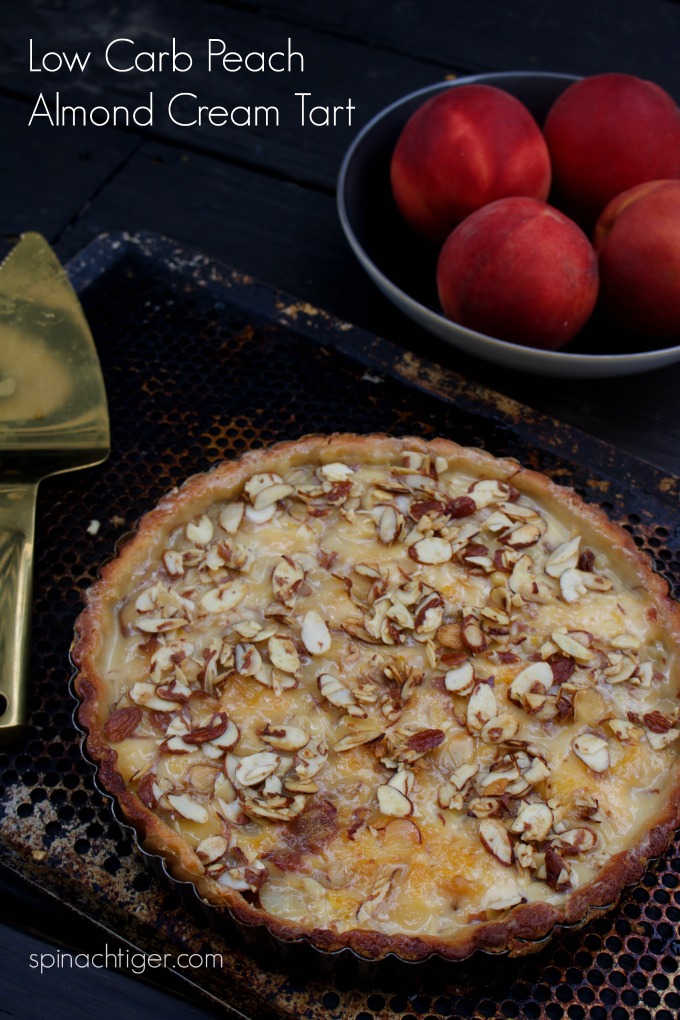 The Baking Process for Grain Free Peach Almond Tart
The first thing you need to do is par-bake the tart crust. Keep in mind that almond flour can burn easily so par-bake at 350 Degrees (see baking conversion chart). I only bake for about six minutes before filling with peaches, almonds and heavy cream. I make sure to put foil around the edges.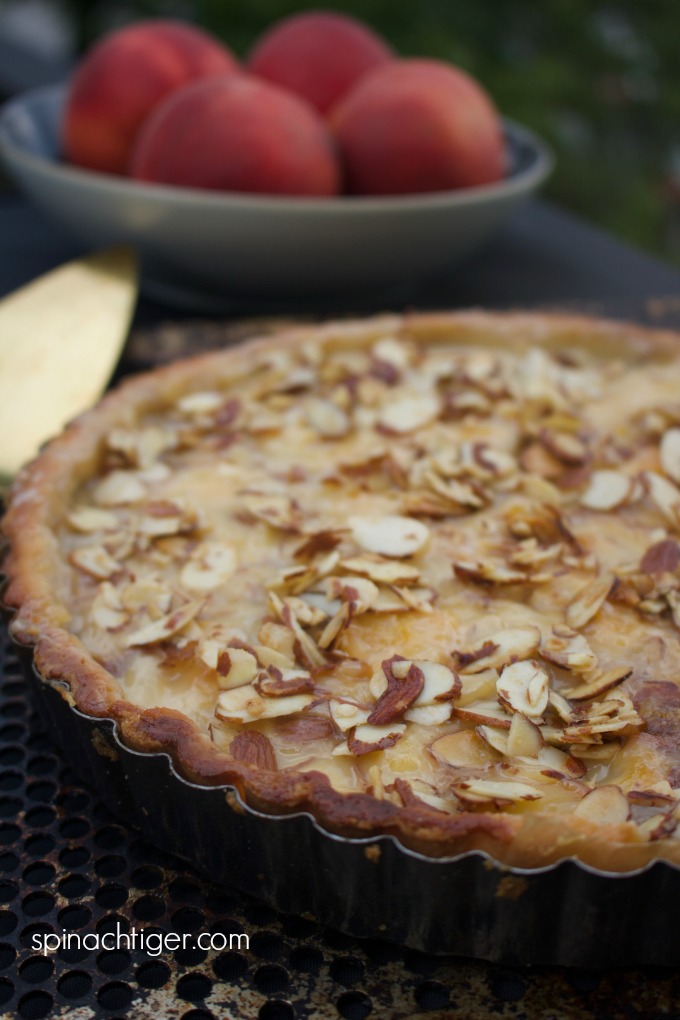 Did you know you can freeze peaches?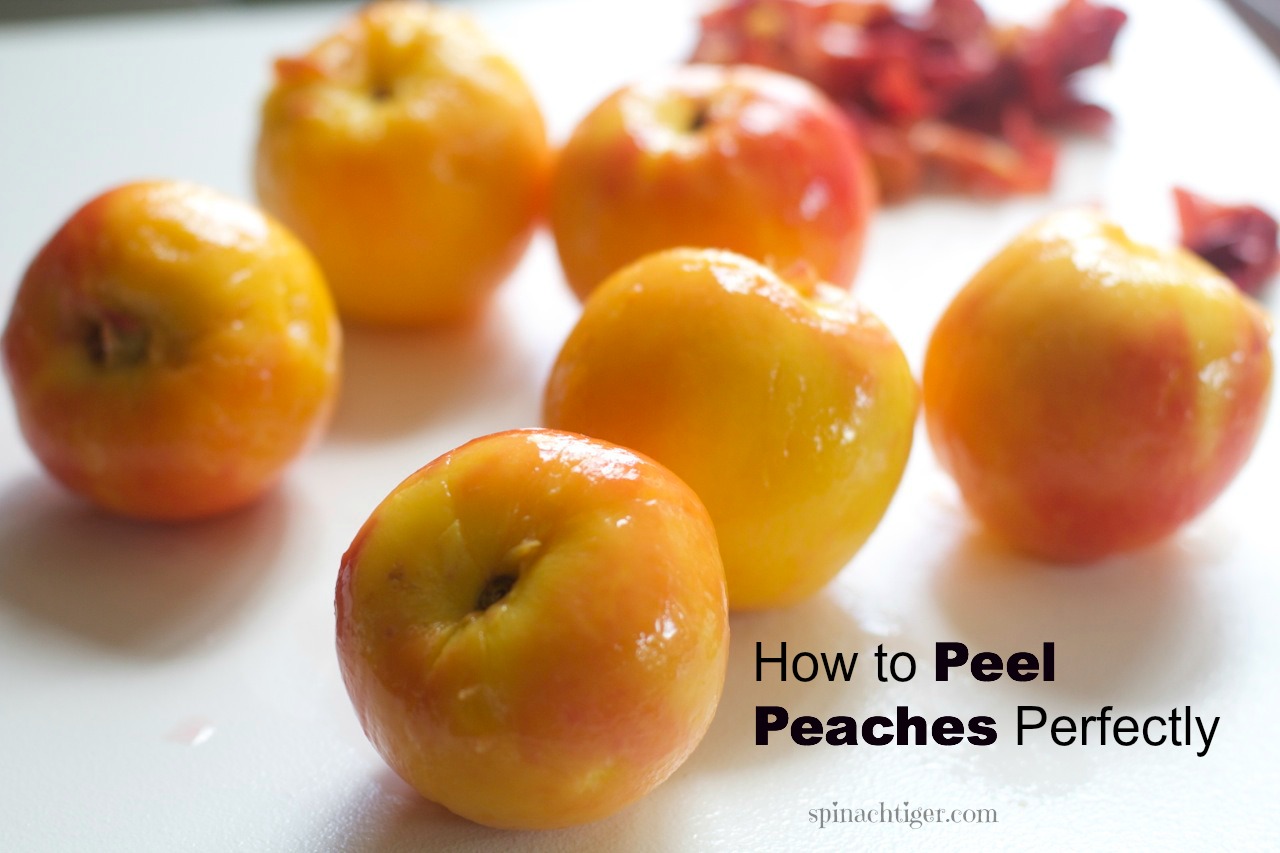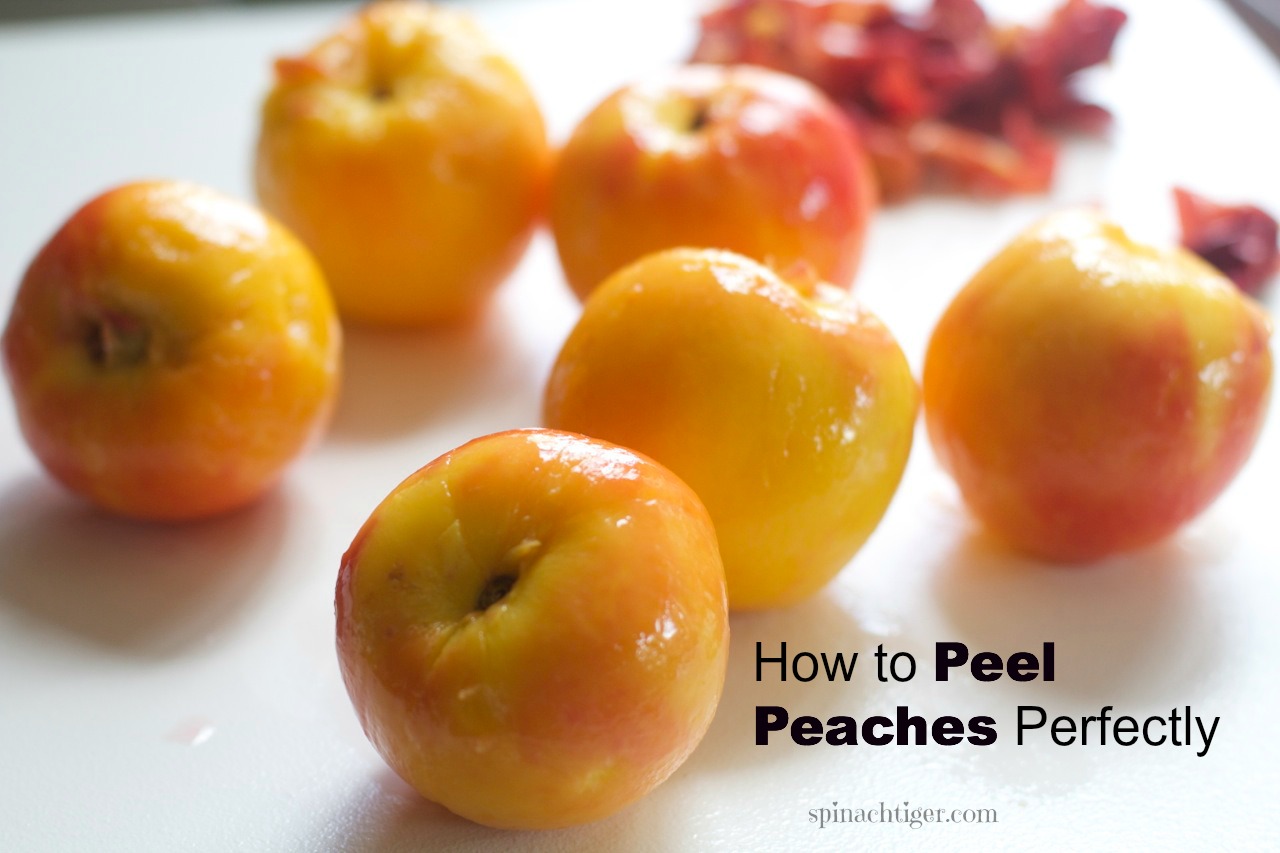 Ingredients for Grain Free Peach Almond Tart
Fresh Summer Peaches are the inspiration for this peach almond tart.
Almond flour is used for the crust. Make sure it is blanched super fine flour. I like this brand. You can make your own blanched almond flour here.
Heavy Whipping cream brings it together, and is first heated on top of the stove with granulated Swerve. Enjoy and take a moment to follow me on instagram. If you make my recipes, please tag with #spinachtiger.
Sugar Free Brown Sugar. Before I add the almonds and peaches to the tart, I caramelize them on top of the stove using Swerve's brown sugar. (amazon) It's a new product and works just like brown sugar.
Nutrition Value: Servings: 8, 5 net carbs.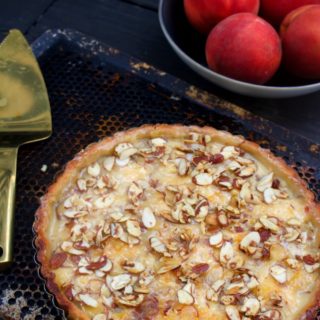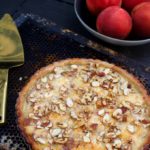 Print Recipe
Grain Free Peach Almond Tart, Paleo, Gluten Free, Low Carb
Keto Friendly, low carb, gluten free Peach Almond Tart.
Ingredients
Almond Flour Crust

3

tablespoons

butter

2

cups

almond flour

1

egg yolk




Peach Tart Filling

1

cup

cream

1

teaspoon

almond extract Order Here

2

tablespoons

butter

1/4

cup

granulated swerve

2

peaches

peeled, cubed

1

cup

sliced almonds
Instructions
Make Almond Flour Crust

Combine tart crust ingredients. Mix Well.

Refrigerate for 30 minutes.

Remove almond flour pie dough and roll between two pieces of parchment paper or plastic wrap. Place in tart pan. There will be enough dough left over to make one small tester.

Bake at 350 degrees F. for 6 minutes, just enough to set the dough.
Make Tart Filling
Score an x in peaches. Drop in boiling water for one minutes.

Cool Peaches. Peel.

Peaches should peel easily.

Cut peaches to get about 1 1/2 cups cubed.

Place one tablespoon butter, Swerve brown sugar in small frying pan and sauté peaches. for a minute. Remove peaches to a bowl. Add almonds. Continue stirring frequently until almonds are golden brown.

Heat the heavy cream with granulated swerve and almond extract until it boils. Take off heat.

Add peaches and almonds to tart. Pour heavy cream into tart.

Cover the outside Crust with foil as almond flour browns very easily.

Place a sheet pan on the rack beneath the tart, covered in foil in case of run over.

Turn oven up 400 degrees and bake for 25 minutes.

Check tart at 15 minutes, as you may need to cover entire tart loosely with foil.

When you take the tart out of the oven, run a butter knife gently around the edges as the caramelization can cause sticking.

Cool completely before removing.
Nutrition
Serving:
1
g
|
Carbohydrates:
8
g
|
Fiber:
3
g
Please follow me on instagram. If you make this recipe,  please tag me #spinachtiger.
If you love this recipe, please give it five stars. It means a lot. xoxo