Grain Free, Sugar Free Red Velvet Cupcakes, Low Carb, Keto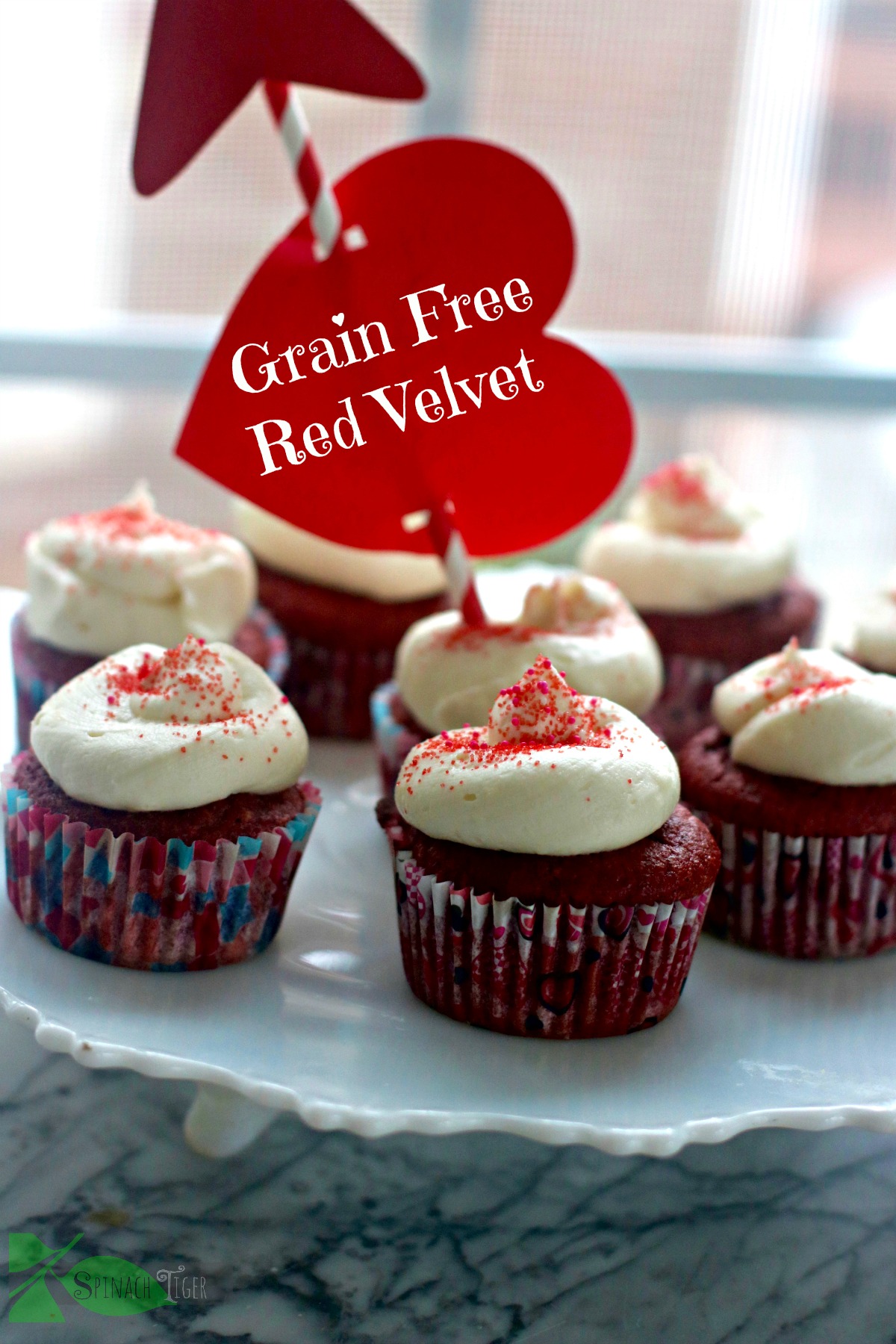 This grain-free, red velvet cupcake recipe is my sixth red velvet recipe here at Spinach Tiger.
This low carb, grain free baking is new to me, but you seem to like the grain-free, southern fluffy biscuits so much.
I did too and that I thought I would branch out and experiment with grain-free, keto friendly desserts. I already have what I consider the very best gluten free red velvet cupcake recipe made with a rice flour mixture, but for some of you, you need to avoid grains..
This grain free, sugar free red velvet cupcakes recipe is my very own creation.
This was a challenge. The problem is that most grain free red velvet recipes have almond flour. While the almond flour works so well for many baked goods, including this grain free lemon cake,  and these grain free biscuits,  I tried a recipe with almond flour and it got in the way of the red velvet in taste and in texture. I had to rethink and develop my own recipe
I decided to go with coconut flour (not almond flour) and a tablespoon of golden flax for texture. I used swerve as my sweetener, which is a healthy sweetener choice that doesn't interfere with blood sugar.
I wish I could tell you that I used a "red food coloring" alternative, but I didn't. If you need an alternative try beet powder found here. (I'll be testing that in the future and I'll let you know).
A grain-free red velvet cupcake is not going to be the red velvet cupcake of your childhood, but this is close enough to make you happy, and fit into many special diet plans.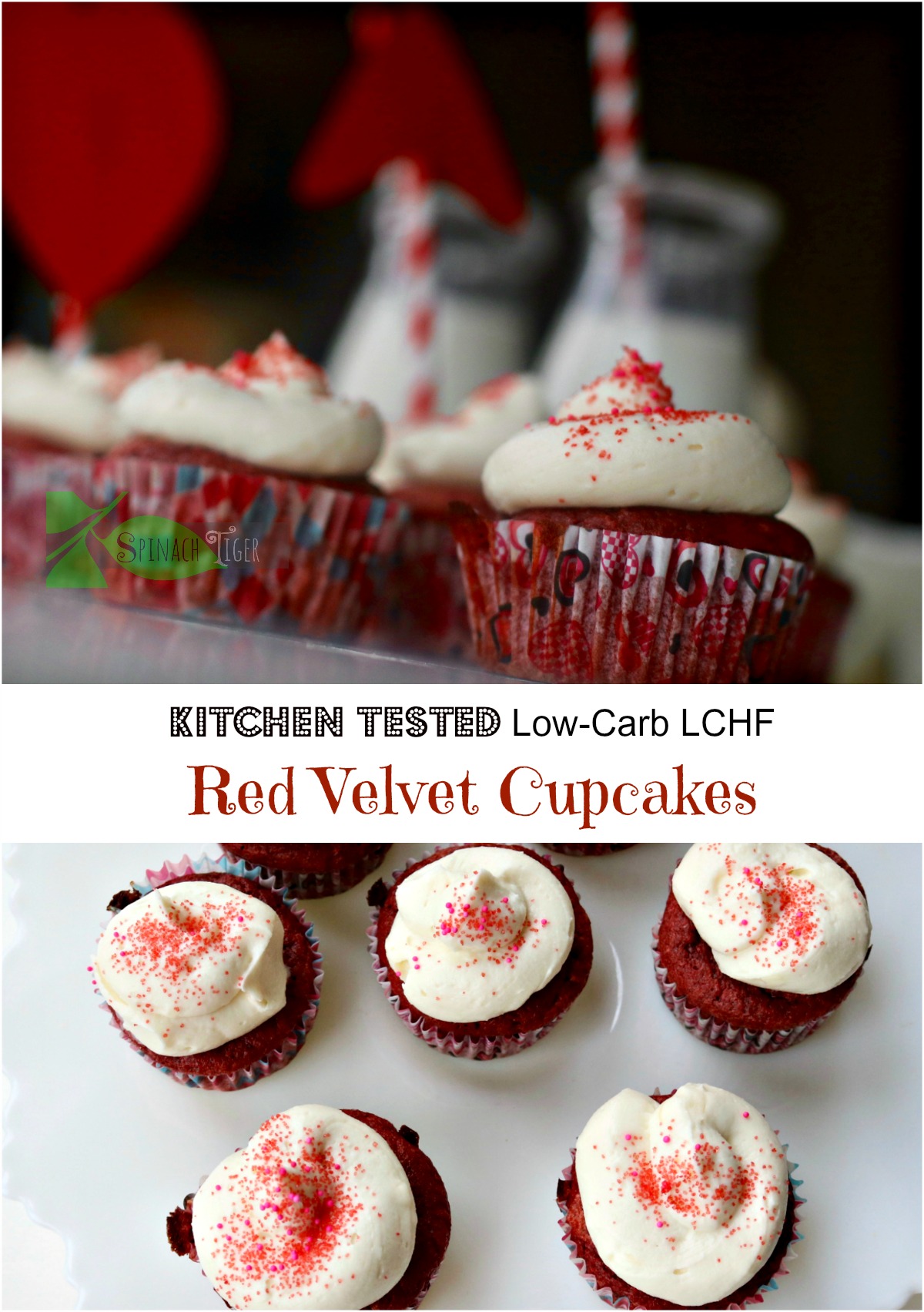 The recipe for the cream cheese frosting makes a modest amount, as these are small cupcakes, and I didn't want the cupcake to be top heavy. These are meant to be small treats.
I used swerve in the recipe for the cream cheese frosting, making this grain-free, sugar free red velvet cupcake, keto friendly.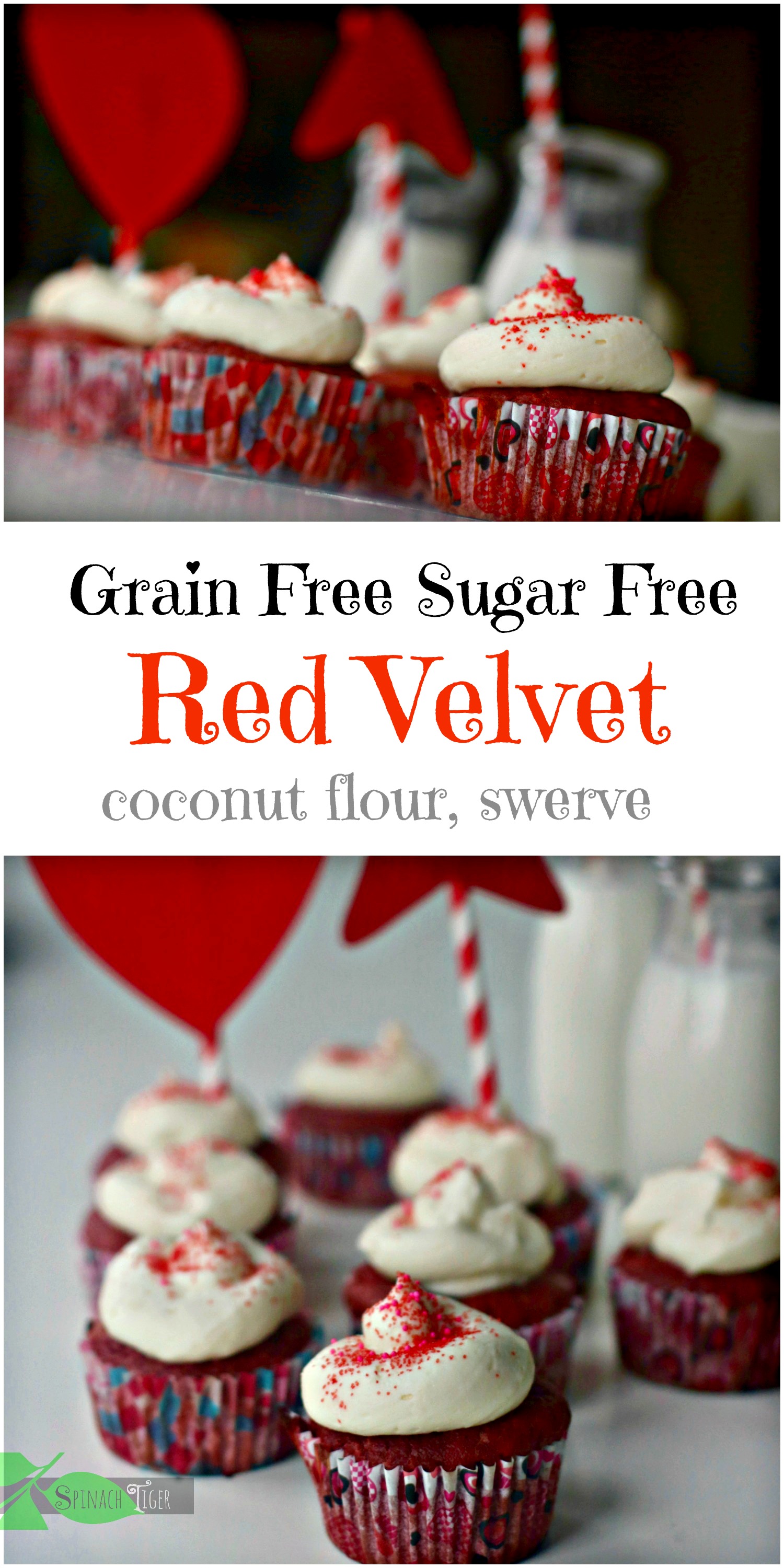 One thing I've learned for sure. Red Velvet is not a trend. It's popular, classic and here to stay.
So far, I have published six ways to make red velvet.
The most popular of my red velvet recipes is the red velvet cheesecake cupcake recipe, which I think you could adapt using the tips from this recipe or the gluten free recipe. All you need to do is make this recipe and use that method.
These grain-free, sugar-free red velvet cupcakes are the red velvets I'm most proud, because it was the most challenging. This recipe makes 12 cupcakes, 3 carbs each, and 2 net carbs.
Grain Free Red Velvet Cupcakes, Healthy Sugar Free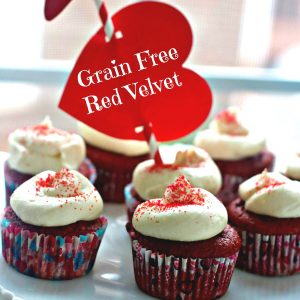 Low Carb, Keto, Grain Free Red Velvet Cupcake, 2 net carbs.
Ingredients
1 cup Swerve Confectioner's Sugar or ⅔ cup regular sugar
½ cup coconut flour
¼ teaspoon baking soda
2 tablespoons unsweetened cocoa
6 eggs, separated
½ cup butter, melted (can use oil)
2 tablespoons full fat sour cream
1 tablespoon red food coloring
1 teaspoon vinegar
1 teaspoon vanilla
Cream Cheese Frosting
4 tablespoons unsalted butter, room temperature
4 ounces cream cheese, room temperature
2 cups confectioner's sugar (I use swerve, see notes)
½ teaspoon vanilla
1 tablespoon milk or cream
Instructions
Mix dry ingredients together, set aside.
Whip egg whites until stiff. Set aside
Mix together sour cream, red food coloring, egg yolks, vinegar.
Add dry ingredients to sour cream mixture. Add in melted butter.
Add in vanilla.
Mix together.
Fold in egg whites.
You will have enough to make 12 cupcakes.
Bake for 17-19 minutes at 350 degrees.
Cool completely before frosting. These cupcakes taste best refrigerated.
Cream Cheese Frosting
Whip butter and cream cheese together.
Add confectioner's sugar.
Add milk or cream if needed.
Notes
Notes: I use swerve (erythritol) for sweetener which is calorie free.
You may use regular sugar for cupcakes and regular confectioner's sugar for frosting if you decide.

This makes a very small amount of frosting, but these cupcakes are small an you don't need a lot.