Today, I made a sugar free Texas Sheet Cake with the Serve Box Cake mix and it was done in 30 minutes start to stop. It tasted just as good as any Texas Sheet Cake I've ever had, and you would never know it's sugar free. (Homemade Keto Chocolate Cake for this recipe found here).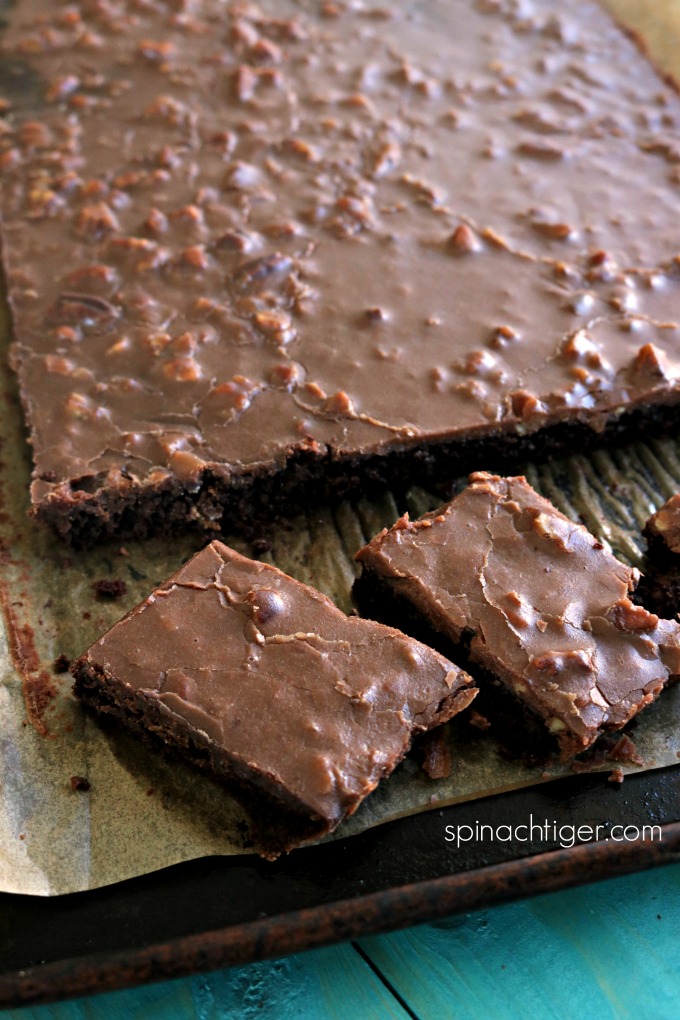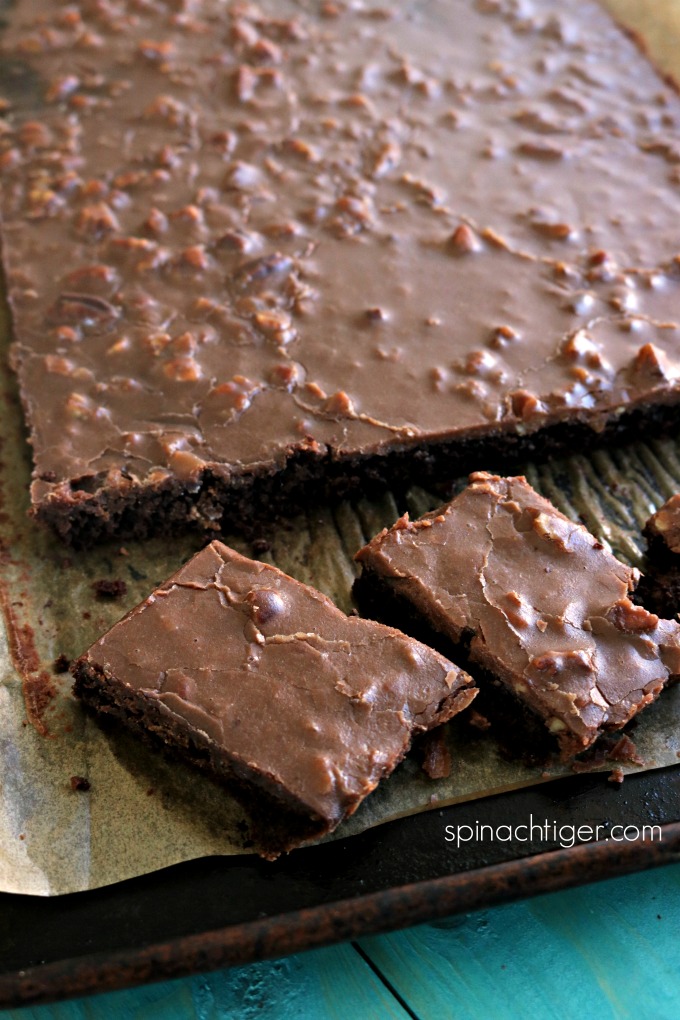 When Swerve sent me a few box cakes to try, I figured it would be a decent product, as you all know I'm an avid baker and I use powdered erythritol as a sugar substitute to keep it low carb.
The first time I used a Swerve Box Cake, I actually used two boxes to make a double layer cake for a birthday. I made used both a chocolate cake and a vanilla cake to make a double layer cake with this sugar free chocolate frosting for a birthday and people loved it. 
The second cake I made was a chocolate cake with a sugar free peanut butter frosting, which won husband over quickly as this is his favorite combination. Recipe coming.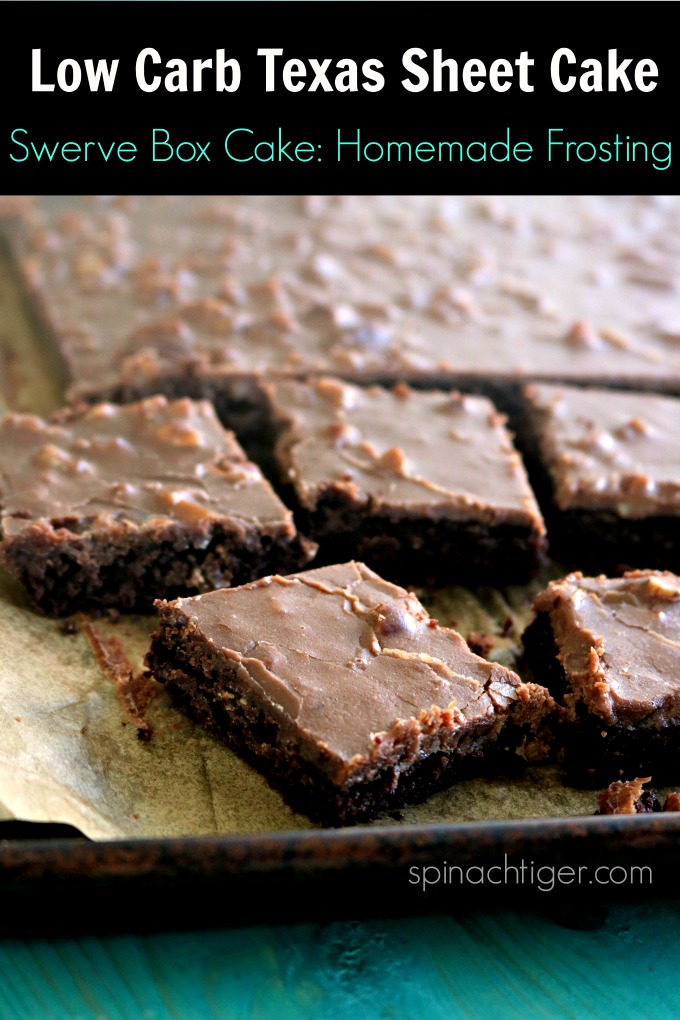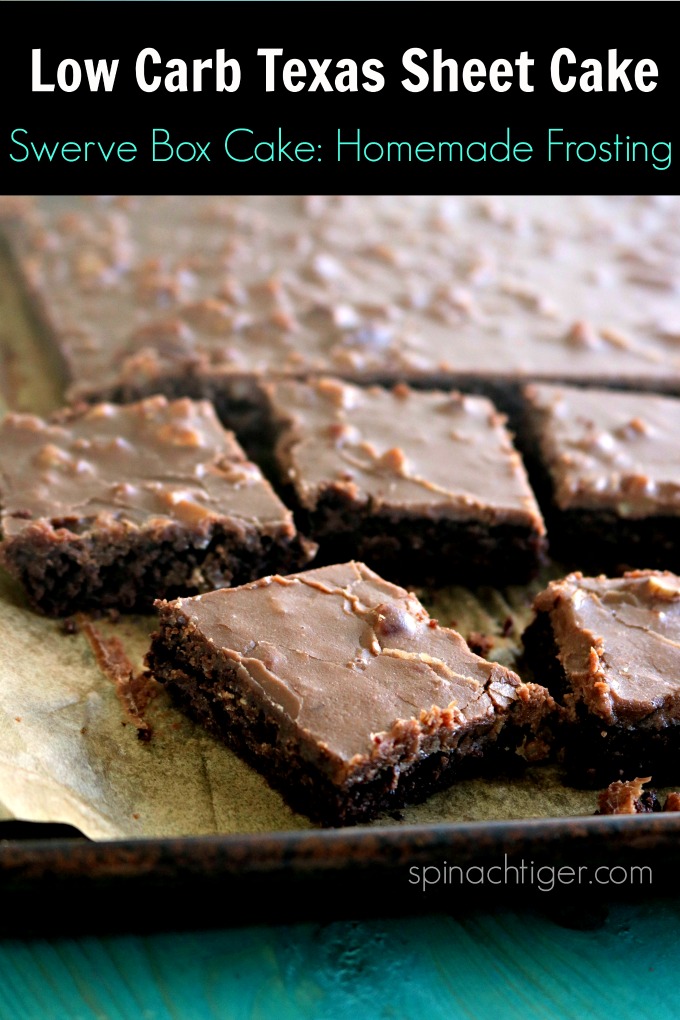 The third cake I made was a chocolate roll cake filled with stabilized whipped cream topped with chocolate frosting. Recipe Coming.
The fourth cake I made was these coconut cupcakes using Swerve's Vanilla Cake Mix.
There are so many possibilities for Swerve's Box Cake mix.
The Texas Sheet is a great idea because it's so easy. Baking in a sheet pan only takes about 15 minutes, and you don't have to cool the cake to put the icing on. Your pour it over when it's warm. I was able to make the cake in 30 minutes.
I use a quarter sheet pan. I love the USA brand. I've had mine for years. It's warp resistant and it's the perfect size for Swerve one layer sheet pan cake.
The icing is made on top of the stove as soon as the cake comes out of oven, using Swerve, unsweetened cocoa, vanilla, heavy cream, butter and pecans. It's so good. I've seen some recipes that add coconut and you certainly could add unsweetened coconut, which will add even more texture.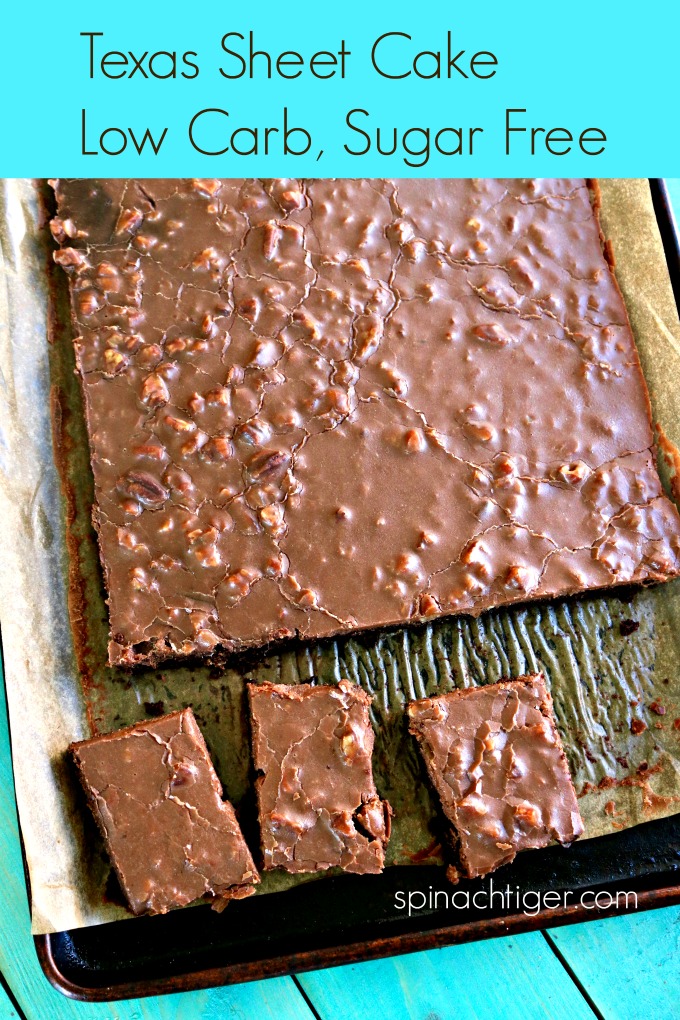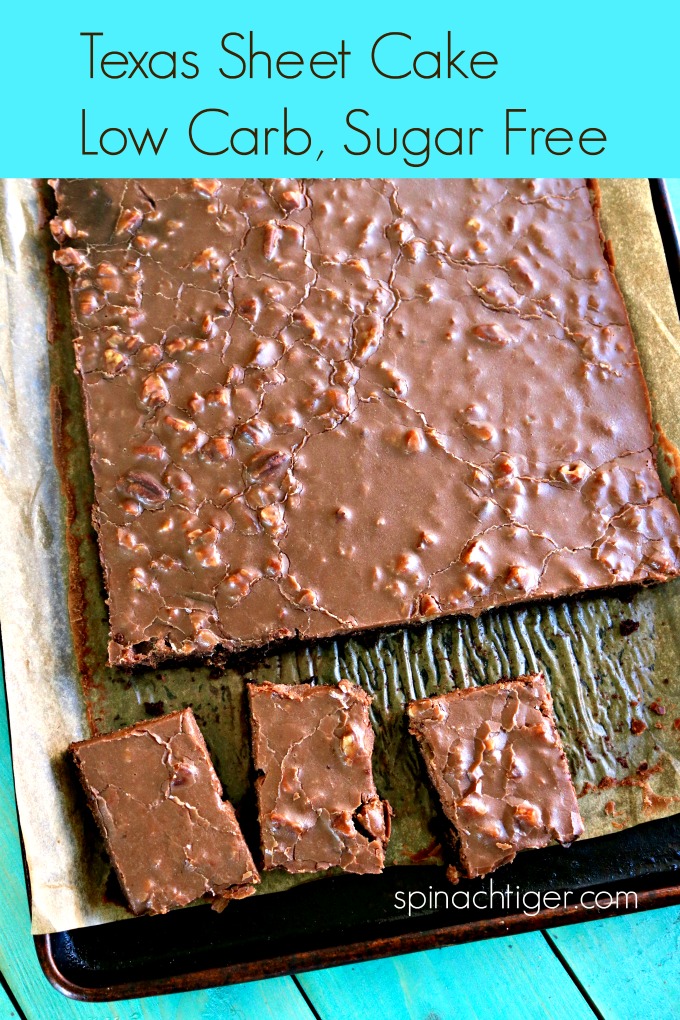 If you're wanting portion control, this is the way to go. I was able to cut 24 pieces of this delicious cake. The pieces freeze very well and you can microwave for about ten seconds when you need that little bite of chocolate.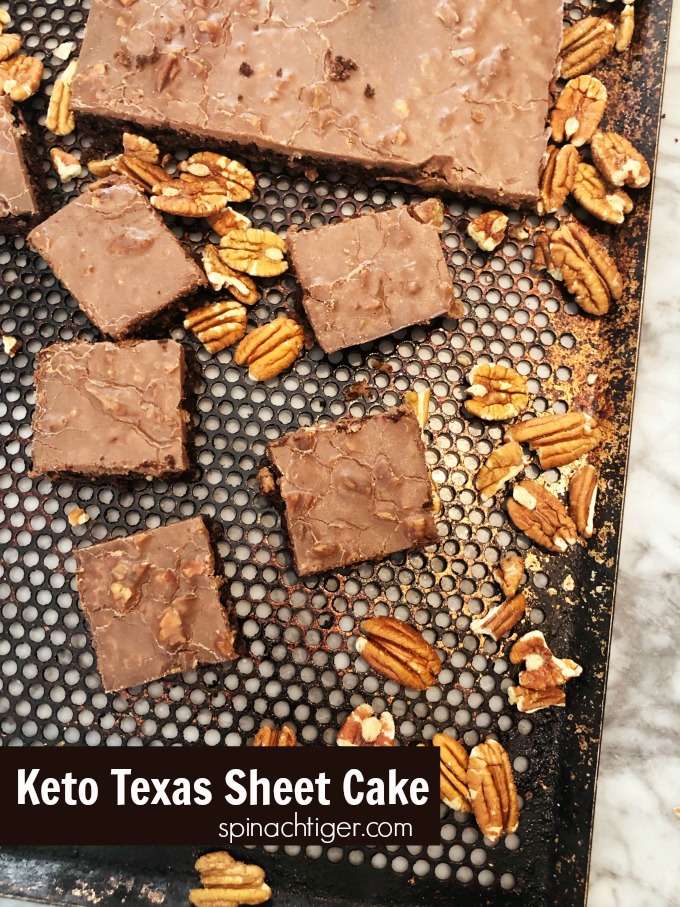 The Swerve chocolate cake makes this recipe very easy to throw together. However, you can make the chocolate cake from scratch with this keto chocolate cake recipe for chocolate bundt cake. It's the right amount of batter for a sheet cake.
Texas Sheet Cake is the perfect cake to make for the holidays, game day or even a tailgating party.
More Low Carb Keto Desserts From Spinach Tiger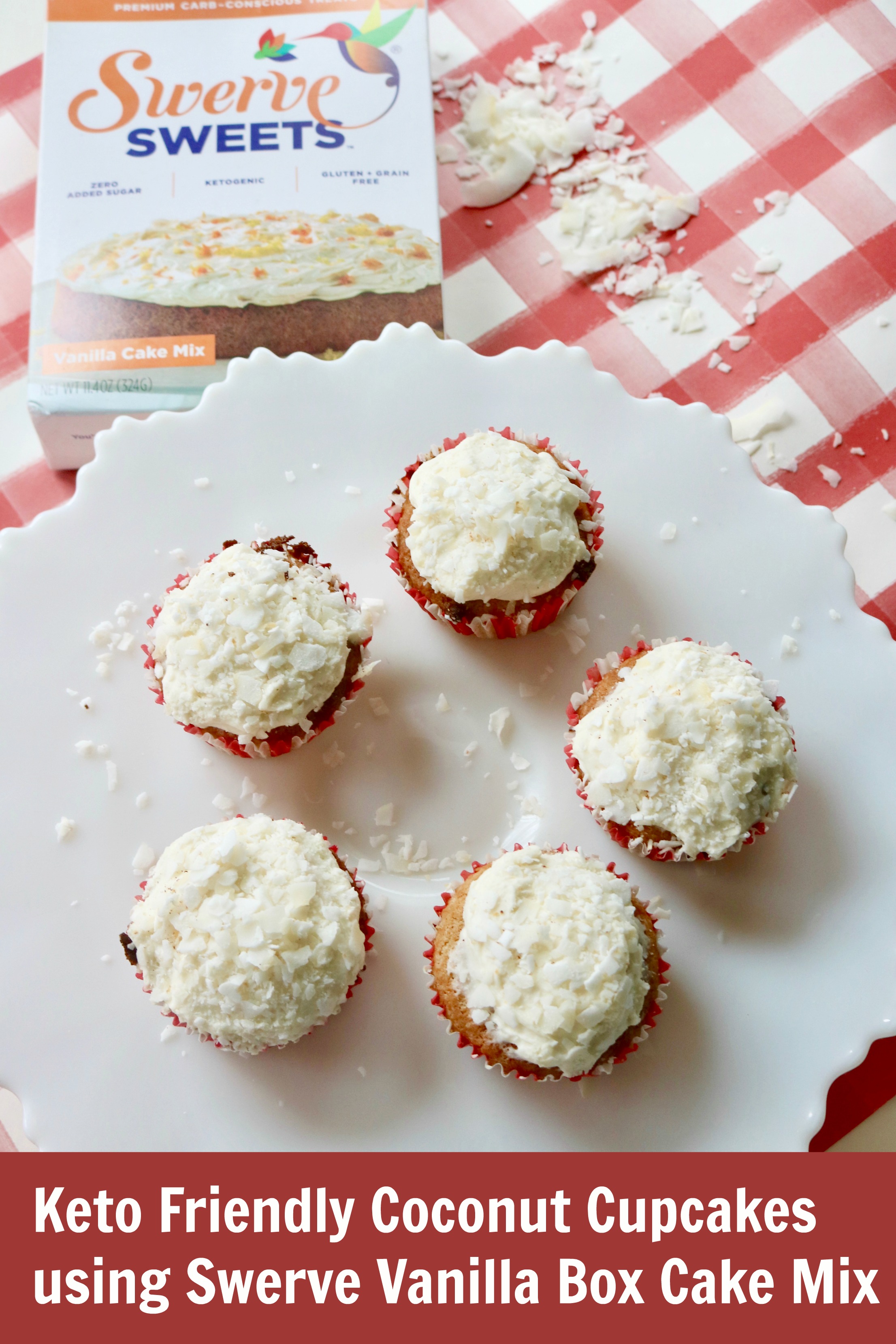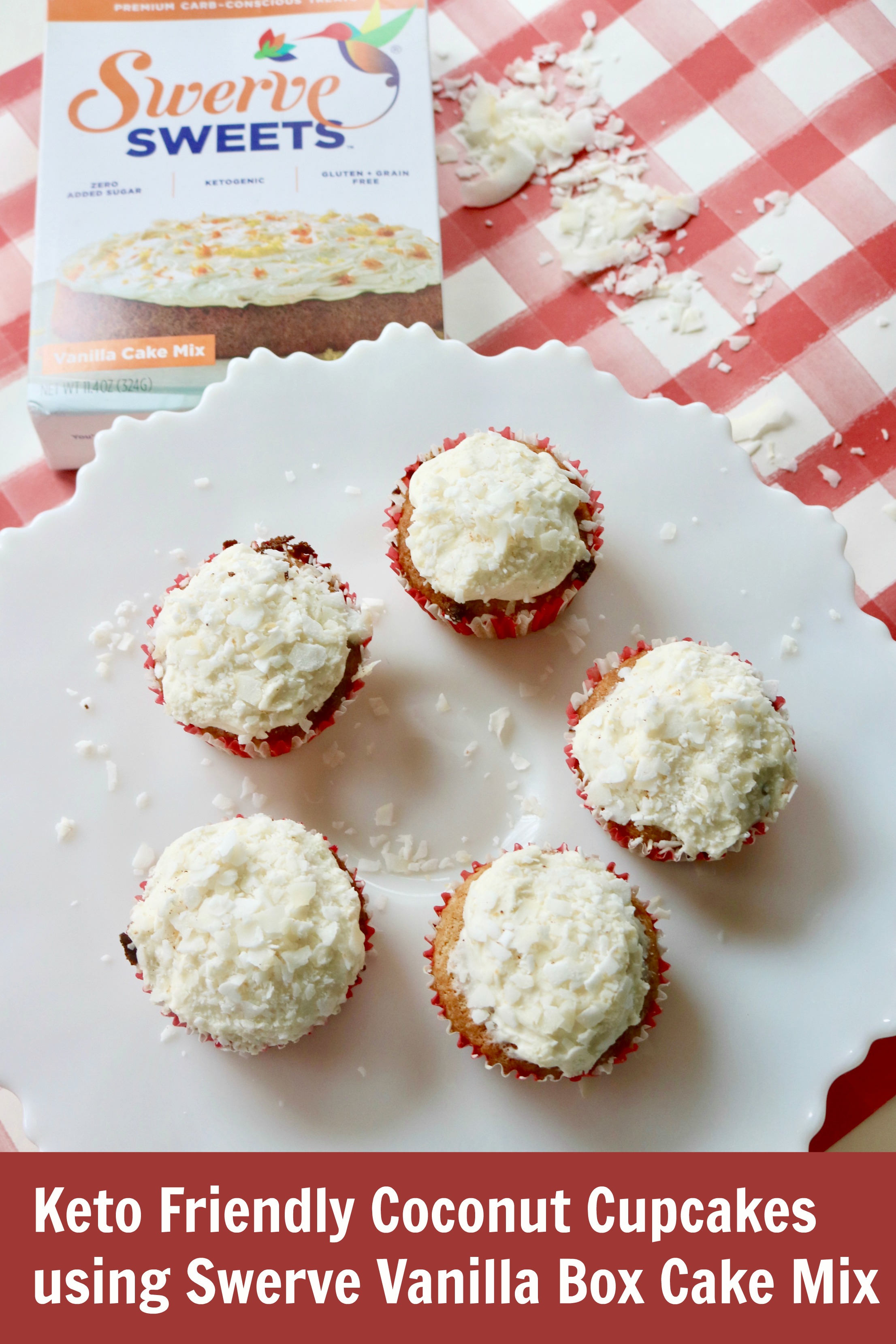 Sugar Free Coconut Cupcakes using  Swerve's Vanilla Box Cake Mix.
Keto Chocolate Mini Bundt Cakes from Scratch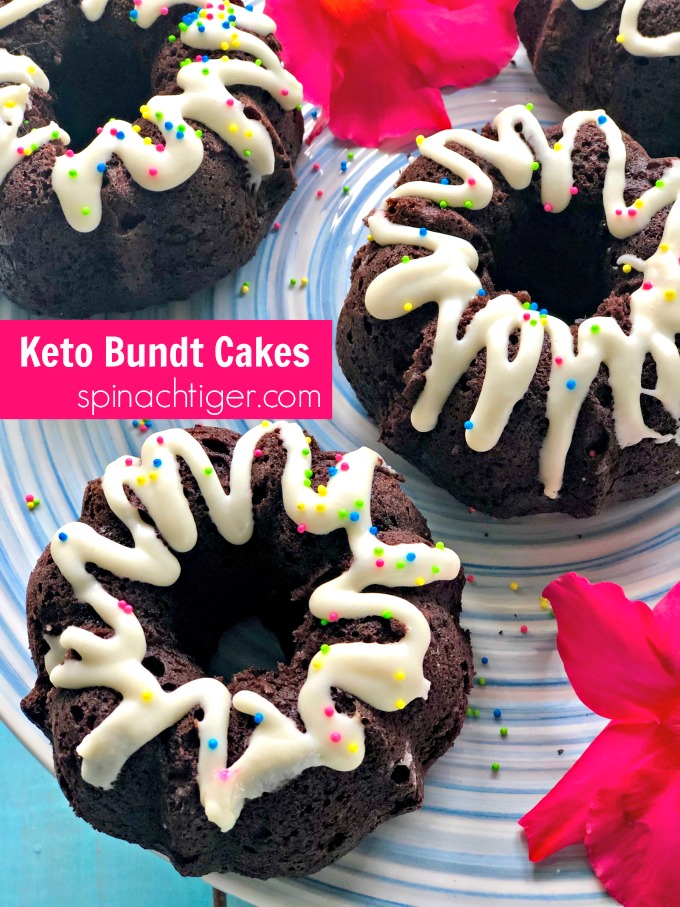 Low Carb Friendly Chocolate Frosting
Grain Free Chocolate Whoopie Pies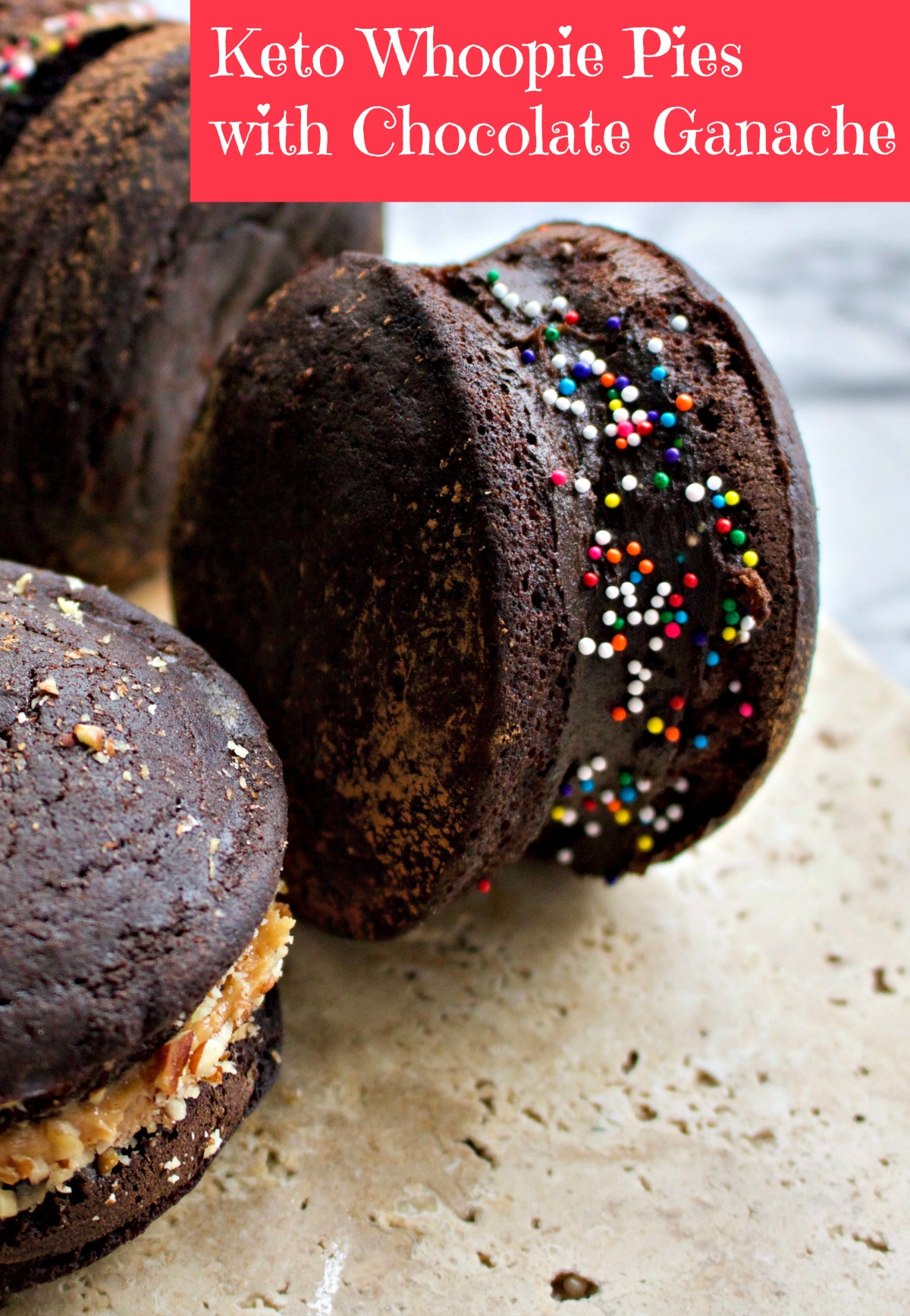 Make Your own Chocolate Cake for Keto Texas Sheet Cake
If you want to make your own chocolate cake for this recipe, it's included below.

Sugar Free Texas Sheet Cake, Using Swerve Box Cake Mix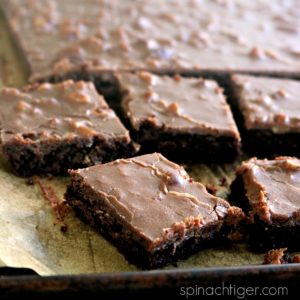 Low Carb, Sugar Free Texas Sheet Cake using Swerve's Box Cake and Swerve Confectioner's Sugar to Make Chocolate Pecan Frosting.
Ingredients
This recipe contains Amazon affiliate links which earn a small commission.
1 Chocolate Swerve Boxed Cake
Homemade Chocolate Cake Recipe
½ cup plus 2 tablespoons coconut flour
1 teaspoon xanthan gum
1 teaspoon baking powder
½ teaspoon salt
½ cups unsweetened cocoa, sifted
6 eggs
1 teaspoon vanilla
½ cup avocado oil
¼ cup buttermilk or almond milk
¼ cup strong coffee
¾ cup swerve
baking spray

Frosting
½ cup unsalted butter
⅓ cup heavy cream
4 tablespoons unsweetened cocoa
1 cup chopped pecans ORDER HERE
1 cup Swerve confectioner's sugar ORDER HERE
½ teaspoon sea salt
1 teaspoon vanilla extract ORDER HERE
2 tablespoon whole milk
½ cup unsweetened coconut (optional) ORDER HERE
!Kitchen Tools
USA Quarter Sheet Pan ORDER HERE
Instructions
Spray a quarter sheet pan with baking spray.
If using Swerve Boxed Cake Mix, Prepare batter as directed and pour into baking sheet. Bake for 15 minutes at 350 degrees. Center should spring back.
As soon as cake it out of the oven, make frosting and pour warm frosting over warm cake.

If Making Homemade Chocolate Cake Prepare as Below:
Combine the butter, cocoa, cream, Swerve for the frosting together in a saucepan and bring to a boil. Remove from the heat and stir in the salt and vanilla. Add two tablespoons of milk if needed. Stir in pecans. Pour over cake.
Cool and cut into 24 small pieces.
Notes
If you want this to taste more similar to a German Chocolate Cake, add in a half cup of unsweetened coconut.