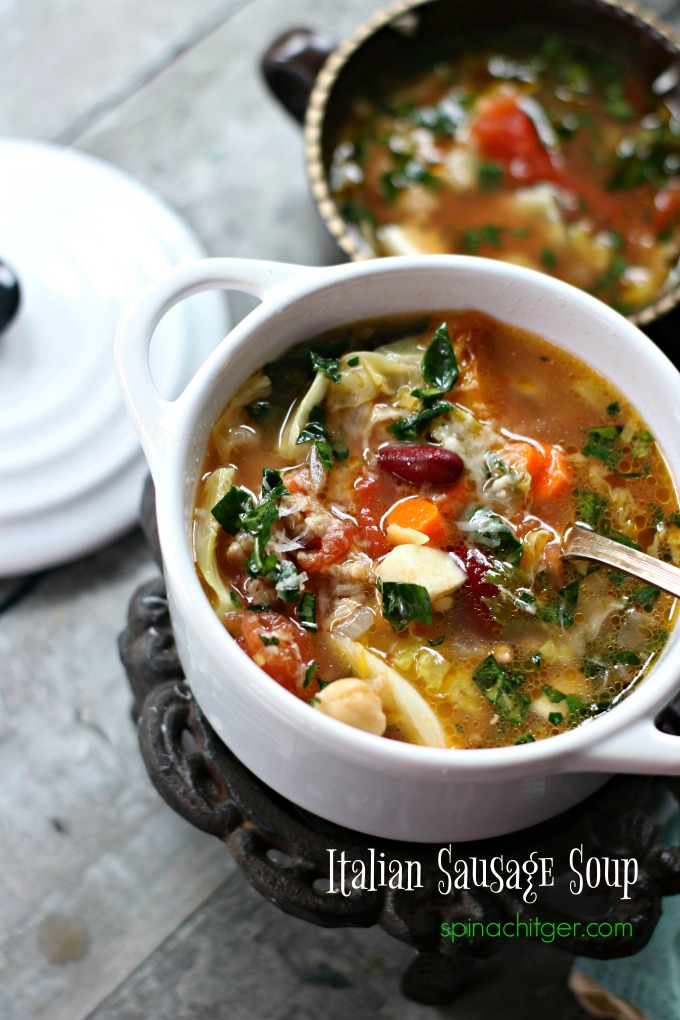 This Spicy Italian Soup with Sausage is a paid post, sponsored by Spectrum® Organics, featuring Culinary Olive Oil products.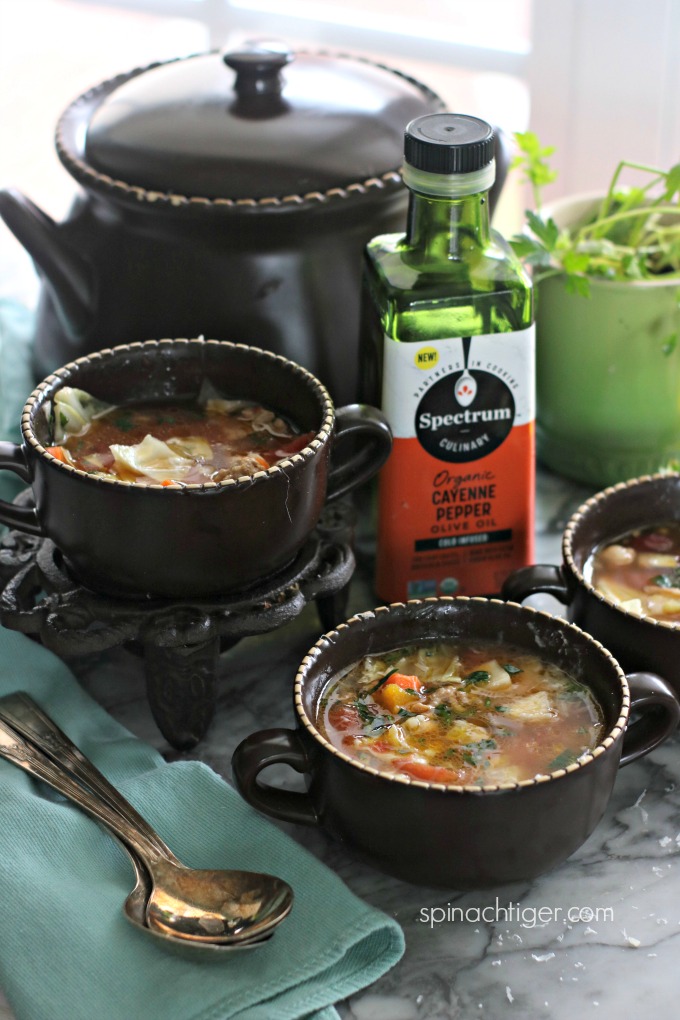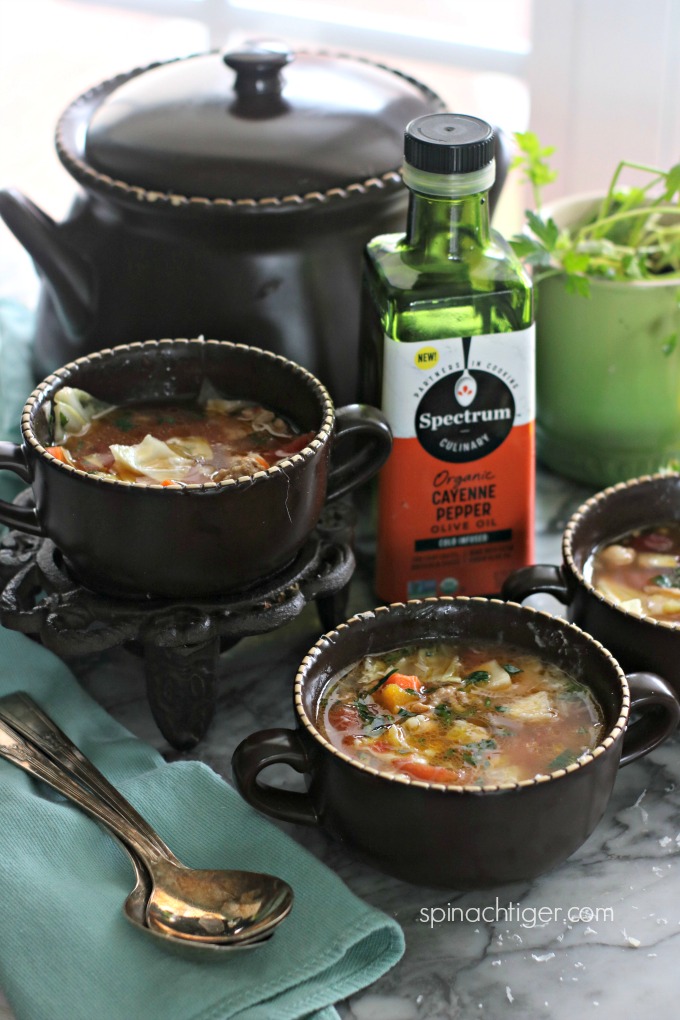 You can absolutely trust my culinary view and opinion, as I only collaborate with brands and their products I use and recommend.
We love a Spicy Italian Soup with Sausage. As soon as there is even the slightest chance that the temperatures drop to less than 80 degrees, we are ready to put the soup on and turn up the sizzle.
As an Italian I grew up with a lot of soup and there were always two things on the table. Freshly grated parmesan cheese (or pecorino) and extra virgin olive oil. We couldn't imagine not having a drizzle of olive oil.
In this recipe, I'm suggesting Spectrum® Cayenne Pepper Olive Oil to spice up the soup, loaded with vegetables and give it a memorable kick. That drizzle at the end made my husband swoon, but it's also part of the recipe itself.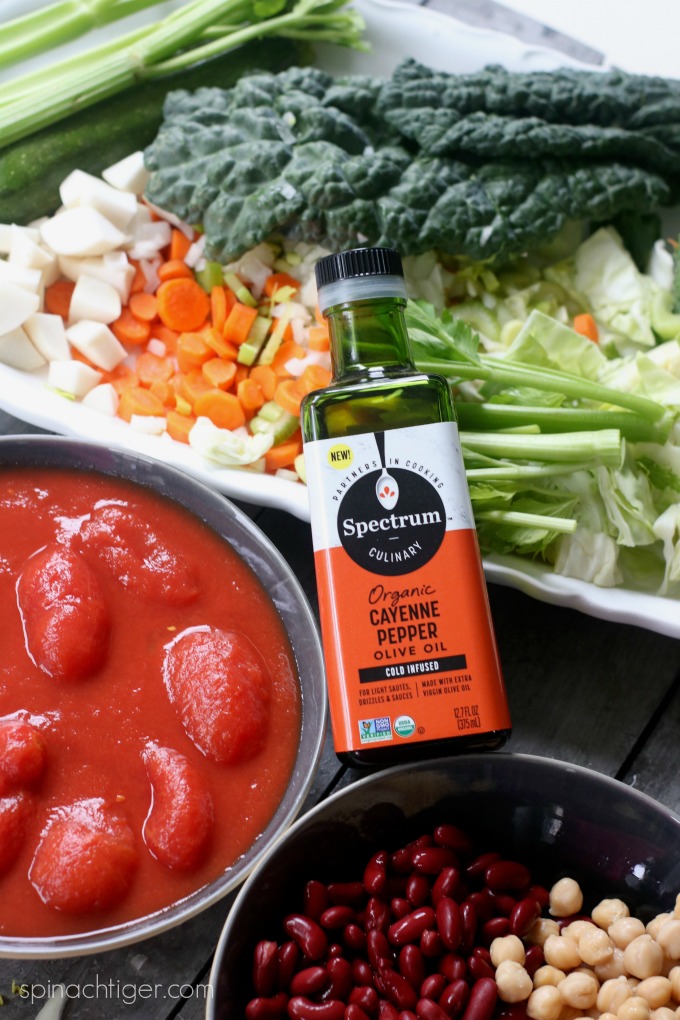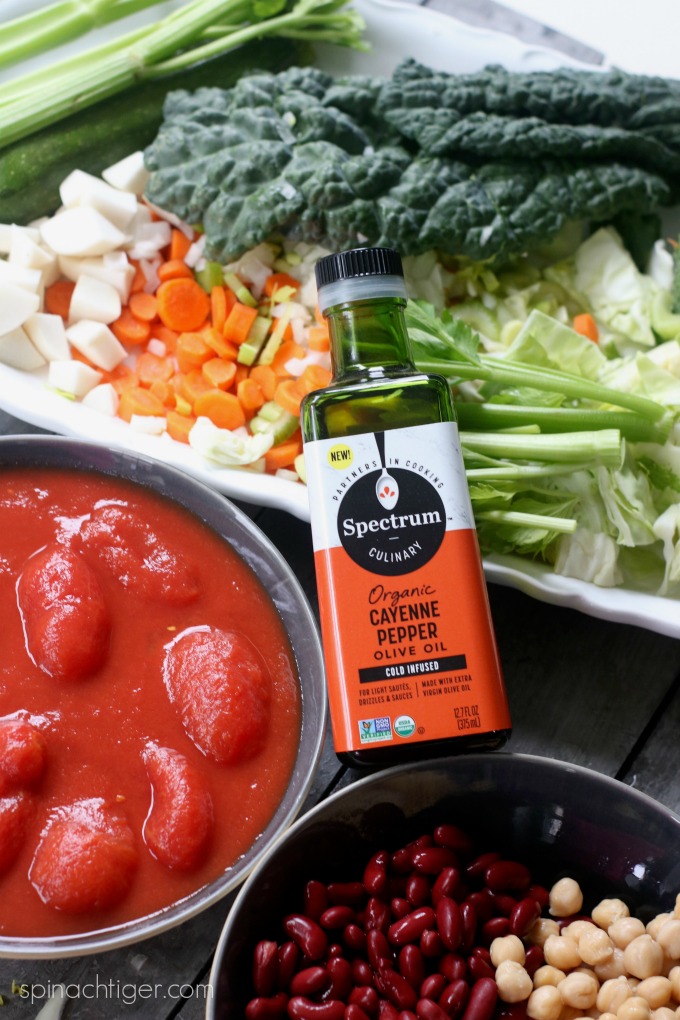 We are so excited that Spectrum®, who has been making high quality olive oils for thirty years, has launched a culinary line of olive oils, including a few flavor infused olive oils such as cayenne pepper and rosemary, and a garlic and chili sesame oil.
In a recent post, I featured this Festive Kale Salad, using Spectrum® Rosemary Extra Virgin Olive Oil for a delightful rosemary honey vinaigrette.
I've enjoyed many Spectrum® products, which include more than 30 varieties of seed, nut and plant oils for various cooking needs, including coconut oil, apple cider vinegar, and avocado oil. The extra virgin olive oils come from Spain and Tunisia, each estate grown and produced in small batches, using no chemicals and expeller pressed to ensure the highest quality.
The Cayenne Pepper Olive Oil can be drizzled into each bowl, adjusted for each person's taste and accompanied with a good helping of Pecorino Romano or Parmesan cheese.
This spicy Cayenne Pepper Olive Oil drizzle is a great food hack for canned soups and canned beans.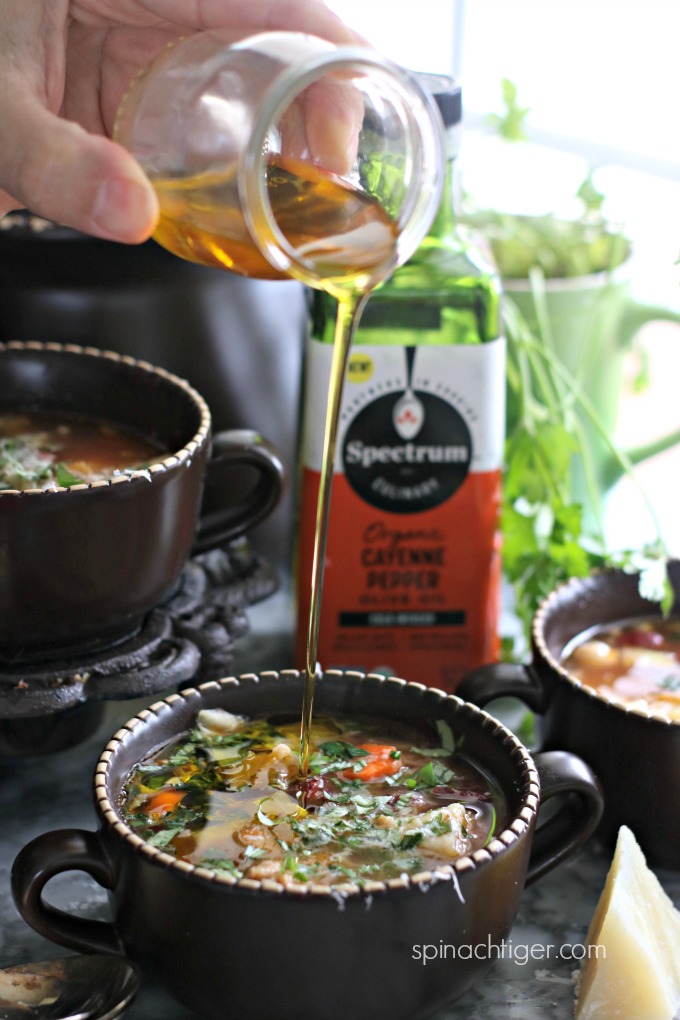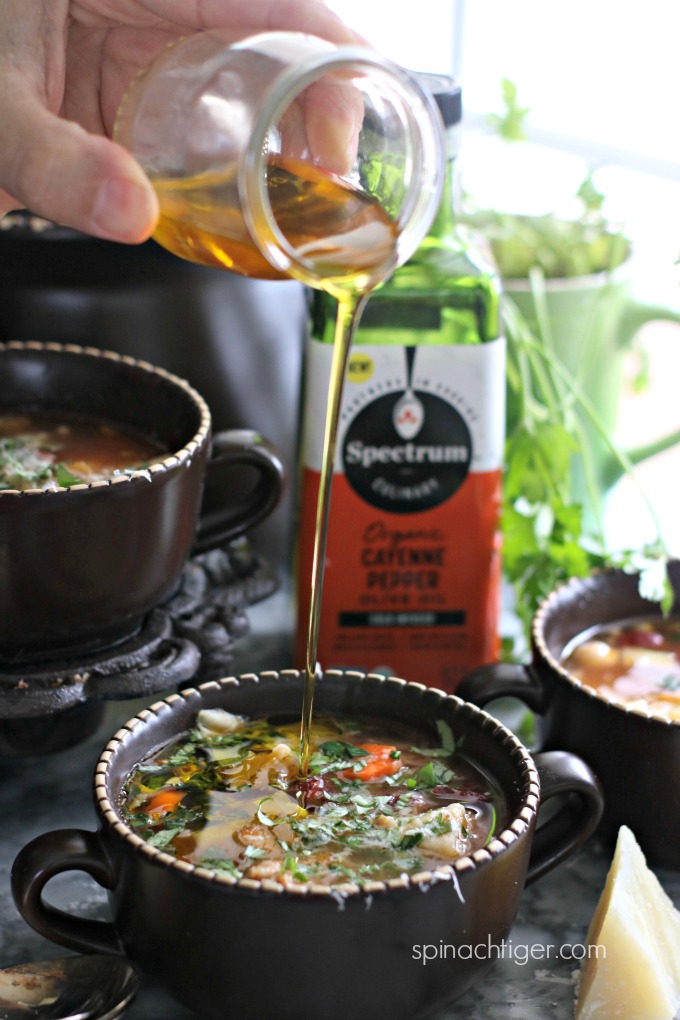 The Soup
This is the time of year that we are between summer and winter. We have the pick of the best vegetables from both seasons, including cabbage, tomatoes, and butternut squash.
You can make this soup fast or you can make this soup slow. You can make this in a slow cooker all night or all day, or on top of the stove in a dutch oven.
You can cut up every veggie yourself or you can use a selection of frozen. You can use a homemade bone broth like I did, or you can buy a nice organic boxed broth.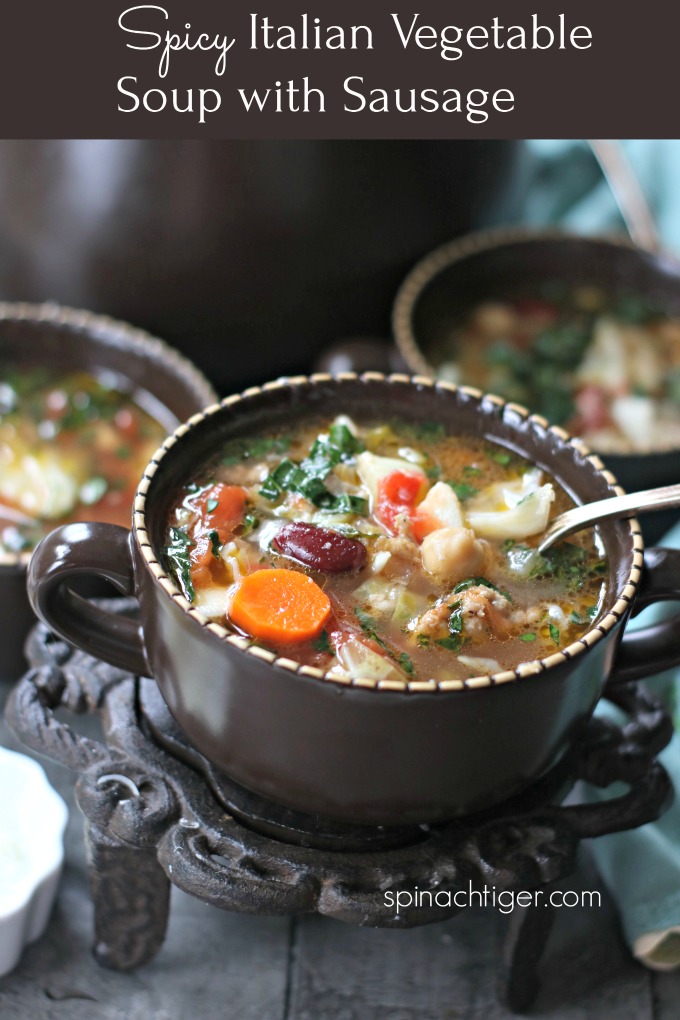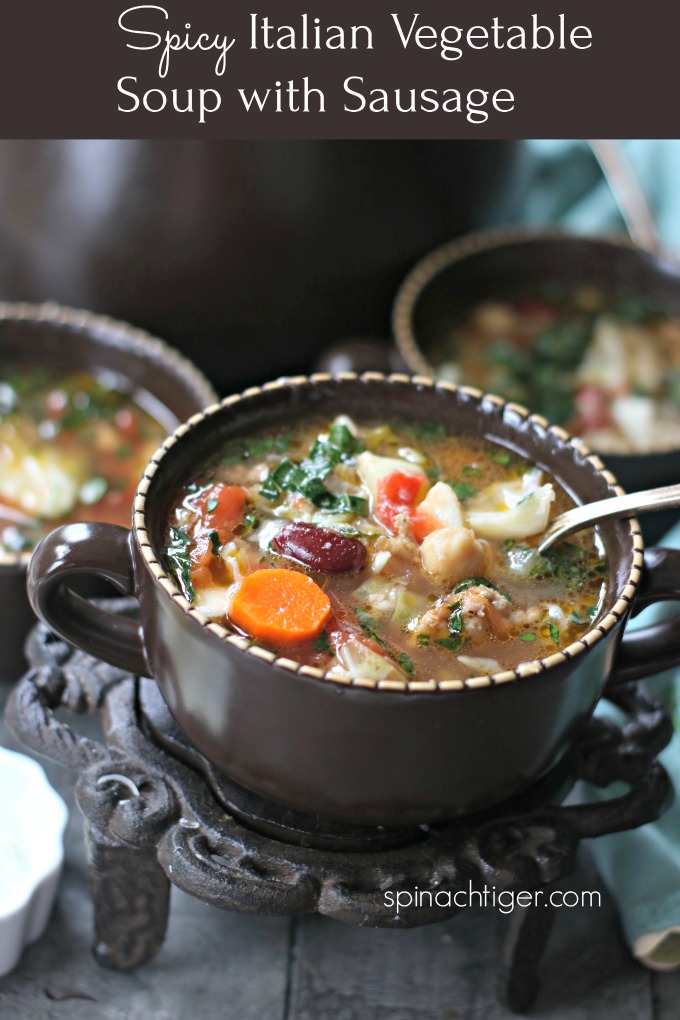 Add Seasonal Vegetables to Italian Soup with Sausage
You have options with vegetables. While the important ingredients of this soup include celery, onions, tomatoes, carrots and cabbage, feel free to add or subtract various vegetables you may have on hand. I've made this soup with broccoli and zucchini the first time and cubed butternut squash the second time.
If you happen to have some freshly picked seasonal vegetables, add them in. In the summer that would include yellow and green zucchini. In the winter, you might add in broccoli, cauliflower or butternut squash.
I like to sauté my carrots, onion, celery and cabbage for just a few minutes to drive flavor. The sausage is loose Italian sausage that is browned before adding to the soup.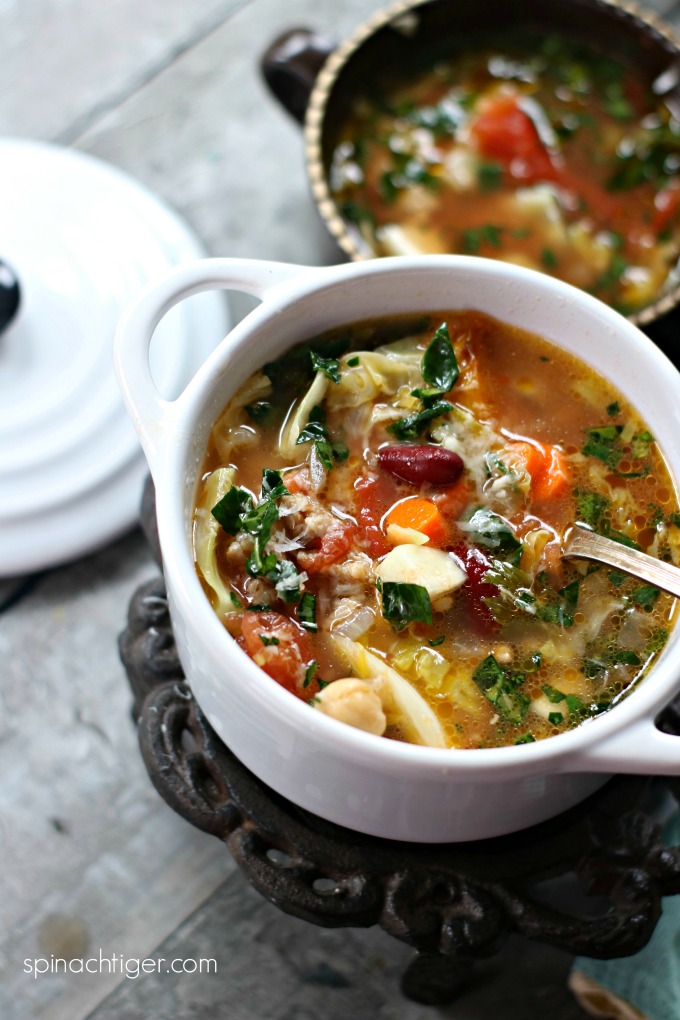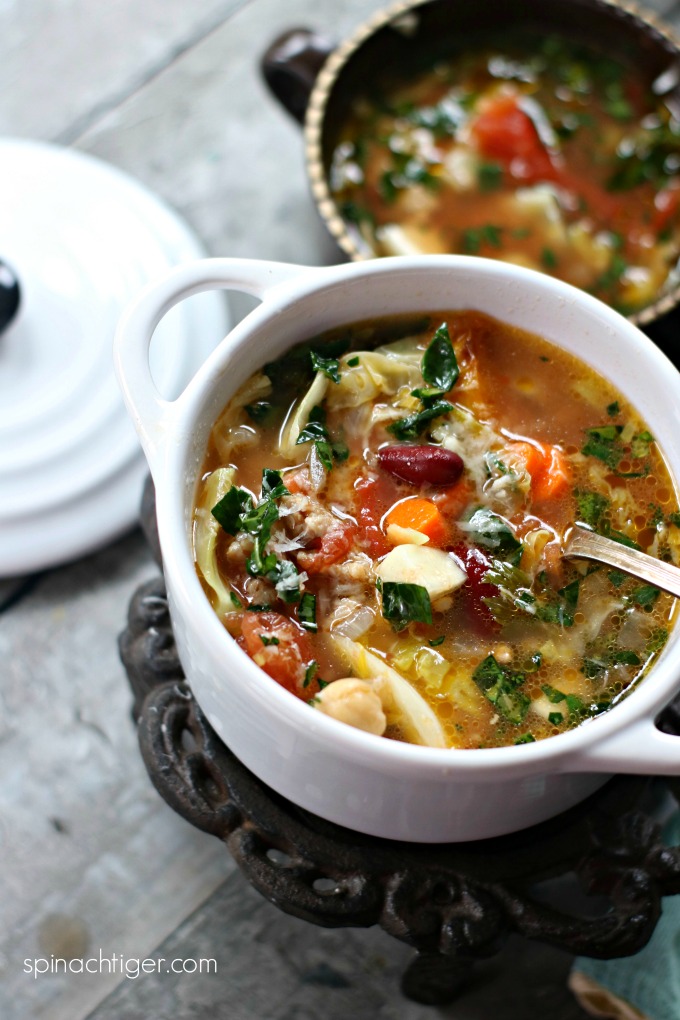 Use Homemade or Organic Store Bought Broth for Italian Soup with Sausage
I always start with a good homemade bone broth and it works well with either my beef broth or chicken broth. If time is short, I use an organic store bought broth.
While the soup is cooking, add a heaping few tablespoons of Spectrum® Cayenne Pepper Olive Oil to drive some spicy flavor.
Let me assure you, once you take the twenty minutes to prep this soup, you can leave it. You will have enough for a few dinners, as it freezes well.
Serve this soup with freshly grated pecorino Romano or parmesan cheese and Spectrum® Cayenne Pepper Olive Oil for a drizzle that gives the soup some spark.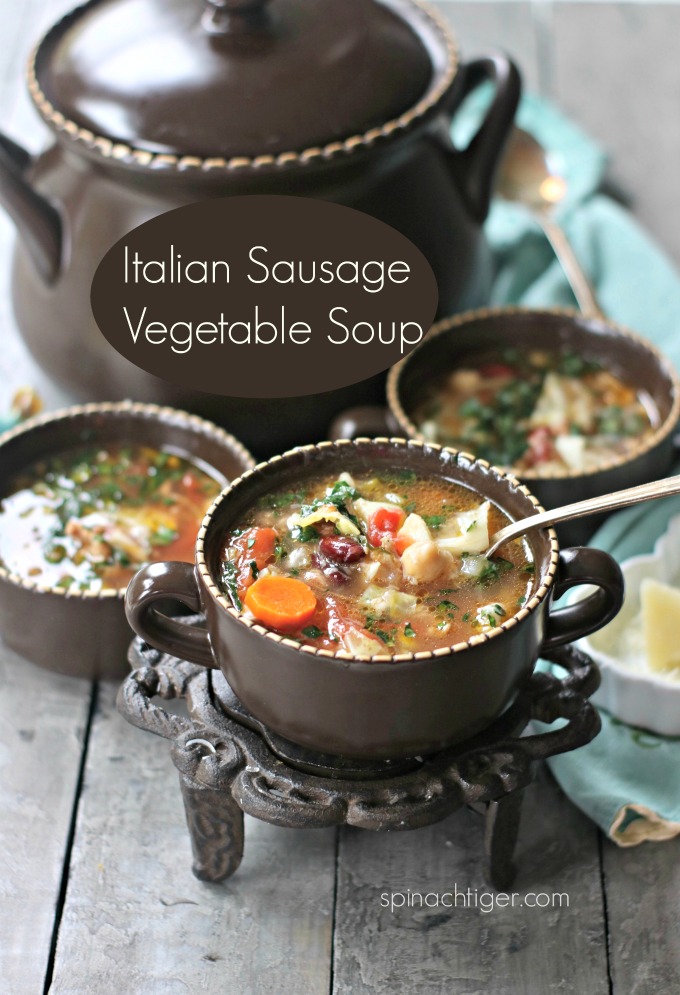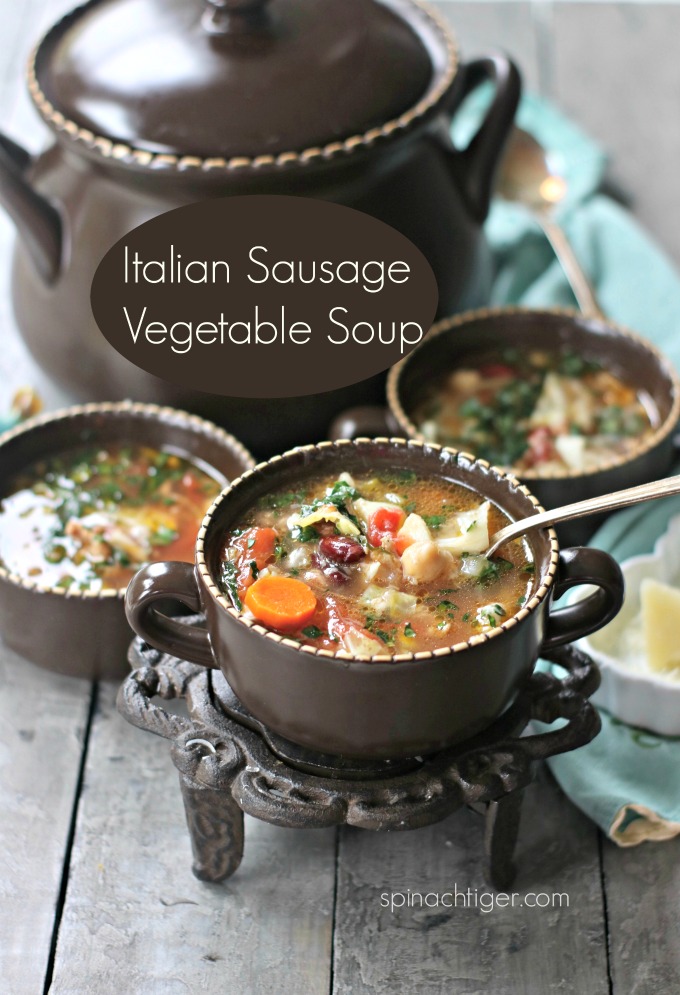 More Spinach Tiger Soups that Love a Drizzle of Olive Oil
Italian Eggplant Soup with Sausage
30 Low Carb Vegetables with over 100 Recipes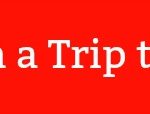 Print Recipe
Spicy Italian Soup with Sausage
Italian Soup with Sausage with Spectrum ® Cayenne Pepper Olive Oil Drizzle.
Ingredients
4

quarts

broth

beef broth or chicken broth See Notes

1

large can San Marzano tomatoes

2

tablespoons

olive oil to cook sausage

1

pound

loose Italian sausage

1

large onion

diced

4

carrots

diced

4

celery stalks

diced

2

turnips

peeled

1

small head cabbage

1

can red beans

1

can white beans or chickpeas

1

tablespoon

sea salt

up to, taste as you go

2

teaspoons

freshly ground black pepper

handful parsley leaves

2

bay leaves

2

tablespoons

Spectrum® Cayenne Pepper Olive Oil

see notes

1 to 2

cups

chopped kale

1

handful parsley

Spectrum® Cayenne Cayenne Pepper Olive Oil Drizzle for Serving

1 teaspoon per serving

Grated Pecorino Romano or Parmesan Cheese for Serving

1 tablespoon per serving
Instructions
Bone broth can be made in advance and frozen or started 24 hours in advance. Another option is to use 4 quarts store bought organic broth.

Add broth to slow cooker. Turn cooker on to time you desire. I used the six hour time.

Chop tomatoes, and add to broth along with the juices.

Brown Sausage in large frying pan with oil.

Remove sausage to a dish, and add celery, carrots, onion, cabbage to pan.

Sauté lightly for just a few minutes to open up flavors. You are not fully cooking.

Add sausage, and vegetables,(except for kale) to broth.

Rinse beans with cold water. Drain. Add to broth.

Add 2 tablespoons Spectrum Cayenne® Pepper Olive Oil

Add in a handful of parsley, bay leaf, 1 teaspoon salt, 1 teaspoon black pepper.

Cook in slow cooker for 4 to six hours. I chose six hours.

Stovetop Option: Cook on low for at least 2 hours making sure cabbage is cooked through.

Remove ribs from kale. Chop. Add to soup about twenty minutes prior to serving., so that kale is not overcooked.

Taste for seasoning. Add more salt and pepper as needed.

Garnish with chopped parsley.

Serve with Spectrum® Cayenne Pepper Olive Oil and grated cheese.
Notes
Regarding broth, use either chicken or beef.
Instead of cayenne olive oil, use olive oil and add in red chili flakes according to the heat you prefer.
Please follow me on instagram. If you make this recipe,  please tag me #spinachtiger.
If you love this recipe, please give it five stars. It means a lot. xoxo
This site contains affiliate Amazon links which earn a small commission.