Grain Free Coconut Cupcakes, Keto Friendly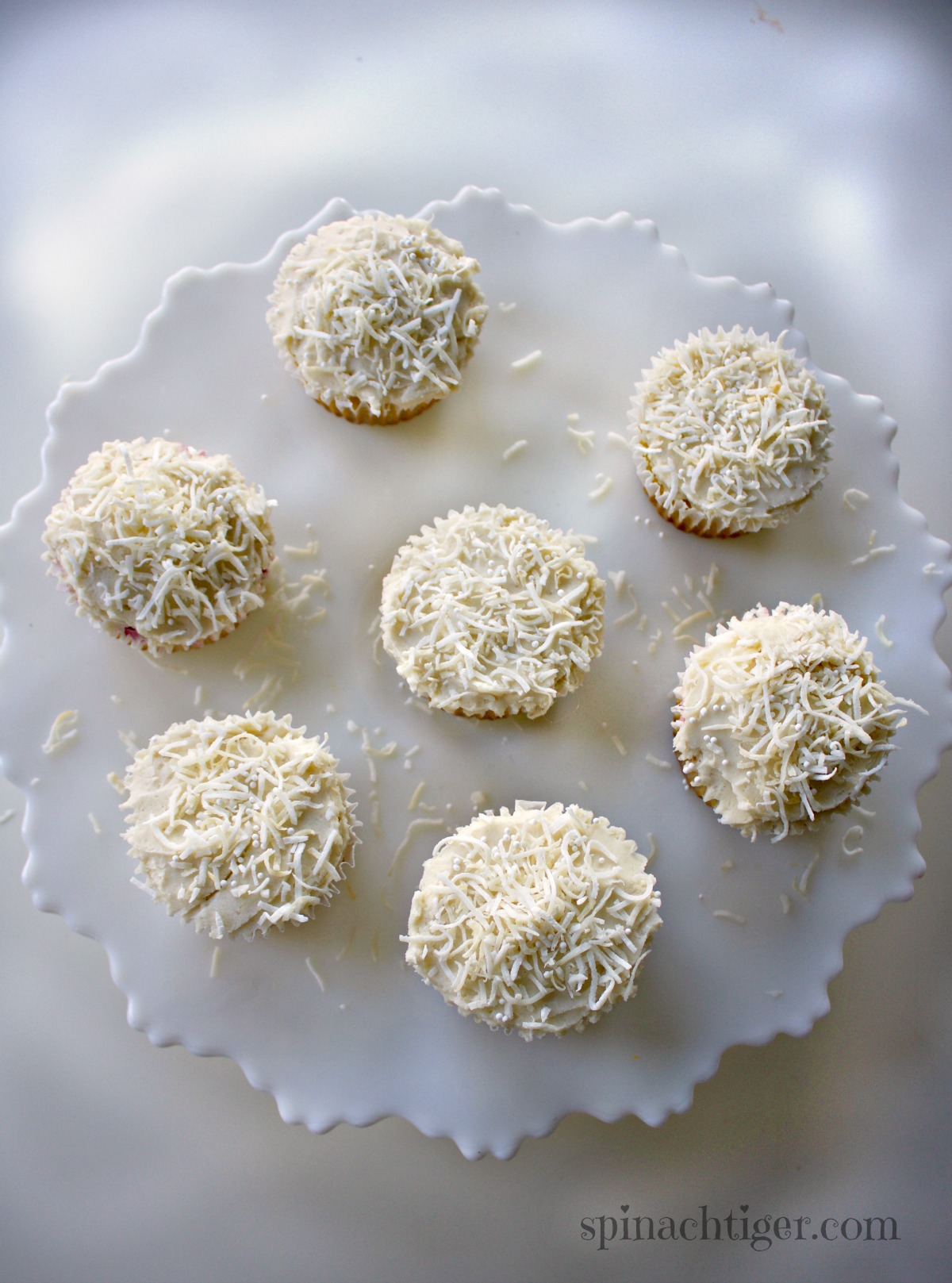 Do you obsess over coconut cake, cupcakes? I do and I know you probably do too, because you all love these coconut cupcakes and this coconut cake.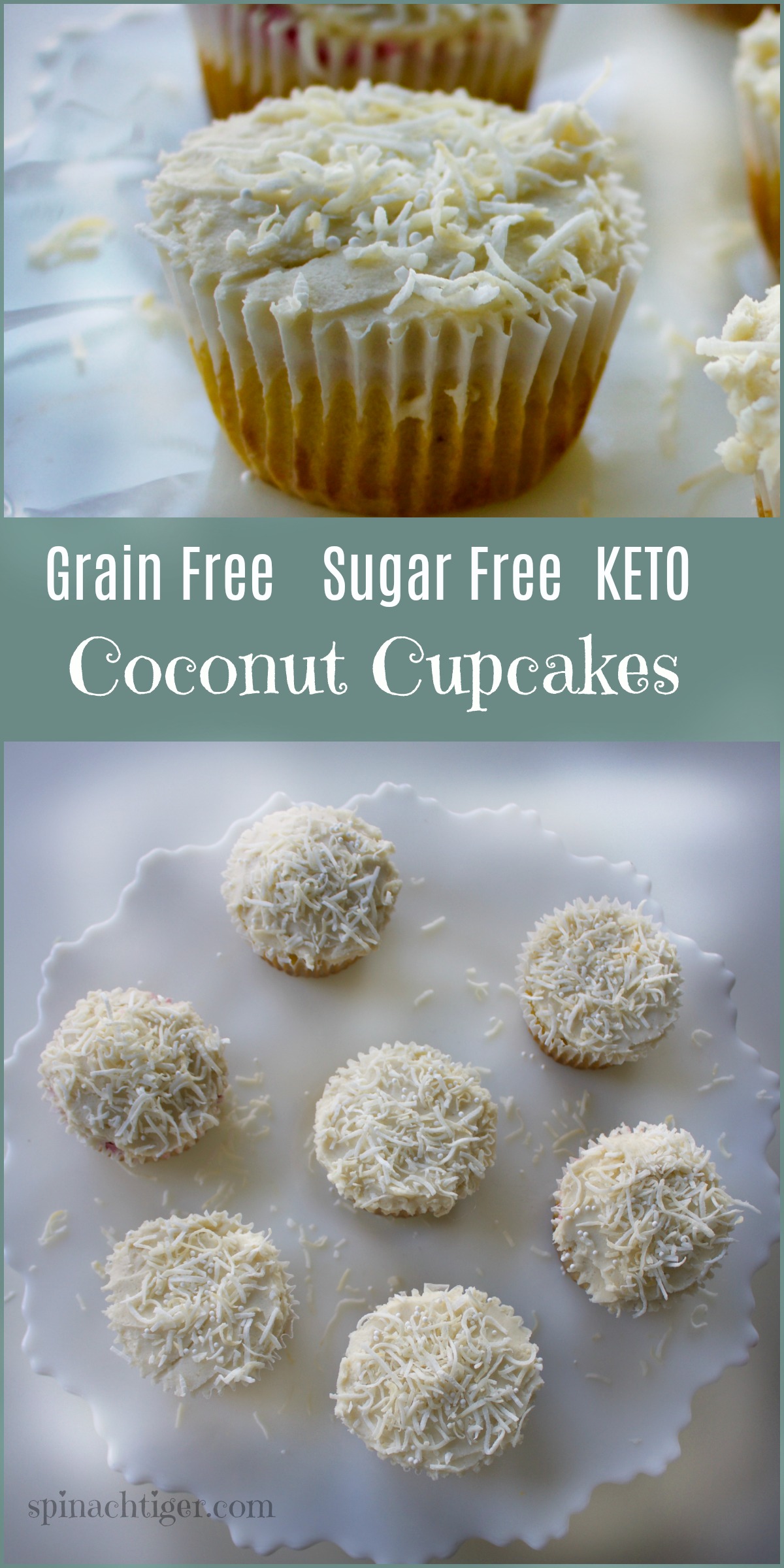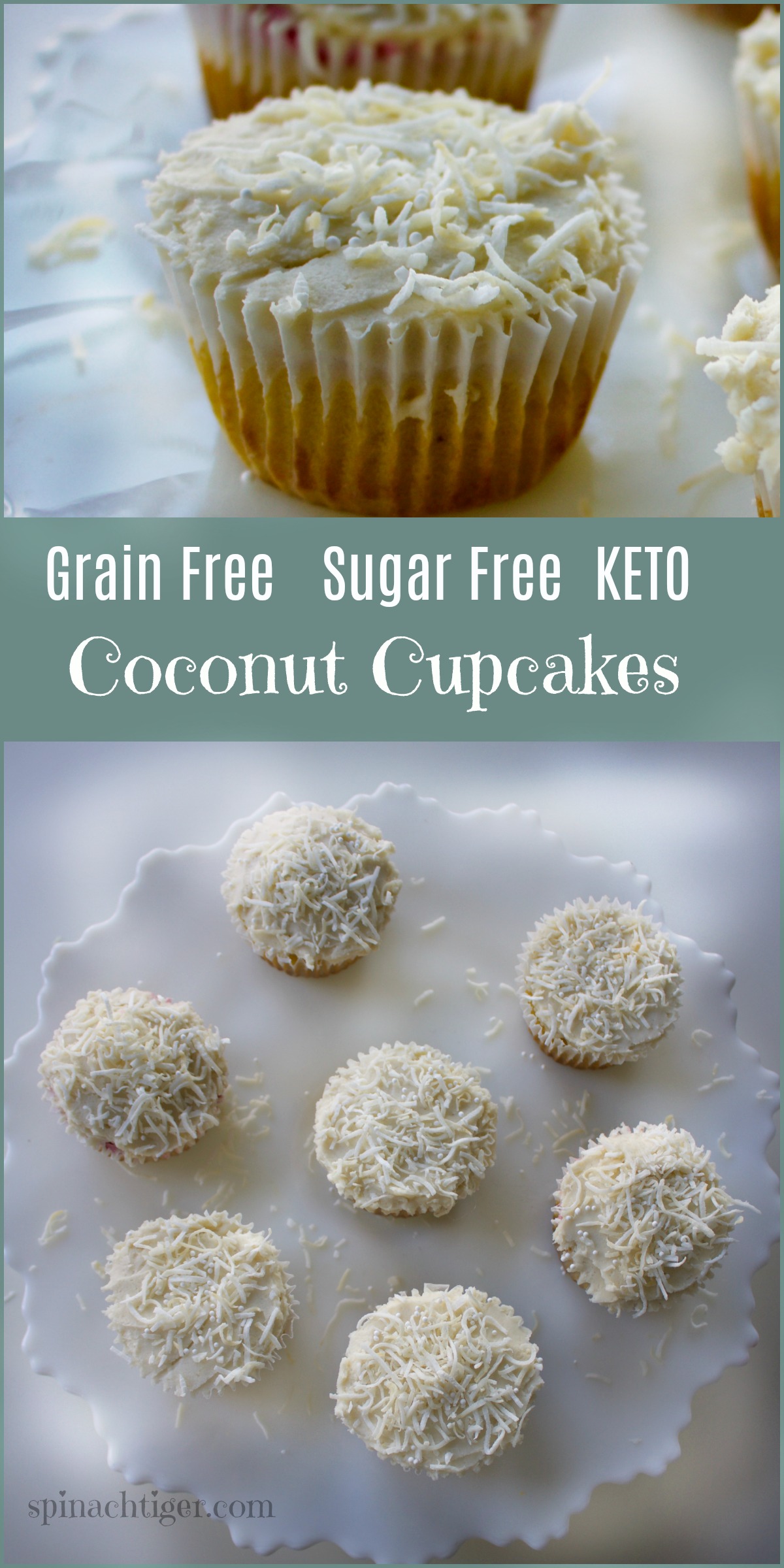 Converting a great coconut cupcake recipe (one I've made at least 50 times, and won a contest for) to a grain free, sugar free option is a challenge, but so worth the extra effort.
To my great surprise the cake part was easy. It took only two tries to nail it, using coconut flour. This recipe will serve as a base for many more cake recipes.
When You Bake with Coconut Flour
When you bake with coconut flour, you must use a lot more eggs, as coconut flour absorbs liquid. I used six for 12 cupcakes. It's also better to replace butter to with avocado oil (or a baking coconut oil) because you need that liquid and moisture.
The good news is that instead of using several cups of flour, you only need 3/4 cups coconut flour . This makes a much more affordable cake than using the gluten free flours. This cake is also less dense than those other alternatives, refrigerates and freezes extremely well. It's diabetic friendly because there is no spike in blood sugar, and for the keto folks, will not take you out of ketosis.
My original recipe makes giant cupcakes; this recipe makes 12 small cupcakes, but if you're here to cut sugar, calories and carbs, this is happiness.


My Secret to Delicious Grain Free Coconut Cupcakes
I won second place in a big cupcake contest in Nashville with my secret ingredient. Nutmeg. A few dashes of freshly ground nutmeg marries well with coconut and I put it in the batter and the frosting. On another occasion I made these same cupcakes, skipped the nutmeg and added raspberries to the frosting.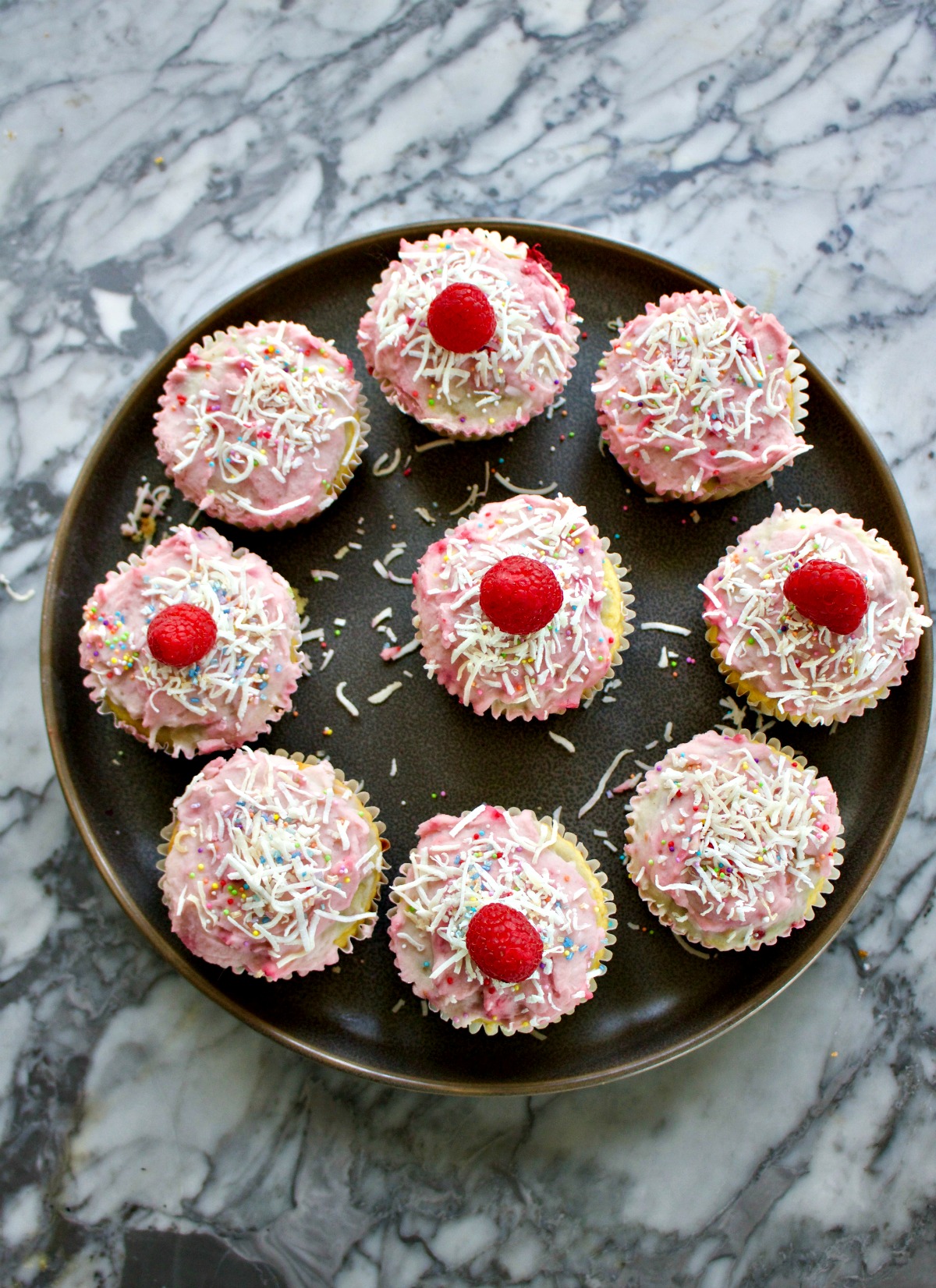 Frosting Grain Free Coconut Cupcakes
As far as the frosting, this is the trickiest part. I opted to use cream cheese but not in the ratios I usually do. I've made this frosting several times now and realized you can't do the typical taste taste you can do with regular frosting.
Swerve recommends whipping the frosting for 10 minutes to combine flavors. I discovered refrigerating helps move those flavors along if you don't have a Kitchen Aid to mix it that long. You might think you're getting it wrong, but once you put the cupcake together, refrigerate and then taste, you will see how good it is.
You will not use more than one cup of swerve for cupcakes. When using regular confectioner's sugar, you will use 3 to 5 cups with the same amount of fat. That's good news because Swerve is expensive.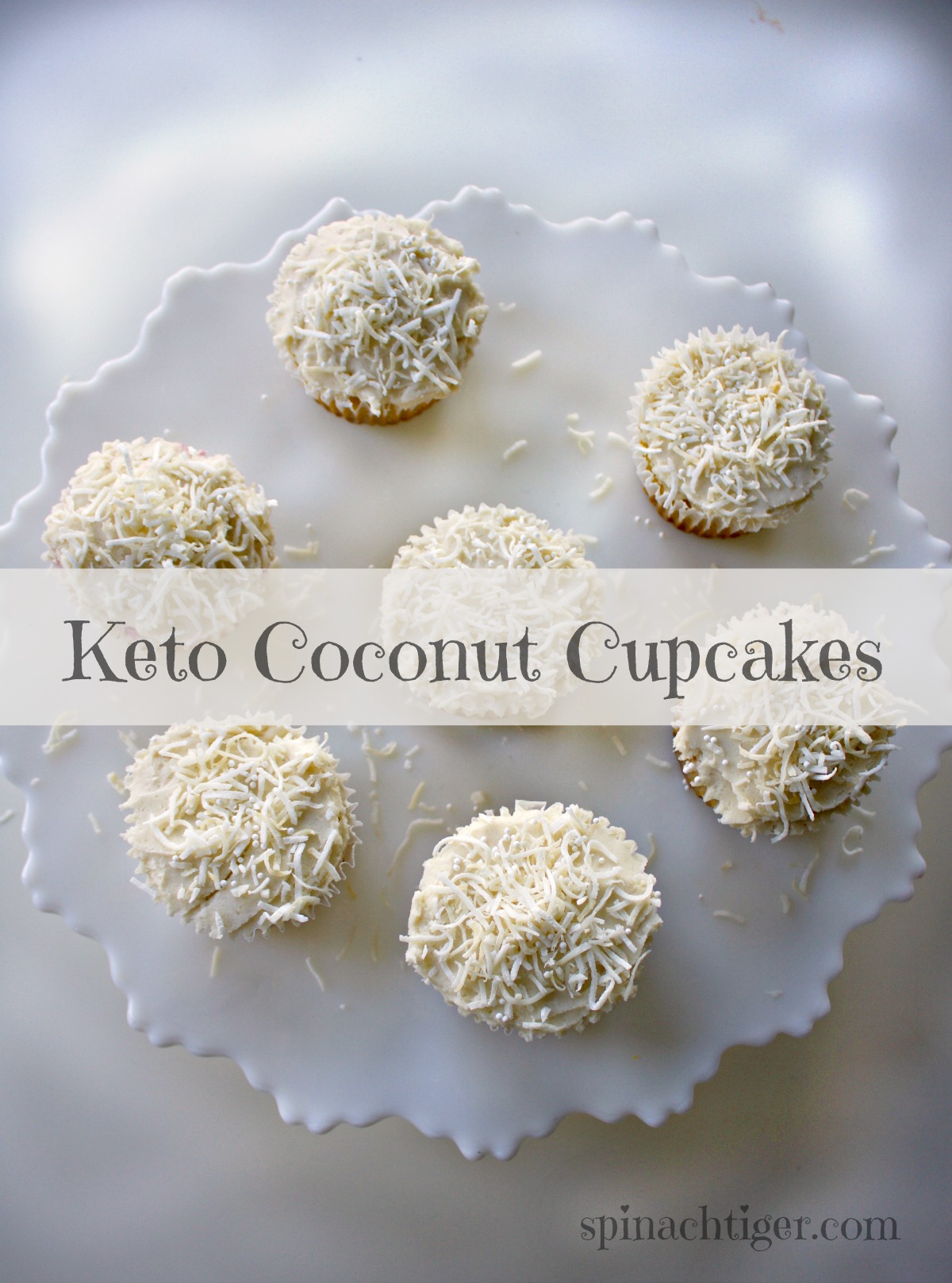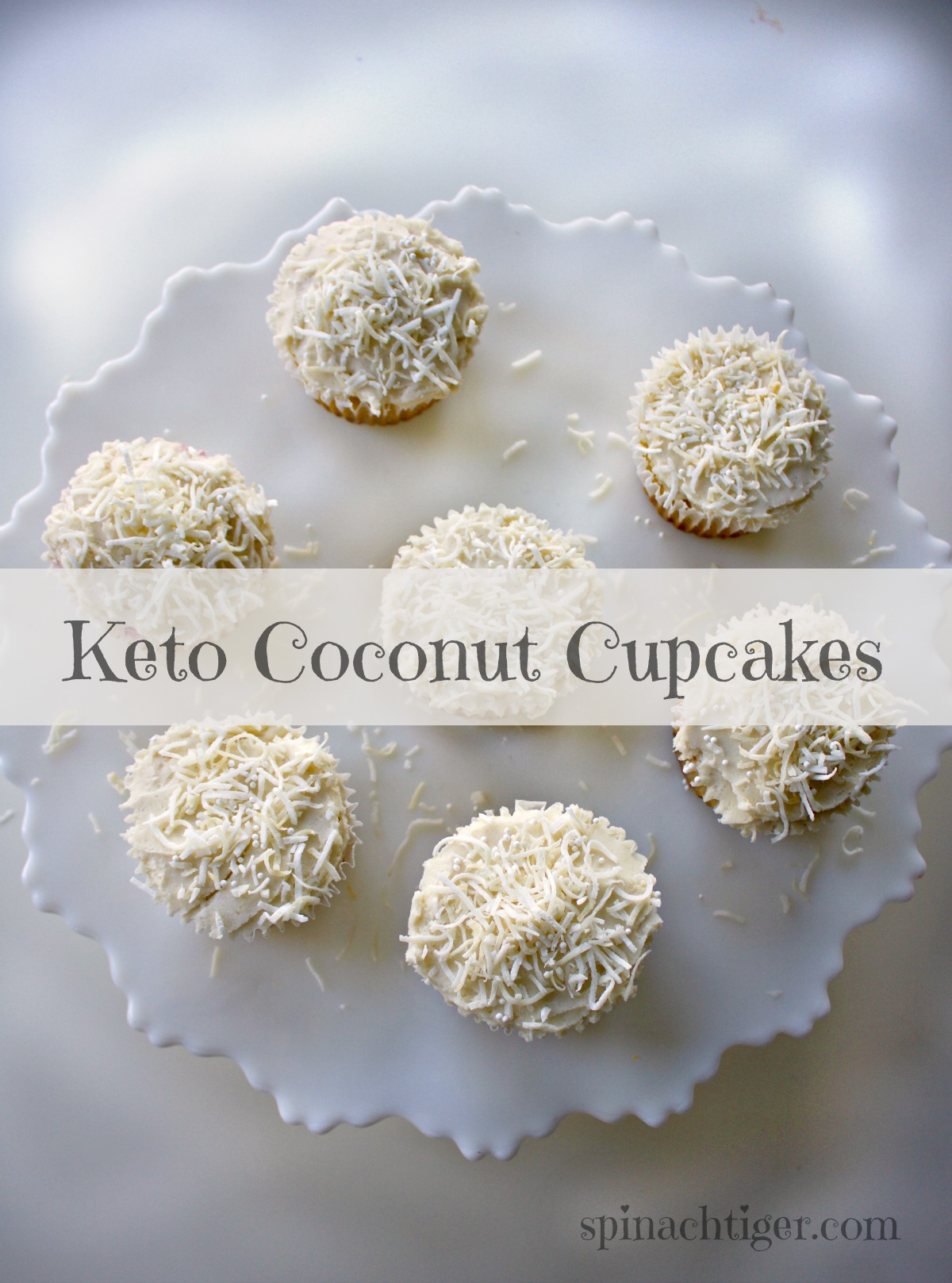 Do not put a lot of frosting. I don't recommend piping, as this will add to much. Just smear on enough to cover and then top with unsweetened coconut. It will be more than enough to satisfy your coconut cake craving.
I also found that I need to refrigerate the cupcakes for a while (an hour or so) before eating. They taste better this way.
The cake will be very moist, but will not fall apart. So far, these grain free coconut cupcakes are my favorite keto/low carb dessert recipe. It's not low-calorie. It's high in fat. But it is low in carbs, grain freem and sugar free. It's also diabetic friendly.
I am still navigating this new terrain, and will continue to share everything I discover.
I also have a tutorial on how to color coconut with a tutorial video.
If you love coconut and you're going low-carb I have an amazing coconut ricotta cookie you might also love.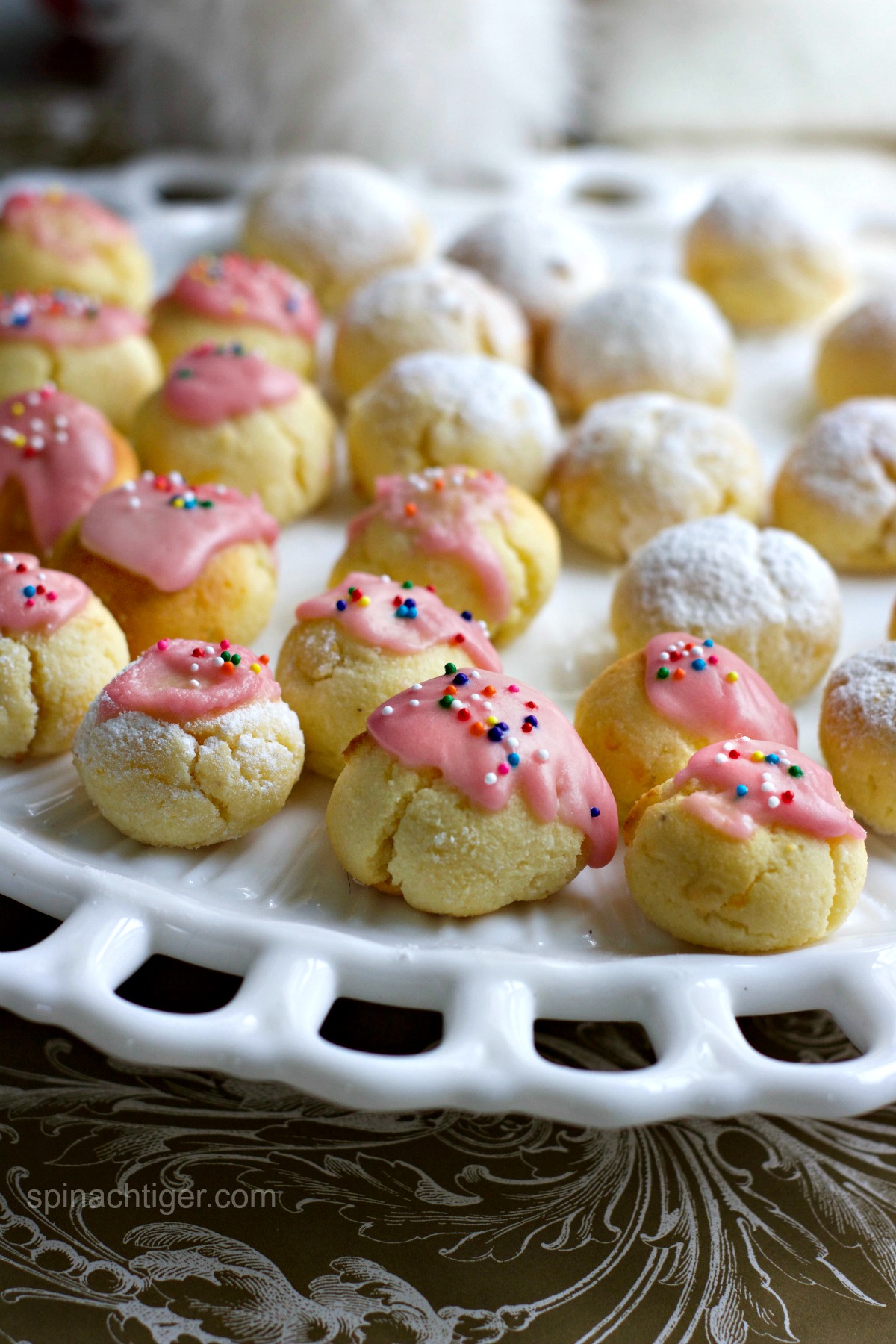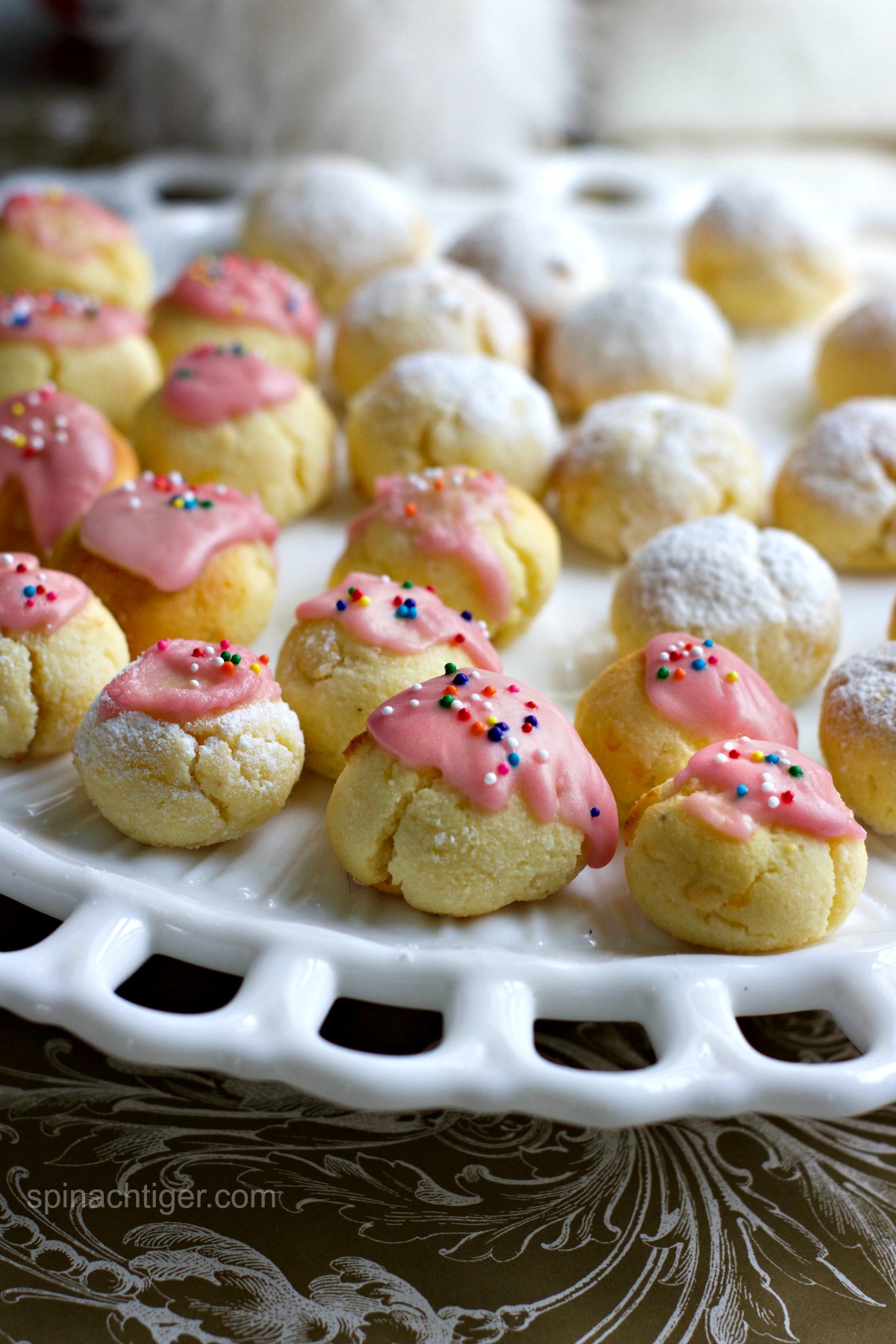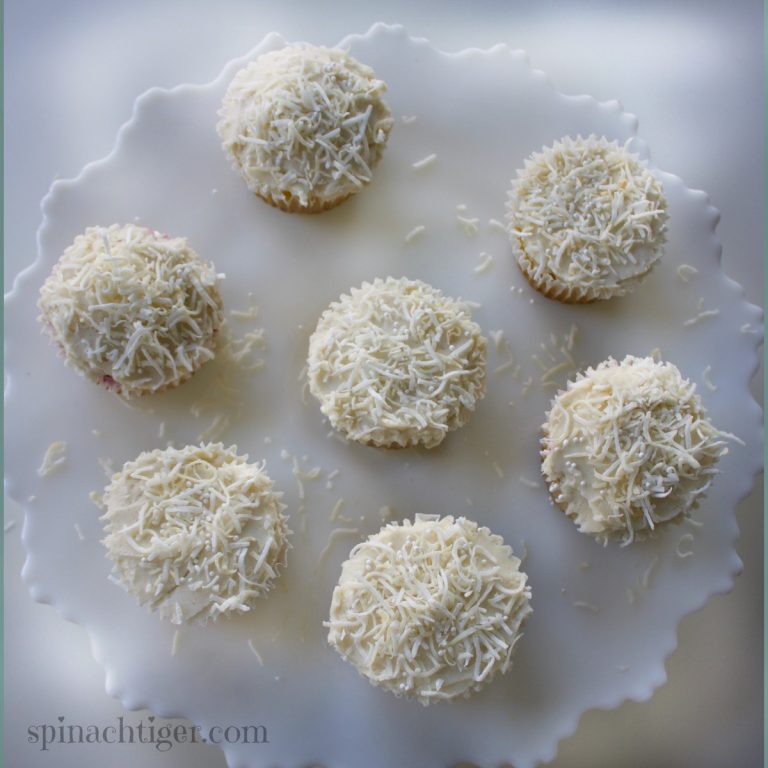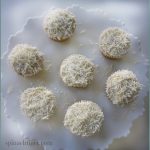 Print Recipe
Grain Free Cupcakes, Sugar Free, Keto, Low Carb
The best grain free, sugar free, keto friendly coconut cupcakes.
Ingredients
3/4

cup

coconut flour

1/2

teaspoon

baking soda

1/2

teaspoon

baking powder

1/3

cup

milk

I use coconut milk

1/2

cup

oil

I use avocado oil

6

eggs

3

tablespoons

sour cream

1/2

teaspoon

coconut extract

1

teaspoon

vanilla extract

1/2

teaspoon

freshly ground nutmeg

optiona

1/2

cup

unsweetened coconut

1/2

cup

Swerve or sugar

5

drops stevia glycerite
!Coconut Cream Cheese Frosting (see notes)
8

ounces

full-fat cream cheese softened

10

tablespoons

unsalted butter

softened

1

teaspoon

vanilla

1/4

teaspoon

coconut extract

1

tablespoon

heavy cream

coconut cream, or almond milk

1/2

cup

unsweetened coconut for the garnish

5

drops Stevia glycerite
Instructions
Mix the baking soda, baking powder, nutmeg, coconut flour together. Mix very well. set aside.

Add oil, milk, eggs, sour cream, vanilla to the dry mix. Add vanilla.

Mix well. This is a very easy cake to make.

Allow to sit for 5 minutes.

Spray cupcake liners. These do tend to stick.

Bake at 350 degrees for 13 to 15 minutes.

Cool completely before frosting.
Frosting Instructions
Whip butter until very smooth. Add in cream cheese. Whip again until very smooth.

Add vanilla. Mix.

Add Swerve Confectioner's Sugar 1/4 cup at a time, mixing well on medium low each time.

Add milk or cream only if necessary.

Spread on cooled cupcakes.

Top with coconut.

Refrigerate for an hour to meld the flavors if you are not going to refrigerate cupcakes. The taste of the frosting gets better once it's refrigerated as all the flavors come together.

You might want to make the frosting first, refrigerate, while you baking the cupcakes.
Notes
You can make more of a buttercream frosting with 1 cup butter, 2 tablespoons cream cheese, and 1 cup of Swerve, 1/2 cup coconut. It will depend on your preference. I've done both with this recipe.
Please follow me on instagram. If you make this recipe,  please tag me #spinachtiger.
If you love this recipe, please give it five stars. It means a lot. xoxo