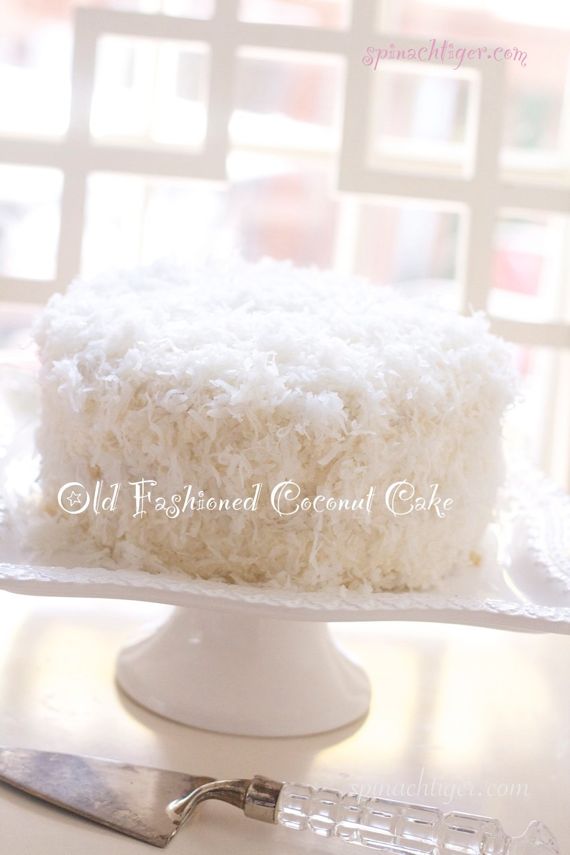 A birthday dinner of southern fried chicken, mashed potatoes, home style southern green beans, with sparkling Rosé should be followed up with a good old fashioned coconut layer cake. It's the mother of elegant comfort food desserts, as it's rich and lady like.
Around here September is big birthday month. Nearly all the important people in my life were born in September, including me.  My friend was born on September 11. That's a tough break if you live in America, and that means, it has to be extra sweet and extra special.
We both share our love for coconut cake and it matches our style. We are both girly girls and coconut cake is girly. It was the cake served at my wedding, and it was one thing I absolutely would not change in a wedding redo even if David Tutera planned it.
It's pretty. It almost always looks good, even at the hand of cake-baking non-professionals and it's white, my favorite color.  This batter is extra special and a little harder to make than some other cakes, but she and I would agree, high maintenance in some areas is worth it.
The cake itself is yellow, but very light because the egg whites are whipped to stiff peaks and folded in. It was too dark to take a photo of the inside of the cake, but you can see what it looks like when I made it here with a lemon curd, which is another option.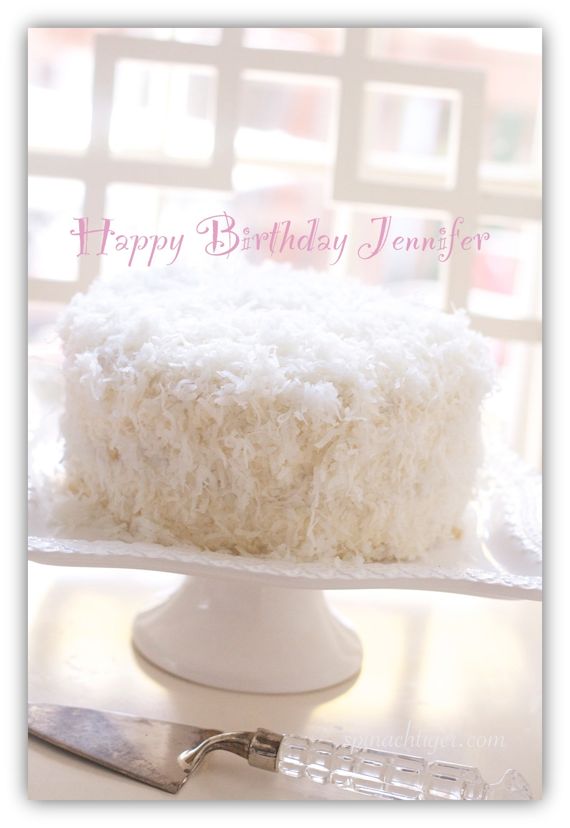 Tell me, what's your favorite cake for your birthday? This year I'm having pie! Maybe next year, on Jennifer's birthday, we'll once again have old fashioned Southern coconut cake!
Coconut Layer Cake
Prep time:
Cook time:
Total time:
Old Fashioned coconut layered cake, inspired from the Joy of Baking.
Ingredients
6 large eggs
2½ cups (325 grams) all purpose flour
2 teaspoons baking powder
½ teaspoon baking soda
½ teaspoon salt
¾ cup unsalted butter, room temperature
1¾ cups (350 grams) granulated white sugar, divided to 1½ cups to cream with butter and ¼ to add to egg whites.
1 teaspoon pure vanilla extract
1¾ cups (420 ml) buttermilk
½ teaspoon cream of tartar
1 cup coconut
FROSTING INGREDIENTS
3 sticks unsalted butter
5 cups confectioner's sugar
1-2 tablespoons cream
1 teaspoon vanilla
1-2 cups coconut to garnish
Instructions
Preheat oven to 350 degrees. Butter and flour two - 9 inch x 1½ inch cake pans, and then line the bottoms with parchment paper (or spray with Bakers Joy).
Separate eggs while still cold, and bring to room temperature.
Sift flour, baking powder, baking soda, salt together. Set aside.
Cream butter for two minutes until fluffy.
Cream butter with sugar for 2-minutes.
Add egg yolks one at a time. Beat each for 45 seconds, medium speed.
Add vanilla, mix. Add coconut.
Turning mixer to low speed, add flour mixture and buttermilk, alternating, beginning and ending with flour mixture.
In separate clean bowl whip egg whites until foamy. Add cream of tartar until soft peaks are formed. Beat until stiff peaks are formed.
Gently fold in to cake batter with a spatula.
Bake at 350 for 35-40 minutes.
You can do a two layer cake or a four layer cake, by cutting the layers in half. Or use three cake pans for a triple layer, dividing the cake evenly.
Adjust baking time accordingly.
Allow cakes to rest on a rack for ten minutes before removing.
Invert cakes and allow to completely cool before frosting. I usually freeze cakes for ten minutes before frosting.
FROSTING INSTRUCTIONS
Cream butter until it's fluffy.
Add confectioner's sugar one cup at a time. Between each cup add a little cream. Add vanilla at the end.
To frost cakes, freeze cakes for ten minutes. Remove and beginning with each layer, lightly spread a dry crumb layer. Let that set up and then frost each layer. Add coconut to frosting between each layer. Completely frost cake, and add coconut to cover cake entirely.
Serve at room temperature.
If you need to refrigerate, take out at least one hour in advance.
Notes
I used the "cake" recipe from a coconut cake recipe I have made once before, inspired by the Joy of Baking, but used an old fashioned butter cream frosting.

Regarding buttermilk, you can mix half buttermilk and half coconut milk for added coconut flavor.