I just finished making 180 mini cupcakes for Cupcake Palooza. My blog is not a baking blog or a cupcake blog, but I do my share of baking from scratch, and I thought it would be fun to join the community and a few other food bloggers for a good cause. See information below.
This is my all time favorite cupcake recipe.  It's not the typical coconut recipe. It has a unique flavor from freshly ground nutmeg that is in the cupcake and in the frosting. Usually I stick to white coconut, but today, to make the cupcakes stand out pretty and mesh with our Easter-themed table, I have dyed the coconut various colors. I usually stay away from food dye, but in this case, it's just the tiniest smattering of food color, so feel free to make your Spring or Easter party more special with these delicious coconut cupcakes.
This pretty Easter hay was my inspiration.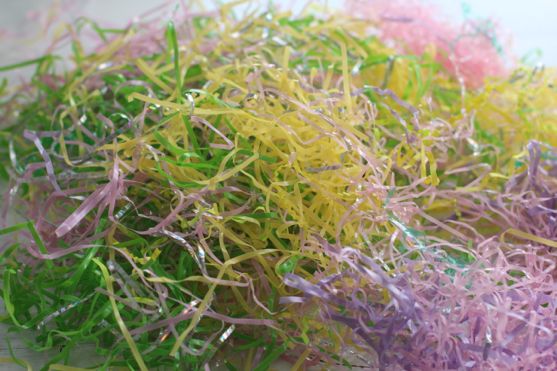 These guys were my helpers.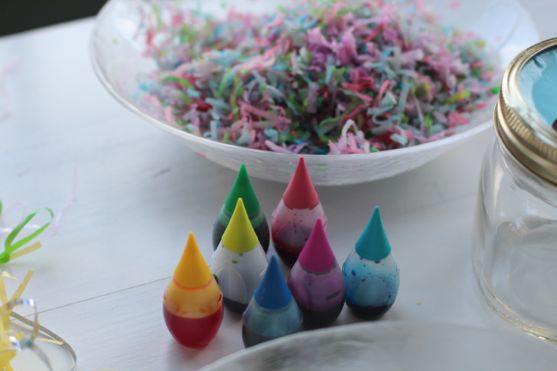 I went for some hot pink.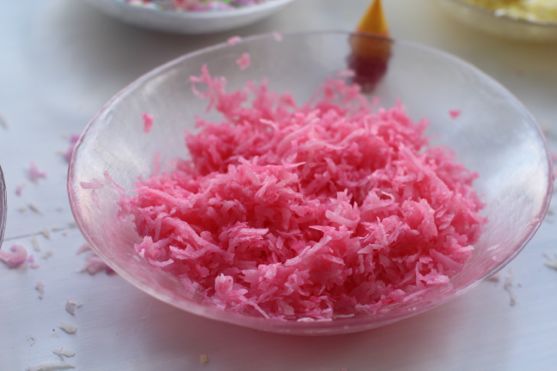 Yellow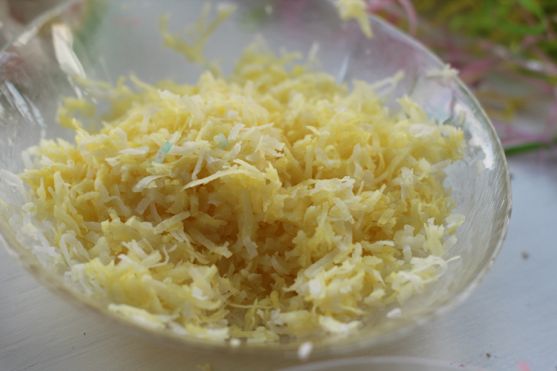 Lavender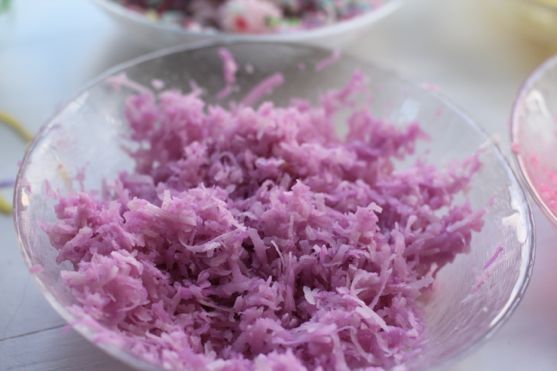 For Confetti coconut, just mix them up.
Today in a few short hours, I will be participating in Cupcake Palooza,  a benefit for Books from Birth of Middle Tennessee, and sample from a selection of thousands of mini-cupcakes donated by local bakeries and home cooks, including a few food bloggers from Nashville. This family-friendly event takes place Saturday, March 24, from 2 to 5 p.m. at the Belmont United Methodist Church's community center (2007 Acklen Ave.). Tickets are available at the door.
Post Edit:  My cupcake won second place. More on this tomorrow.
How to Color Coconut for the Prettiest Coconut Cream Cheese Frosting
Make the most beautiful coconut desserts with colored coconut. Combine colored coconut and make coconut confetti.
Ingredients
1 tablespoon water
1 pint size mason jar
1 cup coconut
1 - 2 drops food coloring (I especially like the neon colors currently available)
Instructions
Put water in jar. Add food coloring according to the color you want.
Shake jar. Add coconut. Shake jar again, until completely mixed.
Lay out on paper towel and allow to dry just a bit to make sure any extra moisture is gone. Store in plastic bags in refrigerator if not using right away.
Notes
If the coconut is too light, separately mix food coloring and water. Mix and add in a teaspoon at a time to darken. If coconut is too light, add in more coconut and continue to shake until desired color. Experiment with combining colors to create new colors. Yellow and Green for a more pastel yellow-green. Blue and red for a lavender. Blue and Yellow for various shades of green.