Maple Pecan Cheese Cake Bars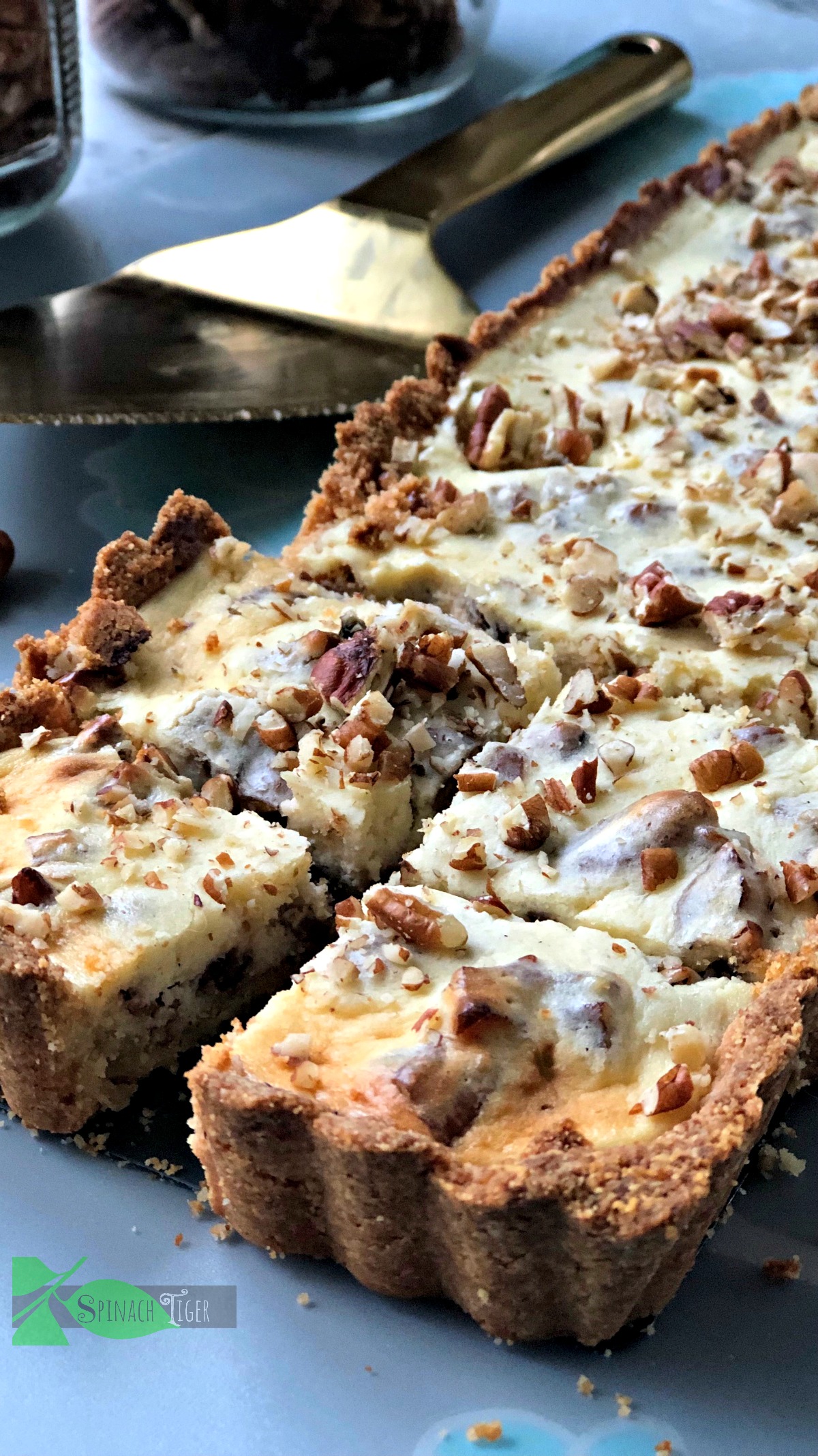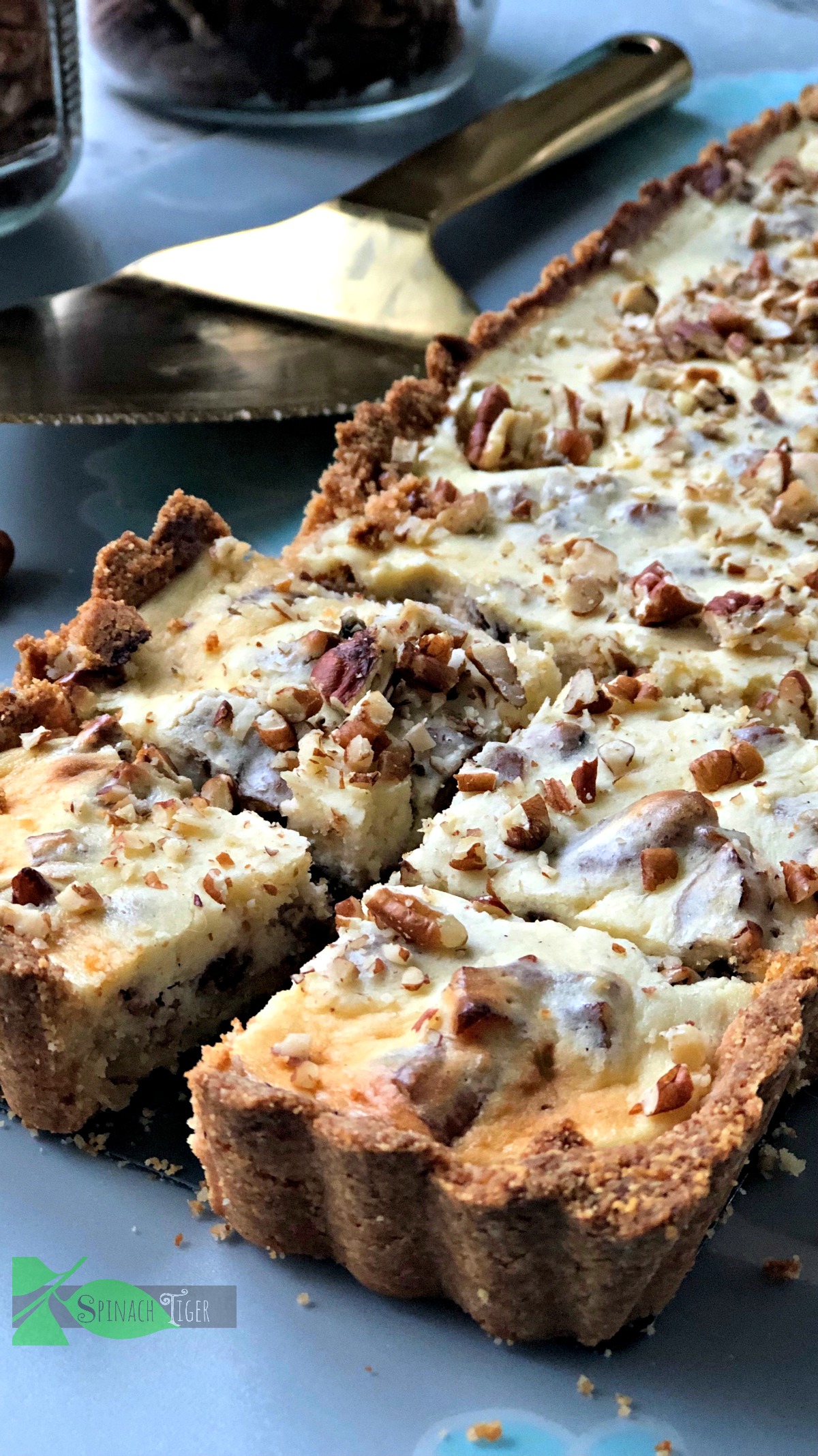 This picture of the maple pecan bars went absolutely nuts on instagram. I've had more people ask me for this recipe than anything I've ever posted.
This made me a bit nervous because it's not the typical super sweet pecan bar that resembles pecan bar, even though after making it three times in one week, I can tell you it's very addicting.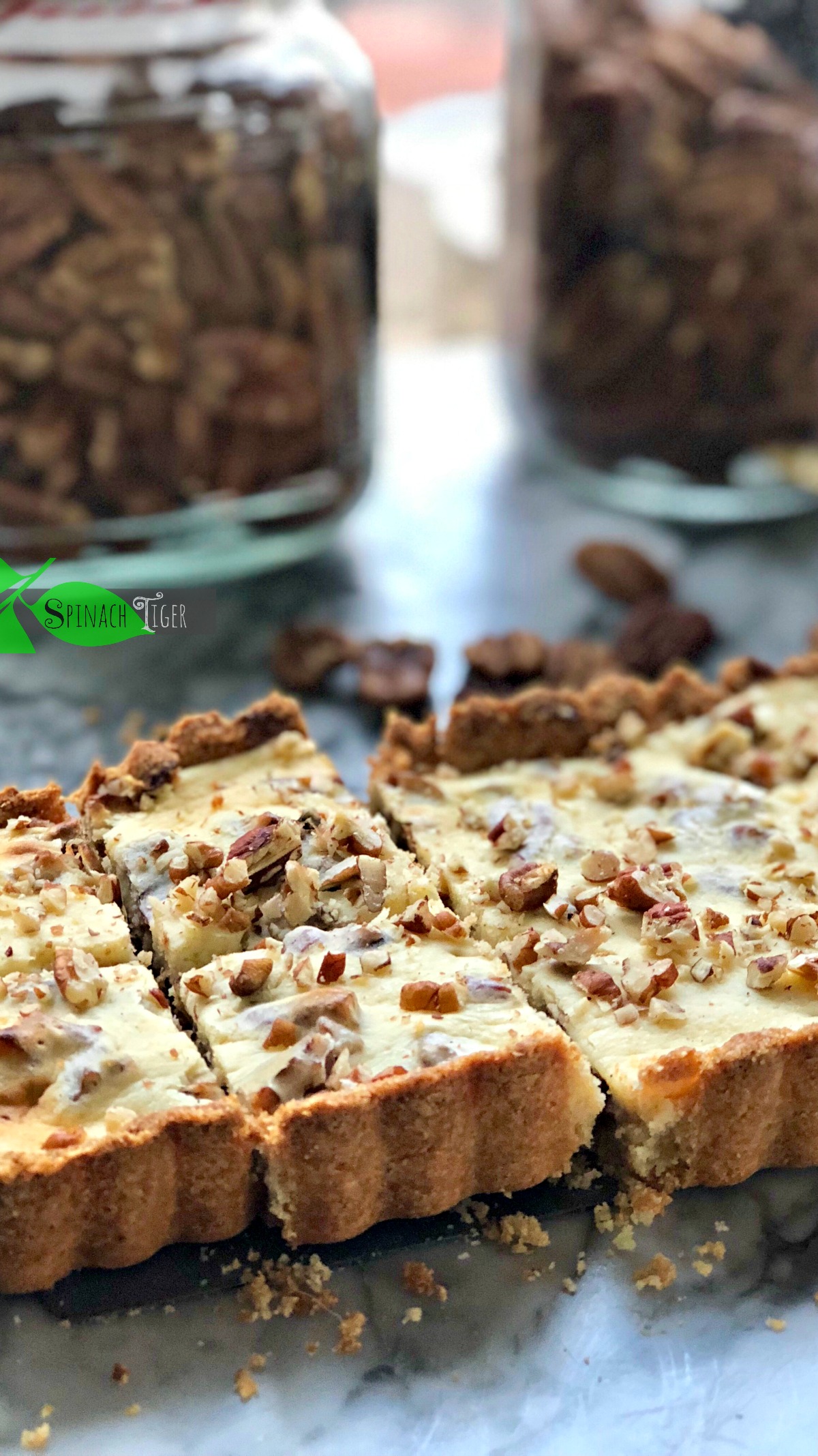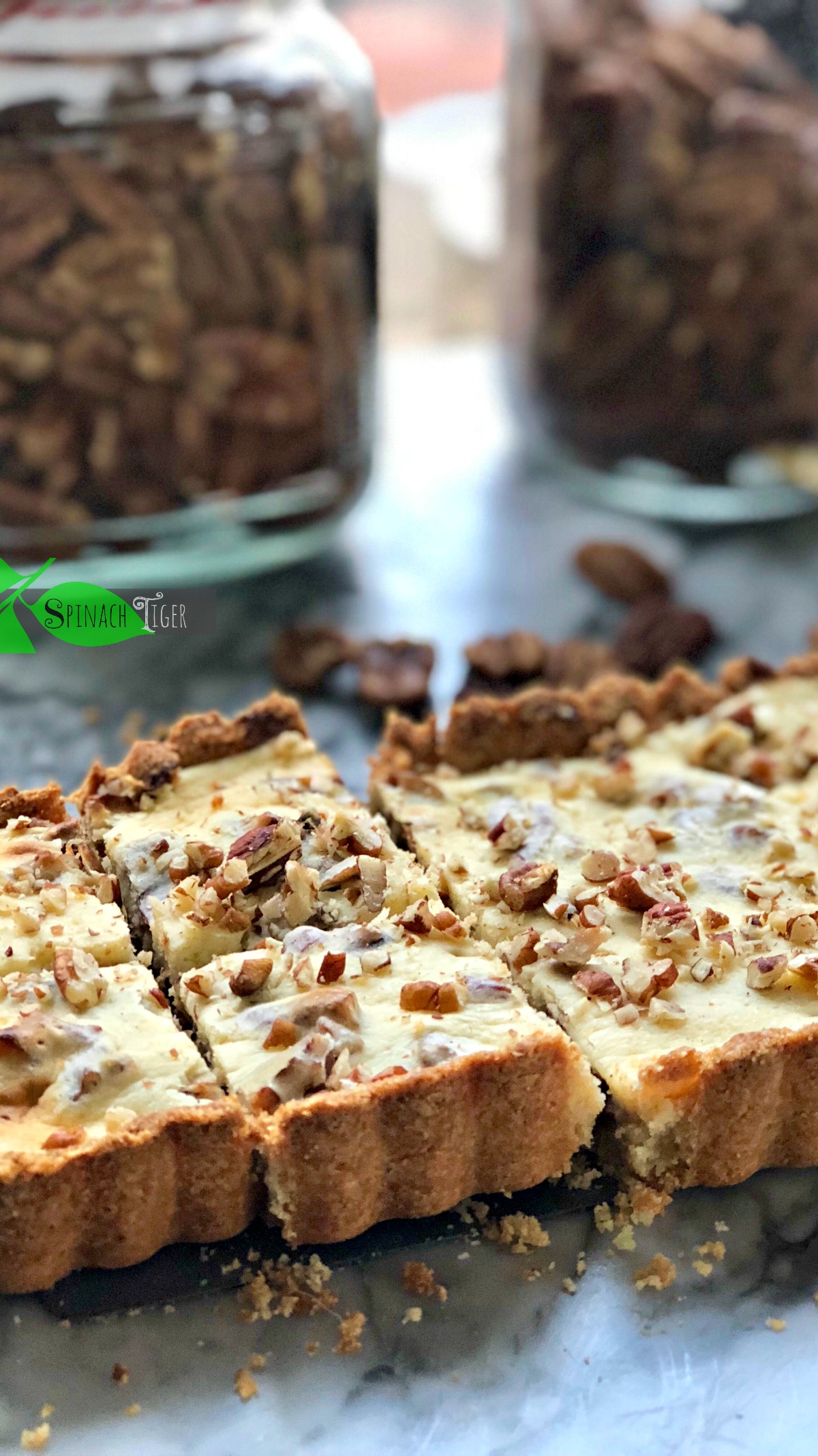 My inspiration comes from my favorite Christmas cookies, the Pecan Tassie which was the very post I ever did nine years ago.  This isn't that cookie because I don't have a good substitute for brown sugar, but it led to this very easy cookie bar that works for any low carb or keto diet and is diabetic friendly.  I had a friend taste test, the first batch this who is strictly following keto and she said the texture was perfect, and suggested adding in maple.
Mr. Spinach Tiger concurred that maple woke this cookie bar up, and now I bring you this recipe that I have made three times and eaten way too much of.
This is not just for holidays, but is something you can easily make all year. I can have it all done in under an hour with then minutes active time. The only tricky part, although not difficult, is the almond flour crust. You have to press it in with your hands, (instead of rolling it). It doesn't look like it's going to work, but once you pre-bake it and you must pre-bake, it's really good, not inferior in any way to other cookie bar bottoms.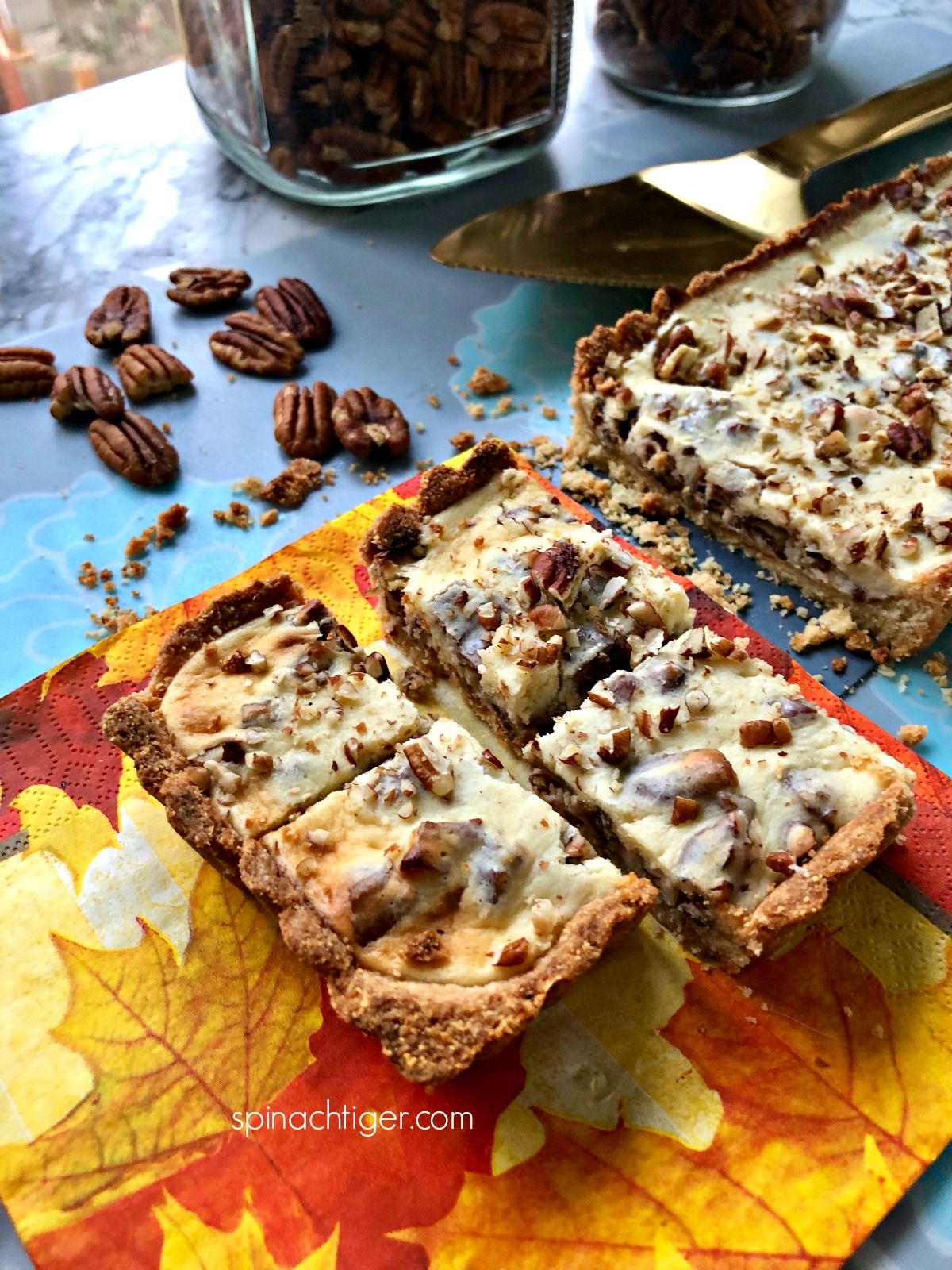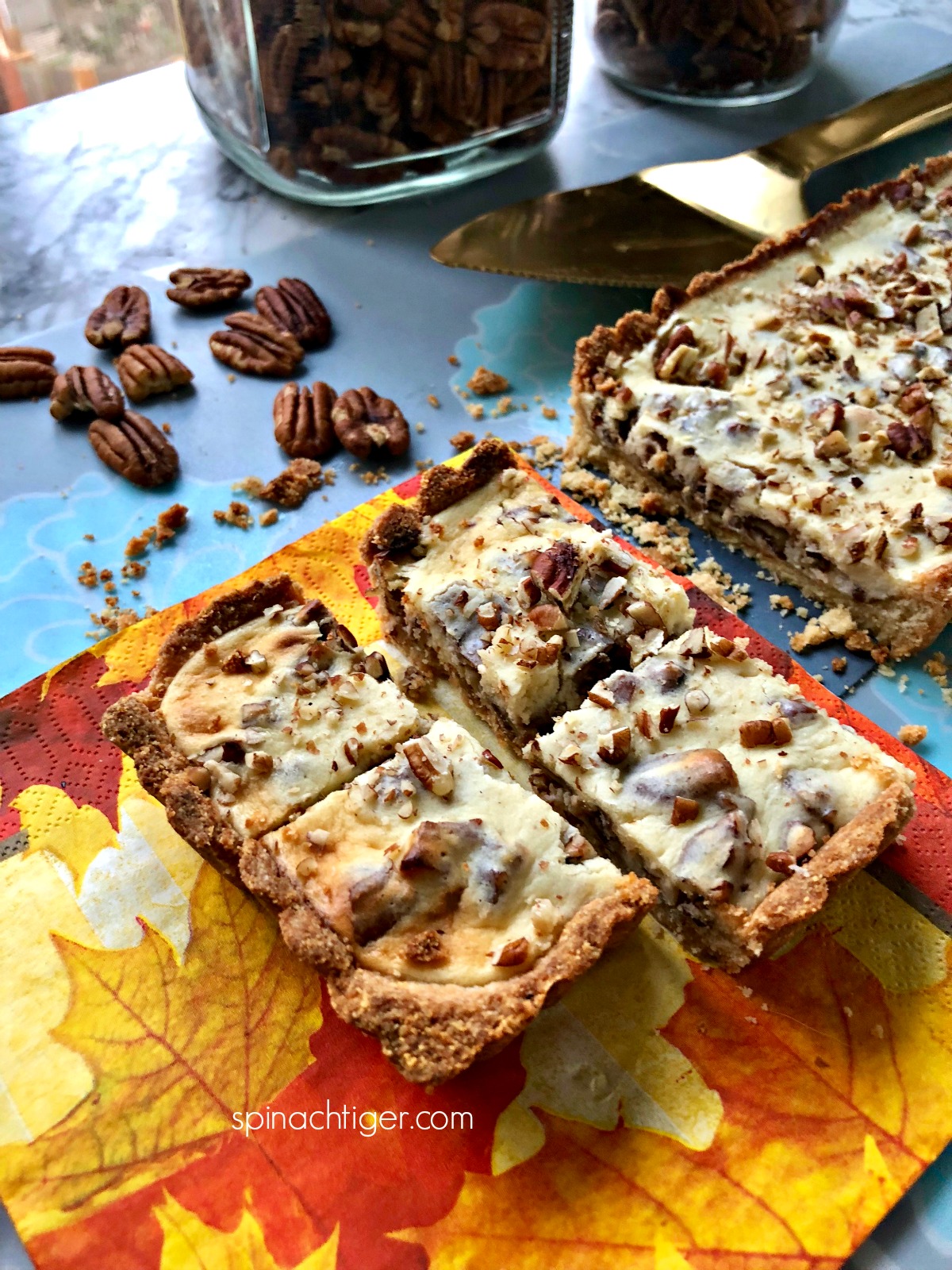 As far as the cream cheese part, it's so simple. Cream cheese, an egg, swerve (or sweetener of your choice), vanilla and maple extract and you're just about done. Chop one cup of pecans, bake for about twenty minutes and then chill thoroughly. Cut into squares and take to your next party!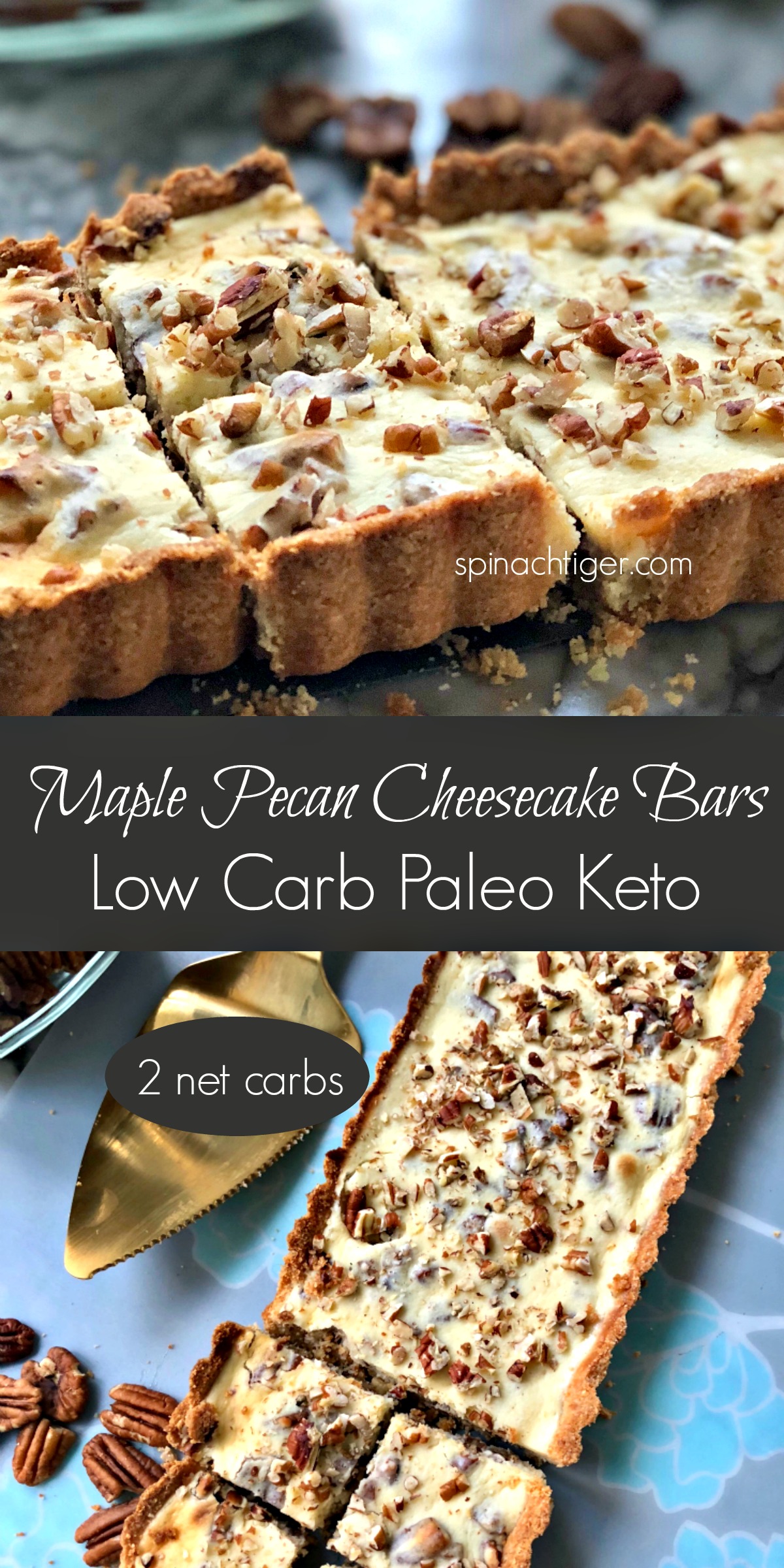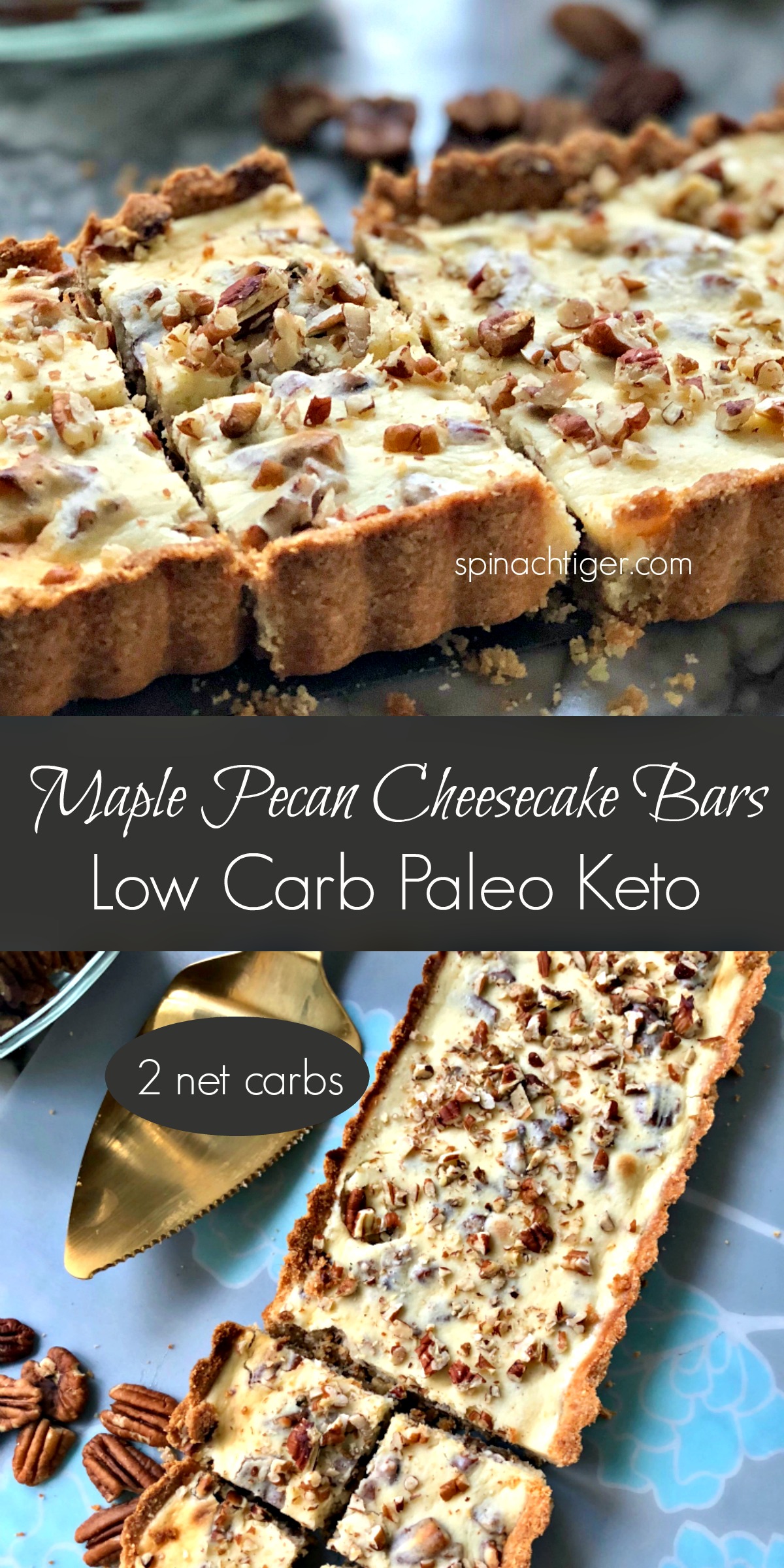 An Important Word about Maple Pecan Bars
Maple pecan bars aren't a cheesecake, but have a cream cheese filing that is inspired by cheesecake.   After three tries, we flavored the cream cheese mixture with maple extract, and liked this version best. I had tried flavoring with various liquors and that just did not work! There is also an option on when to put the pecans in. In the first version, I put them first before the cream cheese mixture. Either way, it's good. It's a matter of how you want it to look.
I used this rectangular tart pan, but a square tart pan or square baking dish would work, if you plan on cutting them into squares.

Grain Free Maple Pecan Bars, (Keto, Low-Carb, Sugar Free)
Prep time:
Cook time:
Total time:
When pecans and maple come together for a cheesecake bar with an almond crust.
Ingredients
Almond Tart Crust
1½ cups almond flour
3 tablespoons butter
⅓ cup Swerve Confectioner's
1 egg yolk
Tart Filling
8 ounce full fat cream cheese
½ cup Swerve Confectioner's sugar Order Here
1 egg
½ to 1 teaspoon maple extract
1 cup pecans plus two tablespoons for garnish
Kitchen Tools
Instructions
Almond Tart Crust Instructions
Melt butter and mix with flour, vanilla and swerve.
Mix in egg yolk.
Put in tart pan, by pressing in with fingers.
Bake for 10 minutes.
Make Filling
Mix cream cheese with vanilla, maple extract, egg. Start with ½ teaspoon extract and taste.
Chop pecans .Mix with a little sea salt.
Put pecans in first (although you can reverse this is you want)
Pour cheesecake mixture.
Top with two tablespoons chopped pecans for garnish.
Bake for 20 minutes at 350 degrees F. or until cream cheese mixture is set.
Cool completely.
Refrigerate at least six hour, preferably overnight.
Cut into 16 squares.
Notes
I used this kind of tart pan, cutting into 16 bars.
You can use any kind of square pan and just put the crust on the bottom as an option.
Use parchment paper if you do that.