Before the winter sets in, I'm going to enjoy every bit of food associated with Autumn like this Autumn Soup of roasted butternut squash soup made a touch sweet with maple syrup and a whole lot savory with pecans and  sage leaves fried in browned butter. This would be the perfect accompaniment to my Autumn Salad, but it was inspired most from my Autumn Cocktail.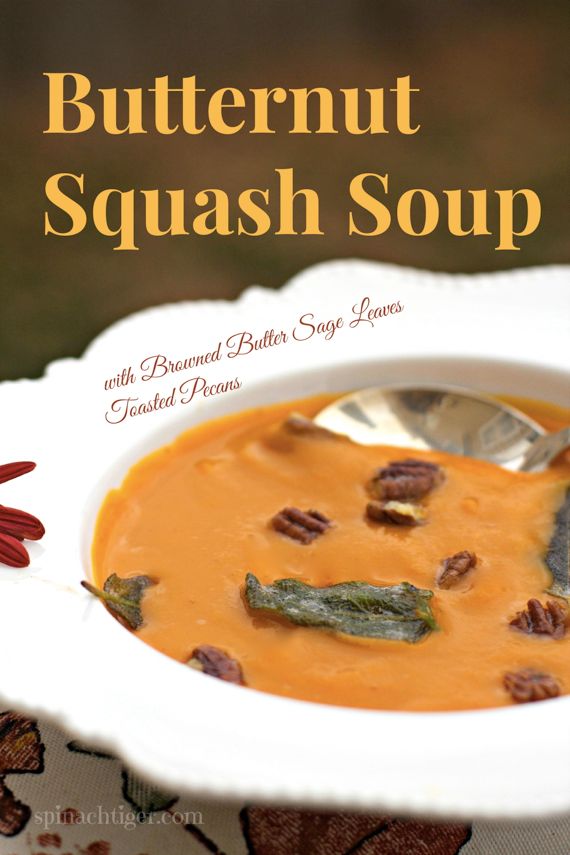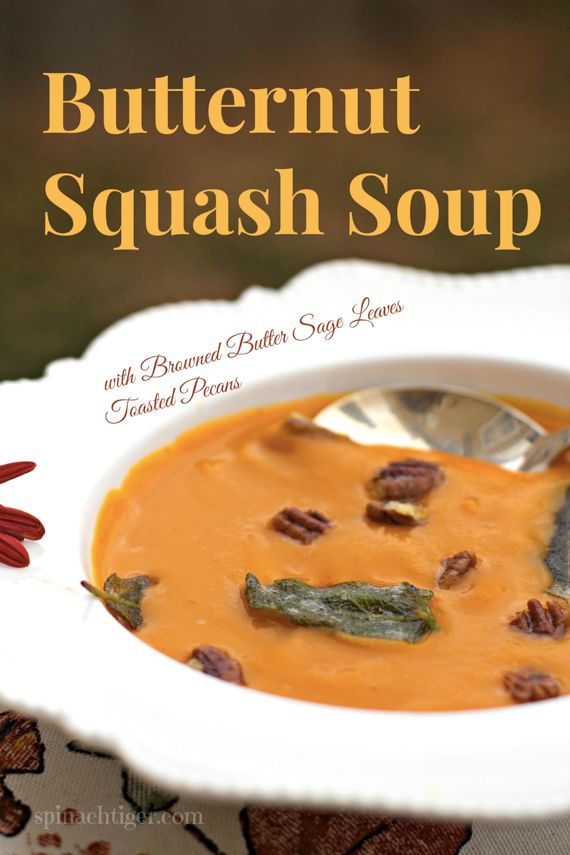 The sage leaves crumble up in your mouth and taste amazing along with the crunch of the pecans. There is a bit of apple in there for sweetness, and a touch of heat, a dash of cinnamon, a pinch of ground cloves, and a dollop of yogurt to smooth it out.
Butternut squash soup is all over the internet made in all kind of ways. This is my version, an EASY version, because this roasted butternut squash soup recipe does not make you peel and cut the squash which is a task I prefer to skip, when there is an easier way.
You simply put the whole squash into the oven and watch it roast, shrink, shrivel and get so good, the skin almost peels off. What could be easier? Along with the squash, throw in an apple and watch it caramelize along with a few organic carrots, and an onion. This all gets spiced and pureèd for the most natural and delicious butternut squash soup you will eat without a ton of sugar and cream. For the grand finale, I topped the soup off with browned butter fried sage leaves and toasted pecans. Those two ingredients are what make this soup quite special there should be a little crispy leaf and pecan in every bite!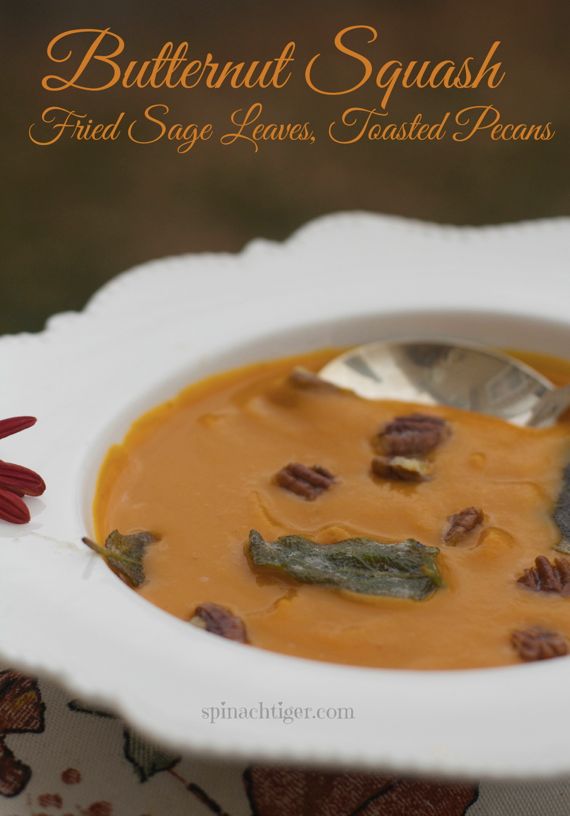 There are two ways to make this soup. You can take everything and put it into the super blender, the Vitamix, or use a stick blender or regular blender.  If you have a Vitamix type blender, you can put the apple in raw. If not, you will have to make sure to peel the apple and remove it's core and break it down in the oven.
When it comes to soups, I personally love my Vitamix and, while it's the cheapest blender you can buy, it's the most cost effective over a life time, and you can not get the same results with an ordinary blender. I actually made one version of this soup where I put in the whole roasted squash, seeds and all, and the Vitamix was able to smash it down and make it completely creamy without using any cream.
Butternut squash soup comes in many versions, but I love this one the best. You can always add in some yogurt, coconut milk or heavy cream if you want it super rich. You can change the apple to pear, but I do hope you try the fried sage leaves and toasted pecans. Sage and pecans together is an amazing combination which gives me all kinds of ideas for future recipes.
Note: As an Amazon Affiliate I earn a commission, which helps to support Spinach Tiger. All views and product recommendations are my own, and I will never recommend something I don't use or believe in. 

Roasted Butternut Squash Soup with Browned Butter Sage Leaves, Toasted Pecans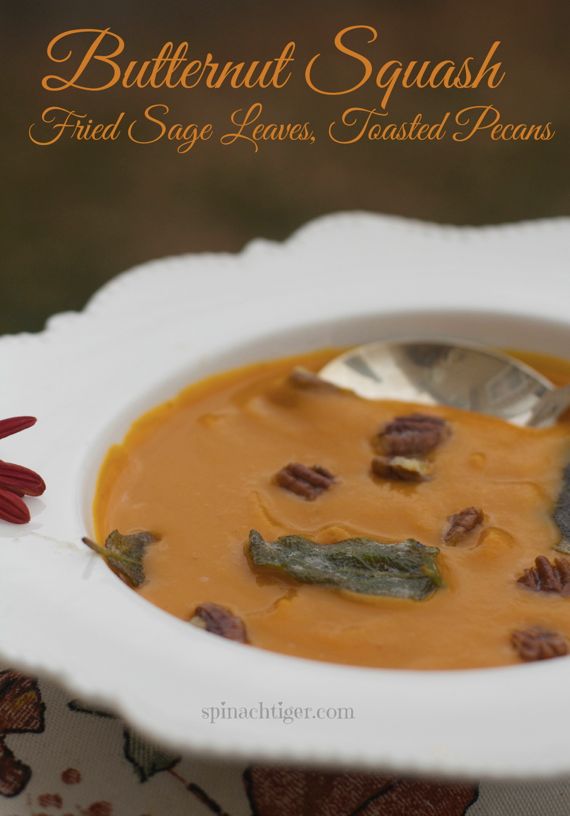 Brown Buttered sage and toasted pecans top this creamy butternut squash soup.
Ingredients
2 whole butternut squash
1 medium sized apple (if using a Vitamix, see note)
2 organic carrots
½ onion or 1 shallot
2½ cups water (may not use all of it)
dash cinnamon
pinch ground cloves
pinch freshly ground nutmeg
1½ teaspoons salt
¼ teaspoon sriracha (more if you want it hotter)
1 tablespoon pure maple syrup
12 sage leaves
2 tablespoons butter
9 pecans
freshly ground black pepper
Instructions
Preheat oven to 375
Roast squash, apple, carrots, onion, in baking dish until each is softened. Check at 20 minutes for onion, and ten minutes after that.
Remove the apple, carrot and onion and set aside.
Once the butternut squash skin blisters and is softened, remove and cool until you can slice in half.
Scoop the seeds out and discard. Scoop out flesh into a bowl.
Season squash with cinnamon, ground cloves, salt, pepper.
Place squash, carrots, apple, maple syrup, water into Vitamix and blend until thoroughly blended and completely pureed. Add water in ½ cup at a time, and continue until you have the consistency you want.
You have the option of adding in a raw apple or raw pear instead of baking it.
Move the soup into a pot to heat on low.
In small frying pan, brown two tablespoons of butter. Add both the sage leaves and pecans. Sage leaves should be browned not burned.
Chop pecans.
Add chopped pecans and sage leaves to each bowl of soup.
Finish with a pinch of nutmeg.