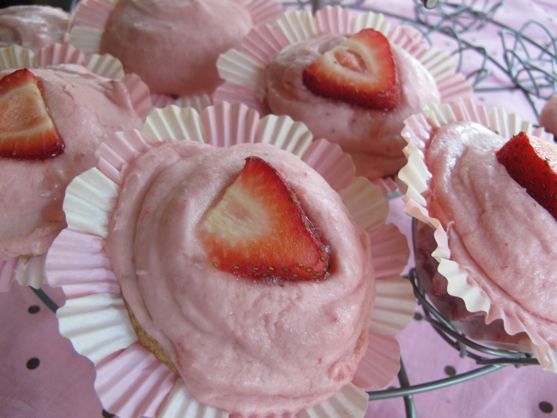 Some years ago, a friend, named Vickie would come to our home with a strawberry cake that might as well have been a crown for the stomach, something so coveted, we couldn't wait to rush through dinner. Even, I, who is not a desserts person, would anticipate the first bite of that cake and it was already settled in my mind that I would splurge a whole piece or more because this was such a special treat.
She wouldn't share her recipe and I don't blame her, as she had some hopes at the time of entering it in a contest. I was neither a cake maker nor a food blogger at the time, and I was content to just consider myself lucky when she arrived at the doorstep with pink cake in hand.
When it came time to fill a request for a strawberry cake last year I could only find that old recipe of cake box mix and strawberry jello. And, that would not do for me at all. And, I vowed one day to find a recipe that would uphold the standard Vickie's cake had set.
Quite accidentally, I found Candice Nelson's recipe and Martha Stewart, but upon receiving a comment from a reader, realized that the recipe didn't match the original and the baking soda was left out. I have since edited my original post to include the recipe that I found on youtube where Candice herself bakes them. In case you don't know who Candice Nelson is, she is the founder of Sprinkles Cupcakes, claimed as the world's first cupcake bakery and an illustrious judge on Cupcake Wars.
I must admit to you that I love Cupcake Wars, because while it's wildly creative, the baking is approachable, unlike the Cake Boss and other such shows. I'm no pastry chef, but I thoroughly enjoy the smell of baking in my kitchen and sharing confections with friends.  I'm a creative cook, adding this and that, and in cupcake wars, it's most certainly about the flavors. Presentation is important, but the end result is something always to eat, not just look at. It's the way a savory cook would bake!
Getting back to these cupcakes, the search for strawberry cake ends here, and I am happy to report that I have made these three times in the last 10 days. I have fed them to various company and neighbors and the feedback has been five stars all the way. The good news of the recipe for a savory cook, who can't be bothered with baking, is that in using only fresh strawberries and frosting by hand (not by pastry bag to get that thick almost ice cream appearance), this cupcake is approachable, while at the same time, most delivering in flavor, not just fluff.

Finally, Strawberry Cupcakes using only Fresh Strawberries
Recipe type:
Dessert Cupcake
Prep time:
Cook time:
Total time:
Strawberry cupcake recipe adapted from Sprinkles Bakery
Ingredients
1½ cups flour
1 teaspoon baking powder
½ teaspoon baking soda
¼ teaspoon kosher salt
4 oz. unsalted butter (1 stick)
1 cup sugar
1 large egg
2 egg whites
¼ cup whole milk (can use butter milk too)
½ cup strawberry puree
1 tsp. vanilla extract
STRAWBERRY BUTTERCREAM FROSTING RECIPE STARTS HERE
½ cup strawberries pureed
1 cup butter slightly cold.
3½ cups confectioner's sugar
½ teaspoon vanilla
Instructions
Sift together flour, baking powder, soda, salt. Set aside
Mix together strawberry puree, milk, vanilla. Set aside.
Cream butter until fluffy.
Add sugar to butter until well mixed.
Add egg and egg white on medium speed.
Add half of dry ingredients on low speed.
Add in wet ingredients (milk, strawberry mixture).
Add remaining flour mixture just until mixed. DO NOT OVER MIX.
Bake at 350 for 20 minutes.
Cool, frost with strawberry frosting.
FROSTING RECIPE STARTS HERE
Mix butter and strawberry puree on medium speed.
Add confectioner's sugar, until smooth. Add Vanilla.
Make sure butter is slightly cold or frosting will be runny.