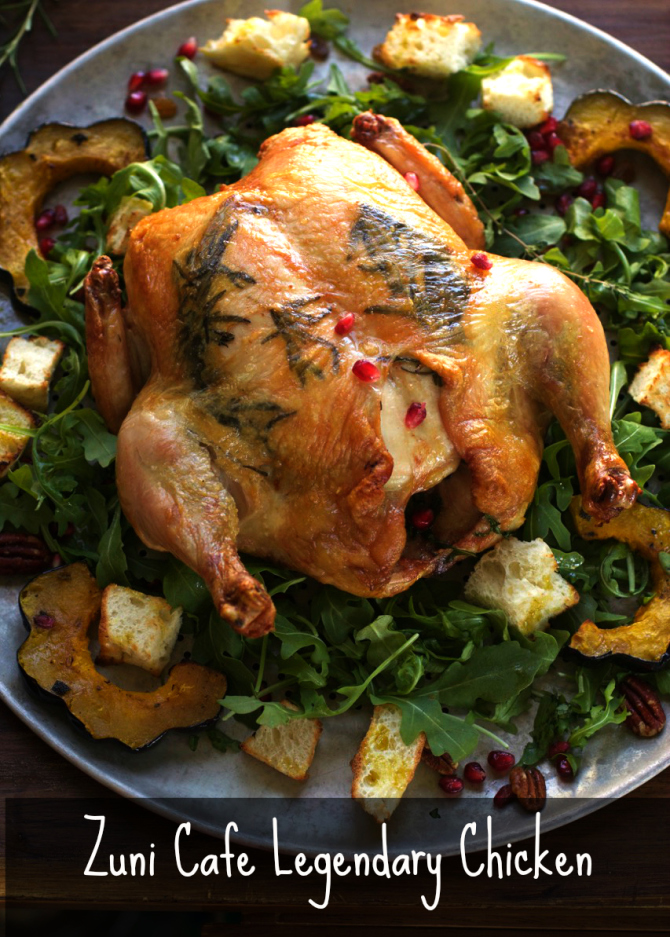 Think about serving this spectacularly presented roasted chicken with a bread salad, arugula, nuts, cranberries, and squash for Thanksgiving instead of turkey.
The late Judy Rodgers brought the simple roast chicken to international fame at the Zuni Cafe in San Francisco. The first time I ate at the Zuni Cafe I had this dish, served for two, which is served with a bread salad, currants, and pine nuts. It was so memorable, that I bought the Zuni Cafe Cookbook just for this one recipe.
I've probably made at least thirty Zuni style chickens in the last few years. It's my go to for casual nights and company. One year I made two of them for Thanksgiving, complete with the bread salad and putting my own twist of Autumn accompaniments.
My Culinary Heroes
A few years ago in early December Judy Rodgers passed away, and although I didn't know her, I felt sad at the news, and grateful for how a chef I never got to meet touched my life. She studied cooking with Alice Waters, another one of my culinary heroes. I have Alice's book, the Art of Simple Food and the Zuni Cafe cookbook in my kitchen. This means a lot because most of my cookbooks are up in my office; only the really special books get to stay in the kitchen.
Thanksgiving Chicken
You might just consider chicken instead of turkey this holiday. Or perhaps, you still haven't mastered the roast chicken. Once you try this special technique, you will never fret over roasting a chicken again, and you will be amazed as even the white meat will be tender and tasty, while the skin remains crisp.
It's really easy; it just takes three days. Well not really, but let me explain. First you salt the chicken and wrap loosely in plastic for three days. This is a dry brine, which tenderizes the chicken. You also take your hand under the skin and loosen it and stuff in herbs underneath. I usually do that the morning I'm going to roast it.
Whether you have 3 days or 30 minutes, you can still make this chicken. I've done it using the three day method and I've done it last minute. If you have a very good chicken, even 30 minutes works, but try to take at least 24 hours to salt that chicken. By the way, that's how I brine my turkey, but I use a different unique technique for Roasted Turkey.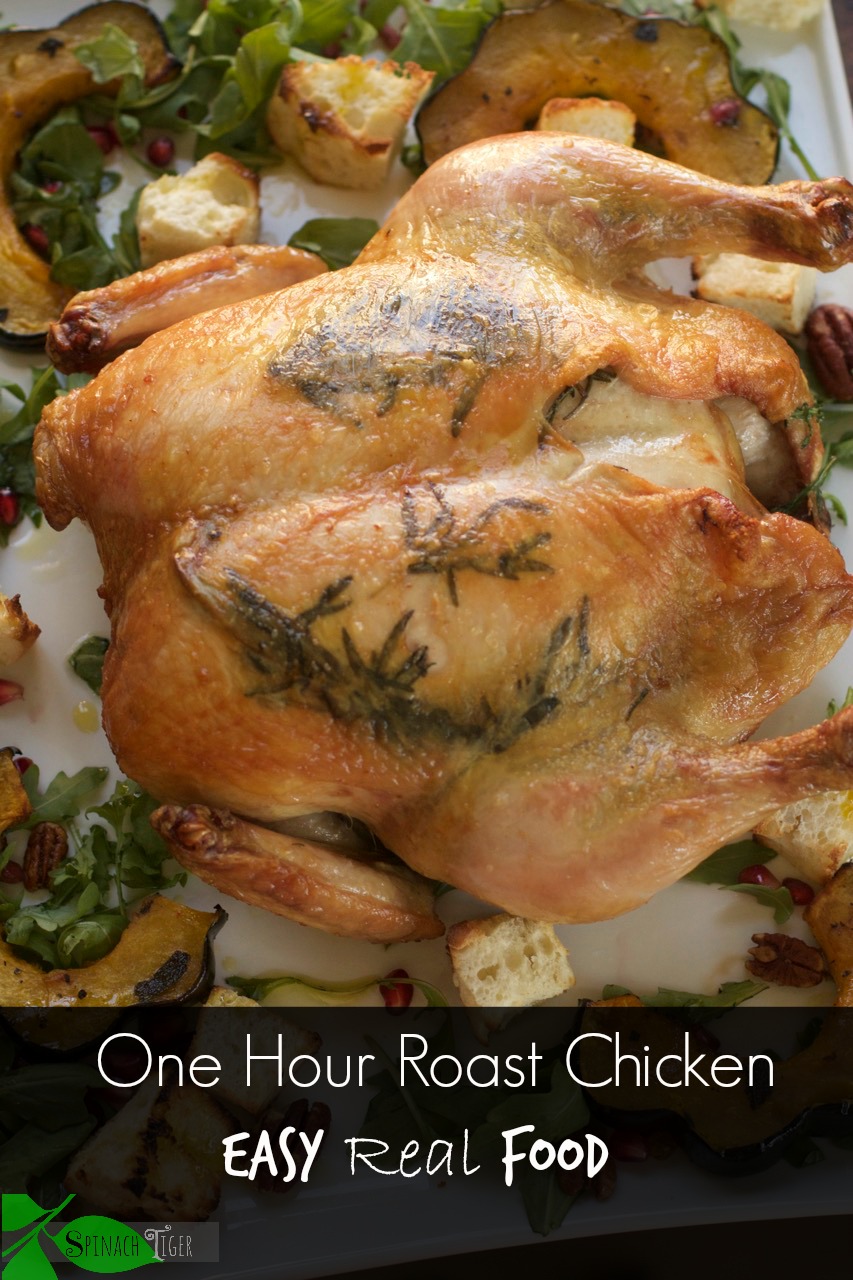 Take the chicken out at hour before roasting, and preheat the oven to hot, very hot, 450 degrees F. hot. Be ready for the smoke alarm to go off. The Zuni Cafe makes their chicken in a brick oven, but I simply roast it in a cast iron pan. If you don't have a cast iron frying pan, do put that on your Christmas List. This is the best part. Heat the pan for ten minutes and then put the chicken in the oven, breast side up and listen for the sizzle. Depending on size, the chicken takes about 30 minutes on each side, maybe less if the chicken is under 3 pounds.
Make Bone Broth with the Bones
Ideally, you want a very good chicken. I wait for the organic whole chickens to go on sale and grab them. It's worth it. Once the chicken is carved, make bone broth.
Get out your crock pot and put the chicken carcass in cold water. Cook on low for twenty four hours. You will have nutrition and a good stock for later. Freeze in muffin tins and place in plastic bag. Use with the next chicken to make a gravy or a sauce. Make a chicken pie with the leftovers.
This is how I cook, always thinking about the next meal and how I can use everything to make life deliciously easy.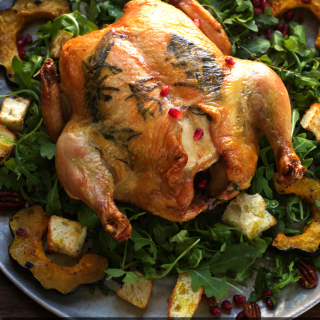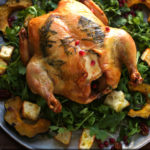 Print Recipe
Thanksgiving Roast Chicken, Zuni Cafe Style
A twist on Thanksgiving, make a chicken in less than hour adapted from the Zune Cafe Cookbook by Judy Rodgers
Ingredients
Roast Chicken
1 4-

pound

organic chicken

salt

fresh herbs such as rosemary

sage, thyme (I used all three)
Bread Salad
8

oz.

Tuscan bread or similar peasant style chewy bread with crusts cut off

torn in pieces

salt freshly ground pepper

6

tablespoons

olive oil

2

tablespoons

champagne vinegar

or white vinegar

2

tablespoons

pine nuts or pecans

or nuts of choice

1/2

pomegranate

optional

1

tablespoon

golden raisins or dried currants

arugula or other green such as frisee

1

tablespoon

red wine vinegar or as needed

3

tablespoons

chicken broth or lightly salted water

1/4

cup

slivered scallions

2-3

garlic cloves
Instructions
Three days in advance (can be less) clean chicken, salt inside and outside. Loosen skin between breast and as much as leg and thigh you can without ripping skin.

Wrap loosely in plastic wrap or plastic bag. Refrigerate.

Take chicken out one hour before roasting.Stuff chicken with herbs underneath the skin.

Preheat oven to 450 F. If making the bread salad, now is a good time to toast the torn bread pieces.

Heat a cast iron frying pan in oven for at least 10 minutes. You can use a baking sheet, but cast iron pan is perfect for this high heat.

Put chicken in heated pan, breast side up.

Turn chicken over after 25 minutes, at which time chicken should easily yield. If not cook a little longer.

I like to turn the chicken back over for the last five minutes. Chicken should be golden brown. Allow to cool for 10 minutes before carving.
Bread Salad
This can be made prepped while chicken is in the oven.

Brush bread with olive oil. Toast bread and nuts until golden, about 5 minutes.

Combine olive oil with champagne vinegar.

Put currants or raisins in red wine vinegar to moisten. Set aside.

When ready to assemble toss bread and arugula with olive oil mixture.

Toss bread with olive oil mixture.

Saute scallions and garlic in a little olive oil. Add currents or raisins and add to the bread salad.

Drizzle some of the pan juices (from the chicken) onto the bread salad. Season with salt.

Put chicken on platter with bread salad.

Serve with optional pomegranate garnish, and roasted squash.

Baked squash recipe can be found

here.
Please follow me on instagram. If you make this recipe,  please tag me #spinachtiger.
If you love this recipe, please give it five stars. It means a lot. xoxo
So tell me, do you have a culinary hero and do you always have turkey for Thanksgiving? Would you consider a Thanksgiving chicken?