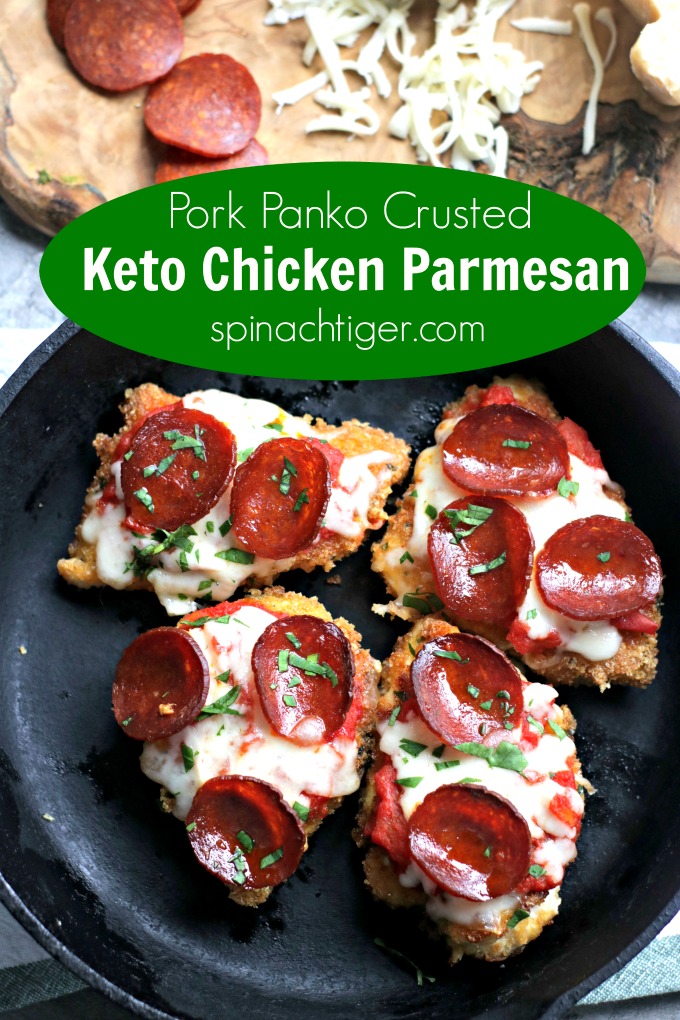 Keto Chicken Parmesan with Pepperoni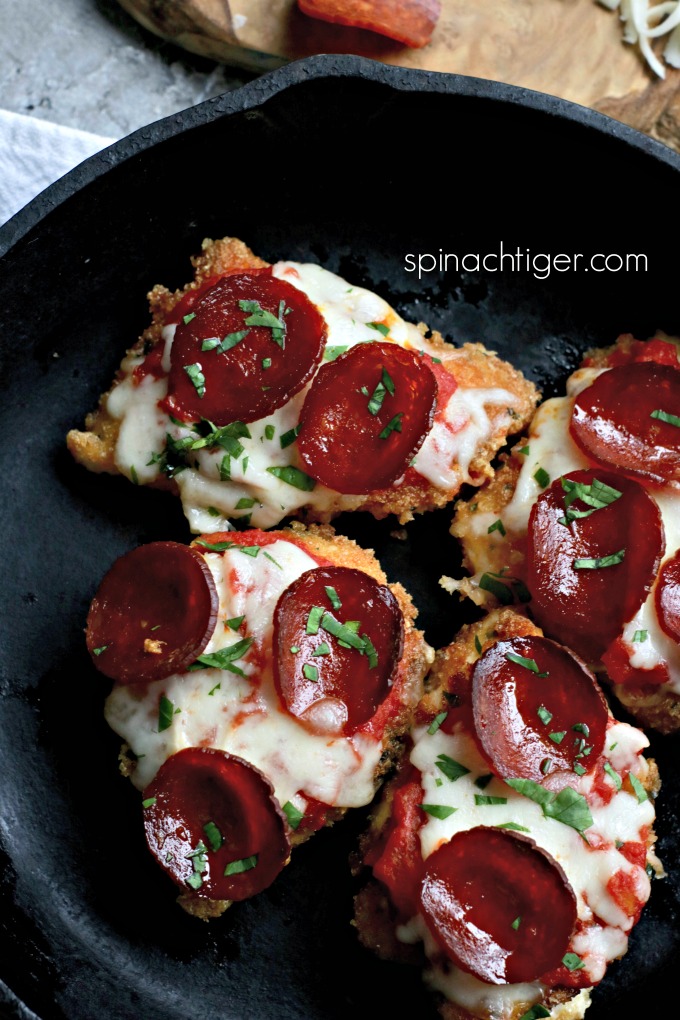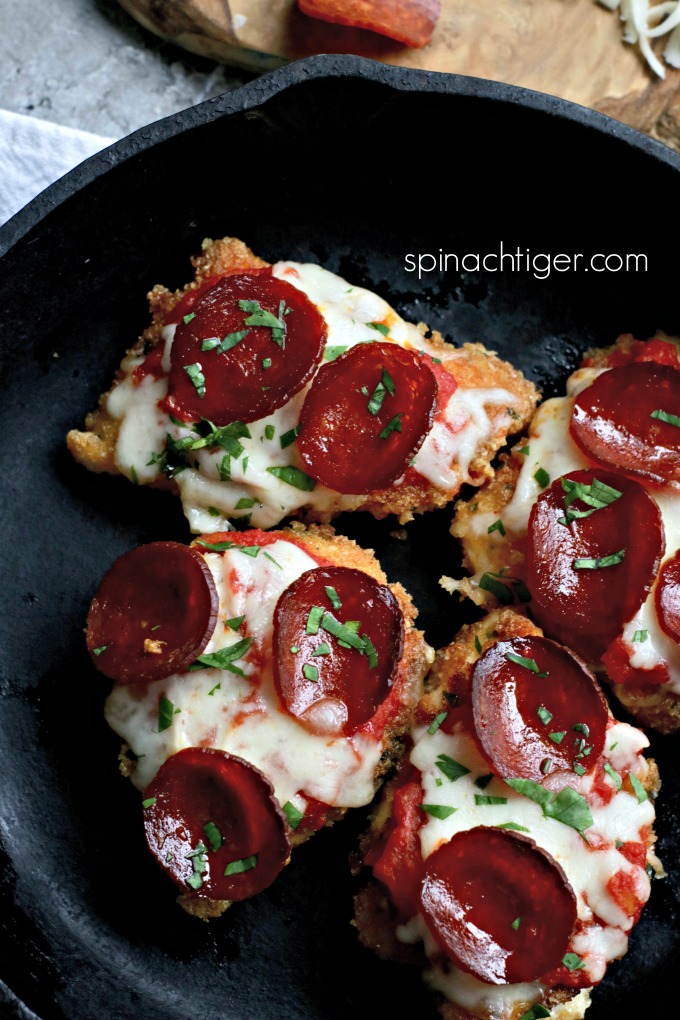 People often ask me what my favorite food is. It's simple. It's Italian food. This does not mean heavy red sauce and gobs of cheese. But sometimes old school Italian calls my name, like chicken parmesan.
This is the third chicken parmesan recipe here at Spinach Tiger and it might be my favorite. Using Pork Panko, my new go to for breading cutlets and more, this is as close as I can get to my mom's chicken cutlets.
You might recall my most recent post using pork panko, low-carb eggplant parmesan. Pork panko does everything regular panko bread crumbs do, but without the carbs.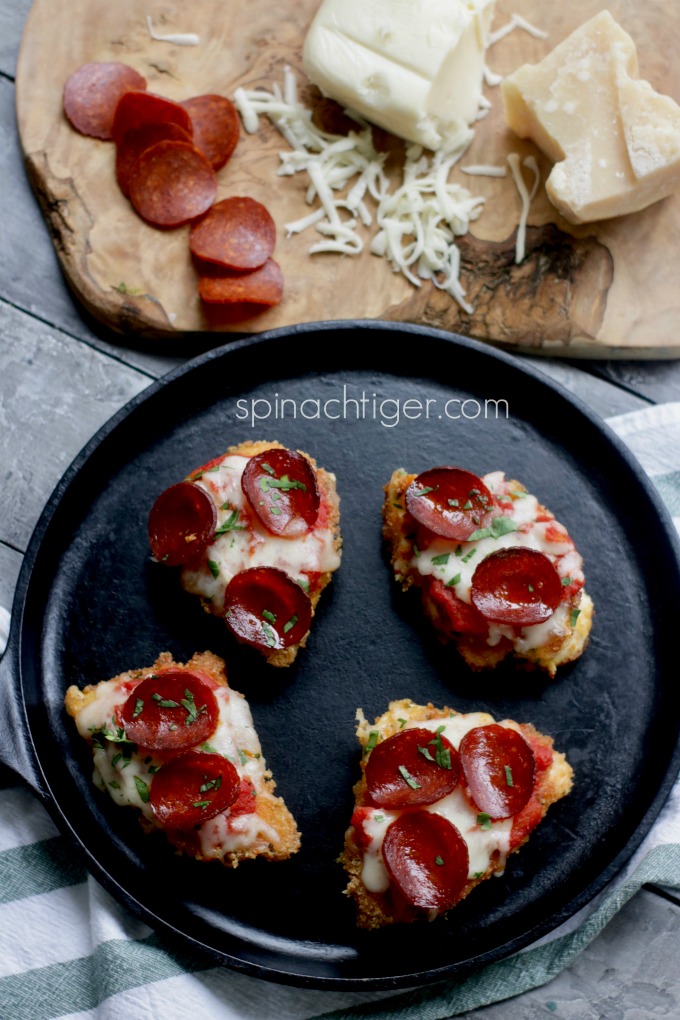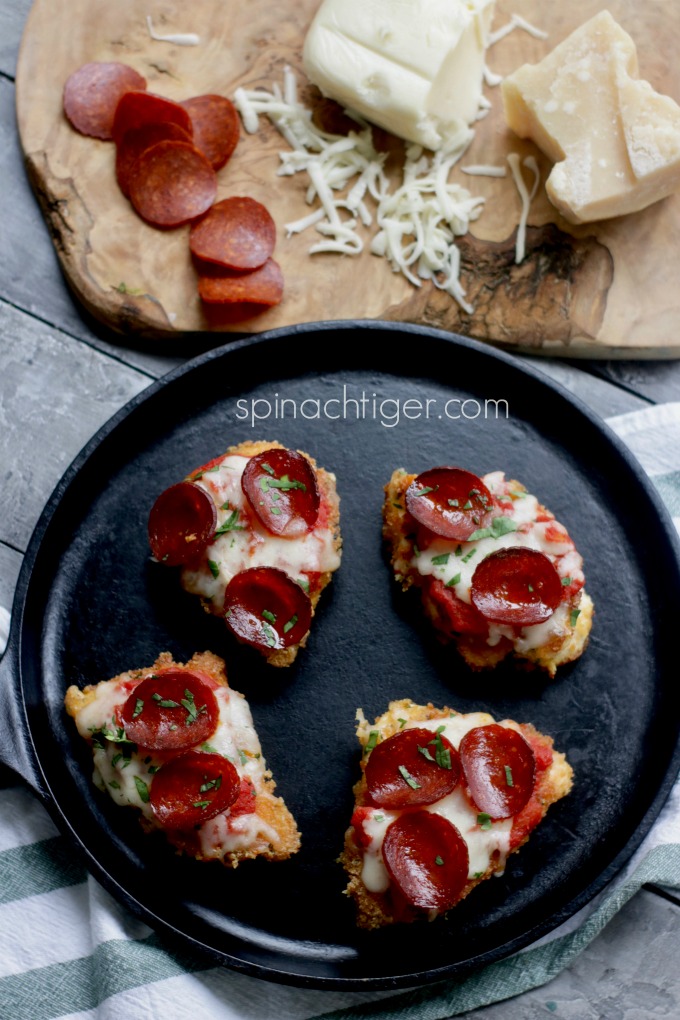 Adding pepperoni is fun and reminds me of pizza. This is completely keto compliant as it's basically carb free and high in fat.
The key to any good Italian dinner is good ingredients. I like air-chilled chicken cutlets, a light tomato sauce and a freshly grated pecorino Romano cheese. This may be a retro dish with a low-carb twist, but it's still deserves to be amazing.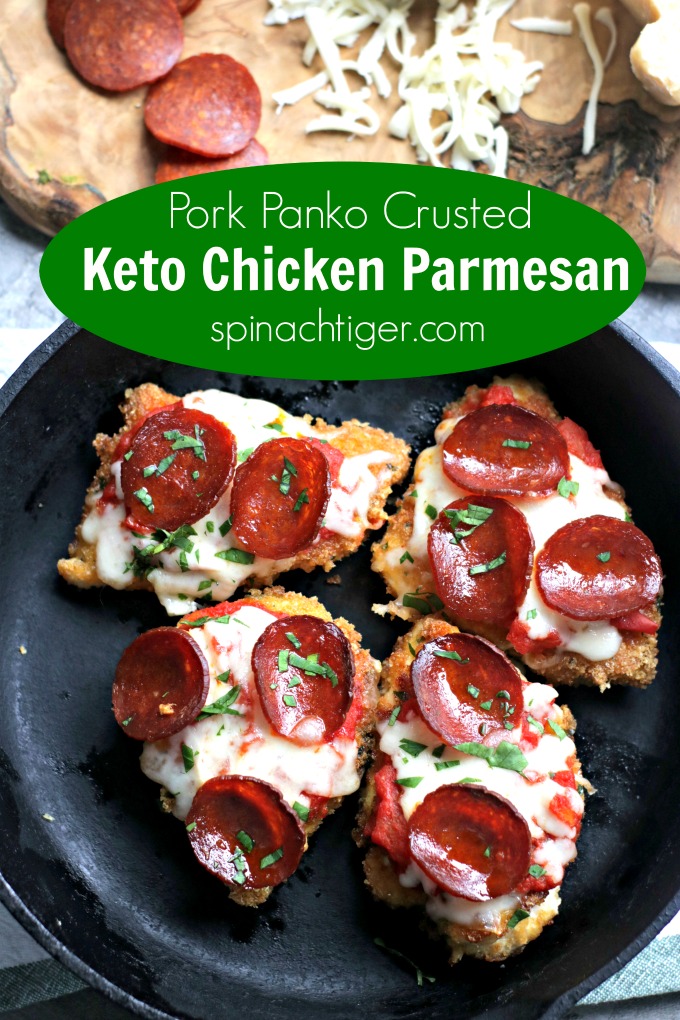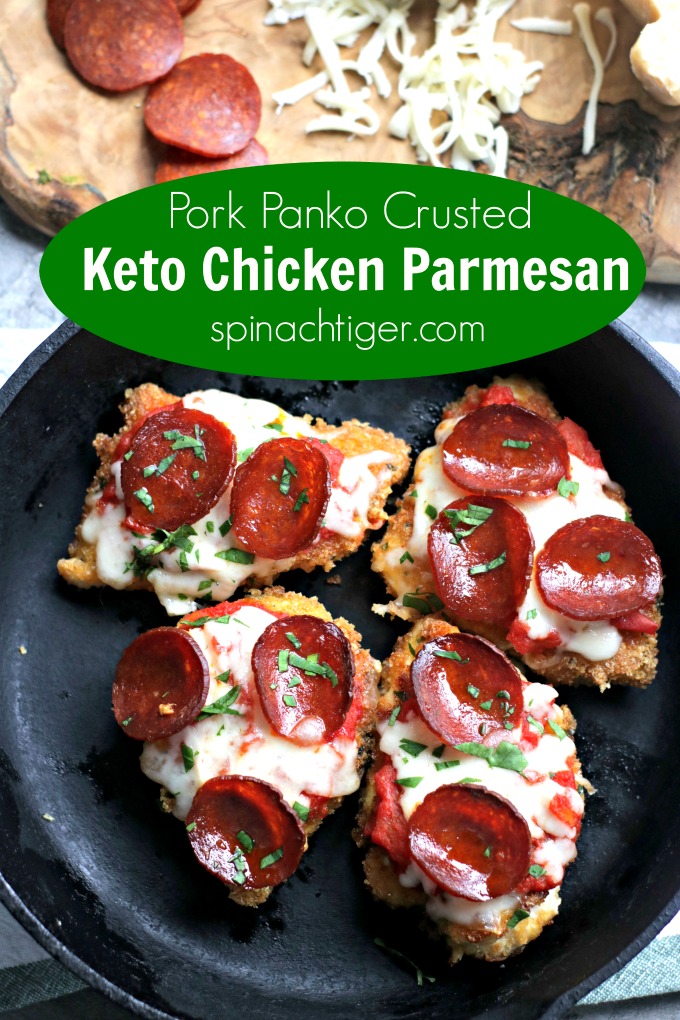 These cutlets aren't as thin as I usually make them, and whether you pound them super flat or not will be up to you. These are fried in avocado oil on medium high heat for a few minutes on each side. Keep in mind they will be going into the oven to melt the cheese. Chicken is done at 165 degrees F.
I also always mix parmesan or pecorino cheese in with the pork panko crumbs. It adds flavor! Just because you're eating low-carb or grain free, that doesn't mean you want to sacrifice flavor and the joy of food.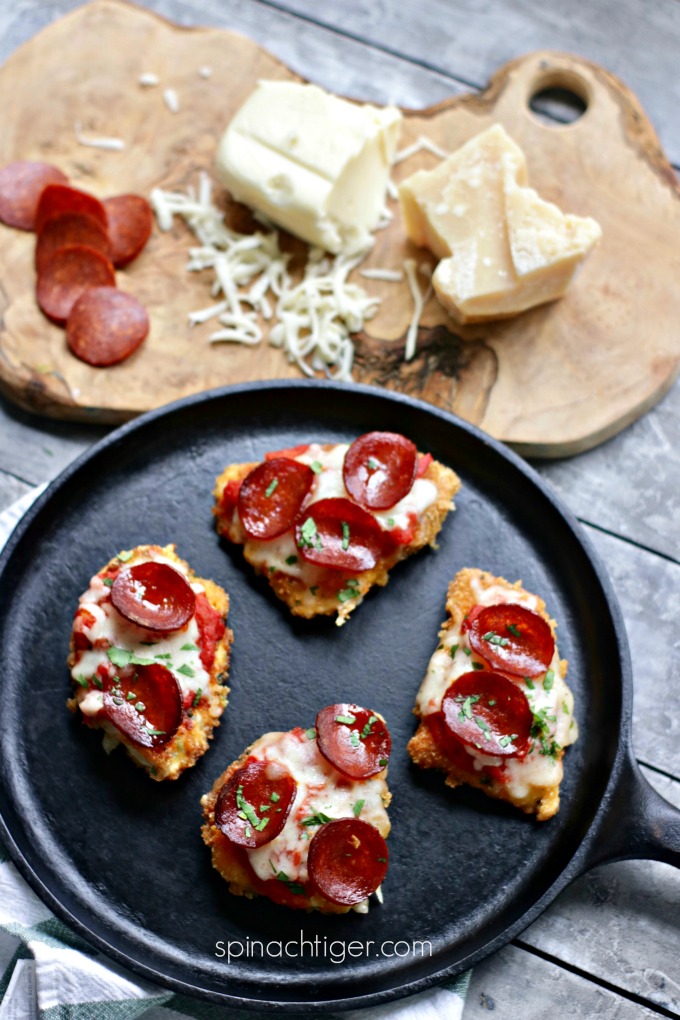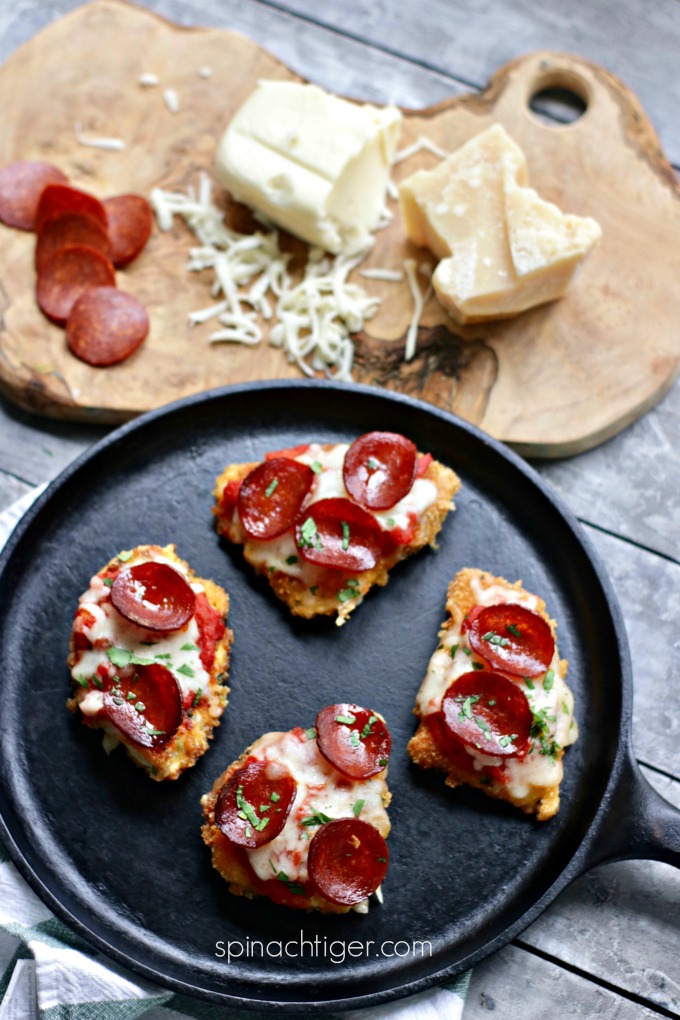 The only thing I would serve in addition to this is a nice green salad with a red wine or lemon vinaigrette.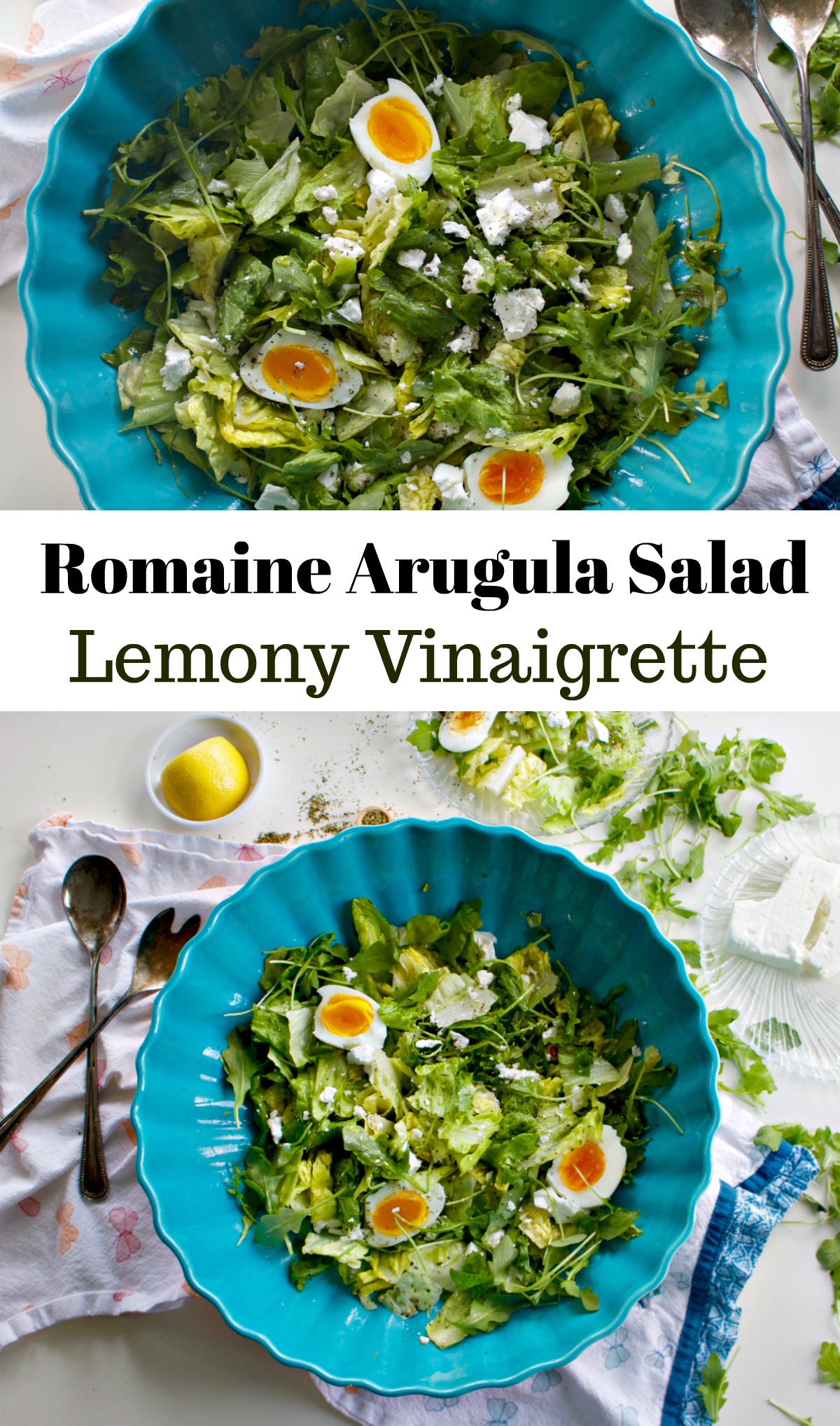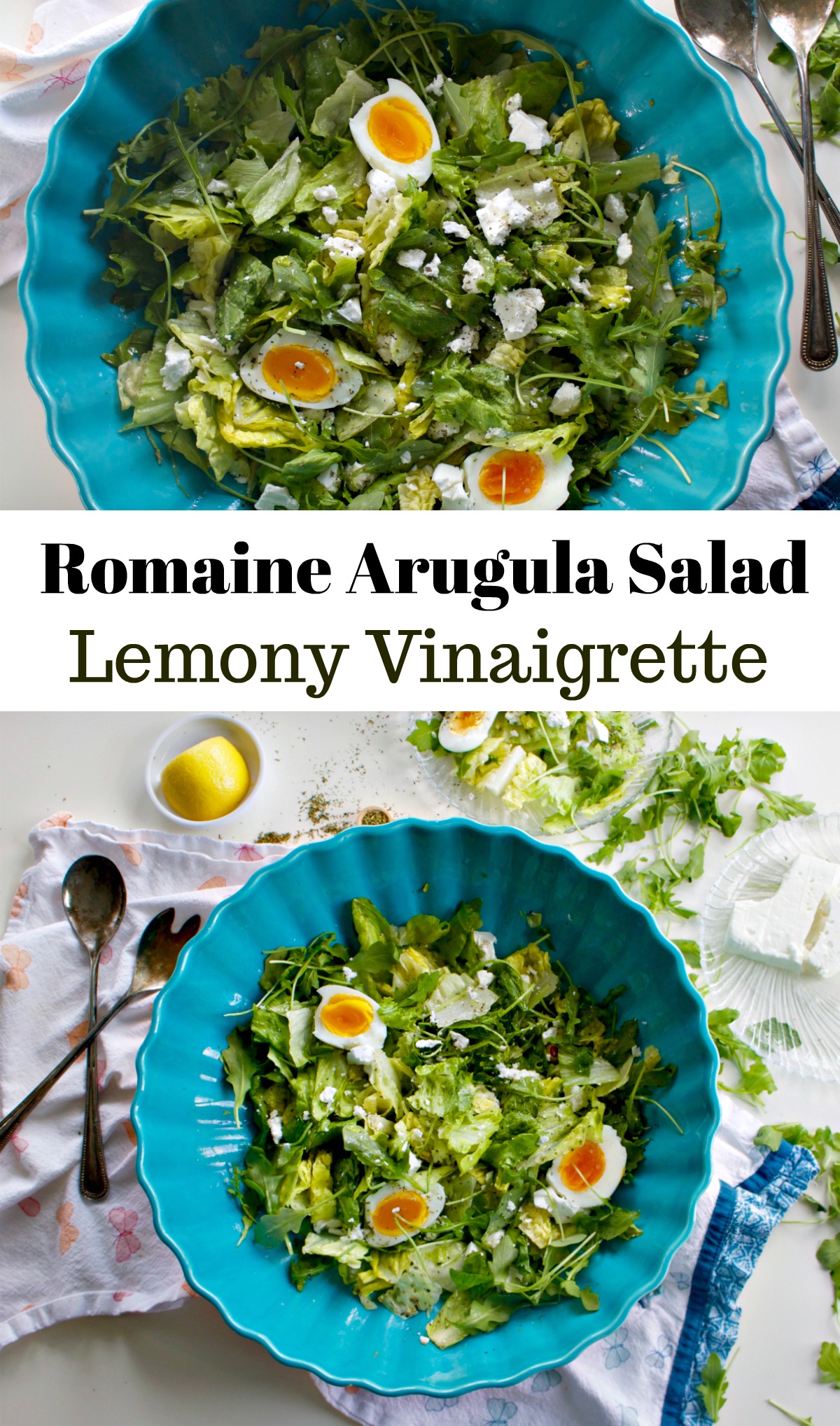 If you are following a low carb diet and you have a family, feel free to serve this with a side of spaghetti or orzo.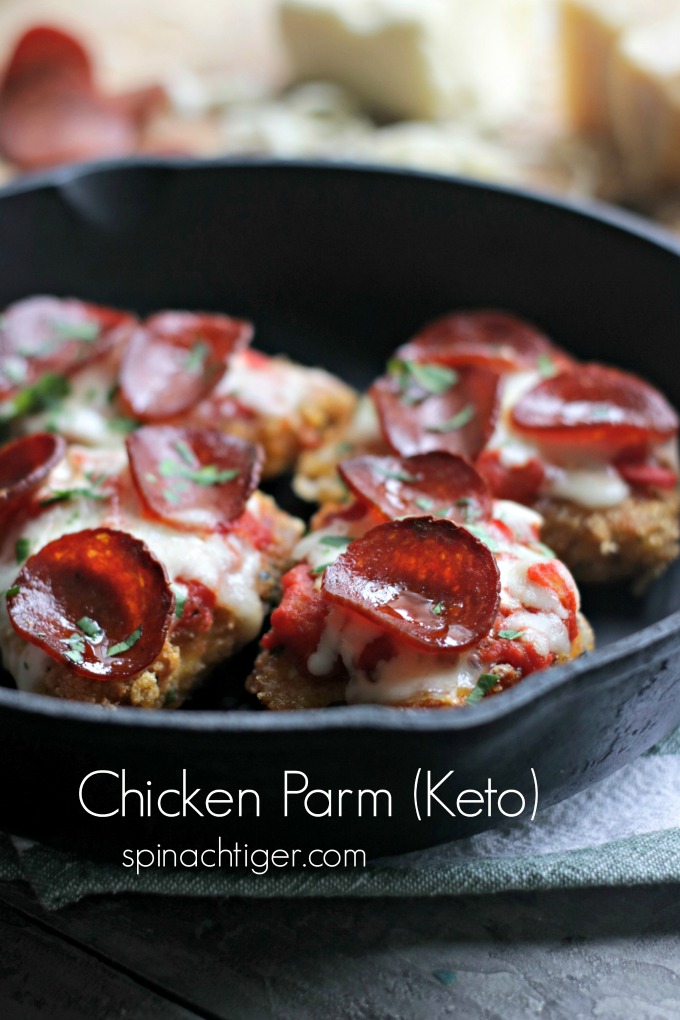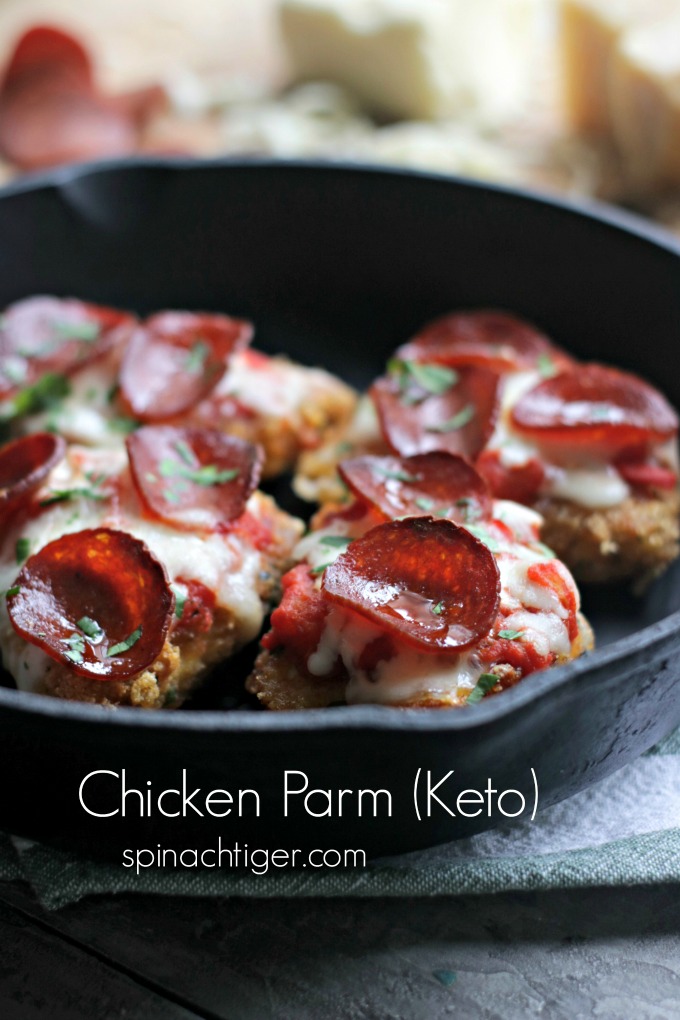 More Italian Food from Spinach Tiger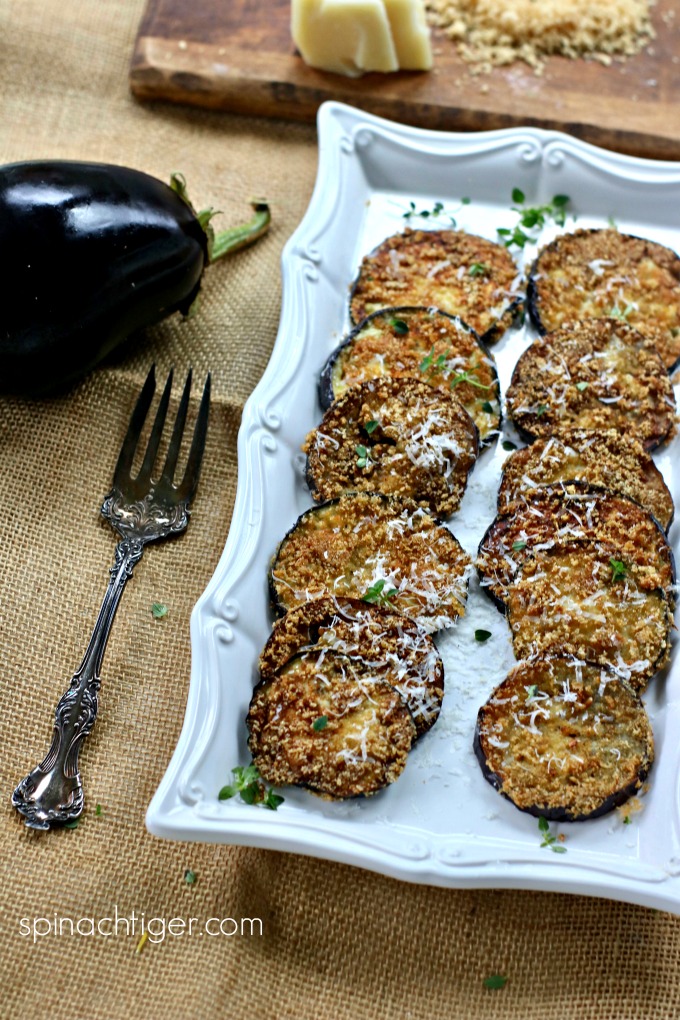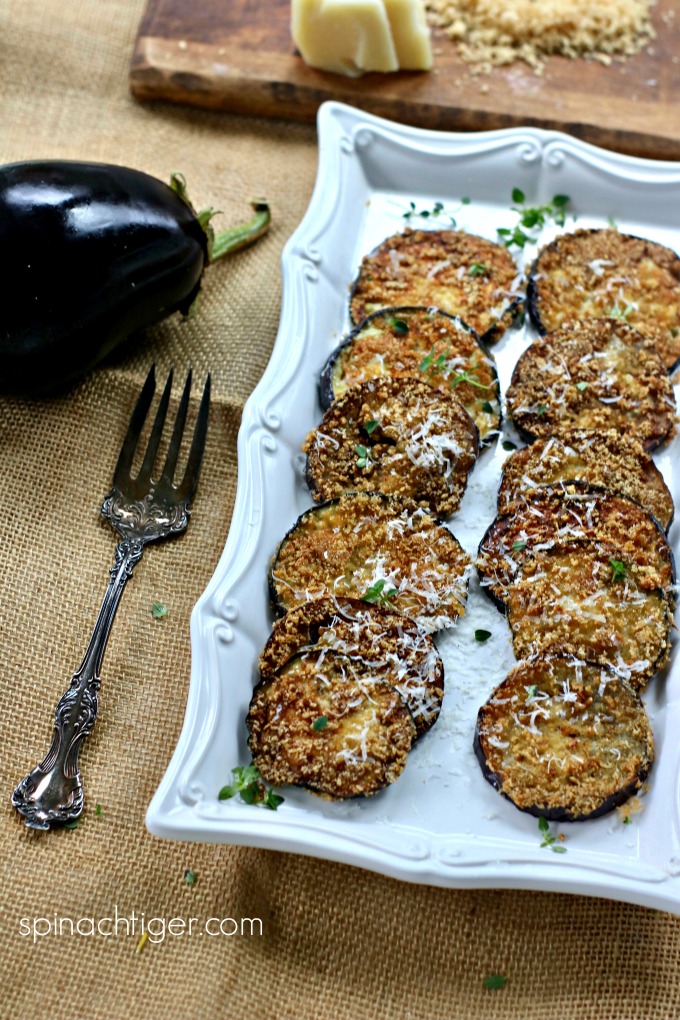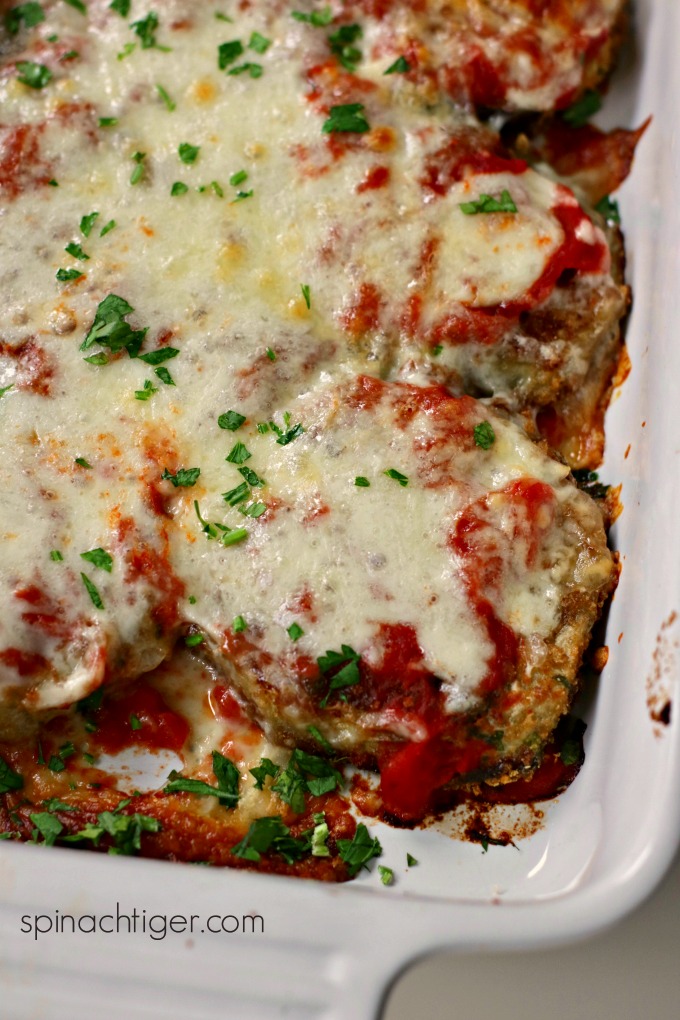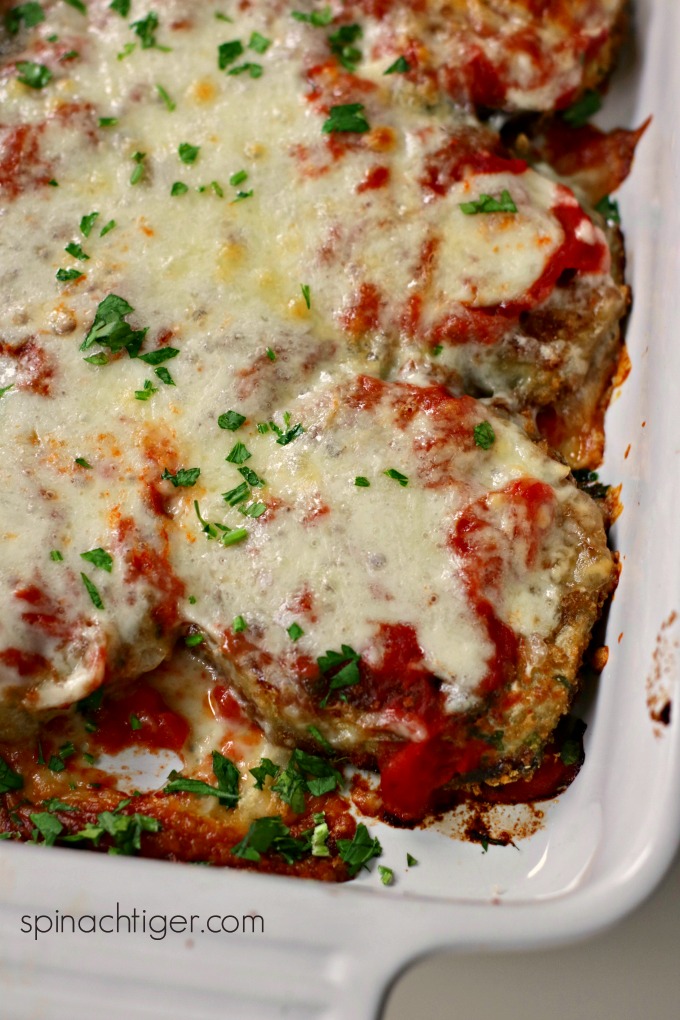 Four Cheese Spaghetti Squash Lasagna
Spaghetti Squash Casserole with Italian Sausage
Shrimp with Spicy Onion Tomato Butter Sauce
Italian Sausage with Broccoli Rabe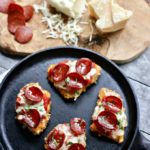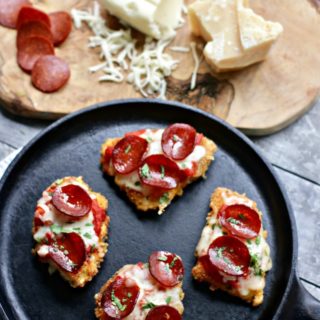 Print Recipe
Keto Chicken Parmesan with Pepperoni with Pork Panko
Pork Panko Crusted Keto Chicken Parmesan, Low Carb, Paleo, Grain Free
Ingredients
2

cups

tomato sauce RECIPE HERE

may not use all

1

pound

chicken boneless chicken breasts

2

eggs

may use less

2 to 4

cups

pork panko ORDER HERE

1

cup

pecorino romano

olive oil or avocado oil for frying

1

pound

mozzarella cheese

grated

pepperoni slices

2-3 per cutlet

Parmesan cheese grated for table
Instructions
Trim chicken cutlets from any fat. Flatten with meat pounder.

Season with salt and pepper.

Beat egg with a few tablespoons of water.

Mix Pork Panko with Pecorino Romano

Dip cutlets into egg and panko crumbs.

Heat frying pan with about 1/8 inch oil to medium high.

Put in chicken cutlets, leaving room in pan for turning. Don't crowd.

Turn heat to medium low.

You may have to cook in batches.

Drain on Paper Towels

Place chicken cutlets in one layer in baking dish,

Top with tomato sauce, cheese, pepperoni.

Bake at 400 degrees F. for 10 minutes or until cheese is melted.

Serve with extra parmesan cheese.
Please follow me on instagram. If you make this recipe,  please tag me #spinachtiger.
If you love this recipe, please give it five stars. It means a lot. xoxo