Chopped Kale Salad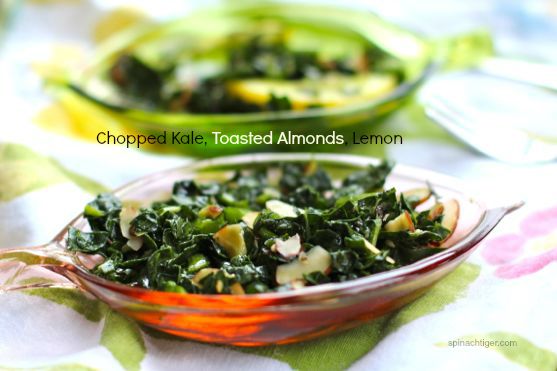 I have a confession to make. I just started eating kale. I tell you this because you might be uncomfortable with certain vegetables and think you are the only one. You might be under the false impression that  "those foodies eat everything, know how to cook everything, and are all encompassing rock stars in the kitchen." The truth is that even food bloggers have foods we are unfamiliar with, didn't grow up, and maybe are even a tad bit afraid of.
But, with a name like Spinach Tiger, I need to conquer all things green.  After all green anything is so chic,  it's the new little black dress.  I think Lady Gaga totally missed the mark wearing a meat dress last year. A dress made out of kale and broccoli rabe mixed in with some kohlrabi would have been so much more current.
Kale, as beautiful as it is, has always baffled me. I tried to make kale chips once,  and it all ended up in the trash followed by a nice big empty bag of kettle cooked potato chips. Sorry, I just couldn't enjoy them the way I read  I was supposed to in about in every cool, hip or not so hip food and life style blog. (That doesn't mean I won't try again some day in far distant future).
Surprisingly, a sports bar changed my mind about chopped kale salad.  Now, it just makes no sense at all that my love for kale would start at a sports bar/restaurant that has five different kinds of french fries. But someone very smart at the Tavern in Nashville put a tuscan kale salad on the menu.   They are so smart, that they included a skinny section on their menu, which I plan to tell you all about when I write a word of mouth piece about the Tavern. Hint. Go, have fun, the food is great. I ate the whole bowl right along with my french fries. How's that for split personalities?
But, I don't remember the  fries.  I remember the tuscan chopped kale salad. It was spiked (and I used the word spiked on purpose) with lemon, lots and lots of lemon and some parmigiano reggiano cheese. I was hooked, and the very next day, I went searching for the freshest kale I could find. If  you read my roasted okra post, I got lucky and and bought two beautiful bunches from a vegetable stand ready to close.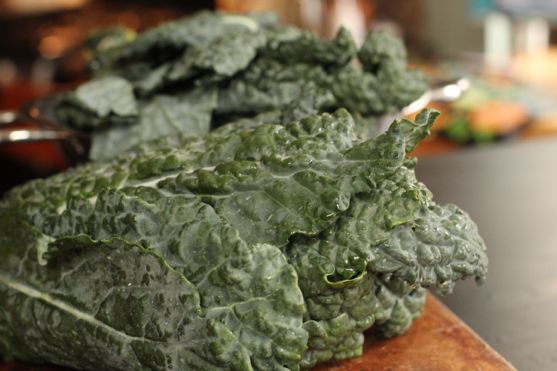 Chopped Kale Salad starts with Lacinato Kale
I remembered how the salad tasted and   I set to work chopping and chopping (using a mezzaluna) and spinning and spinning in the salad spinner, as kale seems to have a lot of water in it. The dressing was easy. Extra virgin olive oil, lemon and more lemon, a splash of pear vinegar, and an ingredient I thought should be added, crushed red pepper.  And, of course, the toasted almonds. I decided to use pecorino romano cheese in slivers rather than grated parmigiano reggiano.
Am I now a kale convert? All the way, yes. (Although still holding out on the kale chips thing).
Oh I don't need to tell you how healthy kale is do I?  I hope that doesn't ruin it for you. I know that I started to immediately feel better within the first two bites. And, it doesn't hurt that I bought it from the hands that grew it and you know I love to eat this way. The texture of kale is hearty and takes well to an olive oil dressing and even gets better if chilled a few hours. It's not mushy or slimy and maintains a certain crunch, which is always satisfying. Add to that more crunch from the toasted almonds and the zing of the lemon and crushed red pepper and you have an exciting healthy dish.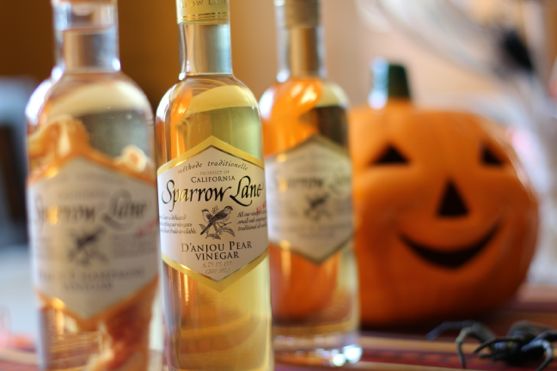 This salad gave me a chance to use one of my birthday presents. I received three different vinegars from Sparrow Lane, and the one I decided on here was the D'anjou Pear. I have a thing for vinegars of all kinds and I have about 10 vinegars in my pantry, so stay tuned to hear about the other two, walnut champagne and  peach champagne.  All three are very different, very smartly balanced.  I chose the pear because it goes well with lemon and pecorino.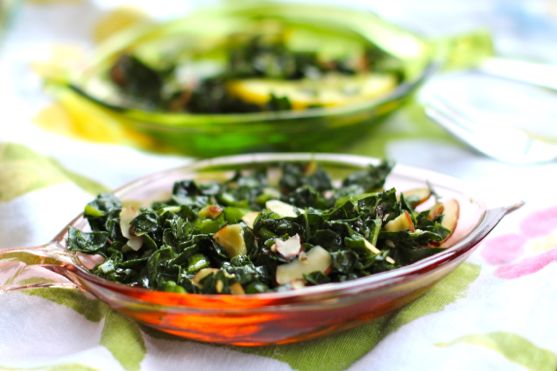 After I wrote this, I googled kale salad and found a very similar recipe on 101 cookbooks. Instead of almonds, Heidi uses breadcrumbs which would be another great way to get that added crunchy texture and a marked Italian profile.
So tell me, is there a vegetable out there you have been afraid to try?

Chopped Kale Salad with Toasted Almonds
A raw kale salad with Tuscan flavors.
Ingredients
3 tablespoons extra virgin olive oil
juice of one large lemon
1 teaspoon pear vinegar (or use a white wine vinegar)
1 small clove garlic, crushed
sea salt, black pepper to taste
1 bunch of kale
¼ cup toasted slivered almonds
¼ teaspoon crushed red pepper or to taste
Sea salt, black pepper
Instructions
Salad Dressing: Crush garlic clove, place in olive oil for 10 minutes. Remove.
Squeeze lemon in small bowl, add vinegar, and slowly add in olive oil and salt and pepper.
Rinse kale, roughly chop and dry with salad spinner or paper towels.
Chop finely using a mezzaluna or chef's knife.
Toss with salad dressing, cheese, toasted almonds and crushed red pepper.
Season to taste with salt and pepper.