Grain Free Chicken and Biscuits Pot Pie could make a lot of folks happy.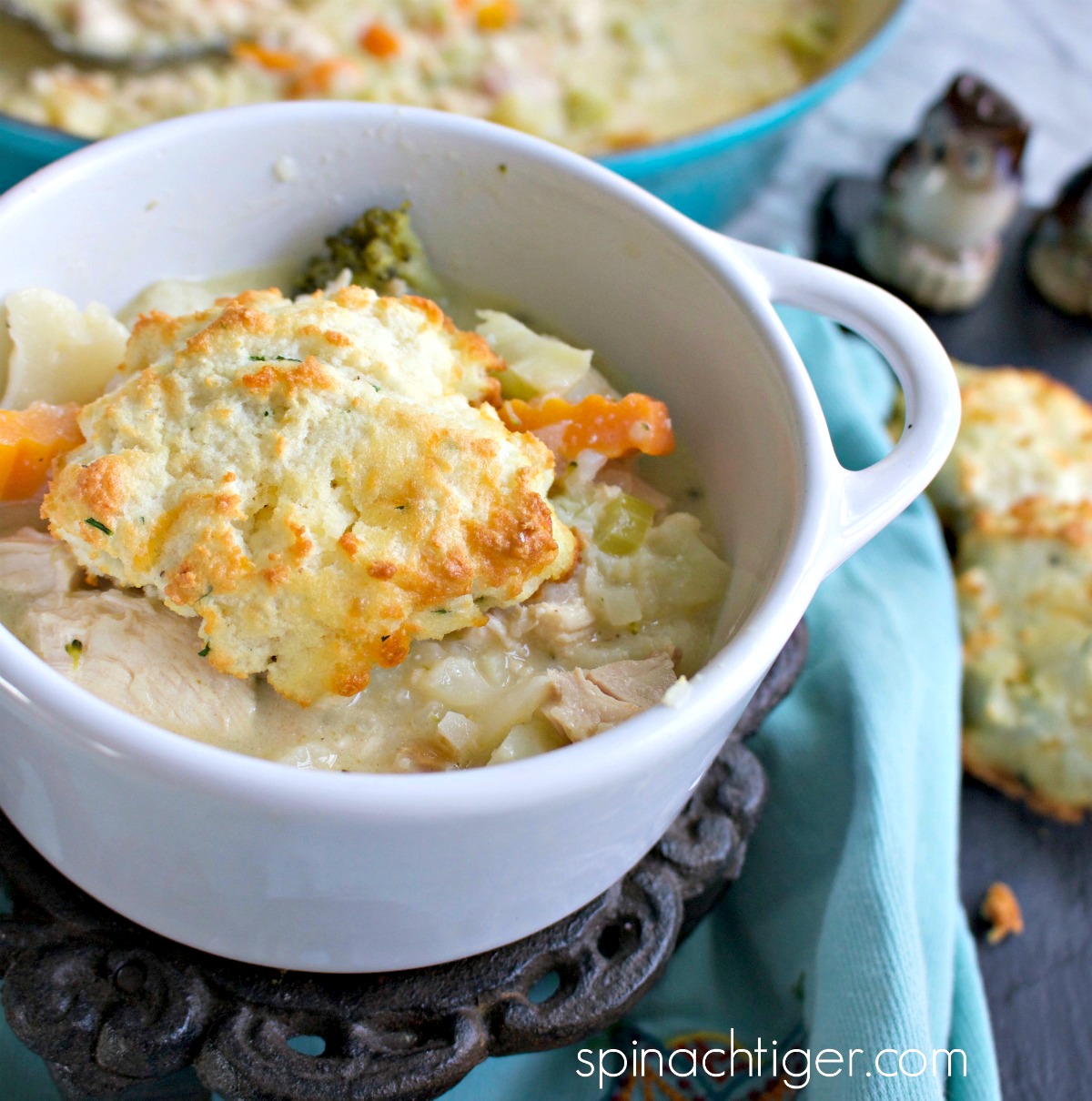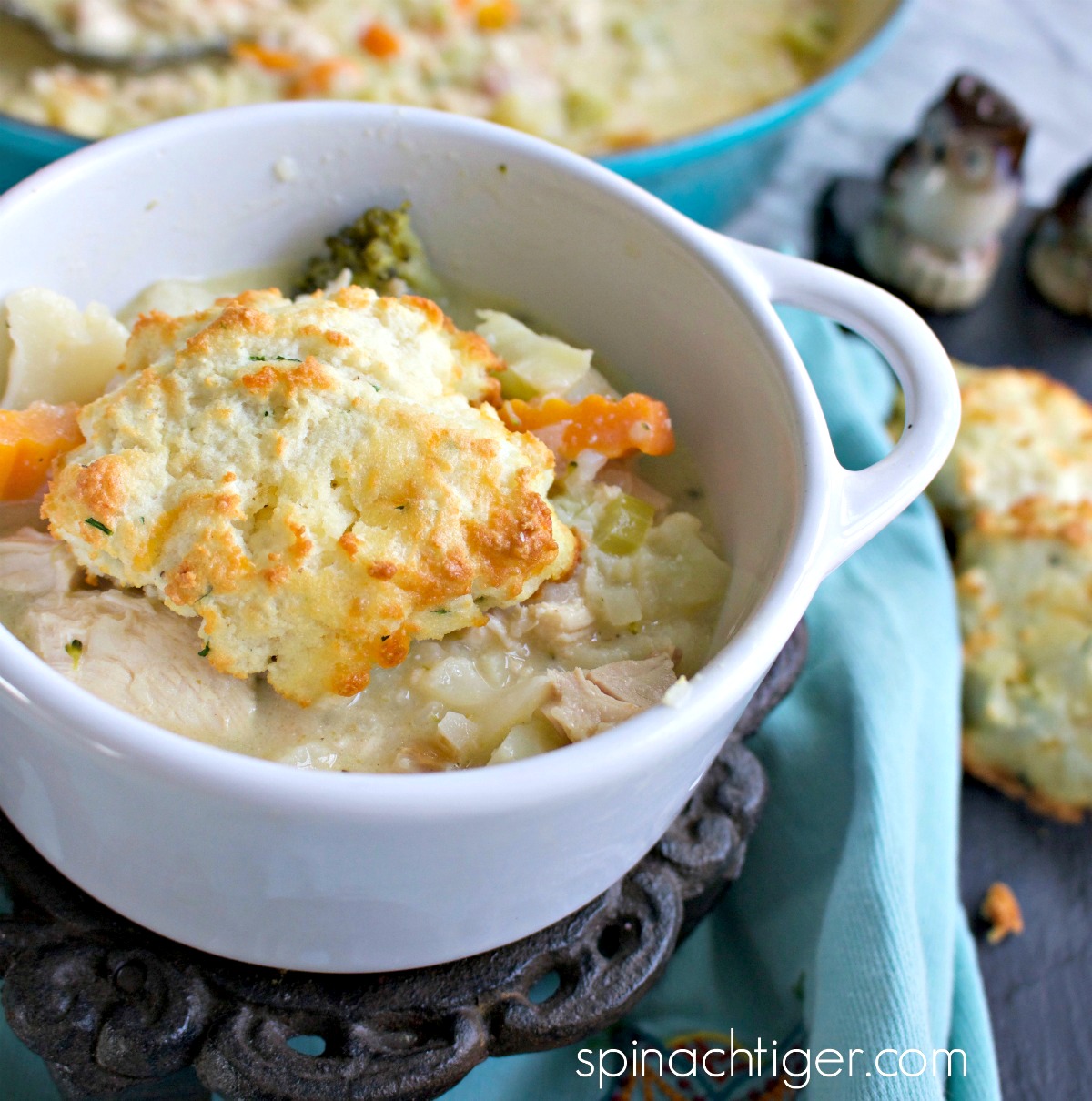 We are foodies, which means we dine out a lot more than most people, even though most of you see me cooking and cooking and cooking, recipe after recipe.
While I do tinker in the kitchen, I have a thing for dining out because I was raised that way. Weekends usually mean restaurants and Sundays usually mean recovery, but it certainly still has to be that big fat healthy food that we look forward to.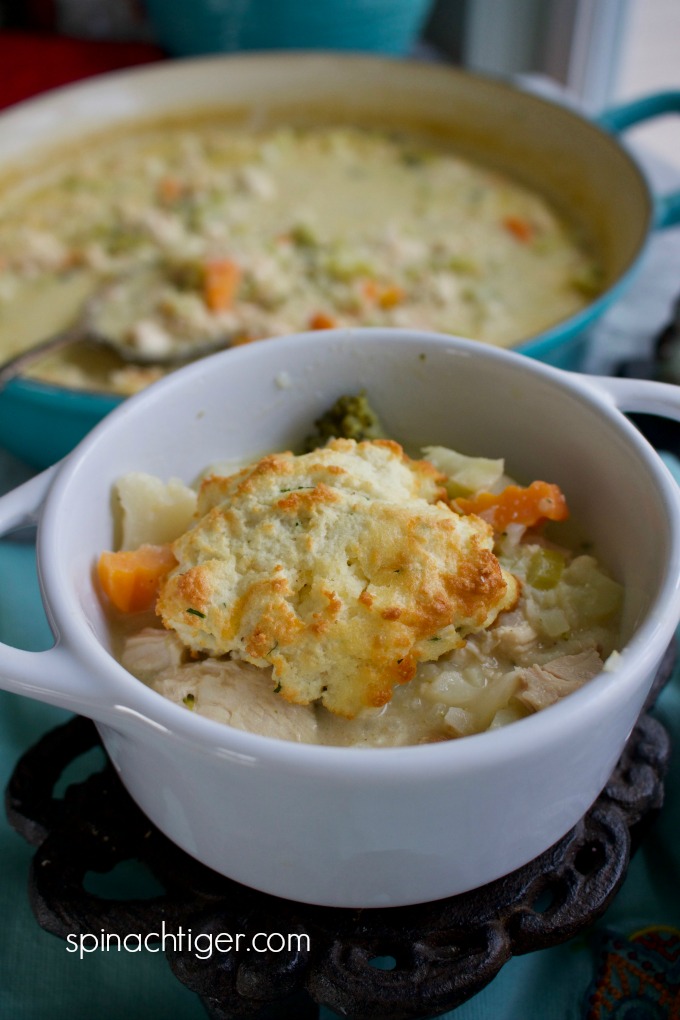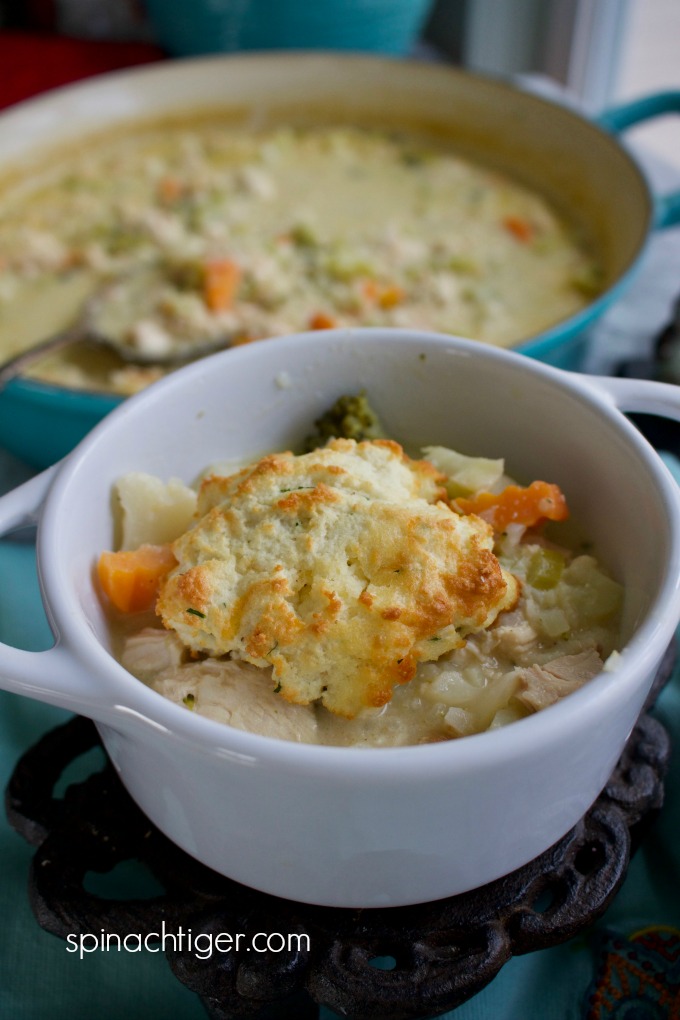 The other day we took Retro Rose out for lunch and she wanted chicken and biscuits. Unfortunately she can't eat grains without pain and she ended up ordering eggs instead.
Chicken and Biscuits can be made with any number of Spinach Tiger's biscuits.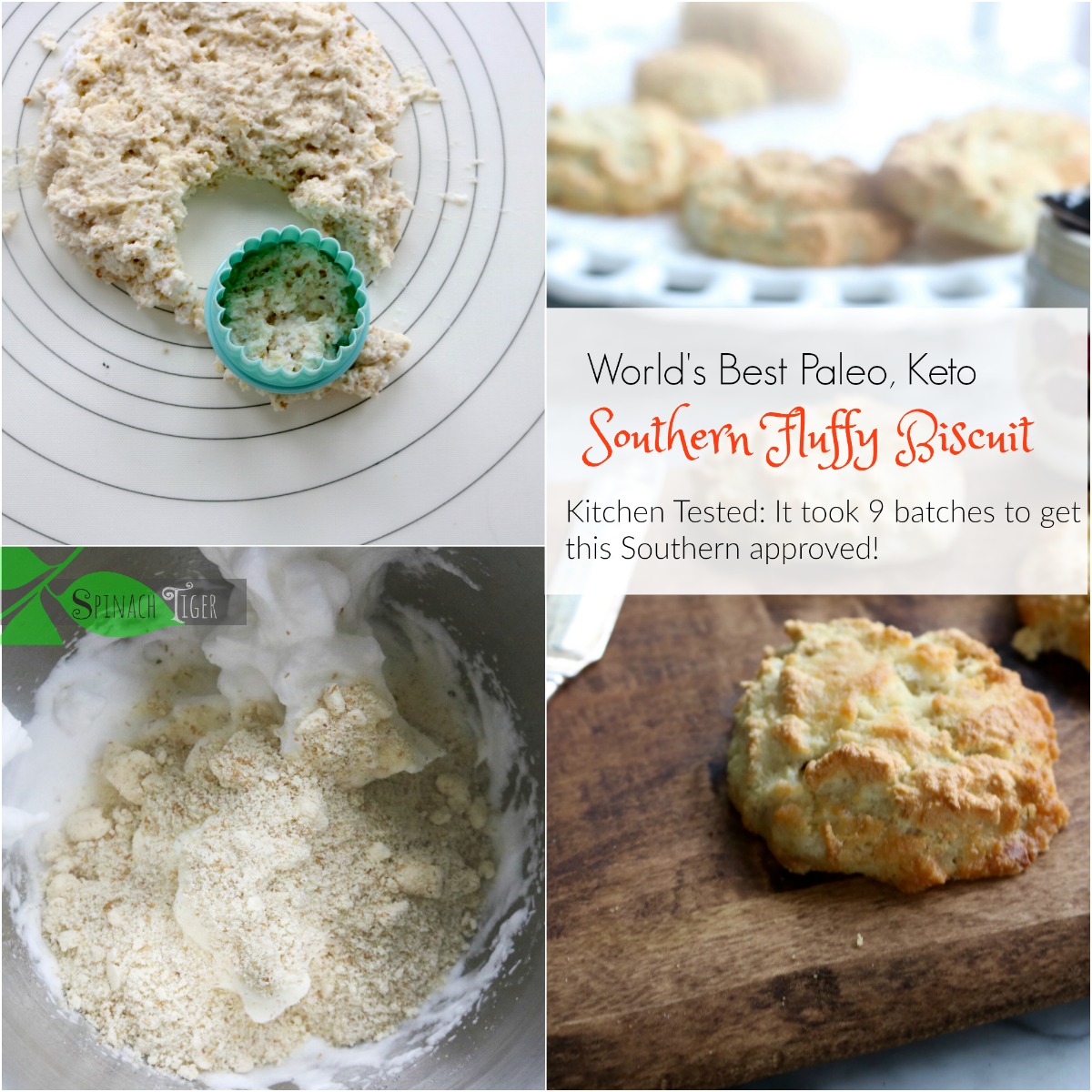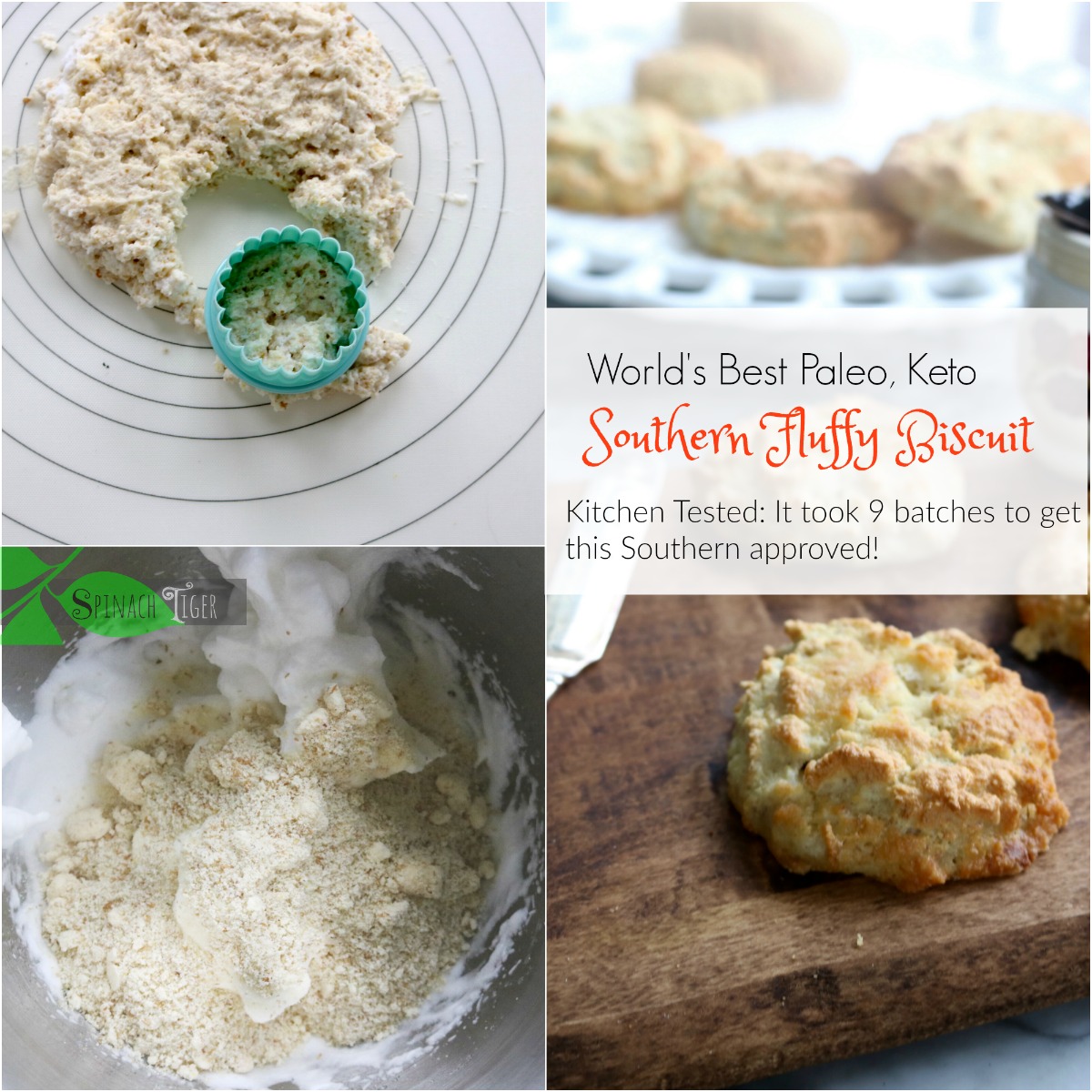 Instead of using flour, I added a little bit of cream to my brothy chicken and vegetables and kept this keto friendly.
Even if you're not on a low-carb diet, you will still love the comfort of the creamy chicken and the crispy biscuits. Who doesn't love this kind of meal?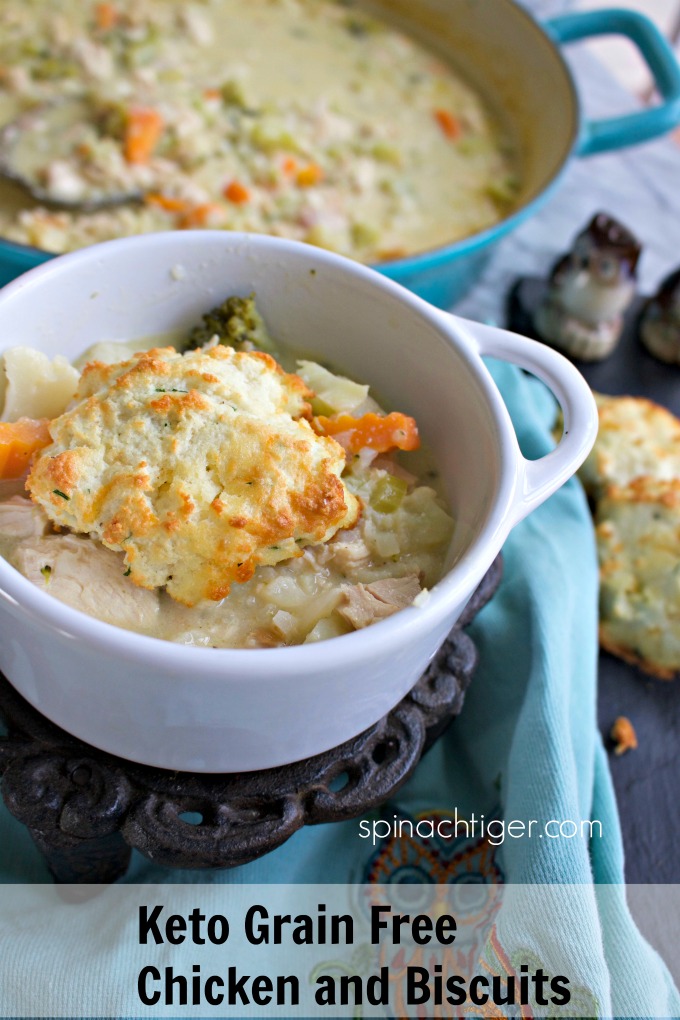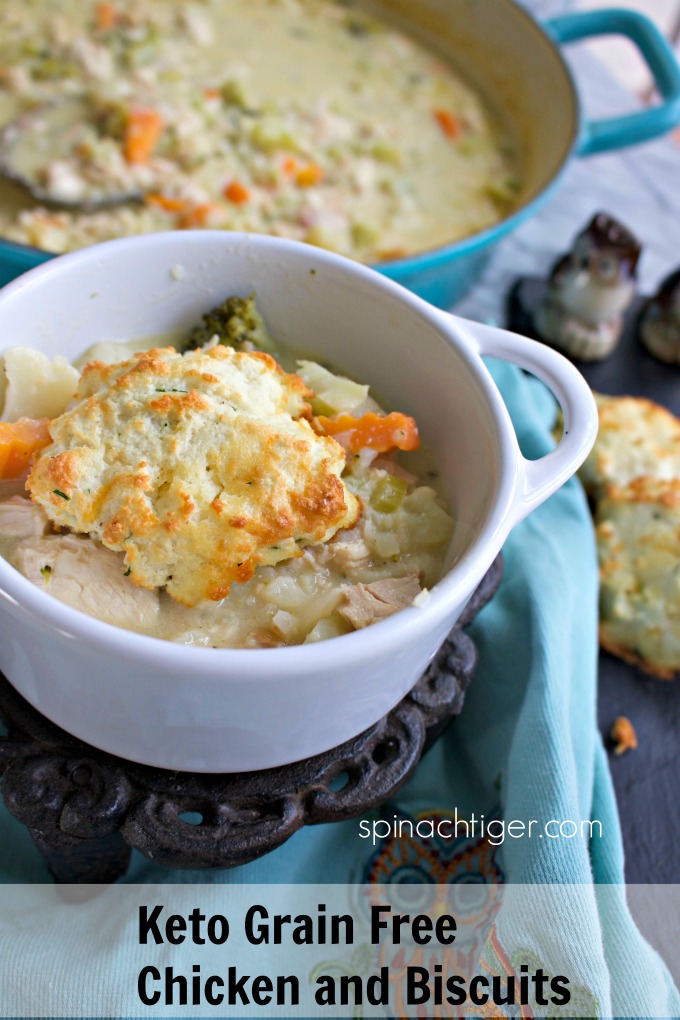 Instead of potatoes, I used cauliflower rice, and added in some broccoli, carrots, celery and onions..
The biscuits are baked separately and put on the chicken right before serving, so they don't get soggy.
There is a gluten free version of this dish here.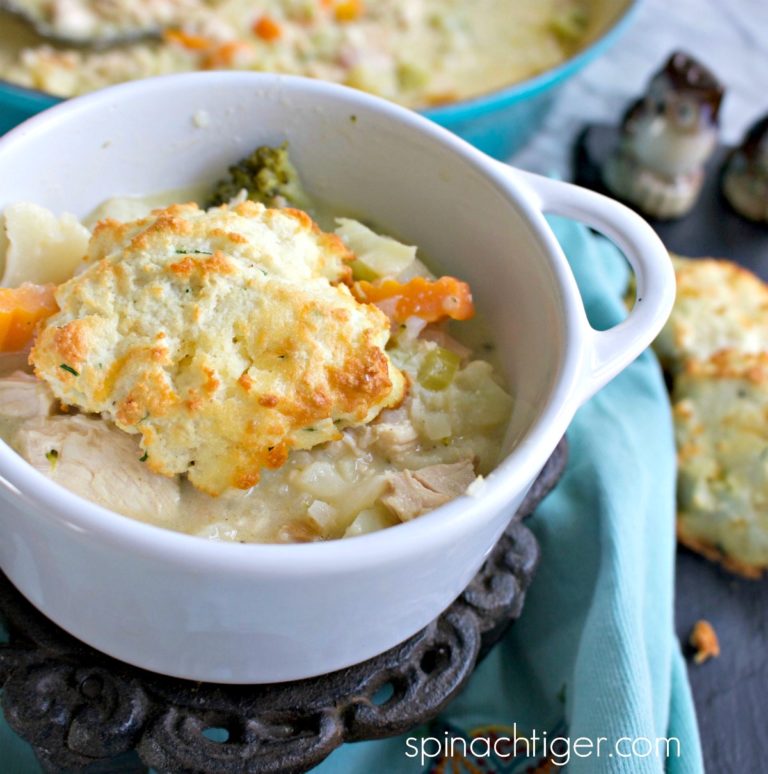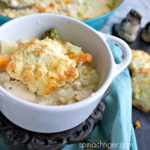 Print Recipe
Grain Free Chicken and Biscuits
Grain Free Chicken and Biscuits
Ingredients
6

tablespoons

butter

divided

1

large onion diced

2

carrots

shredded or sliced (leave out if keto)

2

ribs celery diced

optional

4

cups

chicken broth

1

package unflavored gelatin

1

teaspoon

dijon mustard

2

cups

frozen cauliflower rice or chopped broccoli

see notes

4

cups

cubed cooked chicken

see notes

salt and pepper

handful parsley

reserve some for garnish

Grain Free Biscuits (see recipehere;
Instructions
Melt 2 tablespoons butter in frying pan. Add diced onion, celery, carrots, cauliflower rice,

Heat broth separately.

Sprinkle gelatin over broth to thicken it.

Add in a tablespoon of dijon mustard. Stir to incorporate.

Cook on low for about fifteen minutes, adding in vegetables and chicken.

As the broth is cooking down, make the biscuits.

Add 3 tablespoons minced parsley. Reserve some for final garnish.

Once the chicken mixture is creamy enough, add golden baked biscuits to top serve.
Notes
You can use sauteéd cooked chicken or rotisserie chicken.
You can leave out the cauliflower rice or chopped broccoli.
Please follow me on instagram. If you make this recipe,  please tag me #spinachtiger.
If you love this recipe, please give it five stars. It means a lot. xoxo