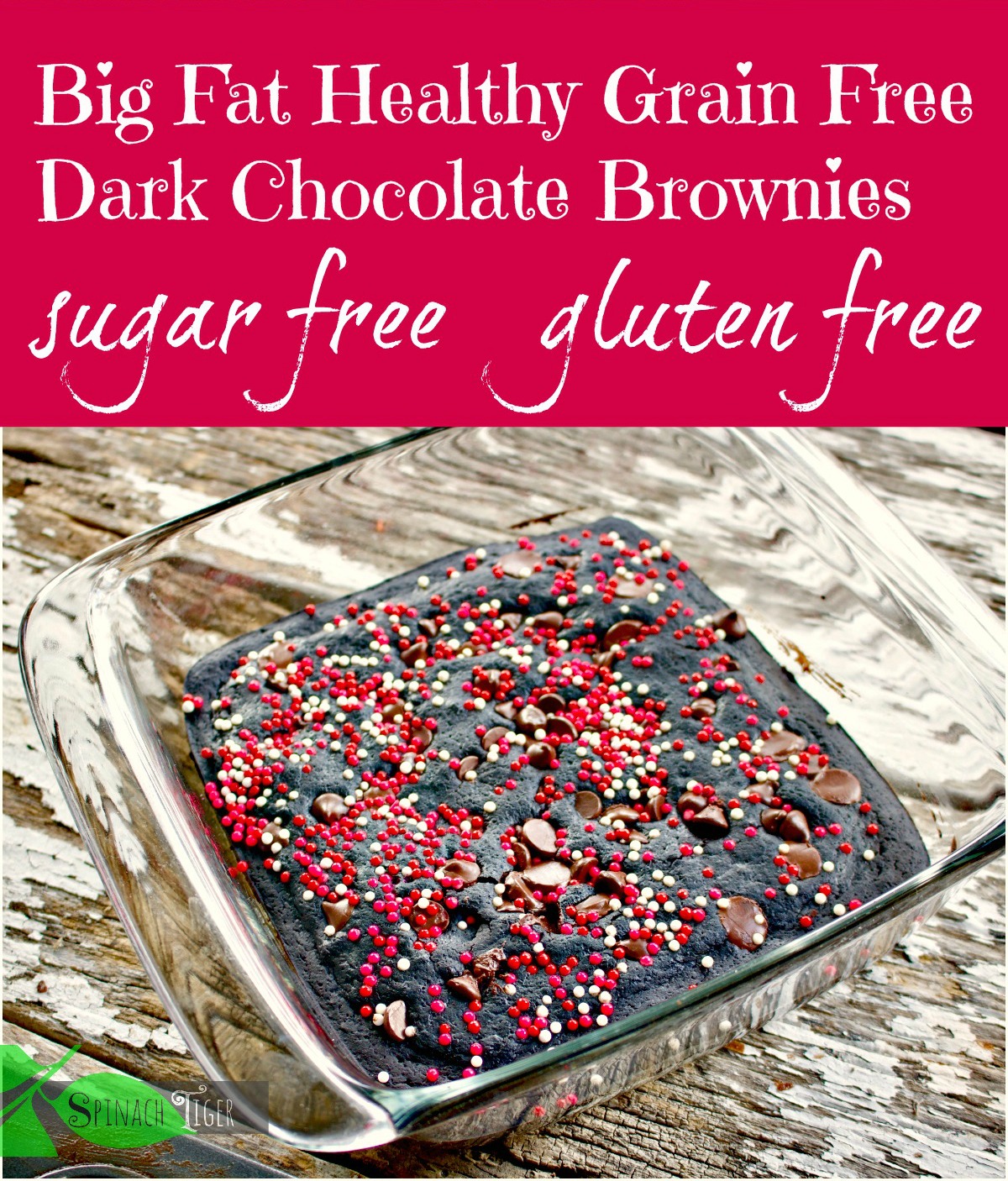 I accidentally made diabetic brownies, which will satisfy many life styles, paleo, gluten free, grain free, sugar free, low carb. However, they are NOT flavor-free!  These are amazing! These are Mr. Spinach Tiger (and friends) approved.
There are no scary ingredients in these diabetic brownies.
Don't let the word diabetic scare you. All it means, is that these are prepared in a way to not spike blood sugar, and that's food for everyone.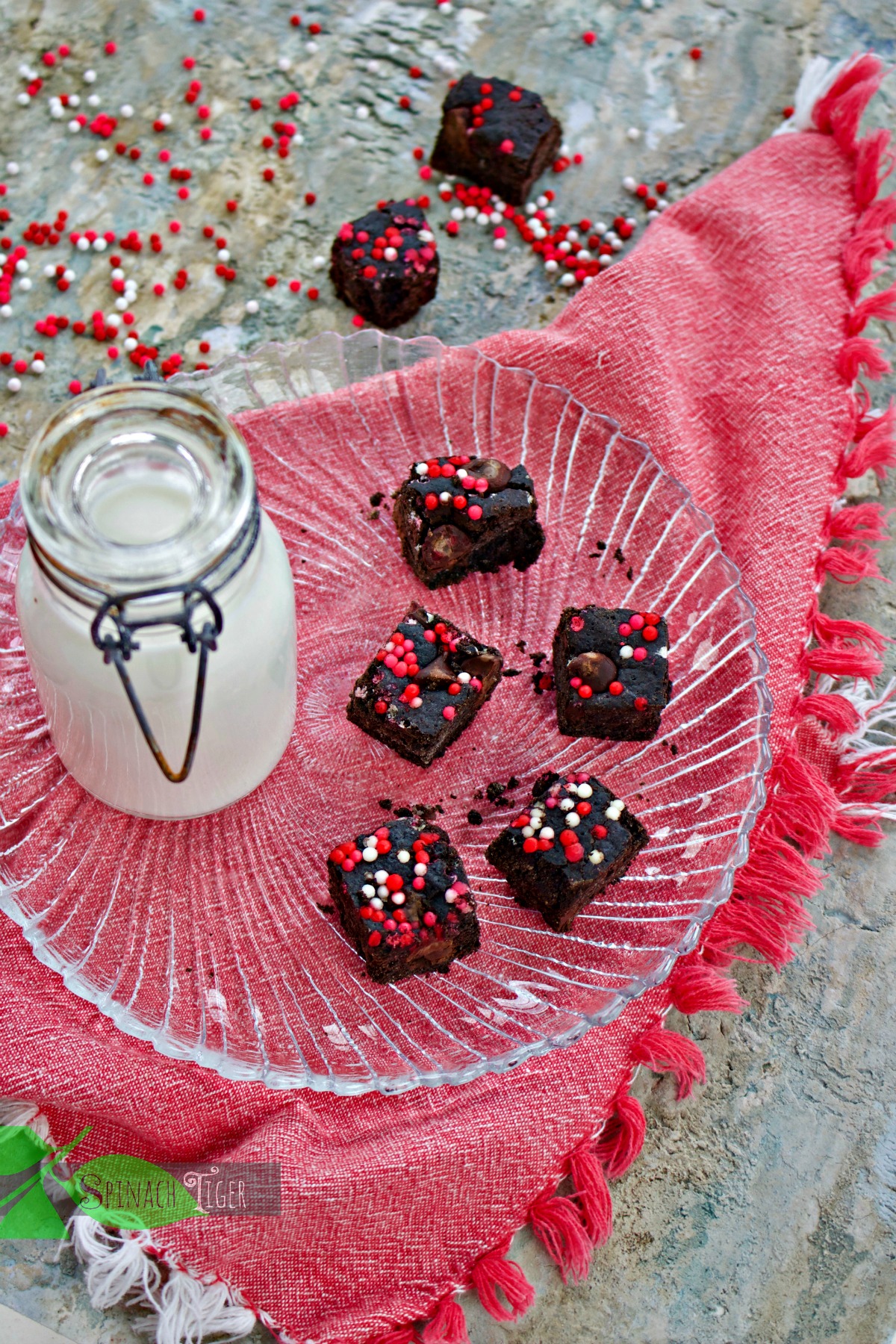 So many people today are struggling with blood sugar issues.
If you love deep flavors like dark chocolate and espresso, you'll love these diabetic brownies.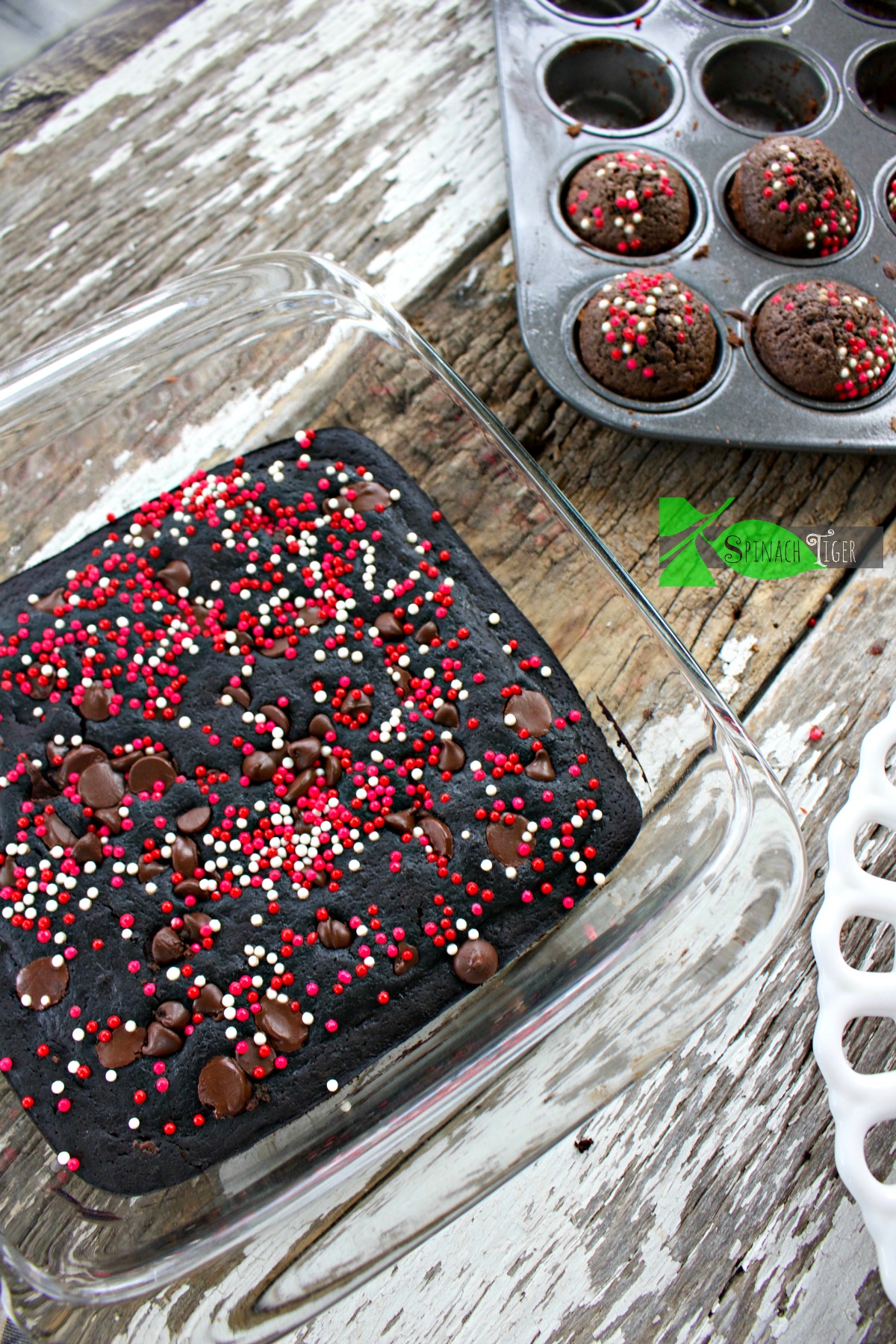 Diabetic Brownies, Made with Swerve
I should really all these accidental brownies. I started making one recipe and ventured into new territory, using coconut flour, a lot of espresso and extra dark cocoa powder. I recently began baking with  swerve (an erythritol sweetener that is one-to-one sugar). I used it in this diabetic friendly grain-free lemon cake and I nearly ate the whole thing myself.
I used a big shot of espresso so these diabetic brownies would feel decadent.
The espresso flavor brings extra umami. People who don't usually drink coffee, loved it. If coffee is not your thing, just use hot water instead. I decided after ten minutes of baking to add more chocolate chips to the top. That's optional. I used the sprinkles to be festive; these were for a party.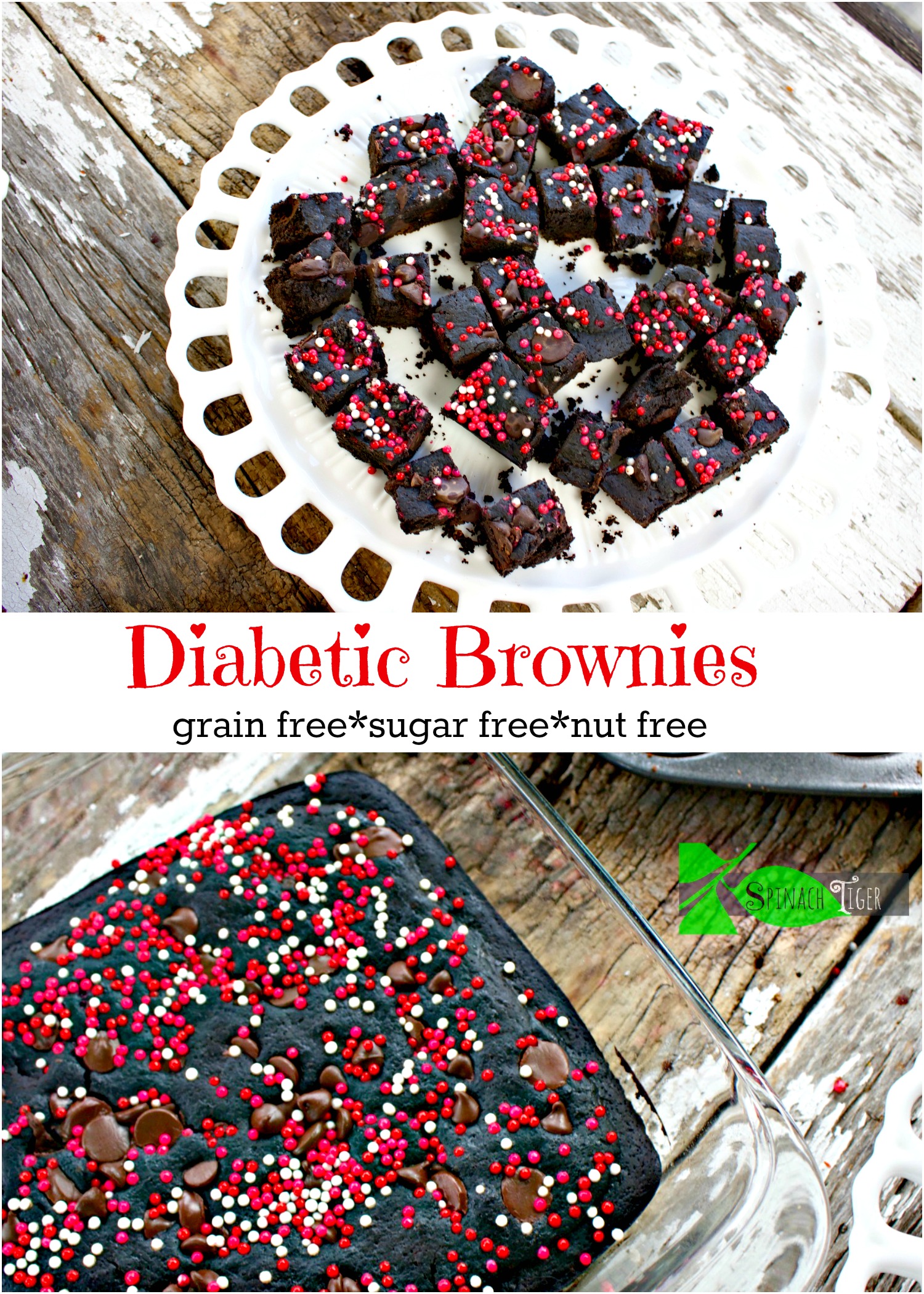 These are rich so I cut them into bite sized pieces. You can get about 32 bites out of an 8 x 8 pan. This is a recipe you should make frequently and keep in the freezer for snacks.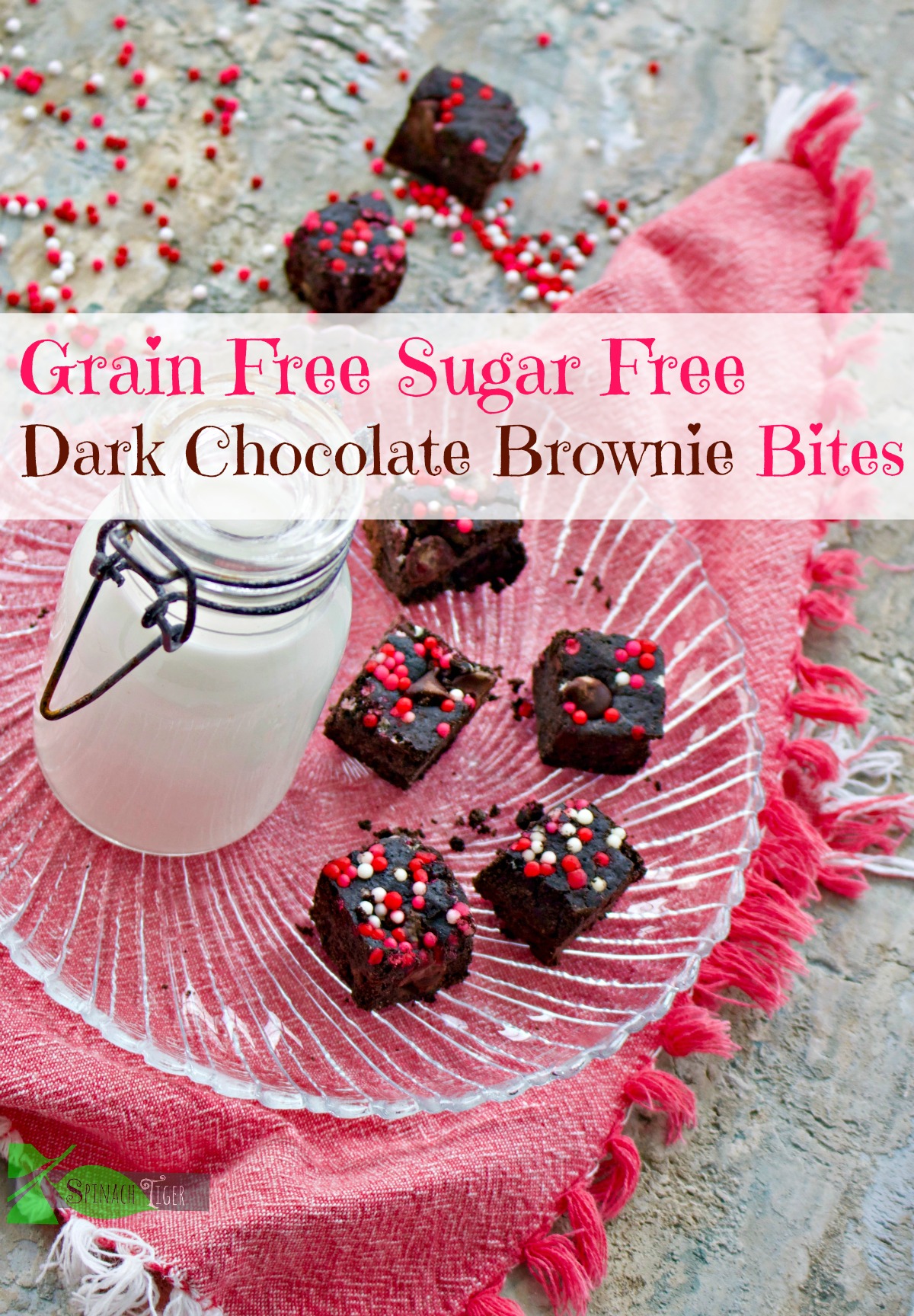 Grain Free and Gluten Free are not the same thing. These Diabetic Brownies are Grain Free.
Grain free is gluten free, but gluten free is not necessarily grain free. Gluten free flours are typically made with rice (grains). When I say grain free, the ingredient is most likely coconut flour, almond flour, cassava flour, or a combination. If you're watching your blood sugar or following a low carb diet, you're going to want grain-free baked goods.
Spinach Tiger is making a lot big fat healthy desserts.  Stay tuned for more, as I adapt some of my most popular dessert recipes to a healthier profile.  If there are any desserts you'd like to see diabetic friendly like these diabetic brownies, let me know in the comments. I love hearing from you.
Also, take a took at my instagram feed at the bottom and be sure to follow my big fat healthy food.
More Gluten Free Recipes from Spinach Tiger
More Grain Free Baking from Spinach Tiger

Dark Chocolate Coconut Flour Brownies, Sugar Free
Prep time:
Cook time:
Total time:
Dark Chocolate Espresso Brownie Bites, Keto, Low Carb
Ingredients
8 tablespoons unsalted butter
¼ cup coconut flour Order Here
¼ teaspoon salt
½ cup dark chocolate unsweetened cocoa powder (see notes)
2 eggs at room temperature
½ cup dark roasted coffee or double espresso shot
¾ cups Swerve (erythritol) Order Here
1 teaspoon vanilla
2 ounces dark chocolate 70% or dark chocolate chips Order Here
1 ounce dark chocolate chips (optional) for topping
Sprinkles (optional)
Kitchen Tools
8 x 8 Baking Dish (I like this from OXOwhich comes with a lid, goes freezer to over)
Instructions
Preheat oven to 350 degrees F.
Sift together flour, cocoa powder, salt.
Melt butter in saucepan.
Add cocoa powder. It's easier if you sift it in.
Cool for a few minutes.
Whisk in eggs one at a time.
Add in swerve (or sugar), vanilla, coffee.
Gently mix together.
Add in coconut flour, followed by chopped dark chocolate or dark chocolate chips.
Bake for ten minutes at 350.
You can top the brownies with more chocolate chips at this point if you want to.
Add sprinkles.
Bake for 20 more minutes.
Notes
Re: Unsweetened Cocoa. In this recipe, I used 100% extra dark unsweetened cocoa. You can also use this
organic free trade cocoa.
Re: Dark Chocolate. Use at least 70% cacao. If you can't find very optional chocolate chips, skip those.