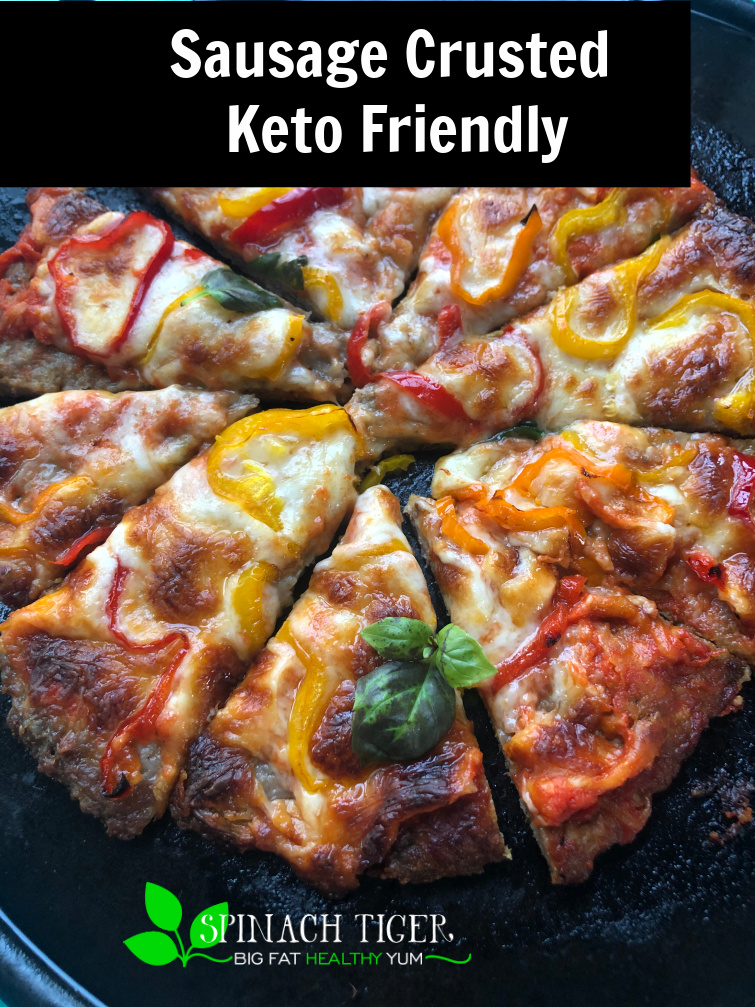 Making a sausage crusted keto pizza crust with bell peppers is super easy, super Italian delicious. Yes, you can cut it and pick it up with your hands. I knew you'd want to know that.
This is the third sausage-crusted pizza I'm sharing here, and might be my favorite. After all, peppers go so amazingly well with Italian sausage. Unlike the broccoli rabe sausage crusted pizza which requires pre-cooking the broccoli rabe, raw thin slivers of raw bell peppers go right on the pizza saving lots of time.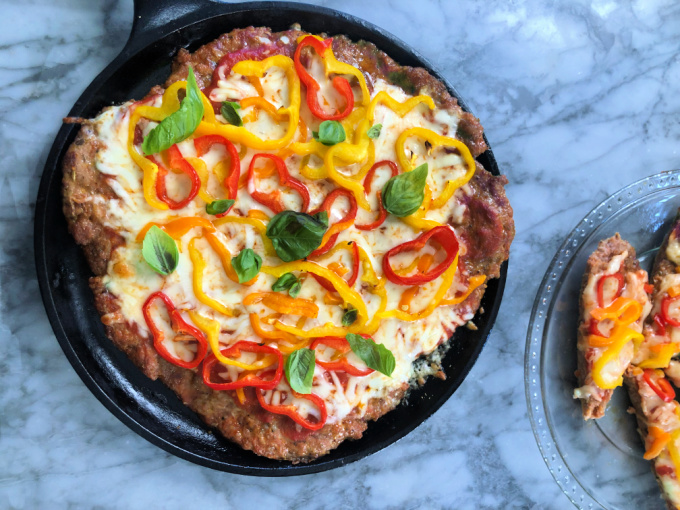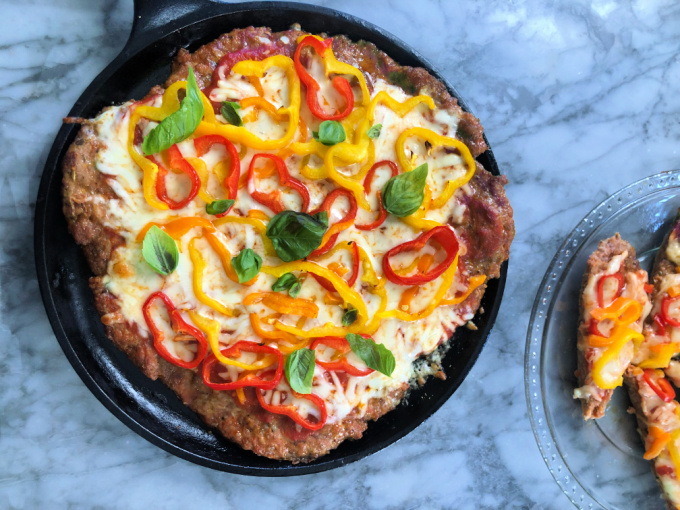 First, you must prepare the sausage crust. There is no fat-head dough, grains or gobs of mozzarella in the crust, just delicious Italian Sausage. Take the sausage out of the casing or buy it loose.
Place the sausage on a piece of parchment paper on your baking sheet. Cover with a piece of plastic wrap and roll out. Take the plastic off. Bake on a baking sheet. You will see a pool of oil, once baked.
Note: If you use turkey sausage, you will have less oil and it still tastes good.
Drain the oil that comes out of the sausage, top with a cup of mozzarella, slivers of red and yellow bell peppers, top with fresh basil and enjoy! The whole pizza has about 7 carbs. How's that?
In case you still don't understand how this is made, we have a video for you below.
Frequently Asked Questions for Sausage Crusted Pizza
How do you easily roll sausage?
You must use plastic wrap or parchment. Otherwise the sausage due to the fat will stick to your rolling pin.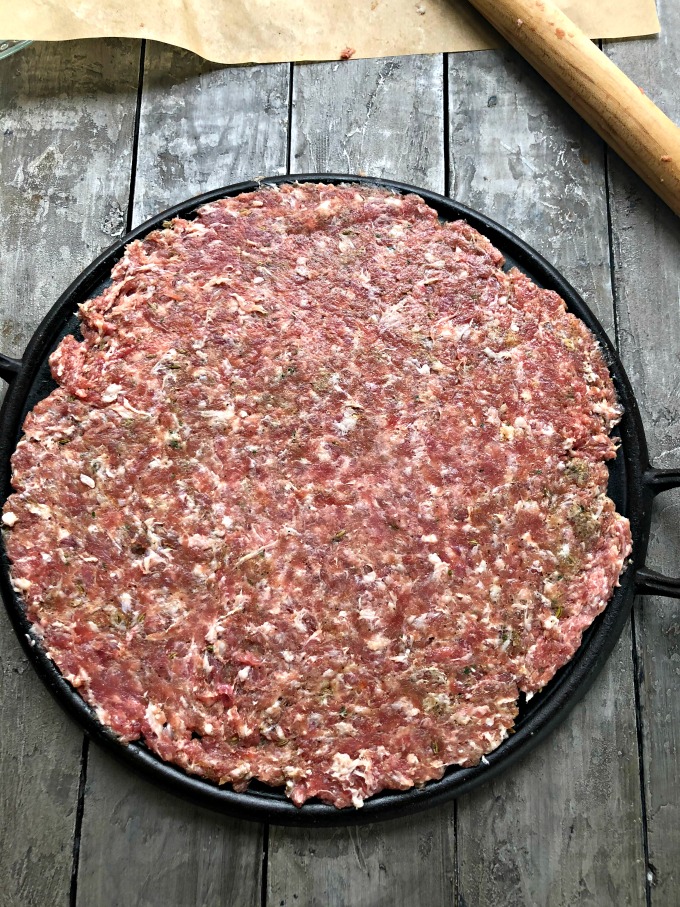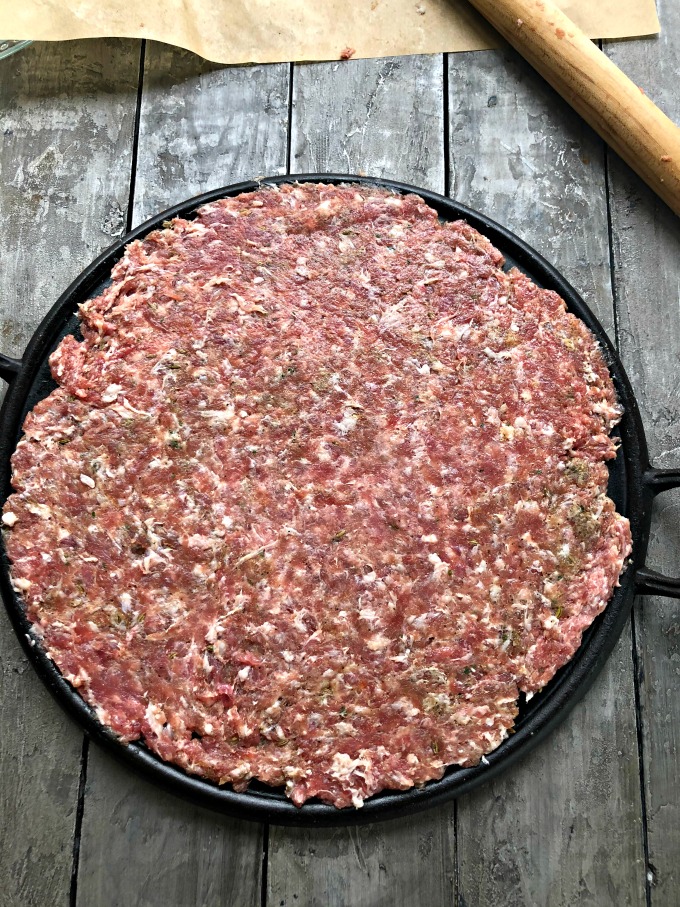 Do you have to use a rolling pin?
No, you can smooth out with your hands, but a rolling pin will be much easier, and the pizza crust will be even, so I recommend using it.
Ingredients for Sausage Crusted Keto Pizza
What kind of sausage should I use?
Whatever you love. We love a combination of spicy and mild Italian sausage. We buy it loose, but you can buy it in links and take it out of the casing. You can also use chicken Italian sausage, but I've not used that and not sure how well it crisps up.
How much will my crust shrink?
It does shrink about an inch at least and will yield a lot of fat. This is why using a baking sheet works. After baking for ten minutes, pour out the grease, pat dry with paper towels.
What kind of cheese should I use?
The cheese that works the best is the mozzarella that comes in a bag and is low moisture. However, you can use fresh (keeping in mind it's moisture level), or a combo of your favorite cheeses. We made this with three cheeses in this version.
What tomato sauce should I use?
Here's where I am very picky. I hate jarred sauces and find them a waste and too often full of sugar and too acidic. I like to take a good can of San Marzano Tomatoes (like the Cento Brand) and before I start rolling the sausage, I break up with my hand, cook down with a little olive oil and oregano or basil, salt and pepper. One can give you more than enough for one pizza and you can freeze in little baggies for your next pizzas.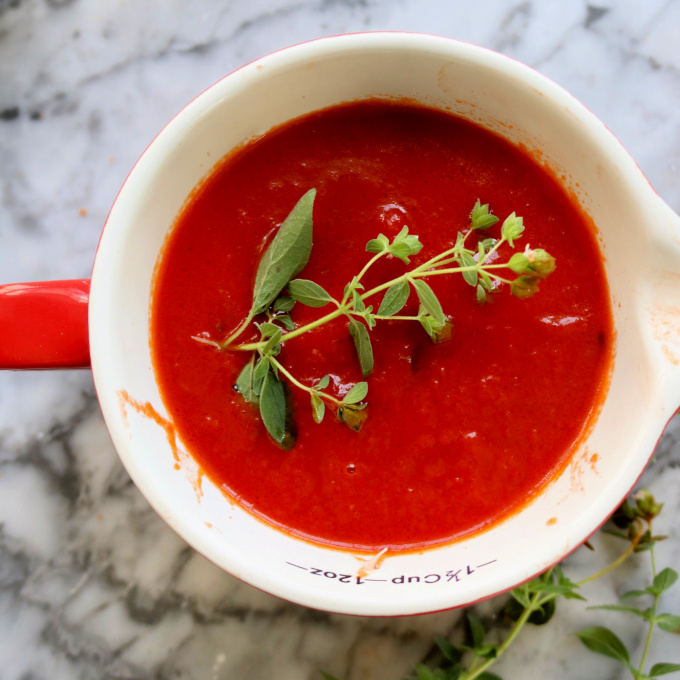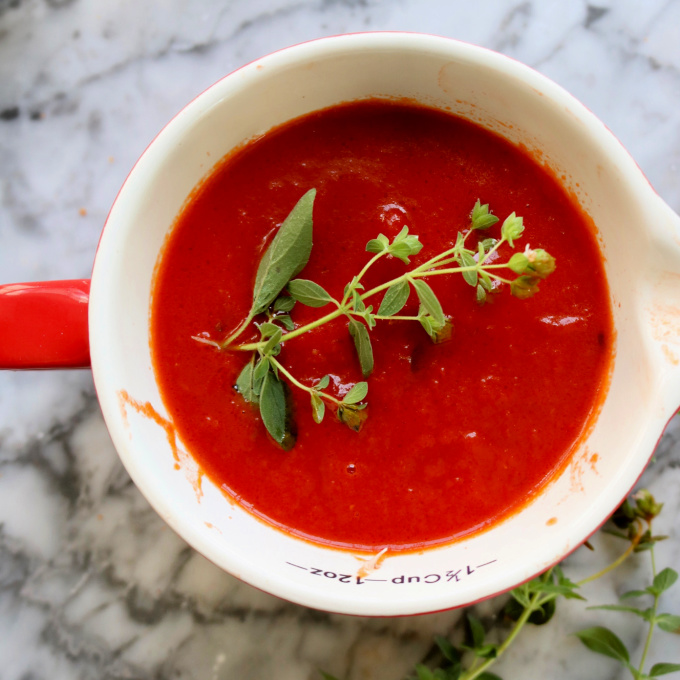 My pizza is soggy. What did I do wrong?
You may not have drained the grease, patted down with paper towels. Also you need to wait a few minutes prior to cutting. Done properly, you should be able to pick up with your hand.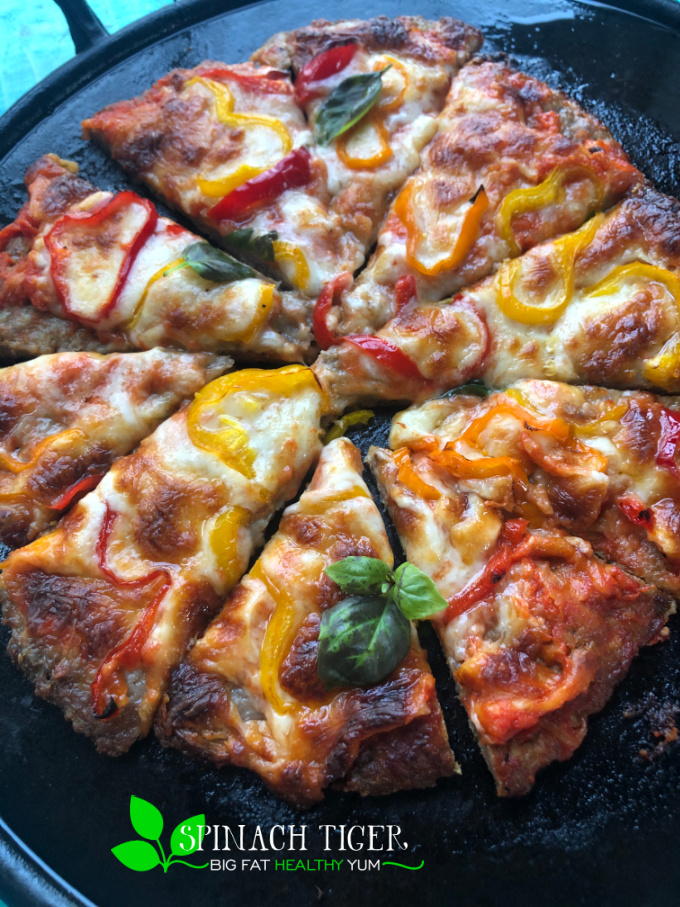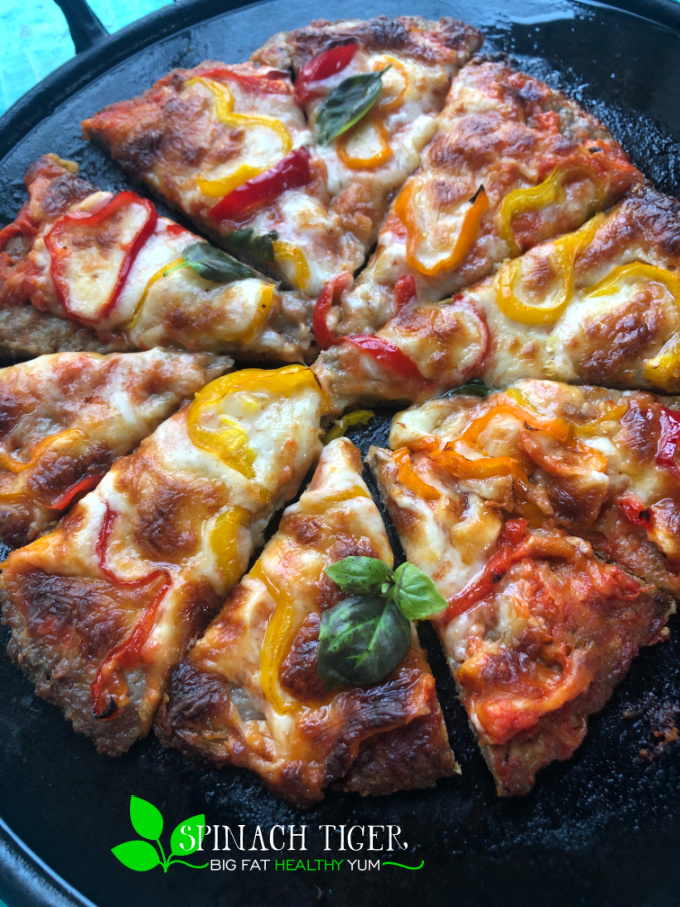 What do I do with the left over peppers if I want to have all these colors?
So glad you asked. Cut them all, lay them out on a tray, freeze and then put into a plastic bag. Make this low carb skillet cheesesteak with cauliflower.
Always know you can write me with any questions you have or leave in the comments below. I answer each and every one.


More Ideas for Spinach Tiger Sausage Crusted Pizza
Sausage Crusted Pizza with Broccoli Rabe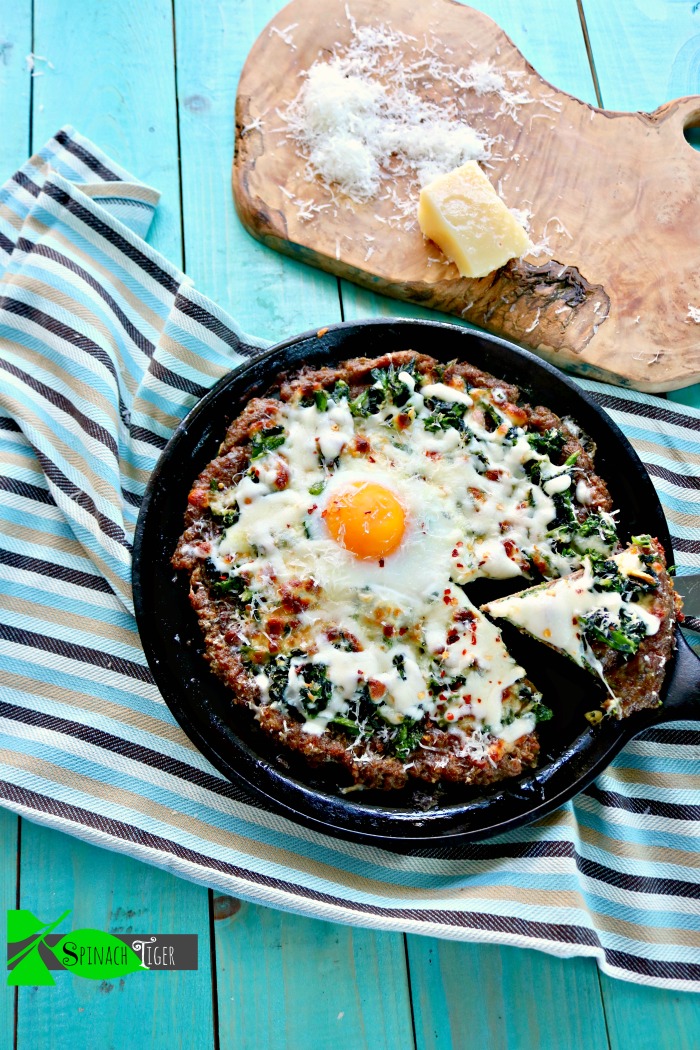 Sausage Crusted Three Cheese Pizza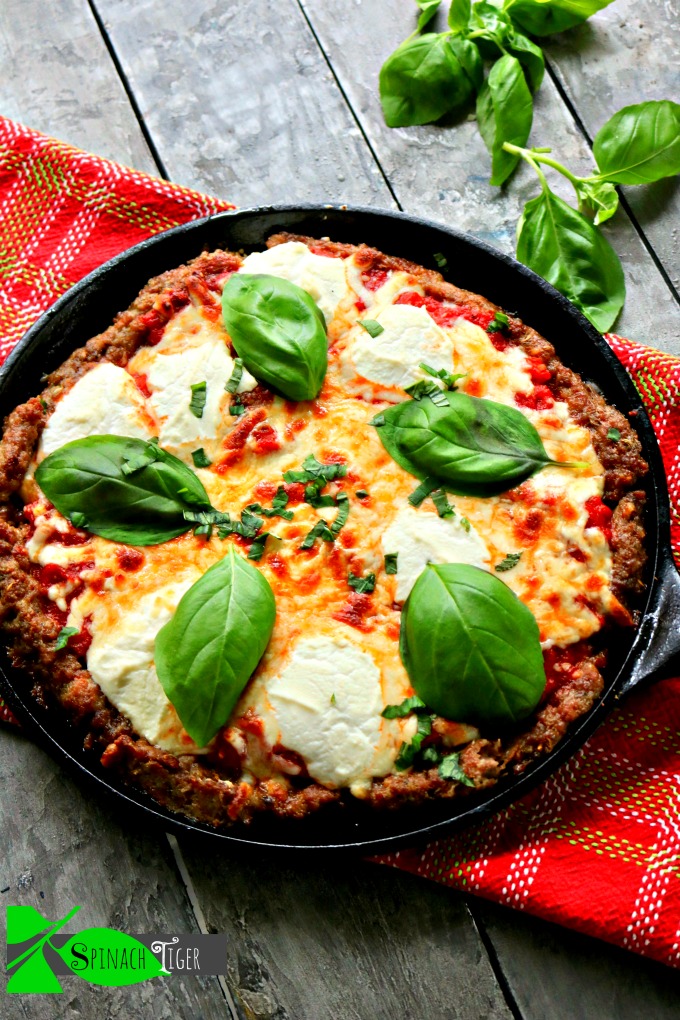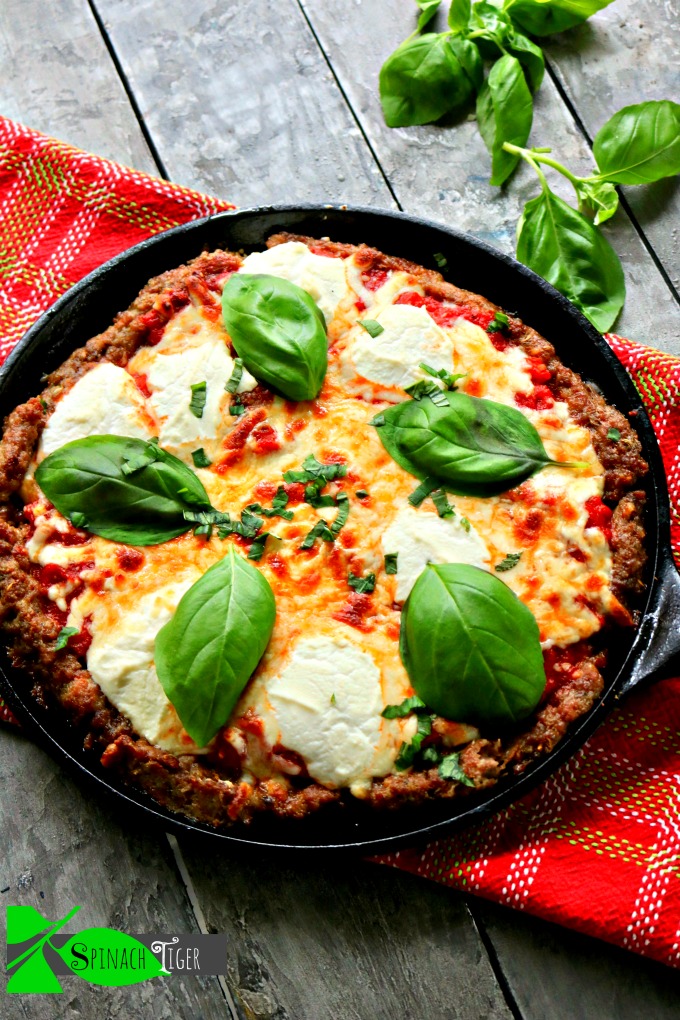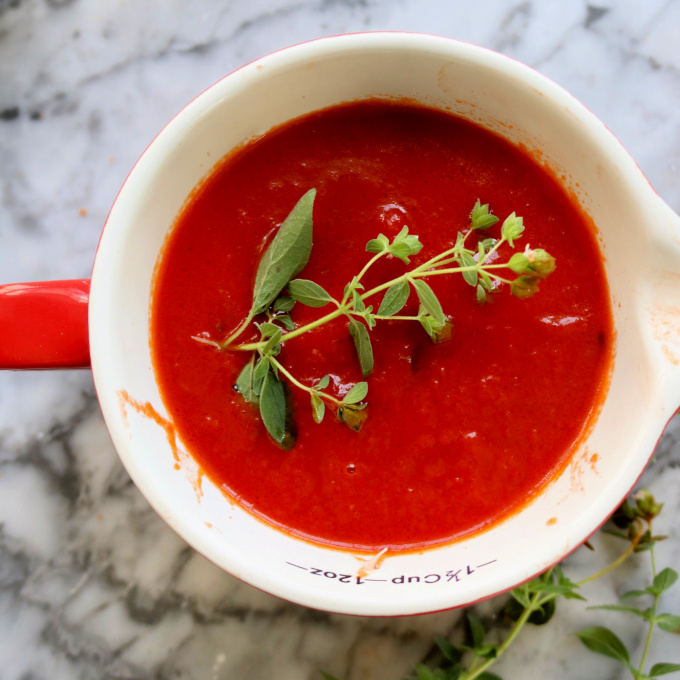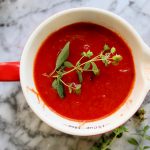 Print Recipe
Sausage Crusted Keto Pizza with Multi Colored Peppers
Low Carb, Keto Friendly Pizza where Sausage is used for the Crust. (Sausage and Peppers)
Ingredients
1

pound

Italian sausage

2

tablespoons

olive oil

1

cup

tomato sauce

Recipe below or use your preferred jarred sauce

1

cups

grated mozzarella cheese

more if you like

2

tablespoons

Pecorino Romano Cheese

1/4

teaspoon

sea salt

or more to taste

1/4

teaspoon

black pepper

1

handful

fresh basil
Pizza Sauce
1

tablespoon

olive oil

1

clove

garlic

1

can

San Marzano Tomatoes

chopped with juice

2

tablespoons

fresh oregano or basil

or dried Italian seasoning

1/2

teaspoon

sea salt

or more to taste

1/2

teaspoon

black pepper

or more to taste
Instructions
Make pizza sauce first (below) or use your own favorite tomato sauce.
Make Sausage Crust
Preheat oven to 400 degrees F.

Use loose sausage. If you have sausage links, remove from casing. spread out with fingers onto baking sheet. Use parchment paper for bottom and plastic wrap for top. Use rolling pin to roll out as thin as you can without forming holes. Place plastic on top of sausage and roll. You will not need any binders.

Sausage will shrink about an inch all around and will yield a good amount of oil.

Bake for 10 to 15 until sausage is browned.
Make Pizza
Once sausage is cooked, sop up any grease with paper towels.

Add about 1/2 cup tomato sauce to pizza crust.

Scatter bell peppers evenly over entire crust.

Bake for 10 minutes or until cheese is melted.

Sprinkle grated pecorino romano cheese if desired.

Put fresh basil on pizza.

Serve immediately, cutting into six pieces.
Make Pizza Sauce
Add olive oil to saucepan.

Add garlic. Fry for one minute but be careful not to burn. If burn, thrown all out, start over.

Using your hands, squeeze tomatoes into sauce pan. Include juice.

Add tomatoes, salt, pepper, fresh herbs in whole form to later be removed.

Cook on low while making the pizza crust. This doesn't take long.

Use a stick blender to blend smoothly if desired.

Season sauce with oregano or basil.
Video
Notes
You can use turkey Italian sausage. 
Please follow me on instagram. If you make this recipe,  please tag me #spinachtiger.
If you love this recipe, please give it five stars. It means a lot. xoxo