This is a story about chance meetings. I stumbled upon a beautiful market stand in front of the  Franklin Whole Foods on Sunday night.  I love Whole Foods for allowing various farmers to bring their products and set up a stand outside in front of the store.
It was a moment of good fate for both of us,  as I was looking for fresh, local kale and they had just picked it that morning. They were looking for their last customer to take it as it was 7:00 p.m. and they were packing up.  There is  something that reaches my soul when I can talk to the person who was responsible for my food from the seed to the money exchange and they want me to love what they have grown as much as they do. One look at the way they carefully arranged their table with burlap decorations and  food in pretty baskets,  I knew they were special folks, and I would have to purchase more than kale.
But, okra, please not okra. I don't know this vegetable very well and my experiences were never good ones. Everyone knows about the potential slime inside. But, they sweetly assured me that if I cut it according to their directions and roasted it with some baby eggplant and maybe even some cherry tomatoes, I would be able to see okra in a different light. They were so committed to me wanting to experience okra in a good way, I was offered to take some home to try at no charge.  How could I not want to try okra now. However, I insisted to pay (which was mere pennies) and bought baby eggplant and some cherry tomatoes and a fond memory of the time they took with me, even though they were anxious to pack up and go.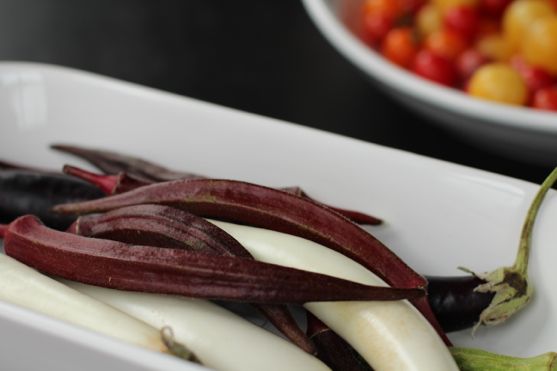 I followed their cutting and roasting instructions,  and to my surprise the last of the summer vegetables created a delicious dish seemingly more Autumn. I used fresh thyme from my garden, but I could see a bit of sage or rosemary making its way into this dish too.
Everything about this story encapsulates my viewpoint about food. It's more than eating. It's an understanding of the commitment that begins at planting of the first seed and ends at the passion to transform the harvest into something delicious and life giving. And, if along the way, friendships are formed and  the prepared dish still resembles the freshly picked crop,  life feels right, balanced and good. This is super easy and makes a wonderful side dish. You can further amp it up by adding in some roasted potatoes.
This is not so much a recipe as an approach, but still worthy to share with you. Truthfully, I have felt a bit misleading, because I have posted a lot of desserts and hardly any true Spinach Tiger dishes. It's not because I haven't been eating them; it's just that  I knew I was redoing this blog so I was stalling. But, now I'm back with a new fervor to bring you the kind of food this blog is committed to. Modern comfort food that is mostly local, whole, fresh, hearty, healthy,  and approachable with just a bit of bling and wow. Of course, there will still be desserts all baked from scratch because a little bit of sweet with a lot of savory makes a girl happy, right?
By the way, I hope you like the new look here. I wanted to make things easy for you to find, so the categories are reorganized and you can even find recipes by ingredient. And, comments are much more user friendly.  We are still working out  the kinks. Moving from iWeb  to WordPress was something I wanted to do for over two years. (no lectures on how that was a dumb way to do a blog because I know that already). I knew the move  would be difficult and I felt a bit helpless. That is until Shanna of Food Loves Writing hooked me up with her friend Tim. He not only had the smarts and know how, he was a Spinach Tiger fan before we met.  I don't usually email blog authors unless I'm very moved. Shanna wrote something last year that moved me to privately email her. One thing led to the next and she was hooking me up with Tim, a chance meeting that brought life's favor my way.  This was such a blessing.  I knew exactly what I wanted but had no idea if it was possible or  how to do it. Tim did.
The move was painful because we lost all of the images and  comments. I am slowly reinserting every image, relinking where I need to, cleaning up recipes, etc. but losing the comments is crushing because it's the interaction that keeps a blogger going.  We will probably manually move them the same way we had to manually move all the images.  But, those changes are on hold for a few weeks because that chance meeting where Shanna met Tim because of her food blog has ended in a life changing romance.
Tim and Shanna are getting married this weekend.    I just love a good love story.  Having spent time with them, I feel like they were destined to meet and spend their life together.They are first rate in so many ways and  I'm honored to call them my friends.
The kale.  The blog change. The wedding. Were these really chance meetings?  Or is there something else that helps our life along? I know what I believe. How about you?
Recipe for Roasted Okra, Eggplant and Cherry Tomatoes
Serves two
Ingredients
10 okra
5 Baby Eggplant
3 garlic cloves
10 cherry tomatoes
olive oil
sea salt, black pepper
1/2 teaspoon fresh thyme
dash of balsamic vinegar
Instructions
Chop off tips of okra and eggplant
Slice okra crosswise
Slice eggplant down center and then crosswise in same size as okra. If okra, cut in half is 2 inches, match the eggplant and cut in 2 inch pieces.
Arrange in shallow baking dish with 3 cloves of garlic.
Toss with olive oil, salt and pepper
Roast for 10 minutes. Toss.  Add in tomatoes. Roast for another 10 minutes, checking at 5 minute intervals. You may need more or less time.
Toss with a dash of balsamic vinegar and sprinkle with fresh thyme.
Salt and pepper to taste.
You can add the tomatoes in right from the beginning if you prefer. As far as knowing when the dish is done, the garlic should be spreadable and this deserves some crusty bread.