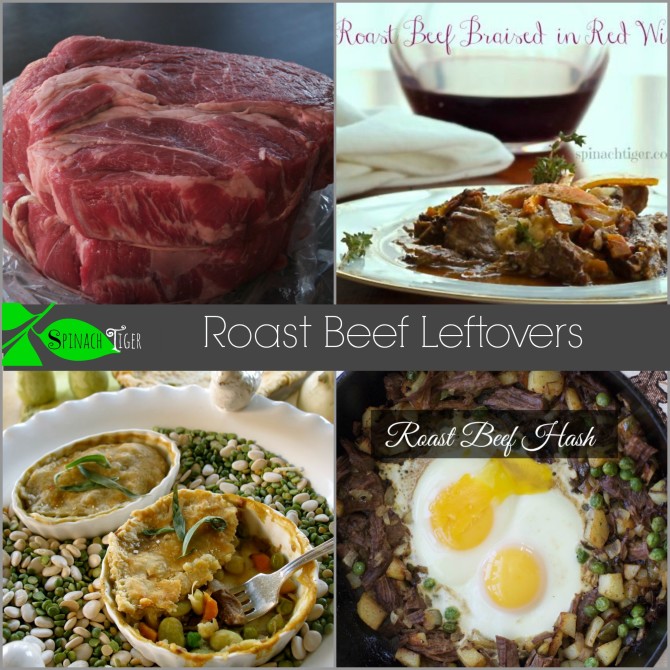 This post is about roast beef leftover recipes, but really it's about much more.
A person blogs for many different reasons, but a serious blogger blogs with intention and purpose. I know that part of my recipes, my food story is the emotional story that burns inside of me.
Food helped to normalized or neutralize a very bizarre childhood, a ruffled life with a happy ending, which is why I like fairy tales and things like ruffled eggs.
Roast Beef Hash  with Ruffled Egg

A ruffled egg is just what it means. It's ruffled and quite adorable, looking like a little purse. The technique is easy and creates a perfectly poached egg, charming  atop roast beef hash, and quite a pleasant way to make a roast beef leftover recipe.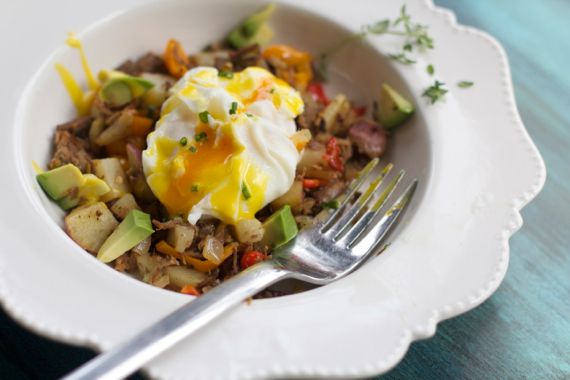 This version uses the roast beef, red pepper, potatoes, avocado and fresh squeeze of lime.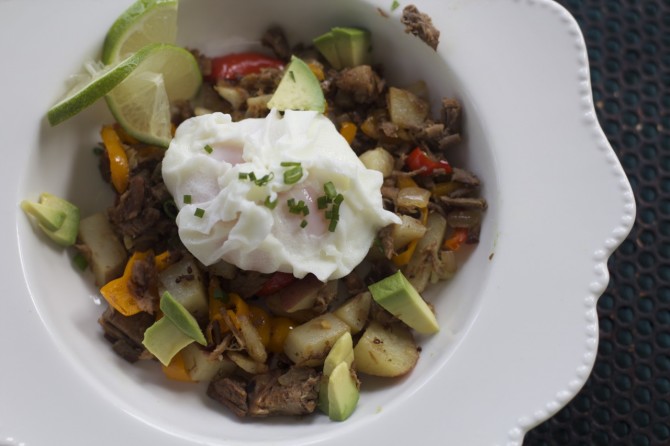 On another day, I created a roast beef leftover recipe with a more traditional approach.
Roast Beef Hash Version made with Potatoes, Peas, Onions and Oven fried eggs. If you never heard of oven fried eggs, you'll thank me after you try this recipe. I've even made a video to prove how easy it is.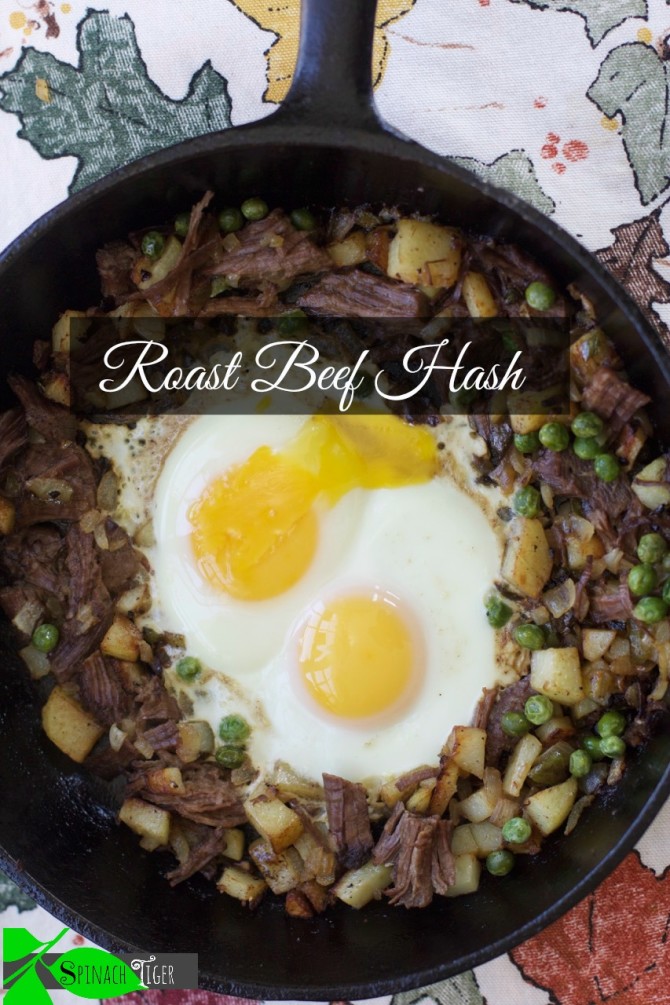 Generally, I like to tell you about the wonderfulness of the recipe.
But sometimes I just want to get very real and personal.
The roast beef hash is a treat for us, not that it's hard. It's too easy; it's just that I don't make many roast beef dinners.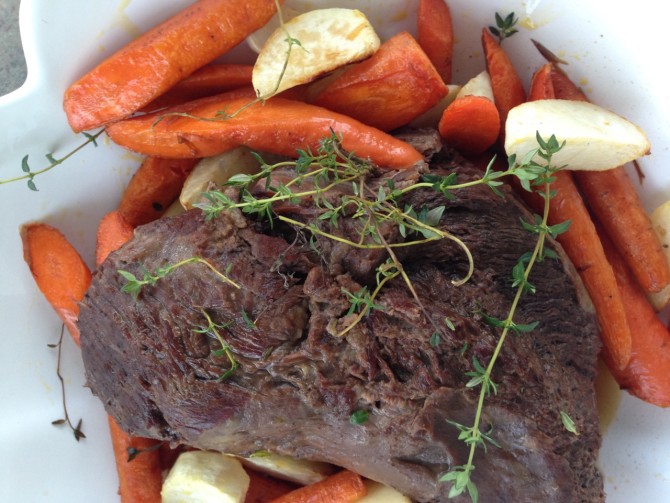 Food and Food Childhood Memories, Some are Scorching
We had roast beef on a lot of Sundays growing up, accompanied with mashed potatoes and gravy,  but every time I think about roast beef, I am reminded of a certain apartment we lived in and I'm not fond of that revisit. It's where I learned to grocery shop when my mother decided to move out. It's where I learned to take care of the house, the food, the laundry, and I wasn't even in high school yet.
I know I can't be alone with painful memories that are associated with food. Nothing is as scarring as abandonment from a parent. If they die, that's sad, but you can elevate their status in your mind, and imagine all sorts of wonderful things. When they leave you suddenly with no warning, no floor you step on is ever quite solid.
My amazingly blessed and stable life looks backwards and those things seem like they happened to someone else. Roast beef stirs something up in me that makes me want to cry because, while we had those Sunday roast beef dinners in that tiny eat-in kitchen, we had too many painful accompaniments, the worst one being the note on the table that let us know the mother we said goodbye to one morning as we went to school, was now well on her way to some different life without us, and we didn't know where that was.
Three months later she returned with no explanation, and we were to fold our ruffled feathers back in, which, of course we did, glad to have her back.
Can a mother have good reason to leave?
It's complicated. I can see why she was frustrated. My father had a gambling addiction, one he never recovered from his entire life. He got away with it because he had a good disposition also known as gambler's charm. He was so darn loveable, but gamblers have to be because they need to borrow money from everyone repeatedly. He sold my new bicycle to bet on a horse, but he would just as easily have sold your child's toys he found in the yard.
Good memories with Retro Rose usually involved comfort food and this beef pie is something she would make and still makes.  Her version includes beans, but I left mine more simple.
Beef Pie with Homemade Pie Crust (My Mom's Version) Recipe for Pie and Herbed Pie Crust here.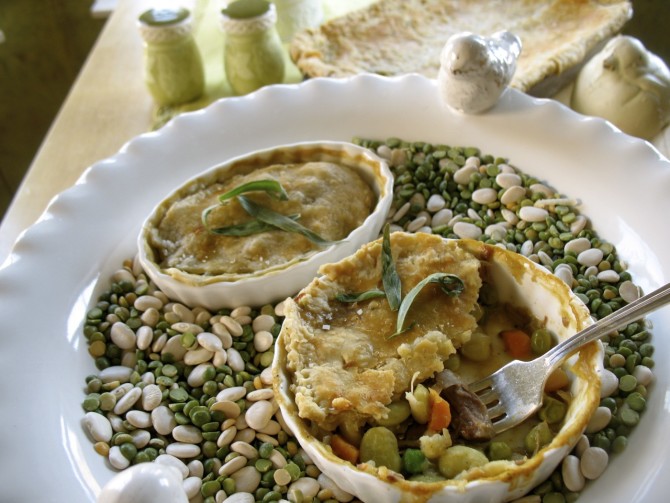 Beef Pie from Scratch with Homemade Pie Crust
You probably know by now that I'll find any excuse to throw together some pie crust. For a nuttier flavor profile, try my spelt pie crust. 
Each pie crust recipe also has a video at the Spinach Tiger Cooking Channel.
My Version of Beef Pie is more traditional like my roast beef hash, carrots, peas, potatoes and gravy.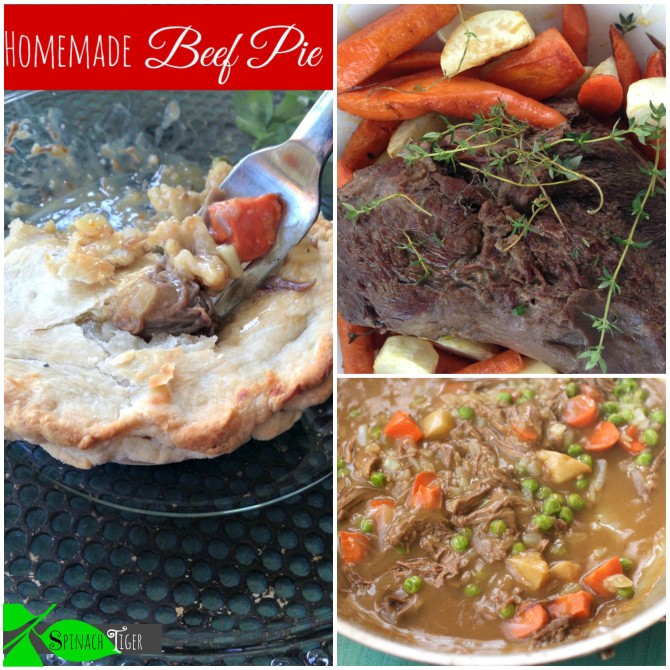 When we lived only with my father, we saw it a treat to have those frozen pot pies, but homemade is much better.
Beef Macaroni Soup is Good for the Soul
Here is a soup that reminds me of childhood, but back then I didn't eat beans and probably would have turned my nose. I'm grown up now and enjoy hearty soups like this beef marcaroni laced with kale.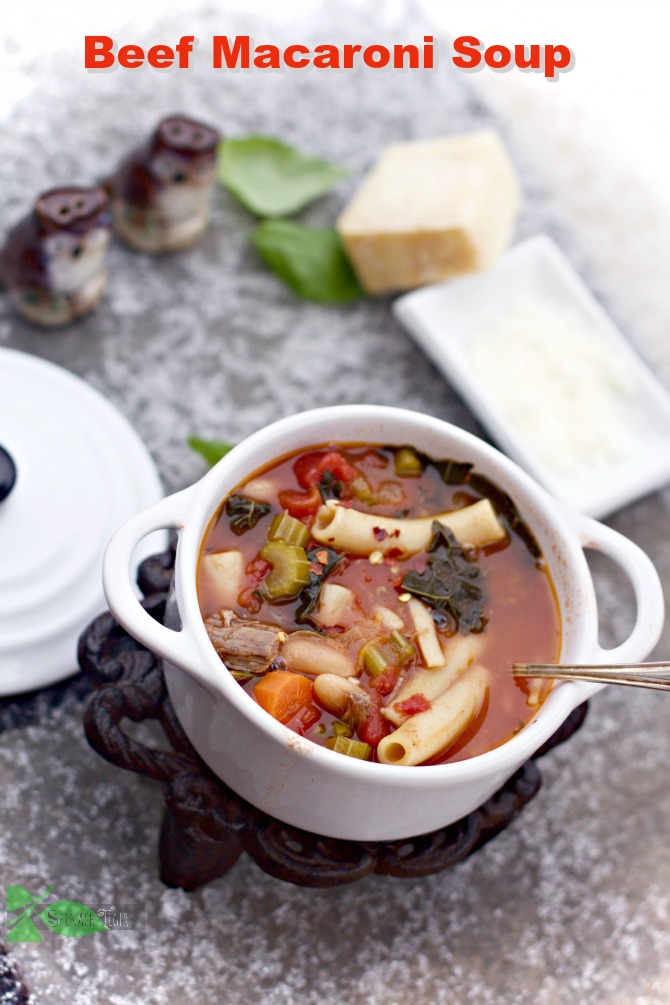 A Deadly Gambling Addiction is Hard to Grow up Under.

My father was a gambler.
Gambling addiction is so overshadowed by drug addiction in our culture, but it may be more deadly. A drug addict eventually suffers from physical and mental impairment, and people gather and do interventions and send them to nice rehabs. The gambler always looks dapper, handsome, charming, and bends your will easily to write a check or run to get money from your savings account. They make up stories about having sick children to care for. They collect money for the same problem from several different people. Sometimes, they win big and everyone is rewarded. Then they hit rock bottom again and there's no money to put gas in the car.
I have memories of the days my dad was fit and handsome and betting the rent money, as I would stand at the track and hold my breath. The darker side of gambling emptied the house of all of our furniture, which was sold for more gambling money. It was the summer I would run to the porch so no one would come in to see the emptiness and feel my shame. My father eventually ended up in a wheel chair, which never stopped him from driving himself to the racetrack, as the power of the brain chemistry in addiction surpasses reason.
My happy ending with him didn't come until nearly the very end of his life. Initially, he thought he was too far gone to be forgiven, but eventually with many daily conversations, he was able to see that the very crux of redemption is to be lifted and forgiven from our sins, our flaws, our foibles, our addictions, our dark sides with help from above, for none of us has what it takes to do that.  It's a mysterious and beautiful concept that defies logic, crosses against the human mind and makes no sense, even to believers. I have found comfort in my father's last words, thanking me for how I affected his spiritual life.
My Blessed, if Crooked Life
No one has a straight-lined, blessed life. Even the happiest people fall into ditches or get bee stings. (or people stings).
Everyone Searches for Hope.

My answer to everything harsh in life has been to create beauty, often but not limited to food. The ruffled egg is one of those pretty things in life that makes me happy.
I feel things too deeply sometimes.
One minute can change your life and catch you off guard.
I decided my story would have a happy ending.
I made a decision long ago to seek out the kind of person that would relish a happy nest. We both made intentional decisions to be happy people. If this is not a decision, a day in anyone's life can be a roller coaster, because you can't control what others do. You can't. You can only make a decision about how your own attitude.
It's hard. Sometimes it feels like walking through sticky jello. Miserable people wading in quick sand  will try to  pull you in with them. But, if you keep walking towards the light, jello eventually melts and you end up a bit sweeter.
And, what does this have to do with roast beef?
I always come back to food and its ability to create happiness.

I get to make roast beef dinners like the one in this picture and then savor the remains and create leftover roast beef recipes.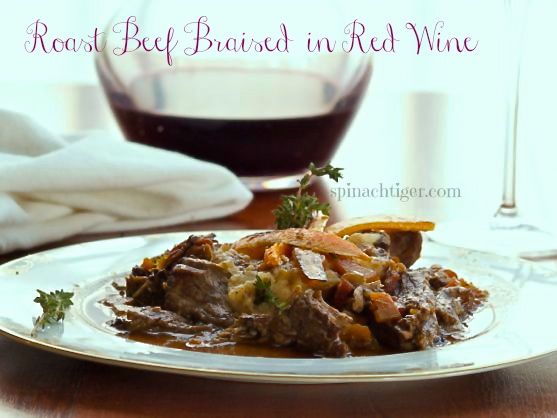 It's the  power of a food memory. I'm so well aware of this, so devoted to creating good things in a kitchen. I revisited the roast beef situation and with the left overs, created a roast beef hash, doctored up with avocado and a ruffled egg. It reminds me of  how useful leftovers are and how useful leftover memories can be if we take them and turn them around into something pretty.
This is a post for the creative cooking crew, as the theme this month was leftovers. I took the roast beef and made this hash and a beef pie to be posted at another time. Please check our Pinterest Board which features all the challenges to date and check back for the link to the round-up.

Enjoy my favorite roast beef leftover recipes and stay tuned for my slow cooker pot roast recipe.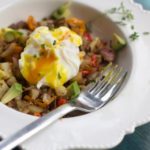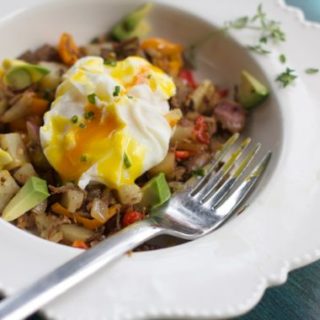 Print Recipe
Ruffled Egg with Roast Beef Hash for a Ruffled Life
Left over roast beef turns into tender hash, topped with ruffled eggs.
Ingredients
2

tablespoons

olive oil

1

cup

left over roast beef

1

red boiled potato

peeled cubed

2

shallots or 1 small onion

1

small jalapeno pepper or sweet pepper

Tabasco sauce

4

eggs

1

tablespoon

olive oil

salt and pepper
Instructions
In frying pan, saute onion or shallots until melted.

Add pepper, seeded, diced.

Add cubed potato until browned.

Add in shredded or cubed roast beef.
Ruffled Egg
Bring a large pot of water to a simmer.

Spay or rub oil on Press n Seal plastic wrap.

Add salt and then add an egg. Fold up wrap to make a little egg package.

Place in simmering water for 4 1/2 minutes.
Assemble
Put eggs on top of hash and serve with hot sauce.
Please follow me on instagram. If you make this recipe,  please tag me #spinachtiger.
If you love this recipe, please give it five stars. It means a lot. xoxo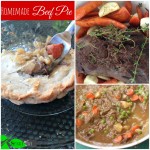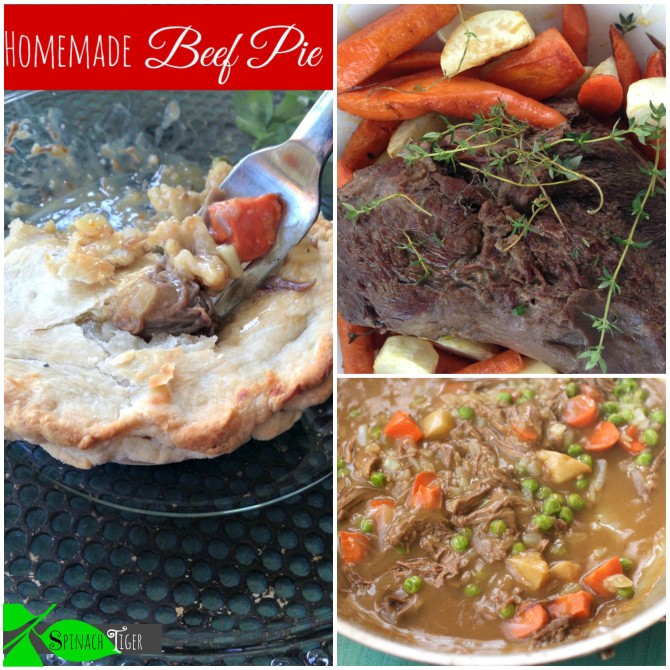 Print Recipe
Beef Pie with Homemade Pie Crust
The best thing to make from Roast Beef is a beef pie with homemade pie crust.
Ingredients
2

cups

leftover roast beef

2

carrots

medium dice

1

onion

diced

1

celery

diced

1/2

cup

frozen peas

2

cups

beef broth

can use juice left over from roast beef

1

tablespoon

cold water

2

tablespoons

cold water

salt

pepper

2

tablespoons

white wine
Instructions
You may have left over roasted potatoes and carrots to use in pie.

Saute onions, celery, carrots in olive oil and butter until softened on low heat about 10 minutes.

Add broth and diced potatoes and continue to cook in sauce pan until the vegetables are softened.

Add wine to broth. Add roast beef.

Add peas.

Combine cold water and flour into a jar and shake.

Add to broth and simmer until thickened about 10 minutes.

Prepare pie crust in 9 inch pan or 4 smaller individual pans.

Pour into pie crust and top with pie dough.

Make slits into the top of the crust.

Bake for 35-45 minutes or until golden brown.
Please follow me on instagram. If you make this recipe,  please tag me #spinachtiger.
If you love this recipe, please give it five stars. It means a lot. xoxo