I have a great story as to how I made keto raspberry muffins this month. A neighbor on the "nextdoor" neighborhood forum asked if anyone could make a keto muffin recipe for him. He sent me a sweet potato muffin recipe that was not keto. After a few texts, I told him I could do pumpkin for him.

I made him a dozen pumpkin cupcakes. That night he texted and asked what my flavors were as he wanted to order three more dozen. I was surprised and told my husband, I think we just started a keto home bakery! I've been selling out early every week so far and I don't even have anything published yet!
The bakery has only been in process three weeks and this week I sold 48 of my lala cakes. The cakes are 4 inches across and one inch high and make the perfect keto friendly dessert at 2 servings per cake.
I have no idea why I told him my flavors included raspberry (I had no recipe). This was not the cupcake recipe, but ended up being a great keto raspberry muffins.
Can you eat raspberries on a keto diet?
Raspberries are naturally low in carbs and Keto Friendly
I used frozen raspberries to make a raspberry sauce which can be used on so many things like this keto angel food cake. or atop this keto lemon budino.

How do you make sugar free raspberry sauce?
It's very easy to make and you can use this recipe for any berry. I start with a half cup of water per cup of fruit with Lakanato Golden to make it sugar free with that little bit of extra maple flavor. However, you can use Swerve granulated also. You will have some liquid, which can be poured off and used as a simple syrup, which is delicious.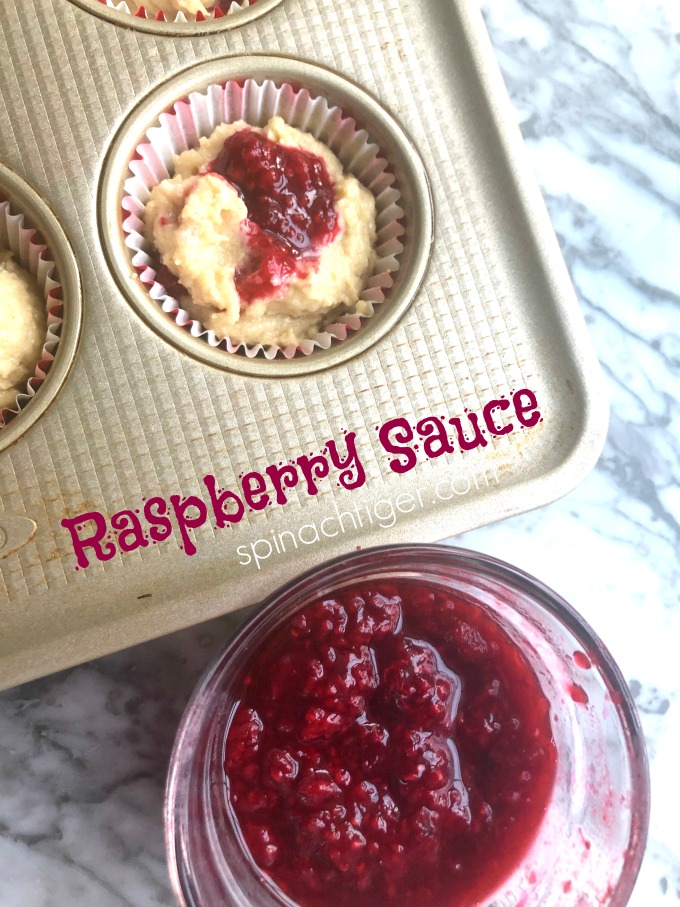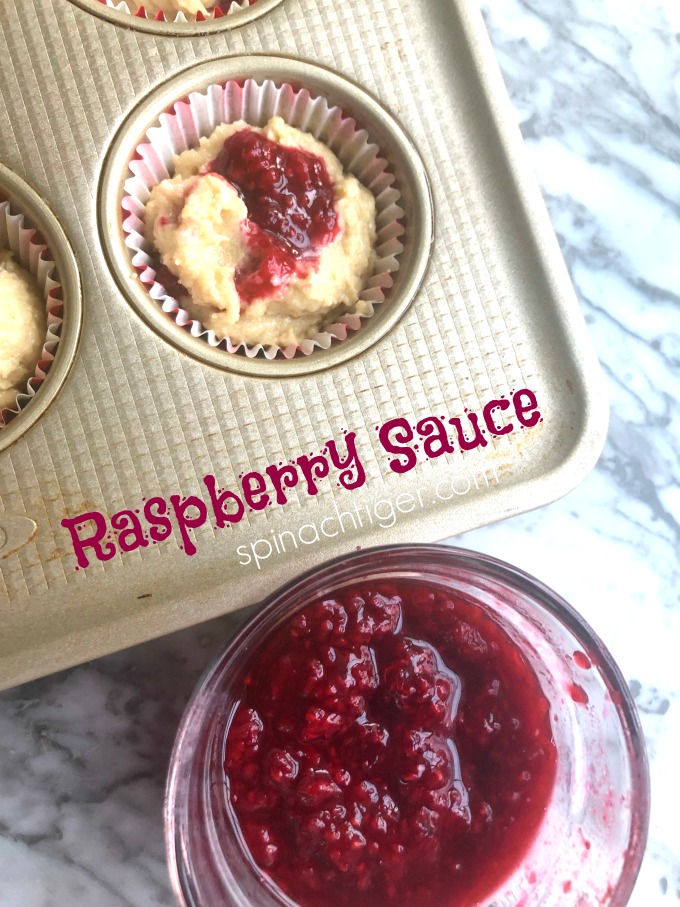 Refrigerate if you have time, as it will get thicker. You will only need on teaspoon of sauce per muffin. You can use fresh raspberries and just stick them in the batter once the batter is already in the muffin tin.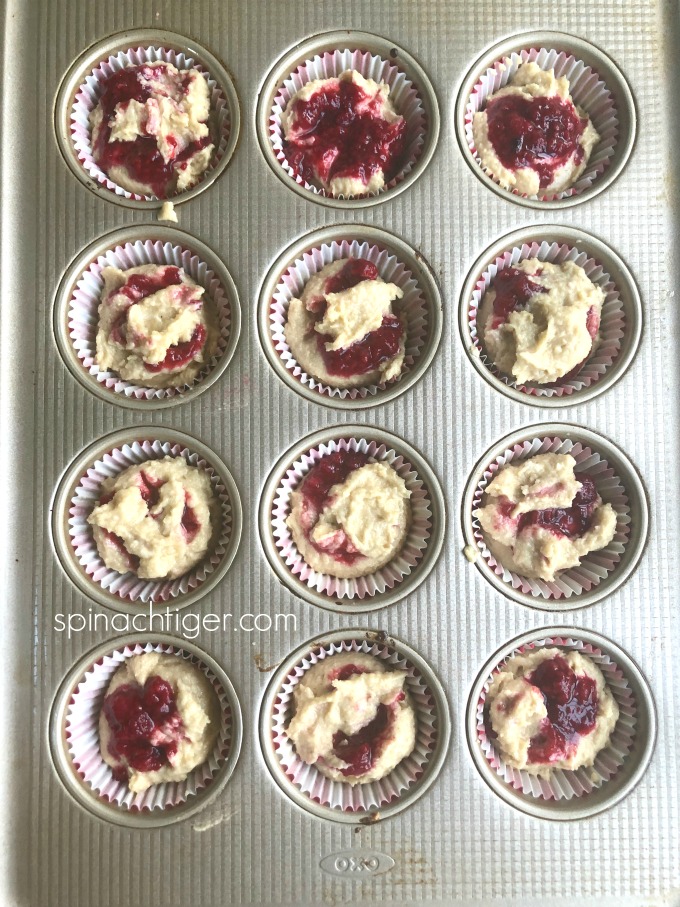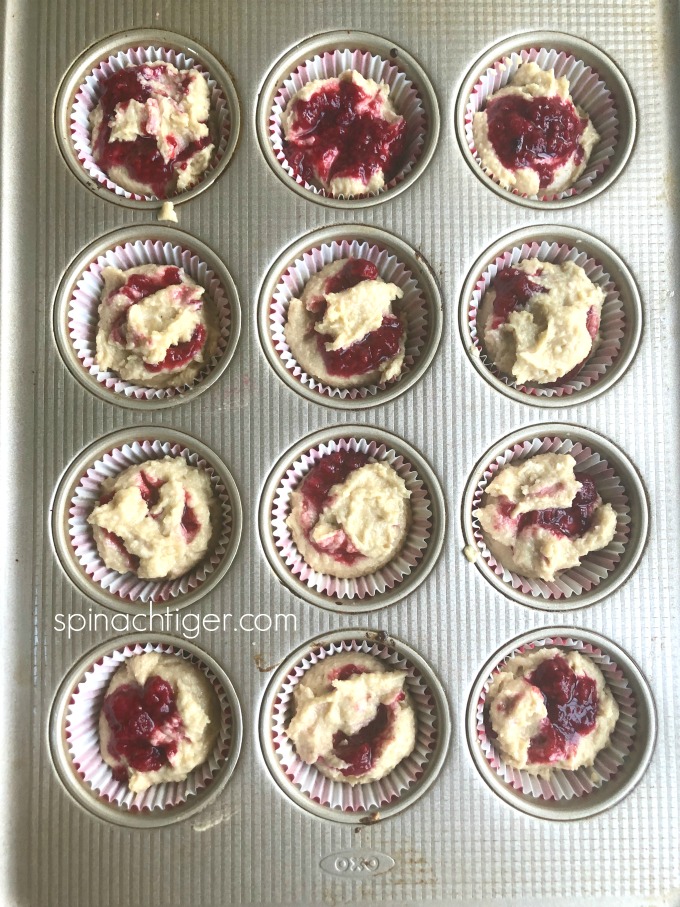 Keto Raspberry Muffins are high in fat, and, therefore, make a great breakfast, keep you satiated.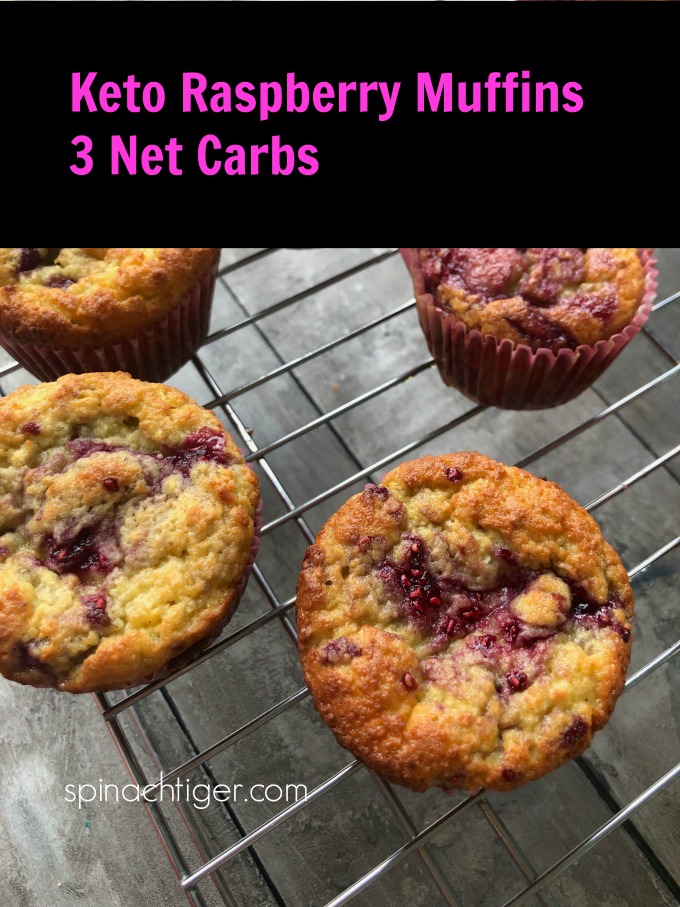 What is the nutritive value of keto raspberry muffins?
These are low carb at 3 net carbs, 14 grams fat, 6 grams protein.
If you like these, you'll probably also love these keto blueberry muffins, made with fresh blueberries.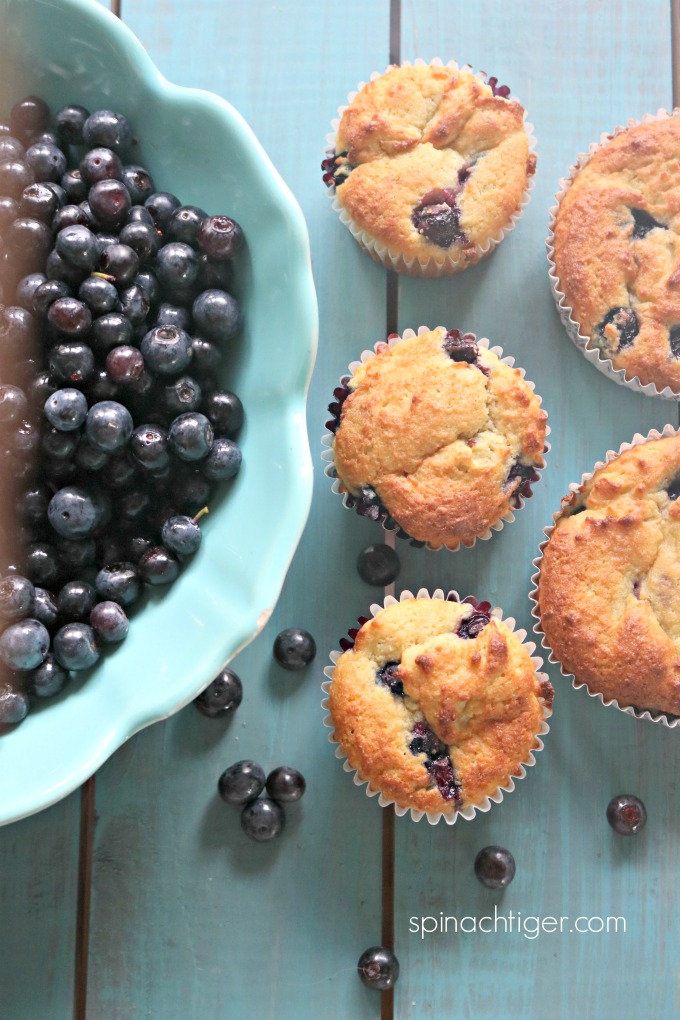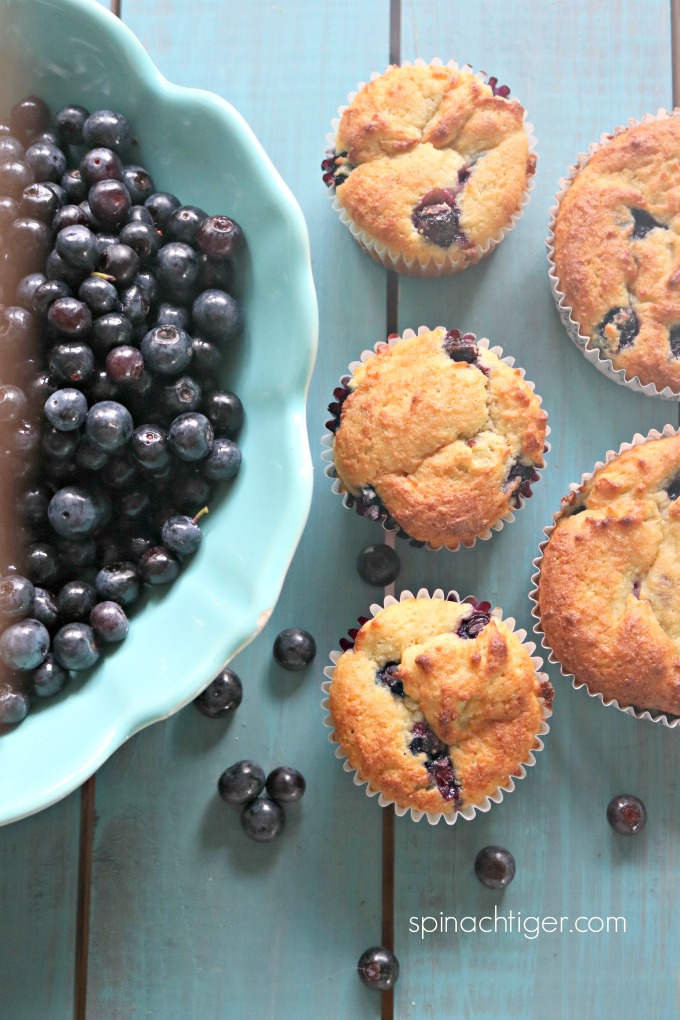 You will probably LOVE this white chocolate raspberry bundt cake.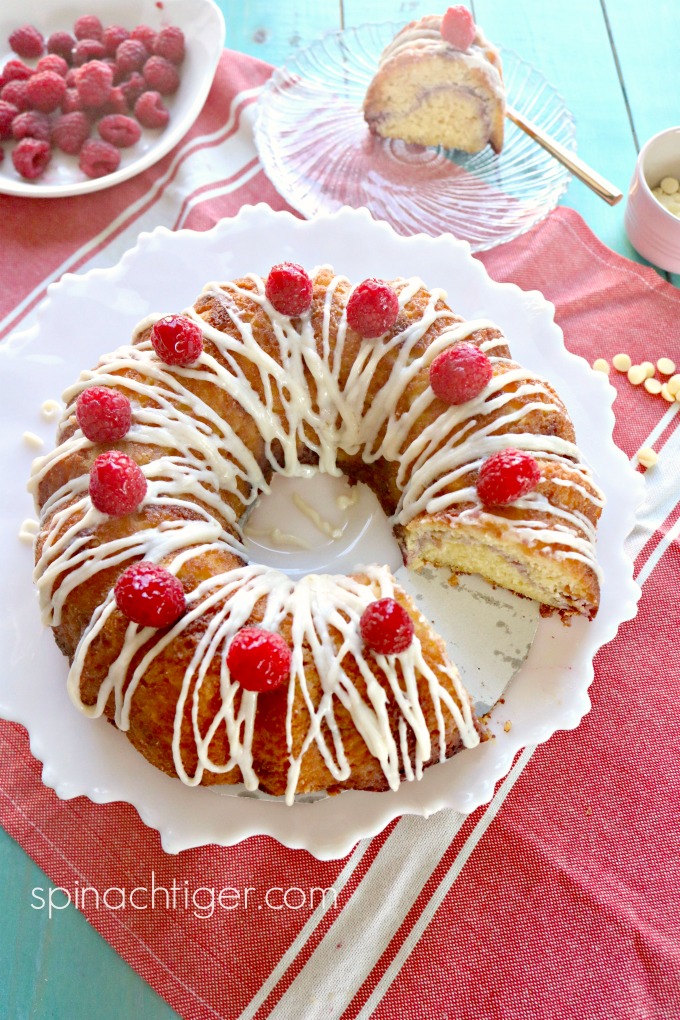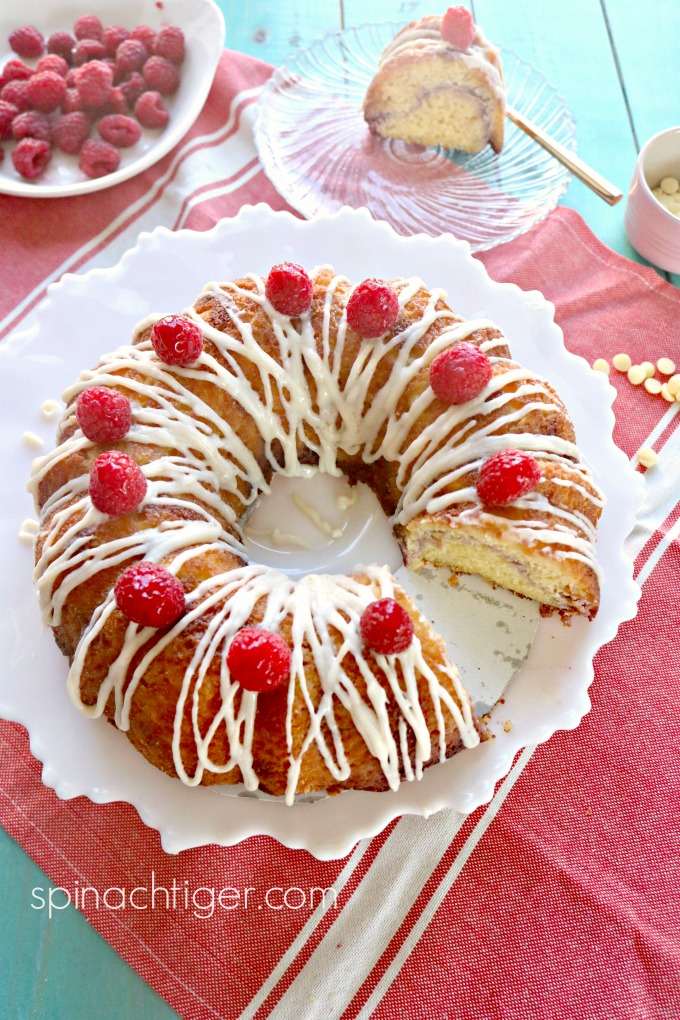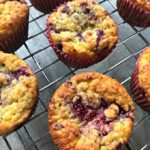 Print Recipe
Keto Raspberry Muffins
Delicious Keto Raspberry Muffins delicious for breakfast or tea time. Only 3 net carbs, healthy almond flour.
Instructions
Make Raspberry Sauce

Mix raspberries, sweetener, water in small sauce pan.

Bring to boil. Simmer for 15 minutes, breaking raspberries up with fork.

Pour juice off into container. This raspberry simple syrup can be used for cocktails.
Make Cake
Preheat oven to 350 degrees f.

Prepare cupcake pan with liners. Spray liners.

Mix all dry ingredients except sweetener.

Cream butter in mixer.

Add Swerve to butter.

Add eggs. Mix well.

Add sour cream, vanilla.

Add dry ingredients to this mix.

Use ice cream scoop to evenly disperse dough.

Add a teaspoon of raspberry sauce to each cupcake.

Bake for 20-25 minutes until toothpick comes out clean.

Add two minutes at a time of bake time if necessary.
Please follow me on instagram. If you make this recipe,  please tag me #spinachtiger.
If you love this recipe, please give it five stars. It means a lot. xoxo