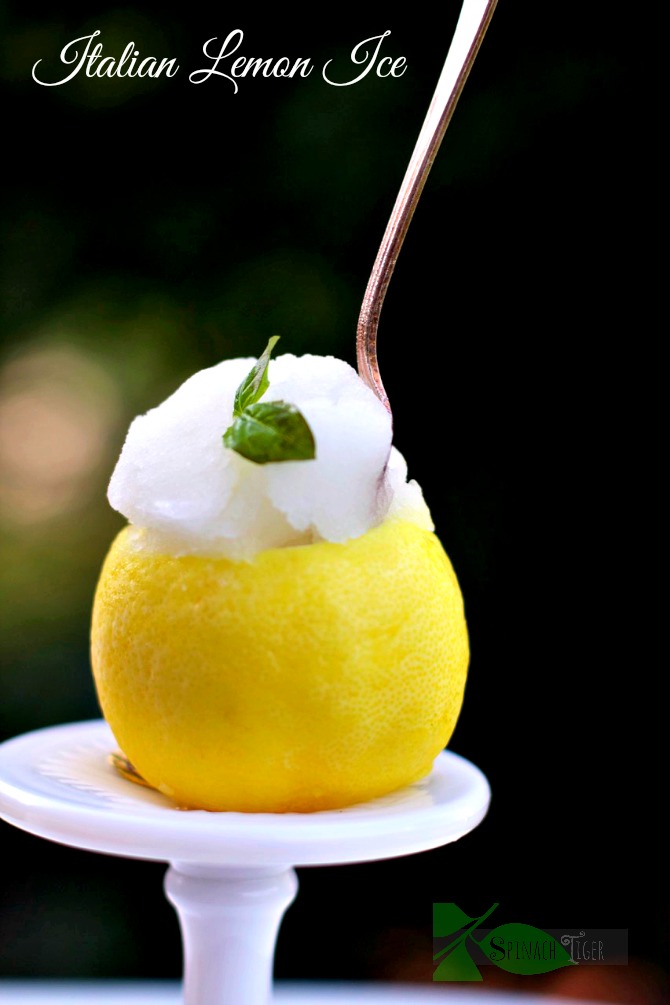 I grew up eating Italian lemon ice. It's that perfect ending to a big meal, giving your palate a little sweet and a little tart.
Earlier this week the boys wanted a lemonade stand.  We went all out, making a pink basil lemonade, that started with a base of lemon simple syrup. 
We had some lemon simple syrup left over and Italian Lemon Ice was born.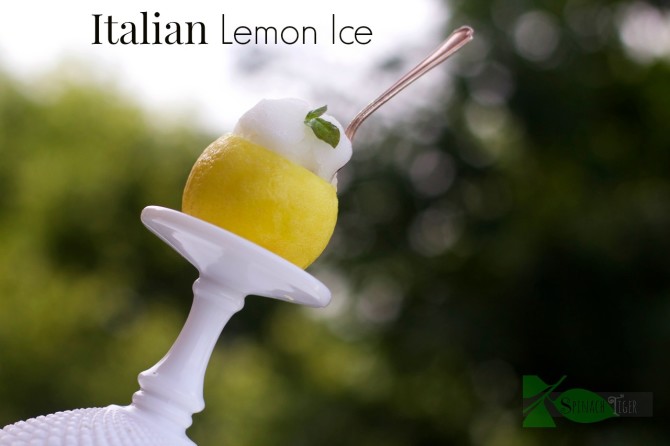 You can also make these ahead for an elegant dinner party. Fill and wrap in plastic, and voila, you have an elegant dessert that no one can resist. Just get some really cute little dessert spoons.
You can also play around with herbs and infuse basil into the simple syrup.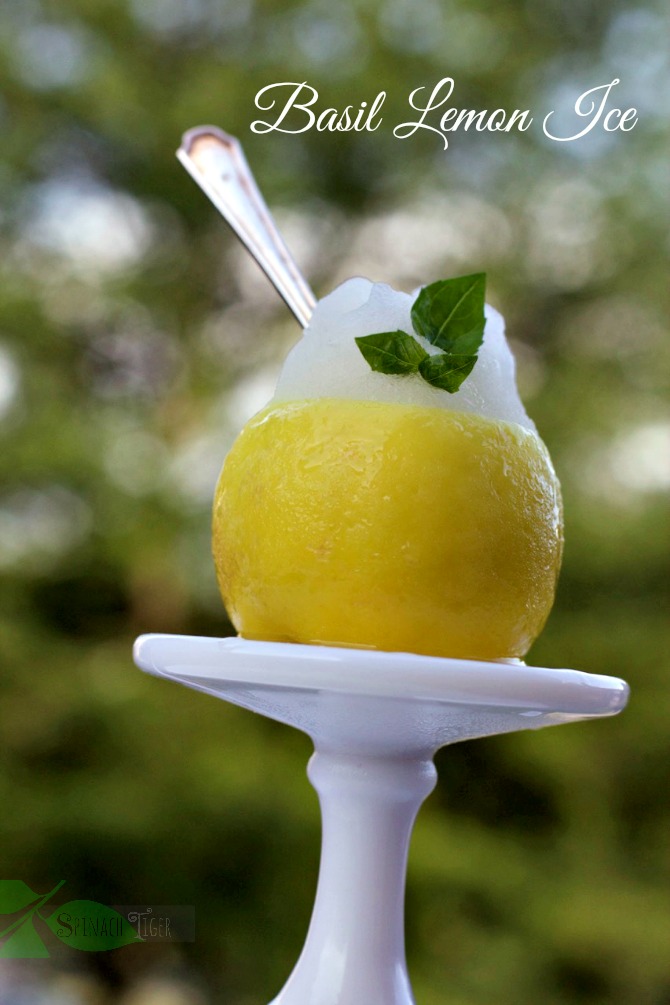 Now I'm thinking of making lemon basil scones. What's your favorite sorbet or ice?.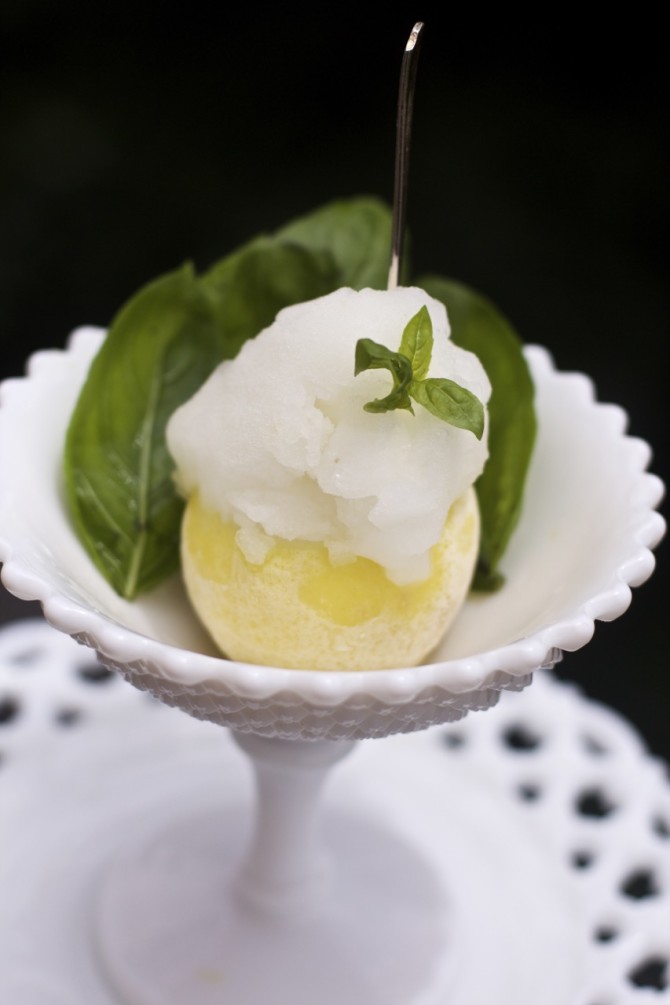 I want to serve with shortbread. Let me know if you have a good recipe.

Lemon Simple Syrup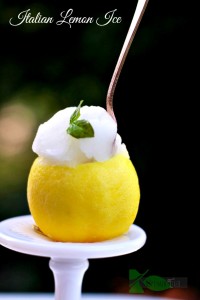 Lemon Simple Syrup, great to start off lemonade, or cocktails
Ingredients
1 cup water
1 cup sugar
zest of two lemons
Juice of 8 lemons
Instructions
Boil water and sugar and zest together until sugar is dissolved
Add in lemon juice.
Let sit until completely cool.
Keep in refrigerator for up to 3 days.
You can also freeze.
Italian Lemon Ice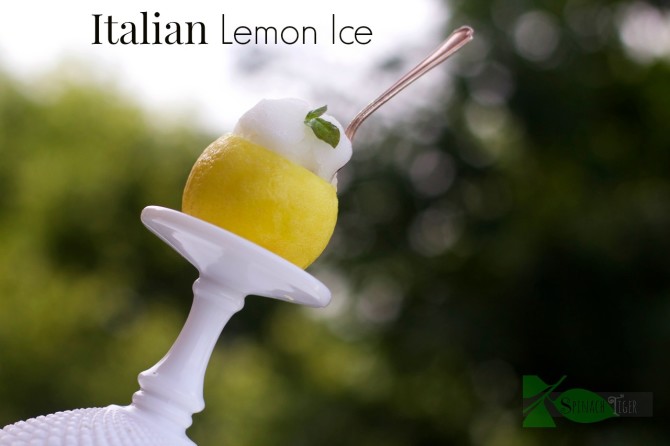 Italian Lemon Ice, cool and refreshing
Ingredients
1 cup sugar
1 cup water
zest of two lemons
8 lemons, preserving the shells of six lemons
2-3 cups iced cold water
1 tablespoon tequilla, vodka or white rum
ice cream maker machine
Instructions
Boil together the water and sugar.
Add juice of the 8 lemons.
Cool completely before refrigerating.
Refrigerate for several hours.
Slice off a thin slice of bottom of lemon, so it can stand. Freeze the lemon shells.
Mix together the simple syrup with 2 cups of ice cold water, making sure you have at least 3 cups of liquid in total. Do a taste test. You can add more water if taste is too sweet or too lemony.
Add water until you get the taste you like.
Run through the ice cream machine according to directions for about 20 -25 minutes or until the consistency is right.
Fill into the frozen lemon shells. Wrap in plastic.
Freeze for at least one hour before serving.
Notes
Basil Lemon Ice: Infuse the simple syrup with basil, by adding in several basil leaves to the hot lemony liquid and allowing to cool. Or, you can add basil leaves to the simple syrup before refrigerating.

Garnish with smaller leaves.
More Lemon Love from Spinach Tiger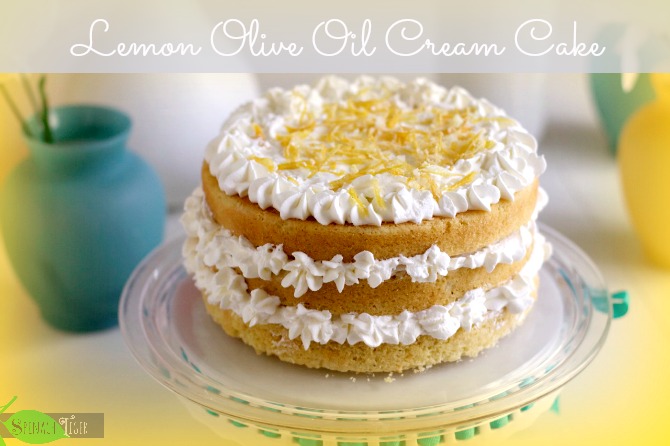 Honey Lemon Olive Oil Vinaigrette
Sgroppino Venetian Cocktail with Lemon Ice Cream