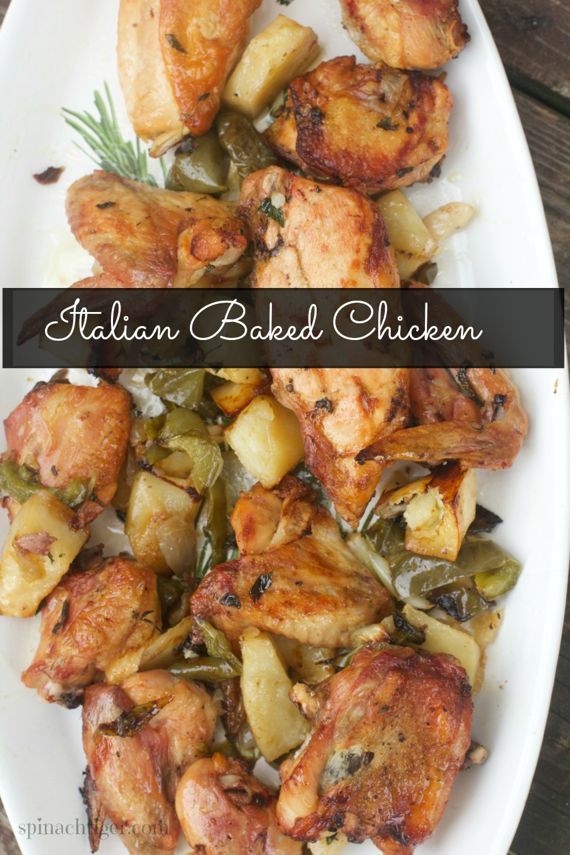 Tomorrow we fly to Europe for a two week trip to France and Northern Italy. We will be sharing the trip here at Spinach Tiger, and invite you to follow along. We will be spending the first five days in Tuscany, a day in Nice, a few days in Milan and few days in Grenoble, France. One of the highlights of the trip  will be a Sunday lunch at at Dal Pascatore,  voted 48th best restaurant in the world in 2009. I first read about this restaurant in 2013 when Chef Nadia Santini, was voted best female chef in the world.
You may see two posts a day during the trip, because I may republish some of the best Italian and French dishes I've cooked over the last six years. Enjoy and feel free to leave me any comments or recommendations for our time in Italy and France.
Just to get the Italian mood started, I'm posting the ever so simple, rustic Italian chicken, using my own backyard green bell peppers and herbs.
This Italian Style Baked Chicken is just as good as it looks. I use my roasting trick of salting for a day or more in the refrigerator and then baking at a high heat. The green pepper, onions and potato will go in after ten minutes. You can salt the chicken pieces up to three days, but the prep time is no more than ten minutes, making this an elegant fast food, appropriate for any season or occasion. Even eaten at room temperature it's a winner, so feel free to take this to the next potluck. (Just cut the breasts in half or make it with thighs only).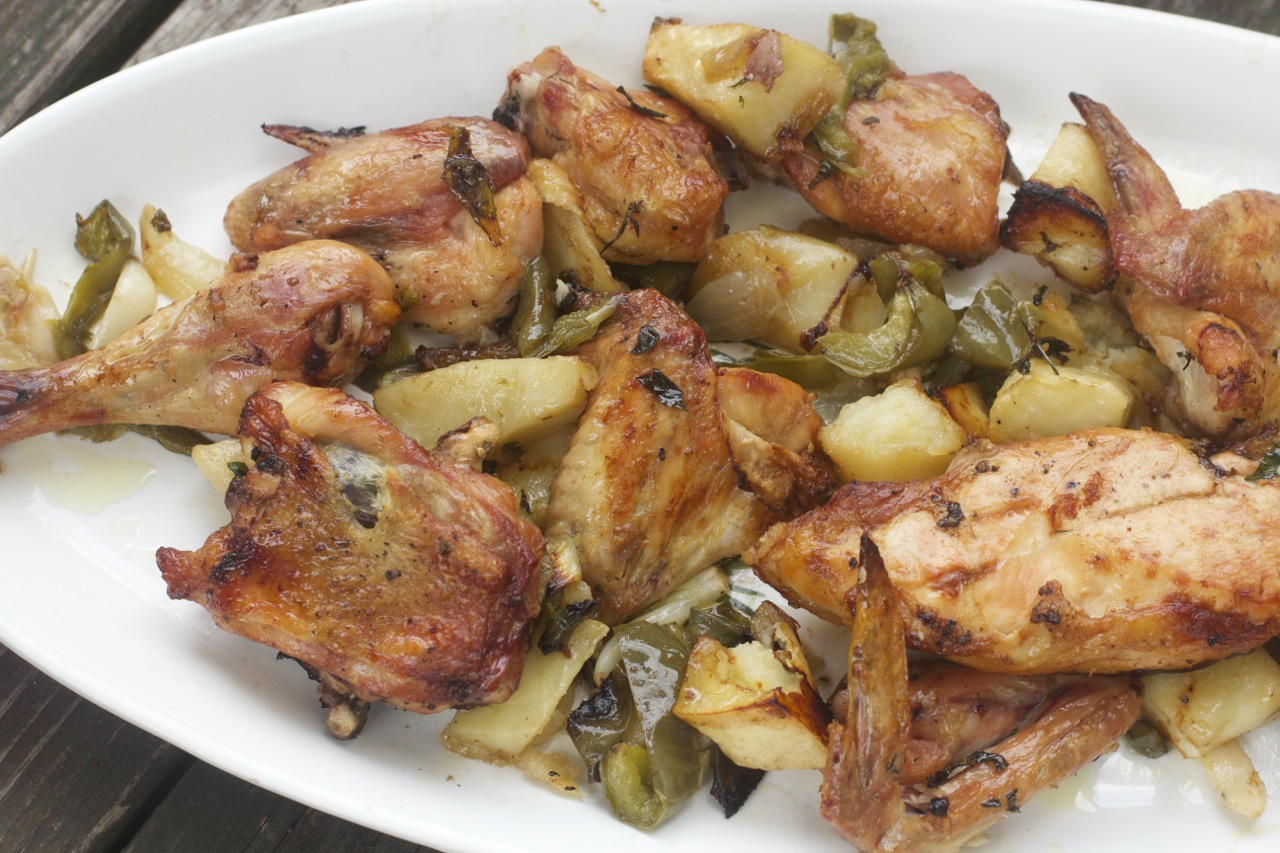 To save money, I usually buy a Publix Greenwise whole chicken  and have the butcher cut it into 10 pieces. I don't serve the backs; they are the chef's private snack. You can also choose to freeze those and save for chicken stock. There is one butcher at my local Publix  (Rob) who can neatly cut a chicken with masterful skill. The butcher will ask you how you want your chicken cut. I always get the 10 pieces. When you get home and find the breasts too large, you can cut those in half.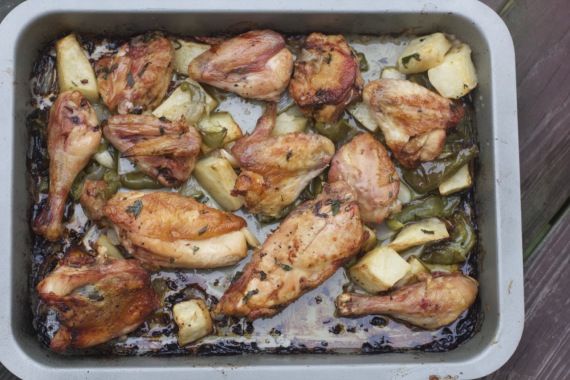 Use a green bell pepper when baking chicken or braising chicken. The green bell pepper sometimes gets a bad rap, because it's often served too raw, but it is the best pepper for flavoring chicken when roasting, braising or baking. There is a slightly different flavor than a red bell pepper and when married with onion, and a little garlic, it creates a perfect medley, yet it doesn't take over the dish and is so good with roasted potatoes.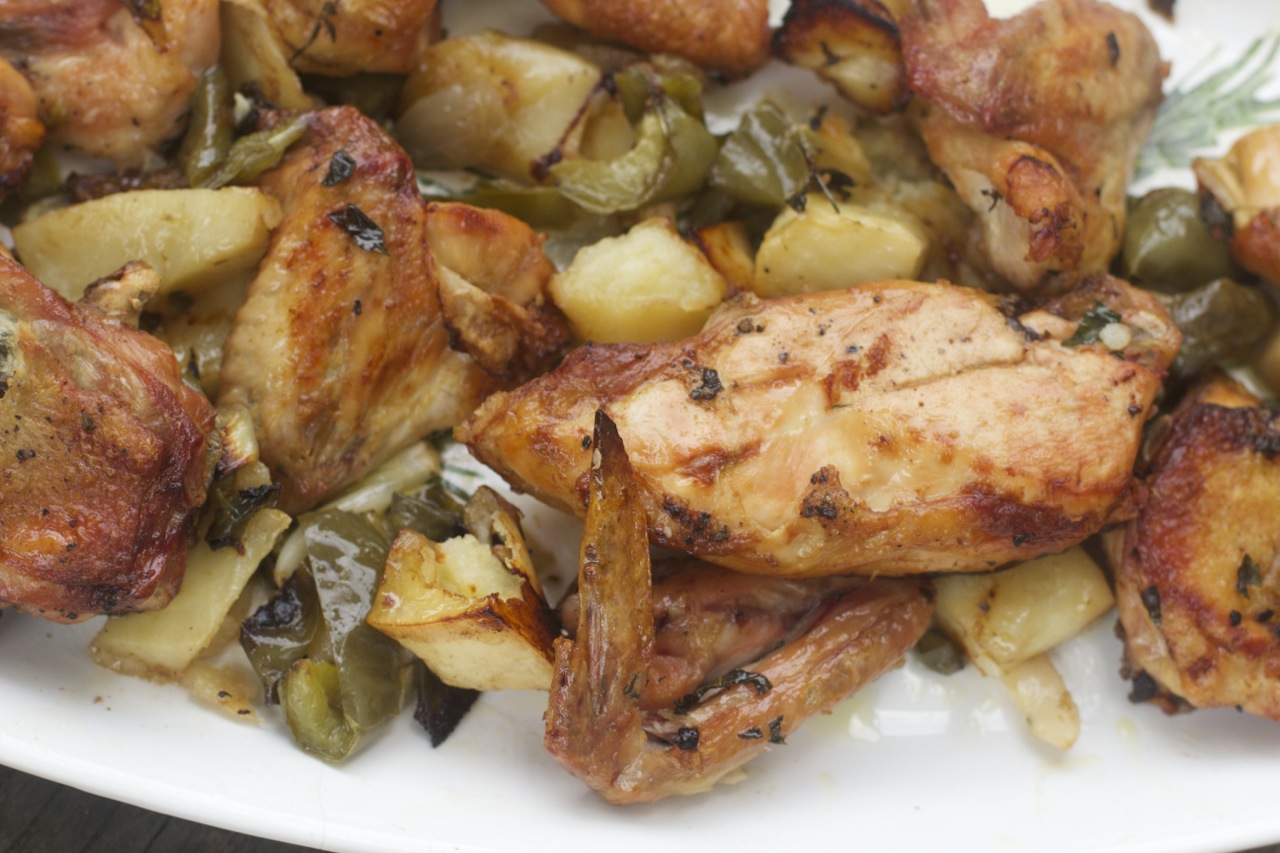 Baked chicken pieces make for great leftovers. I will purposely make a lot of chicken in pieces, so I can have a good protein lunch for the next few days, and each piece can be frozen separately.
We would love for  you to follow us on social media. The full European vacation posts will, of course, be here, so please subscribe and never miss a post.
Italian Healthy Baked Chicken Recipe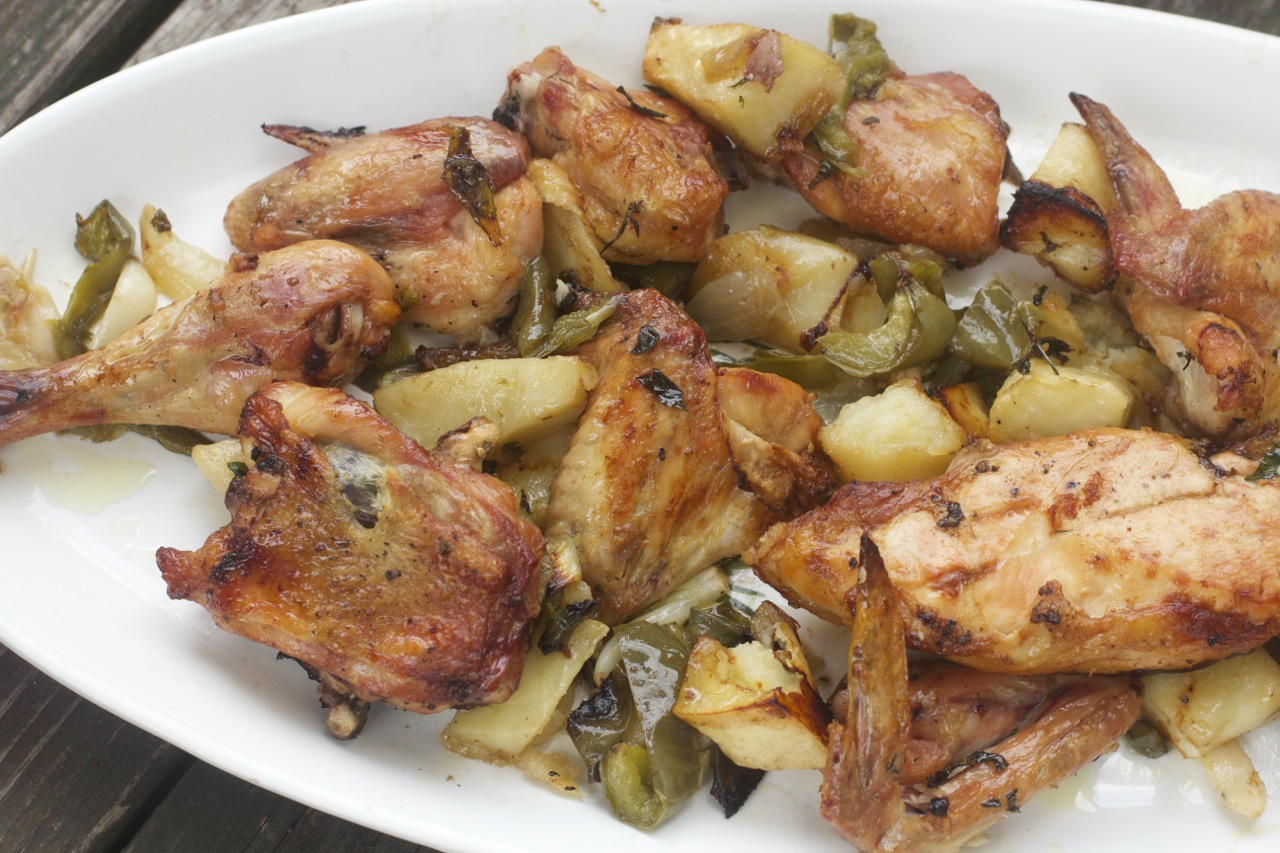 Italian style roast chicken with potatoes, peppers, onions, and fresh herbs makes for a very healthy dinner.
Ingredients
1 chicken cut into 10 pieces or any combination of pieces you prefer.
1 onion cut into slices
4 garlic cloves, whole
1 bell pepper, cut into strips
Two tablespoons fresh herbs (see note)
2 medium sized potatoes, peeled, cut into large cubes or wedges
salt
pepper
olive oil
Instructions
Salt chicken pieces, wrap in plastic for 1 to 3 days
Remove chicken, rinse off in cold water, pat dry with paper towels.
Season with salt and pepper and allow to sit out for 30 minutes before baking.
Preheat oven to 425
Warm pan in oven for 5 minutes before placing chicken in.
Place chicken in pan, skin side down and bake for 10 minutes
Toss garlic, onion, potato and pepper strips with a tablespoon or so of olive oil, herbs, salt and pepper.
Add in peppers, onions, potatoes.
After another 10 to 15 minutes, turn chicken pieces over. Continue to bake for another ten minutes until chicken is golden brown and juices run clear.
Notes
Use any combination of fresh herbs such as sage, rosemary, parsley, thyme. Two tablespoons if fresh, 2 teaspoons if dried.