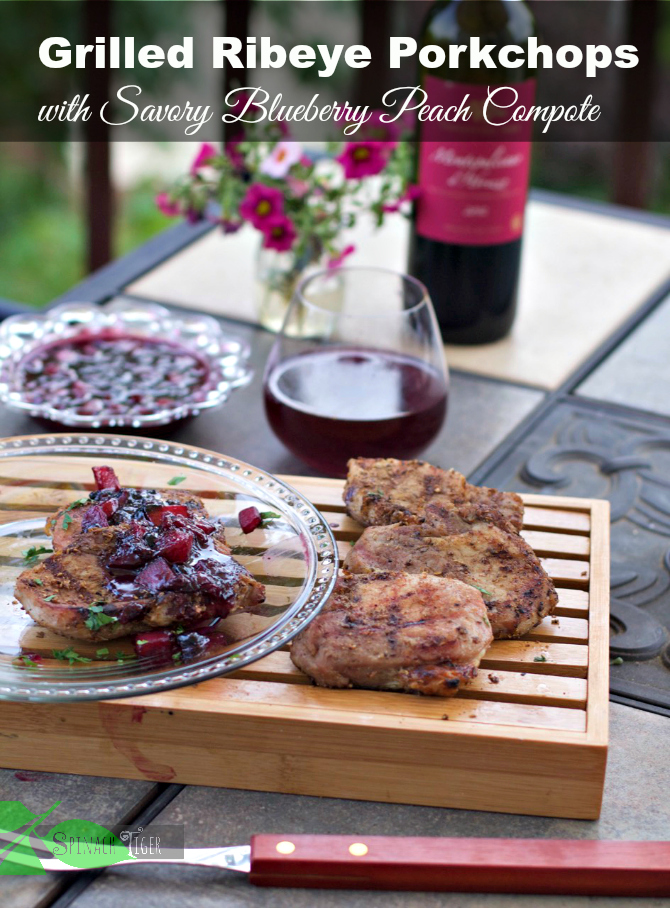 Memorial Day is right around the corner, and these grilled rib eye pork chops are here to make your holiday weekend anything but ordinary. Forget burgers and hot dogs; opt for a meal that makes a real tribute to the day by having grilled pork chops with a savory blueberry peach compote. Not only do they taste great; they look festive.
You may have never heard of rib eye pork chops. They have the same marbling and tenderness of rib eye steaks. To make pork easy and understandable, several cuts of pork now match names of beef cuts. Just like a rib eye steak, rib eye pork chops are tender and flavorful. You might also look for Porterhouse pork chops and New York pork chops.
I made an aromatic rub with ground coriander and fennel seeds and then paired the chops with a sultry, savory blueberry peach compote complimenting the spices.
I was able to purchase all of the ingredients at Walmart, which is very convenient for me, as it's only 3.1 miles and an easy eight minute drive. I was in and out and home in thirty minutes and in another thirty minutes dinner was ready.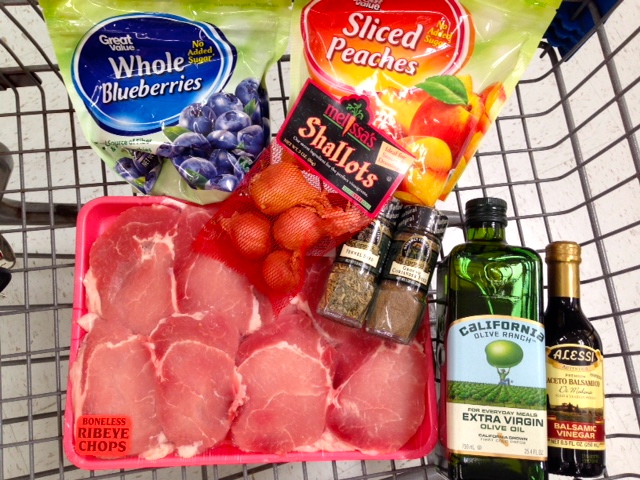 You will want to brine the pork chops for twenty minutes, and in that time, you can get your grill hot, and make the blueberry peach compote. Make sure you use the shallots. They really add zest to the compote, which is served warm.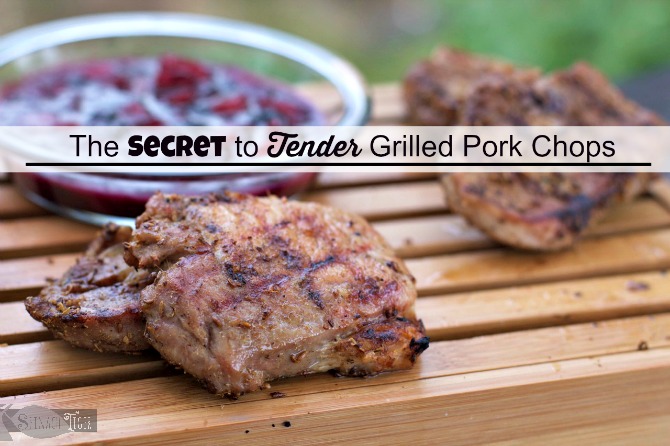 These beauties were grilled at 400°F in 8 minutes. This is a good reminder to not overcook pork chops. You can make them medium rare, which I recommend. The National Pork Board recommends that you cook your pork chop like a steak, to an internal temperature of 145°F (medium rare) and 160°F (medium) followed by a three-minute rest. Achieve chop perfection by using a digital thermometer to ensure the proper range of doneness. Let them rest, as they will continue cooking.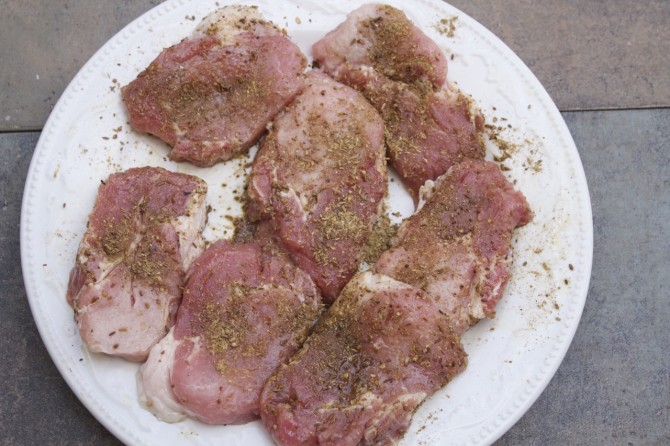 We were over the moon for these. The spices perfectly complimented the savory blueberry peach compote and the pork was so tender!
The National Pork Board also has some wonderful recipes, which you can check out right here. I have also listed some of my most popular pork recipes below, and you can get those cuts at Walmart, which gives you a 100% guarantee.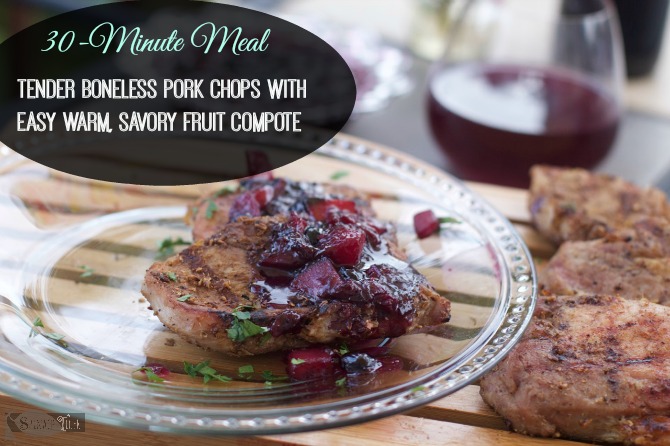 To help you cook your pork with flavor, you might also consider A1 Sauce, which have added some new spicy flavors like Sweet Chili Garlic.
The Recipe for Rib Eye Pork Chops: Fabulous and Easy, Less than 30 Minutes
You will love these rib eye pork chops. They were even tender when heated up the next day. This is easy entertaining, as the whole dish takes active prep time 10 minutes, and cook time ten minutes. Aside from normal kitchen staples, like olive oil, salt, pepper and sugar, there are only six ingredients, not including the pork. Two ingredients make this fantastic aromatic rub and four ingredients for the compote.
You can make the compote ahead and keep refrigerated for up to 3 days. You can also freeze the compote for up to three months. Make ribeye pork chops with a blueberry peach compote and you will be the grilling star of your next holiday.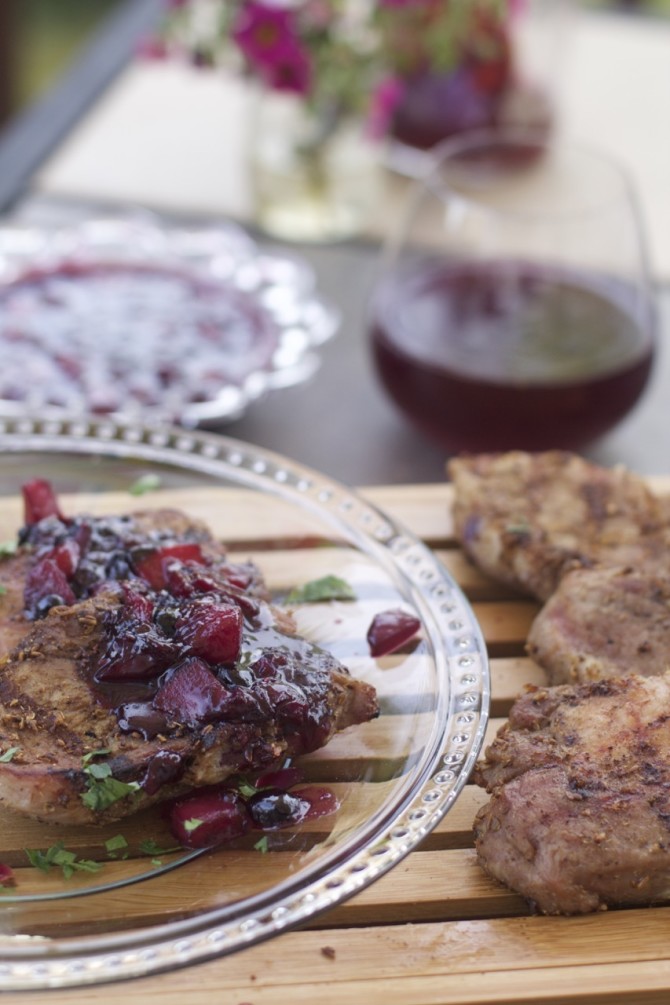 This is a sponsored post. I participated in the National Pork Board program as a member of One2One Network. I received compensation but all opinions are my own.
Please follow me on instagram. I have lots of pictures of food, restaurants and my cute chihuahua. I would love to see you there. Please let me know if you make this recipe. I would love to hear about your experience.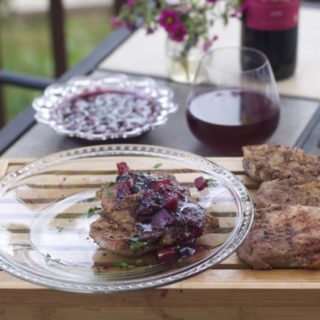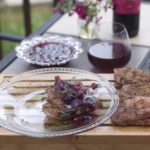 Print Recipe
Grilled Pork Chops with Fennel Coriander Rub
Tender boneless porkchops, brined and rubbed with Fennel Coriander spice and optional blueberry peach sauce.
Ingredients
Boneless Ribeye Pork Chops with Aromatic Rub and Blueberry Peach Compote
8

boneless ribeye pork chops

Brine

see recipe below

Dry rub

see recipe below

Blueberry Peach Compote

recipe below

salt

pepper
Brine
3

cups

water

3

tablespoons

sugar

3

tablespoons

salt
Fennel Coriander Spice Rub
1

tablespoon

fennel seed

toasted

2

teaspoons

coriander seed

toasted

1/2

teaspoon

black pepper

2

teaspoons

sea salt

optional

!Blueberry Peach Compote Ingredients

2

tablespoons

butter

1

cup

chopped peaches

can use frozen, defrosted

1

cup

blueberries

can use frozen, defrosted

4

tablespoons

finely chopped shallots

2

tablespoons

balsamic vinegar

or white wine or white vinegar See notes.

dash salt

black pepper
Instructions
Pork Chops
Brine pork chops in water, sugar, and salt mixture for 20 minutes. In the meantime, make the compote and aromatic rub. ((Do not brine longer than 60 minutes).

Heat Grill to high (400 degrees).

Rub with olive oil and sprinkle on dry rub.

Spray grill with a grill spray or wipe some oil on grates.

Place chops on grill. Turn after 5 minutes. Grill 3 more minutes. Let sit for 3 minutes.

Pork should be cooked no more than 145 degrees to maintain tenderness. Pork continues to cook, and it's suggested to test with a meat thermometer at 135, and allowing to rest.

Serve with blueberry peach compote below.
Compote Instructions
Defrost fruit. You can put frozen peaches in microwave for 30 seconds. Chop. Sprinkle 2 teaspoons sugar over each peaches and blueberries. If fruit is fresh, you may use less sugar.

Heat butter in sauce pan. Add shallots, peaches and blueberries until cooked through about two minutes.

Add balsamic vinegar, dash salt. Bring to boil, reduce heat to low, continue to cook for about 15 minutes or until liquid is reduced. Smash blueberries with fork.
Fennel Coriander Aromatic Rub
Grind fennel seed in small food processor or magic bullet. You can also crush inside of a plastic bag and use mallet. Toast in small frying pan for about 60 seconds, stirring. Add in coriander powder, black pepper and sea salt.
Notes
Shopping List:
Pork Chops
Ground Coriander
Fennel Seeds
Frozen Blueberries (or fresh)
Frozen Peaches (or fresh)
Balsamic Vinegar (You can substitute a dry vermouth, white wine, or wine vinegar. Pantry Items
Olive oil
butter
sugar
salt
black pepper
Please follow me on instagram. If you make this recipe,  please tag me #spinachtiger.
If you love this recipe, please give it five stars. It means a lot. xoxo
More Amazing Pork Recipes from Spinach Tiger (all of these cuts can be found at Walmart)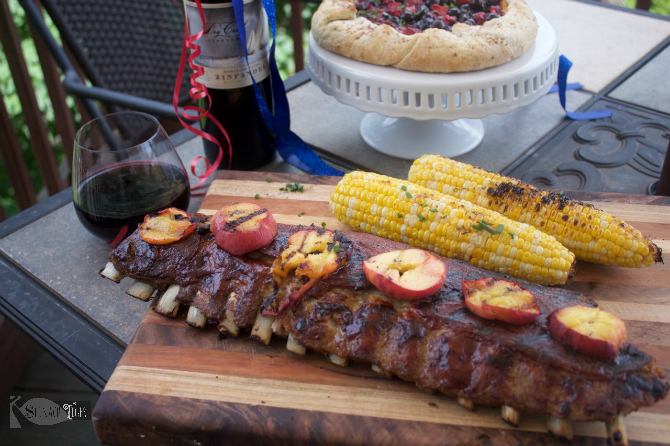 Mock Porchetta (Italian Pulled Pork)
Pork Chops with Rosemary, Apples, Caramelized Onions
Pennsylvania Dutch Pork & Sauerkraut
MORE