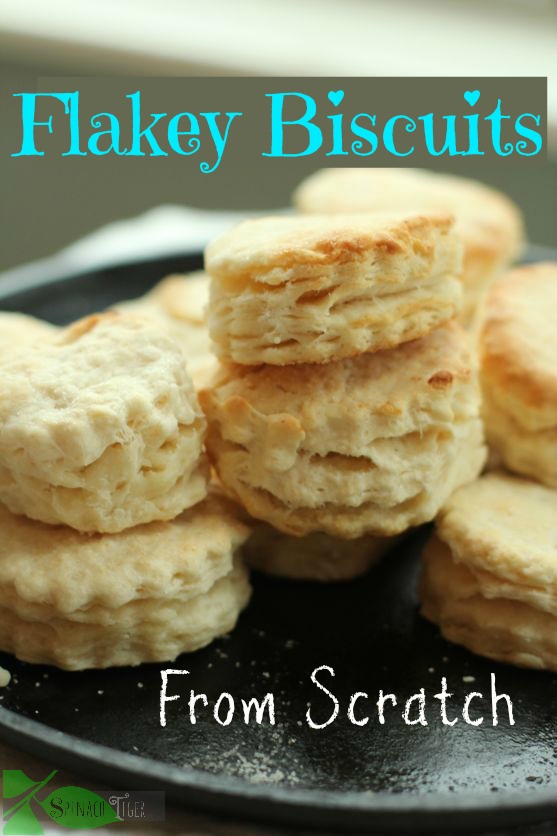 Editor's Note: Since this post, I have found what I believe to be the best buttermilk biscuit and wrote about it here and included a video tutorial. These are awesome, when you're looking for flakey. Go to the buttermilk biscuit for fluffy.
The saddest thing in the history of my husband's family is the lost art of Southern cooking. The memories of Meemaw and her wood burning stove that turned out biscuits seven days a week is so legendary that no one has dared attempt to compete with her, until now. I never met her. I never ate a single biscuit from the farmhouse, but I've heard enough about them to miss them, to yearn for them, and to feel a bit cheated that she got so busy as the boss of her own kitchen, she never took the time to pass her craft down.
It has taken me nearly 13 years of hearing about her around the kitchen table of my husband's family. I, too, have had biscuit intimidation. It wasn't until I was able to master pie crust that I realized I could master anything with flour and with a bit of grit and determination, I have been biscuit making.
If you are a challenged biscuit maker like I was, Maryann Byrd can help you. I call her the biscuit queen because she chronicled the making of biscuits in many fine eateries throughout the South in her book, Rise of the Southern Biscuit. It was there that I was able to get this famous biscuit recipe for legendary giant biscuits  from Aretha Frankenstein's  in Chattanooga, Tennessee. I wrote a post about it and Maryann contacted me. She just happens to live in the quaint historic town of Franklin where I live (a small town just a few miles south of Nashville). It's still considered the Nashville area, but has a history of its own. She was gracious enough to share with me her own biscuit recipe which is also chronicled on youtube.
I watched the video several times. It's not so much the ingredients that make these so special. It's her technique.  The thing most amazing is that after all the research Maryann did for baking biscuits, she breaks two of the well-known biscuit making rules to make what she calls butter crisp biscuits. She kneads her dough more than recommended and she rolls her biscuits and folds them at least five times. This fussing with the dough is typically not acceptable to biscuit makers, but let me assure you, this is the best biscuit recipe I have ever tried. I followed her instructions and even played around a little, not putting as much butter between the layers and after having made these three times, I can say this is my new favorite biscuit recipe. Of course, "favorite" biscuit recipe for now, because I still have so many left to try from Maryann's Book.
I made these biscuits with an assembly line of two four-year old boys. One stirred the bowl. I rolled. One cut and handed over to the other one who made sure the biscuits were properly touching in the pan (kissing), and then promptly brushed on the melted butter. We all helped to eat them.
I did not have self-rising flour. If you start out with regular flour,  you can make your own self rising flour, as I did.
How to Make Self Rising Flour for this Recipe

2 cups White Lily all purpose flour
2 1/2 teaspoons baking powder
1/2 teaspoon salt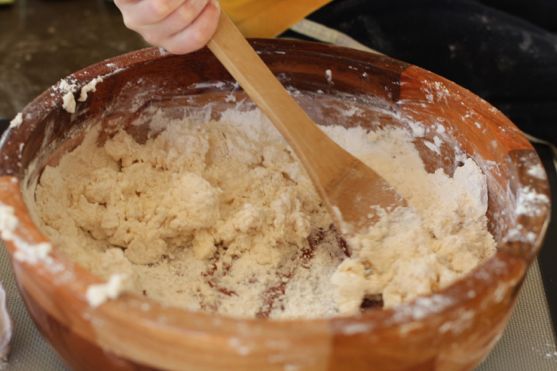 I use a wooden salad bowl that I only use for my biscuit making. The dough will be wet, unlike a pie dough.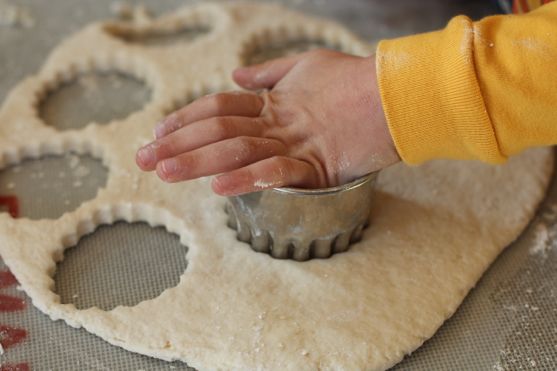 Press the biscuit cutter up and down. Do not twist. You don't want to seal the biscuit.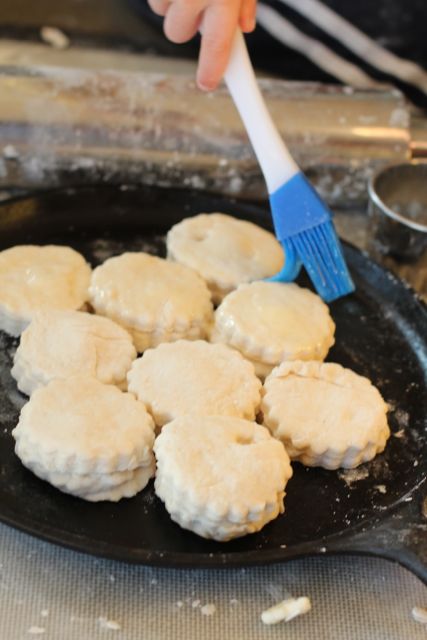 Brush with melted butter before baking. Have the biscuits "kiss" which means they should touch. It helps them rise.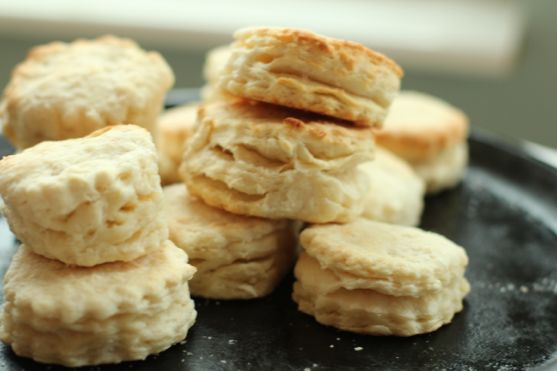 Best Flaky Southern Biscuit Recipe from a Biscuit Queen
Prep time:
Cook time:
Total time:
A Southern biscuit recipe adapted from Maryann Byrd's Buttercrisp biscuit.
Ingredients
1 stick butter or ½ cup butter divided in half
2 cups self rising flour, plus extra flour for rolling
pinch baking powder
1 cup whole butter milk
1 teaspoon sugar
Instructions
Preheat oven to 425.
Cut ¼ cup butter in small pieces. Freeze.
Separately cut 2 tablespoons butter and keep cold.
Melt remaining 2 tablespoons butter to brush on top.
If using all purpose flour see notes. If using self-rising flour, add in 1 teaspoon sugar and a pinch of baking powder. Cut butter into flour and add ¾ cup of the buttermilk. You will want a sticky dough, but may not need the full cup of buttermilk.
Form into a ball of dough and with some extra flour on your hands, knead dough 6-8 times.
Roll out to ⅜ inch and fold in half. Roll again, and continue this for about five folds. During the middle fold (after 3 folds, add in some cold butter cubes,
Cut into biscuits. Dip biscuit cutter into flour. Do not twist biscuit cutter, but use an up and down even pressure.
Arrange biscuits on baking sheet, stone or cast iron pan, touching. This helps them rise.
Brush with melted butter and bake for 18 minutes.
Notes
How to Make Self Rising Flour for this Recipe 2 cups White Lily all purpose flour 2½ teaspoons baking powder ½ teaspoon salt