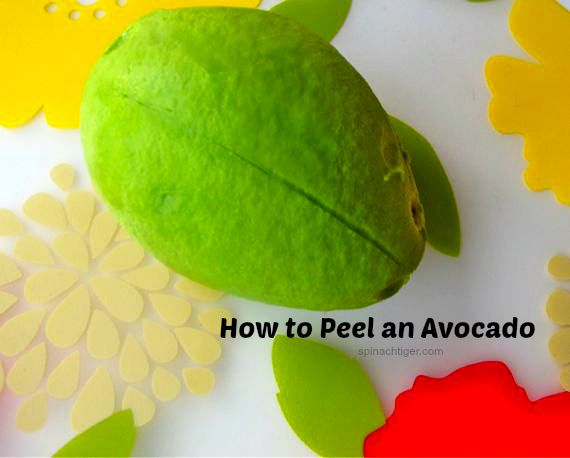 I thought I knew the secret to avocados. But, I didn't.
I used to think I was pretty smart just spooning and scooping out an avocado, after slicing in half. It works; but, it's not the secret.
Drum roll…..

When an avocado is ready, (ripe enough), it peels right off. Simply slice gently lengthwise without slicing into avocado to get it started, and off the the skin comes. You can slice through and scoop out with a spoon, but if you want to make a salad and have gorgeous green slices, try peeling.
There is such a satisfaction to looking at this beautiful green football, it's worth the wait. I was so excited about how beautiful this looked, I peeled another one, and another one, and I made a beautiful….well, you'll have to wait and see.
The avocado (like the banana) is a climacteric fruit. They do not ripen until after they are picked. And you have to have to purchase them at least 3-4 days in advance.
I discovered this technique when a friend brought some avocados for shrimp tacos for Memorial Day. They were so hard that we couldn't use them.
I placed them inside a grocery cloth bag, ( I couldn't find a paper bag) stuck them in the pantry and forgot about them for a week. I was so sure they would be terrible and mushy, but, when they were finally peeled and sliced, they were everything an avocado ought to be.
I love avocados so much I might not even wait to get a cracker or a tortilla. I just eat them naked with salt and squeeze of lime or lemon.
Avocados are a super food. They help you think straight, increase blood flow to the brain, and help information move faster.
This "right kind of fat" fruit dresses up so many different kinds of dishes.
Check out these amazing recipes from food bloggers:
Pan Seared Salmon with avocado remoulade from Simply Recipes.
Spiced Sauteed Avocado and Arugula from La Tartine Gourmand
Avocado Ranch Salad Dressing from Dine and Dish
Shrimp Stuffed Avocado from Laylita's Recipes
TLT Sandwich from 101 Cookbooks
Avocado Pie from Pinch My Salt
Avocado and Cilantro Dressing from Guilty Kitchen
Baked avocado with eggs by Spinach Tiger
Creamy Avocado Milkshake from The Traveler's Lunchbox
Avocado Cheesecake from Prijatno!
Now go out and buy some avocados and then exercise the proper patience so you can enjoy peeling and looking at this beautiful fruit.
To hasten the ripening, place in paper bag with an apple or banana.
If avocados are ripening too quickly, place in crisper in refrigerator to stop the process. Your avocado should be firm enough to cut, yet ripe enough to peel.