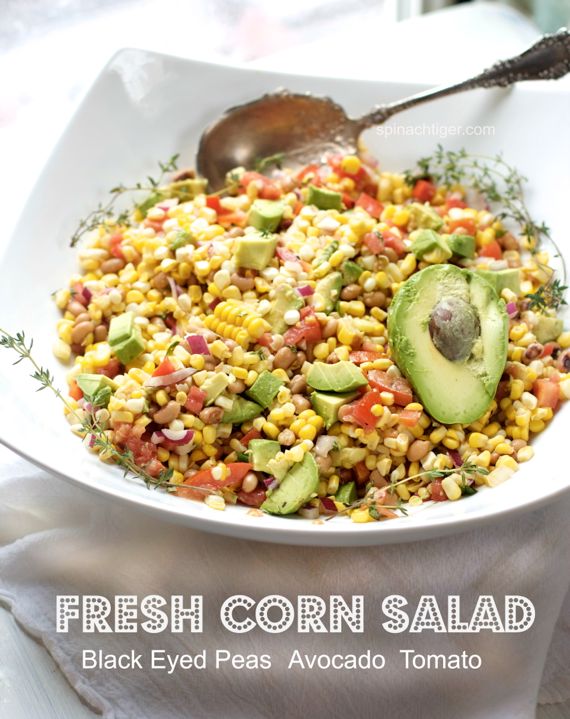 Husking fresh corn for corn salad says summer is here, the crops are in, and the food we wait all year for is ready to go. While we here  in the Nashville area don't grow our own avocados, we do grow corn and tomatoes and we cherish these two crops.  Fact is, around here, try to tell someone you don't eat corn or tomatoes, and you might just hear the click of a shot gun.
Just kidding, of course, but those words would still muster up some mistrust and a careful observation of your music collection. Just don't dare say you don't like Johnny Cash. I don't care if you're a rocker, a punker, a rapper,  a dead head or a Beiber freak, you better not talk trash against Johnny Cash. That would downright unamerican around these parts.
All in fun, of course, I think we Nashvillians are a friendly people who like our food and especially our cookouts. On July 4th, I brought this salad over to a neighbor's party, and it was a big hit, even if a few out of towners called it "dip." Husband followed suit and started eating it with potato chips and I started to think maybe I should have serve it with corn chips, but it was intended to be a salad. Open minded as I am, I started to think, this could be a dip, or if we want to get fancy, a topping for a crostini.
Use Fresh Ingredients for Avocado Corn Salad and a Champagne Vinegar
The ingredients are freshly husked corn, red onion garden tomatoes, black eyed peas, avocado, thyme, basil, olive oil, lime juice, lime zest and champagne vinegar. I'm going to give you a recipe, but feel free to mix the ratio up anyway you see fit. Don't skip the black eyed peas, though, as they add in a very satisfying texture. Do add in some cayenne pepper; I really wanted to do that, but there were a few non-spice guests, so I kept the heat out.
Did you know you can make corn on the cob in four minutes? Simply remove the corn silk, leave in husk, wash (sometimes there are bugs). Put in microwave for four minutes.It will slip right out of the husk. So easy. We do this all the time, and if the corn was just picked, we don't even put salt or butter. It's perfect naked.
As far as peeling avocado, did you know that it's pretty easy, and it looks cool.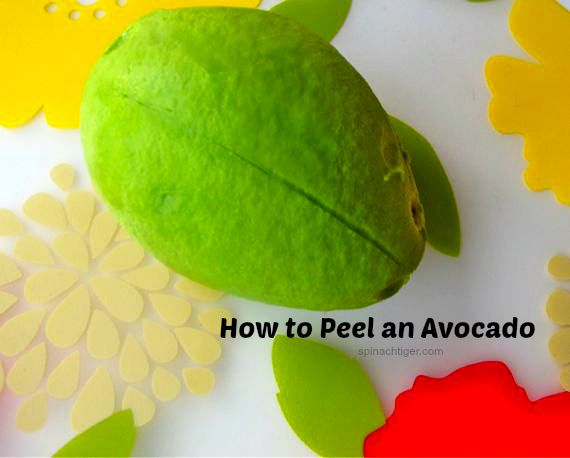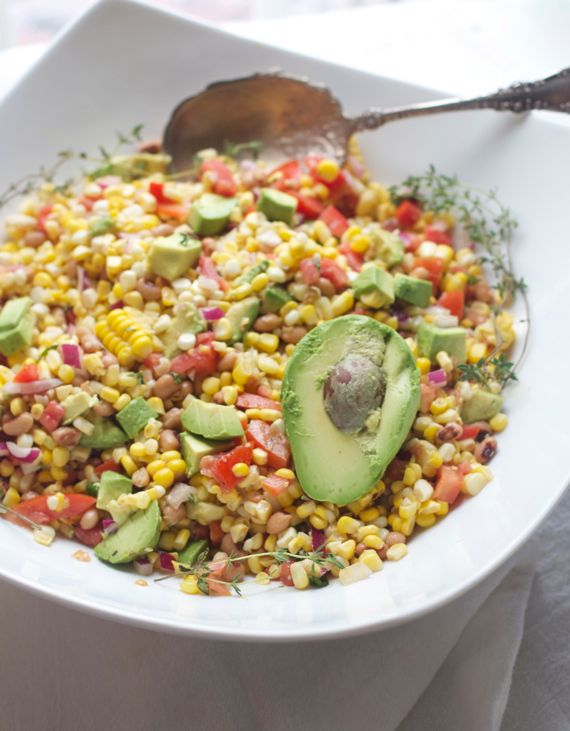 I've just started doing some Facebook LIVE. I hope you'll tune in, by following my page. There's a video pinned at the top where you can leave comments letting me know what cooking videos or recipes you'd like to see.

Corn Avocado Salad, Tomato, Black Eyed Peas
Prep time:
Cook time:
Total time:
A great dish for a party, use as a salad or a dip
Ingredients
10 ears of corn or 4 cans corn
1 can black eyed peas
½ red onion, diced
1 avocado, cut into chunks
3 tomatoes, chopped
¼ cup olive oil
several sprigs of thyme
2 tablespoons champagne vinegar
squeeze lime juice
salt
pepper
Instructions
To cook the corn, place in microwave 3 ears at a time. Cover with wet paper towel. Cook for four minutes. The corn will fall right out of the husk.
Once cooled shuck corn, corn off into a bowl.
Mix with onion, tomatoes, black eyed peas. Toss with just enough olive oil to glisten salad. Sprinkle vinegar, and mix. Season with salt and pepper.
Squeeze lime juice over the avocado and mix in right before serving.
Tell me what kind of salads do you bring to parties?
If you love corn, check out seven ways to grill corn on the cob.