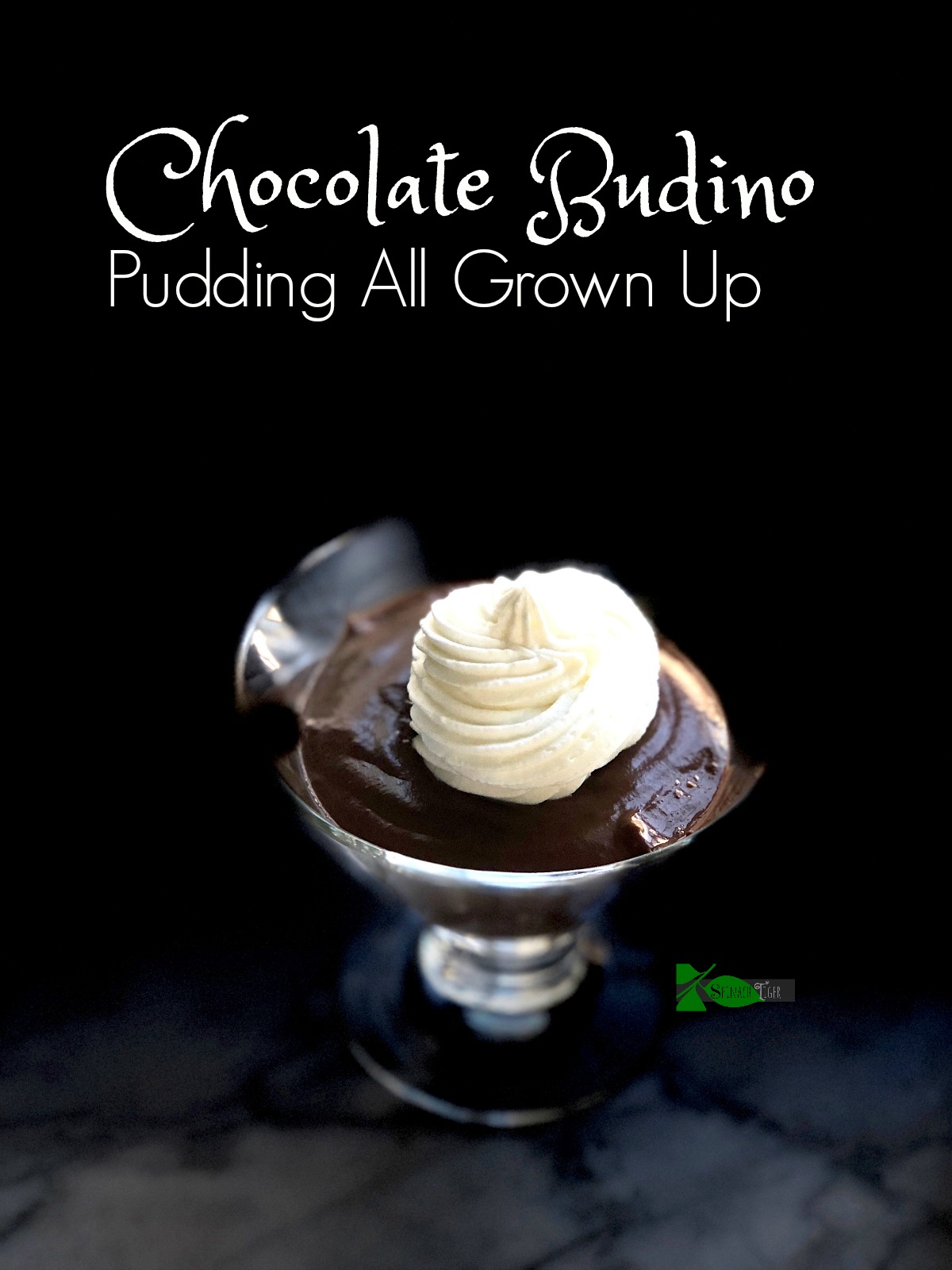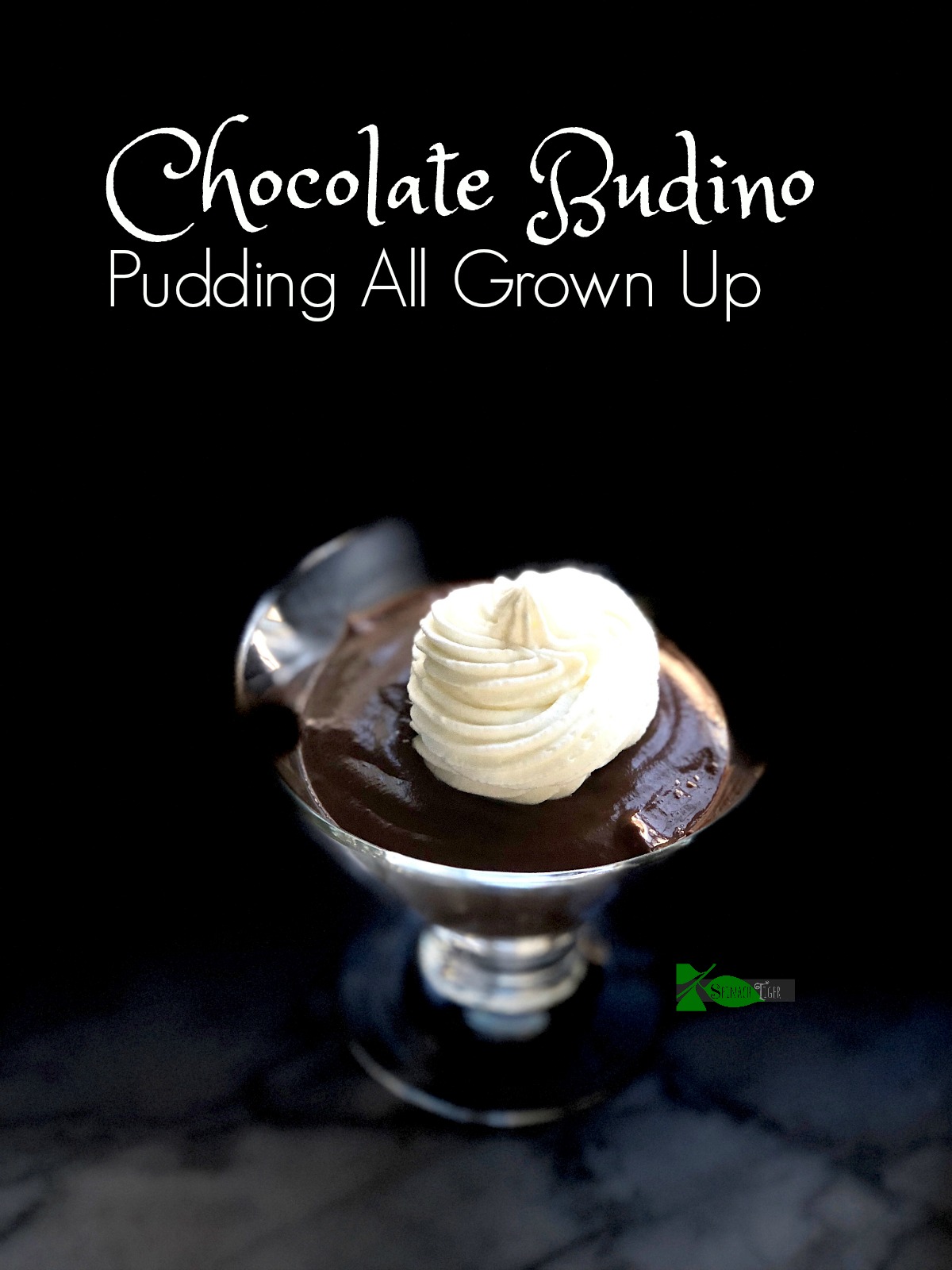 Budino means pudding in Italian, but it's much more than we think of as pudding in America.
Why do I think this is the best chocolate budino recipe around? See for yourself! It's so rich, you can turn it upside down! You can use sugar: I used swerve to keep it low carb and near sugar free. Either way, it's amazing!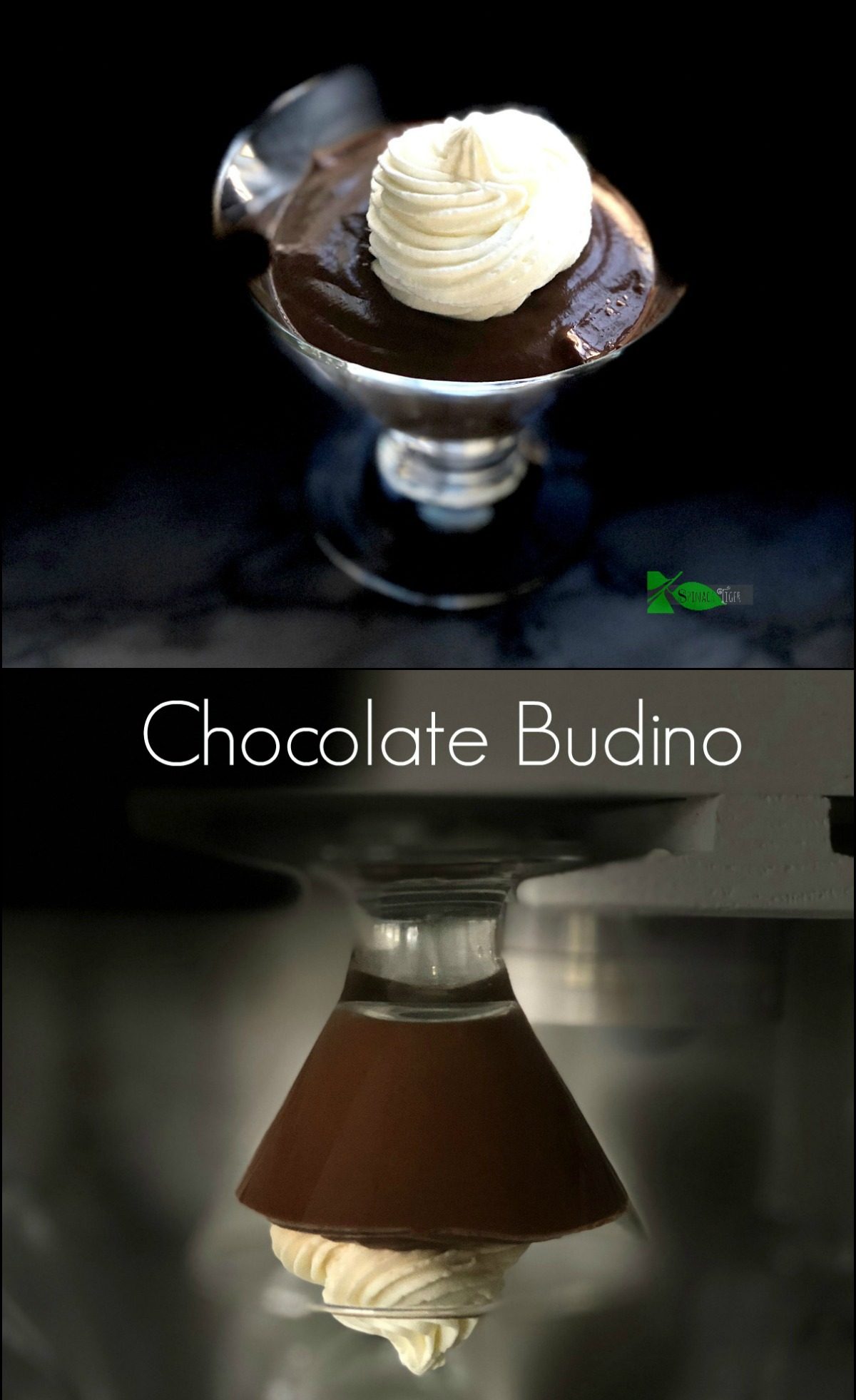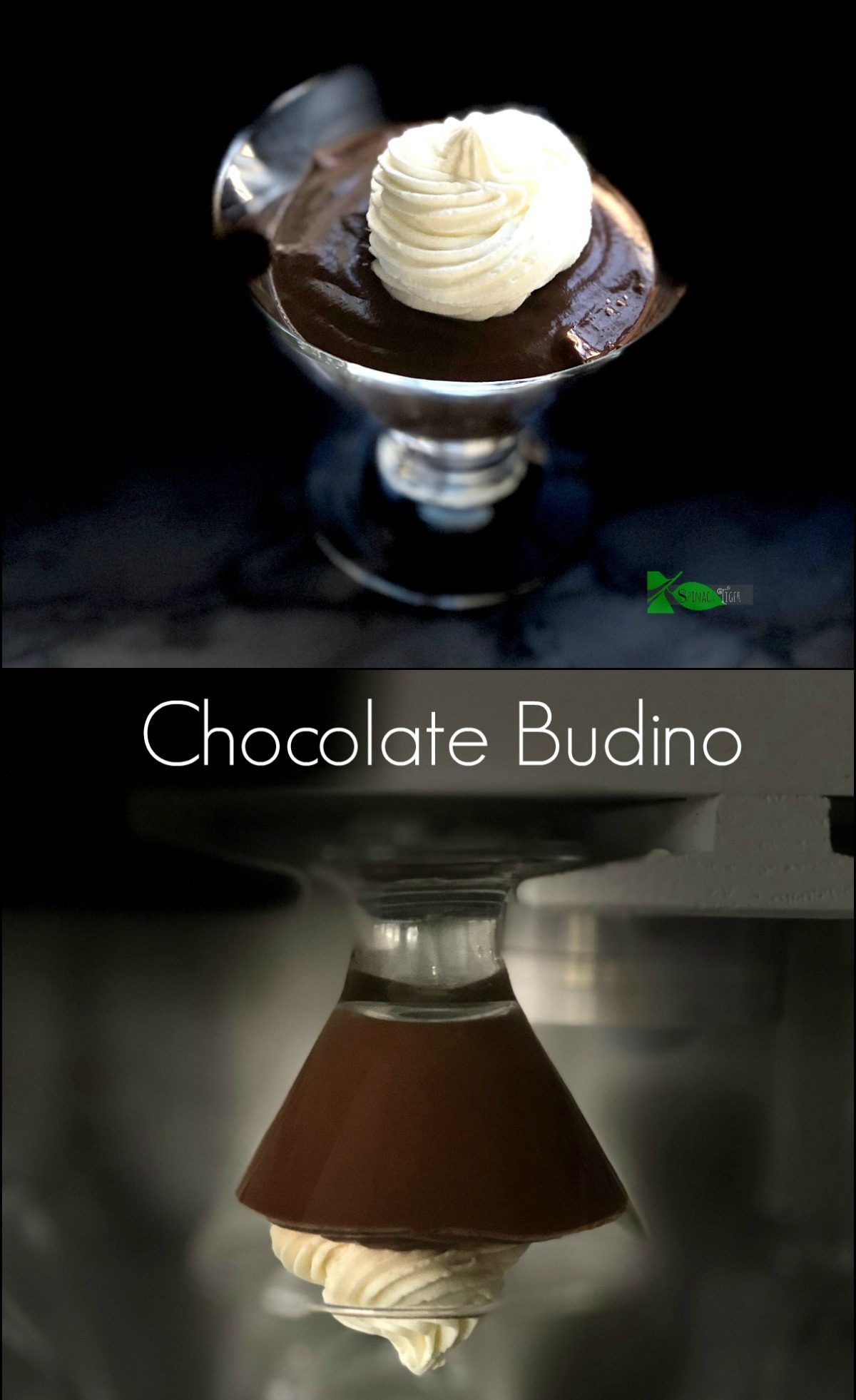 This chocolate budino recipe is rich, and dense but not fudge dense, not truffle dense. It's a thick, creamy, dreamy pudding type dessert with concentrated flavors and a smooth texture.
There are some recipes out there that are over-complicated and turn budino into a thick unseemly fudge-type texture. You don't want that! You want this.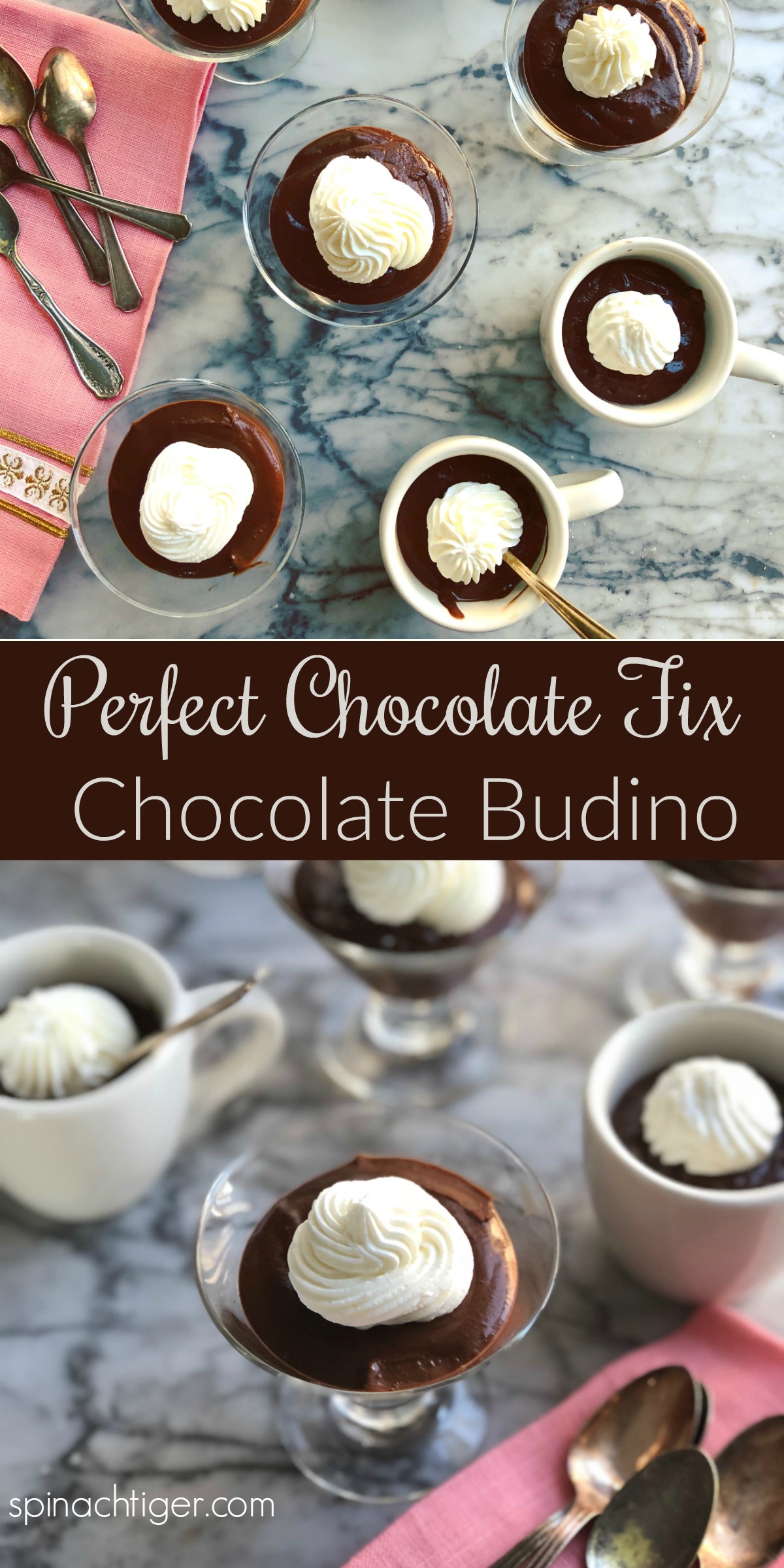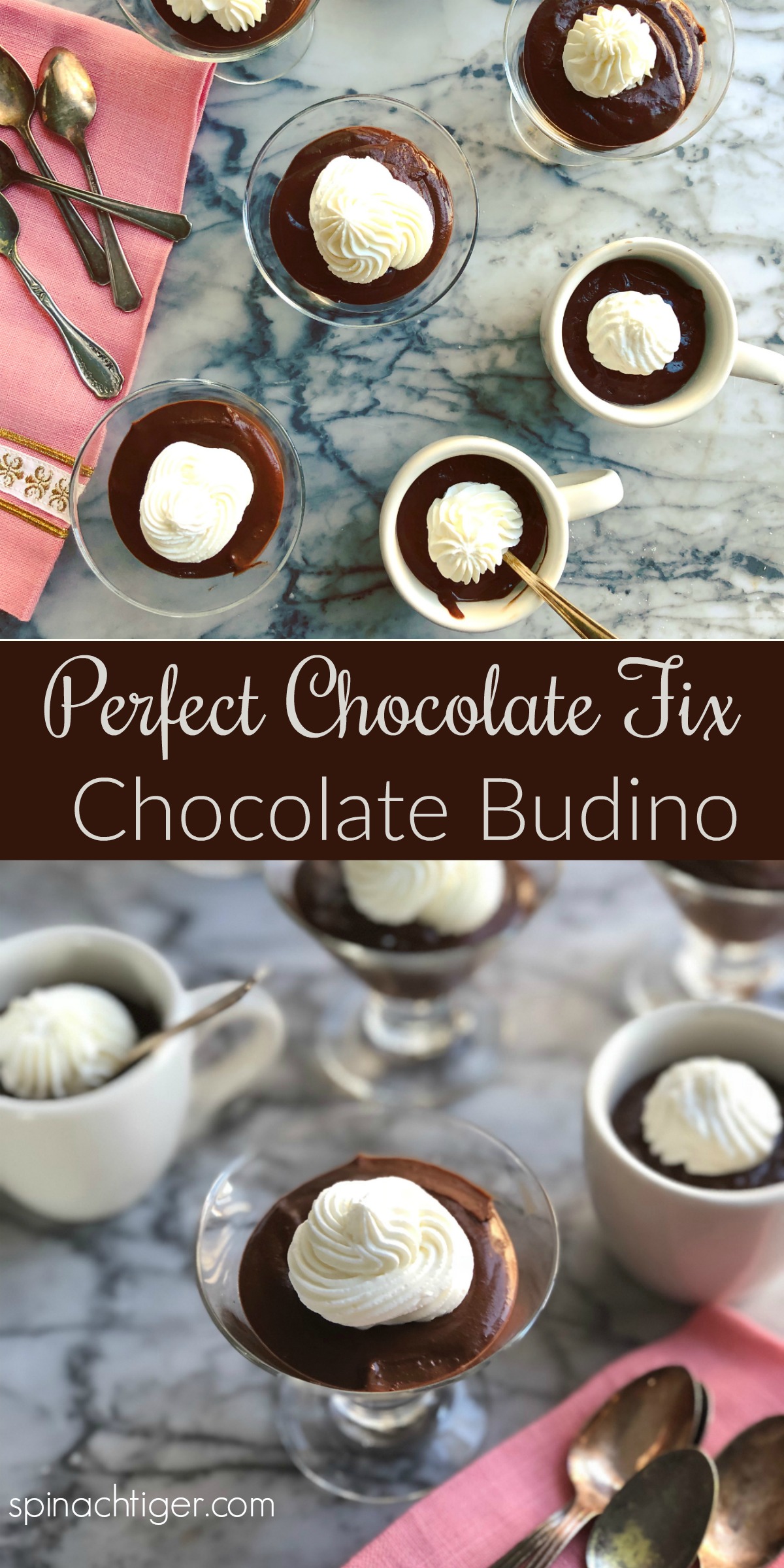 Adapted from Nigella Lawson, this budino is so easy and so well balanced, It was the least complicated chocolate recipe I could find, but certainly not lacking in complexity.
Chocolate Budino Recipe: A few Cooking Notes
I did not add the cornstarch from the original recipe and it is not missed! I used 2 ounces of 70% chocolate, and regular Hershey's unsweetened cocoa. I also used a lower carb whole mik, Fairlife, which has lower carbs. You can use any whole milk you like.
You can add a bit of bourbon instead of vanilla if you want to booze it up. I'm thinking the next time I might add in some hazelnut extract for that nutella taste!
I topped the budino with a stabilized whipped cream. It will look exactly like this all week, which is a good thing, because I'm only going to eat one a day!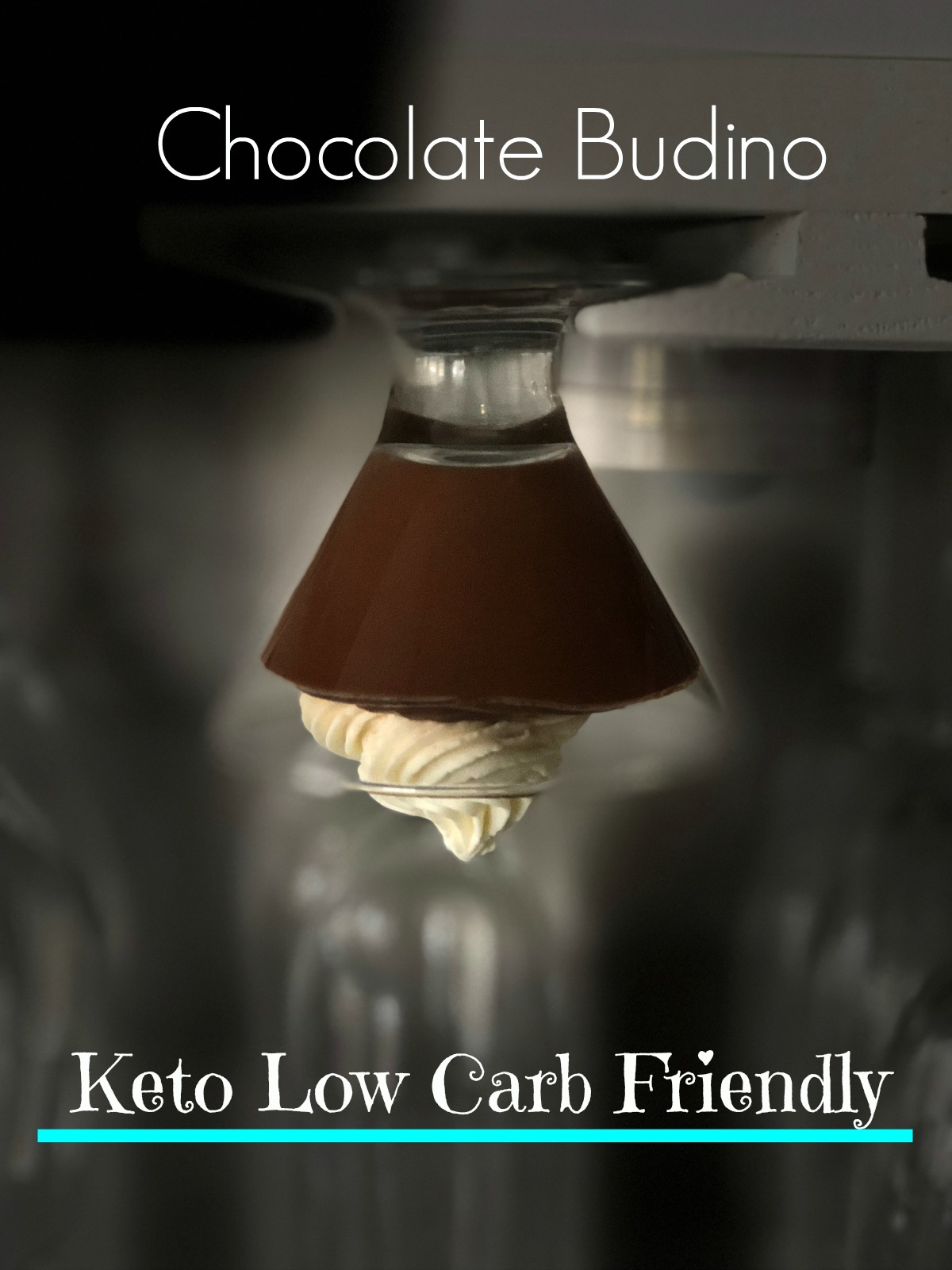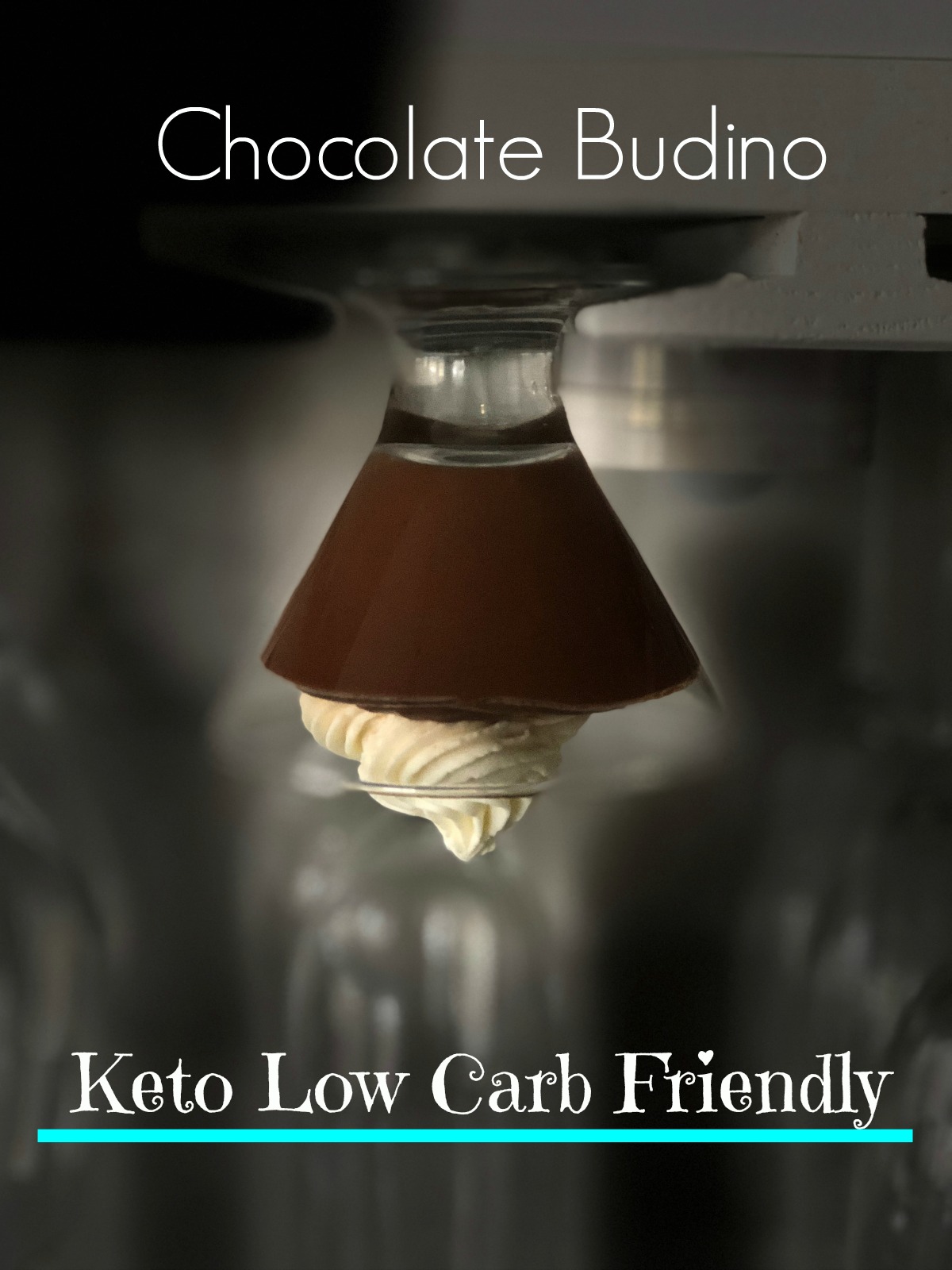 It's Easy to Make this a Low-Carb, Sugar Free Chocolate Budino Recipe
Pudding is made with milk. Budino is made with milk and heavy cream. I use the Fair Life full-fat milk to keep the carbs lower and switch out the sugar with Swerve. You really cannot tell.
This can make four ample servings, but I divided it up into seven small dessert dishes, the size of espresso cups, making this 5 carbs per serving.
This is rich and will satisfy your chocolate cravings, but a little goes a long way. Espresso cups make the perfect serving.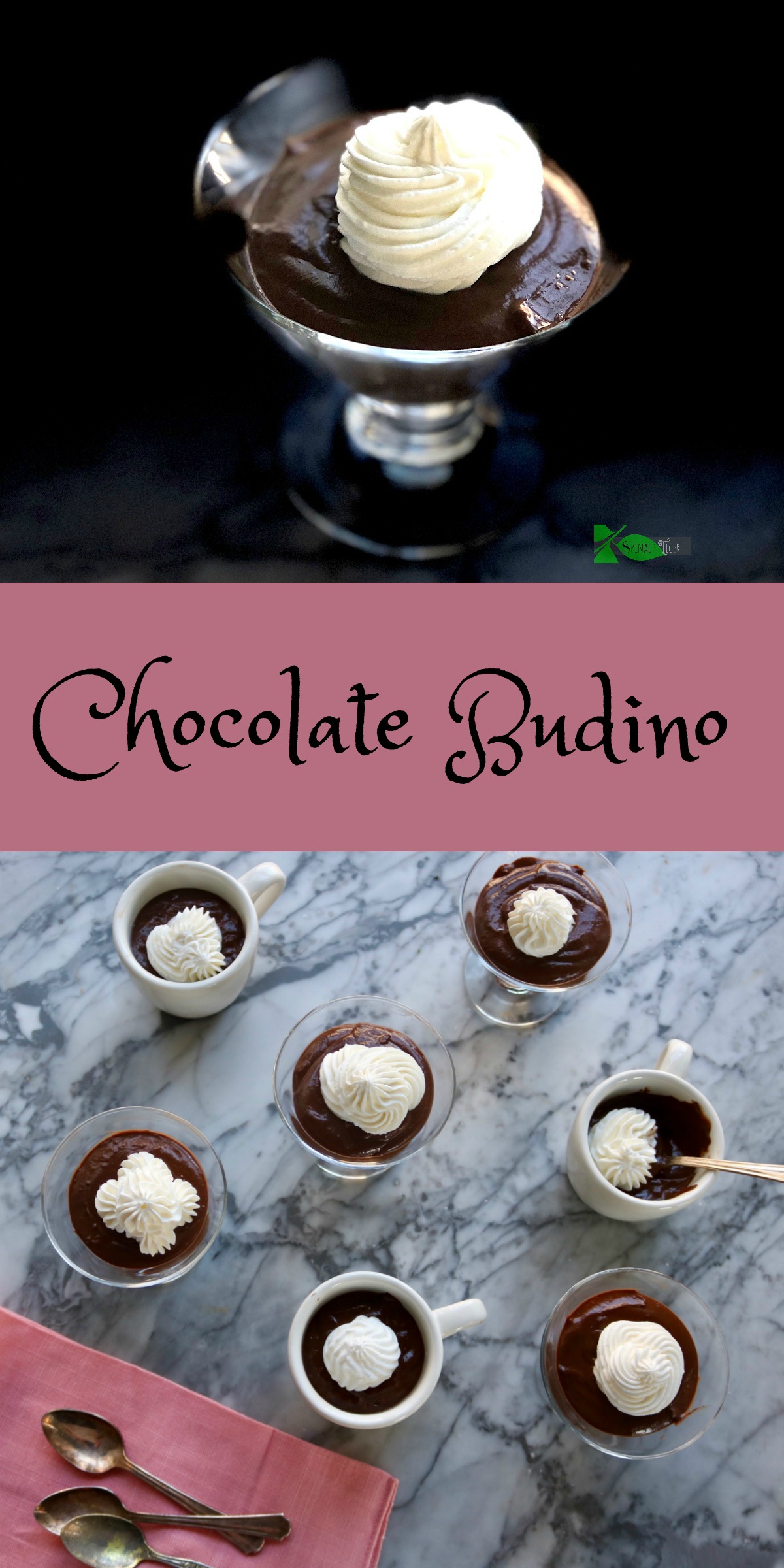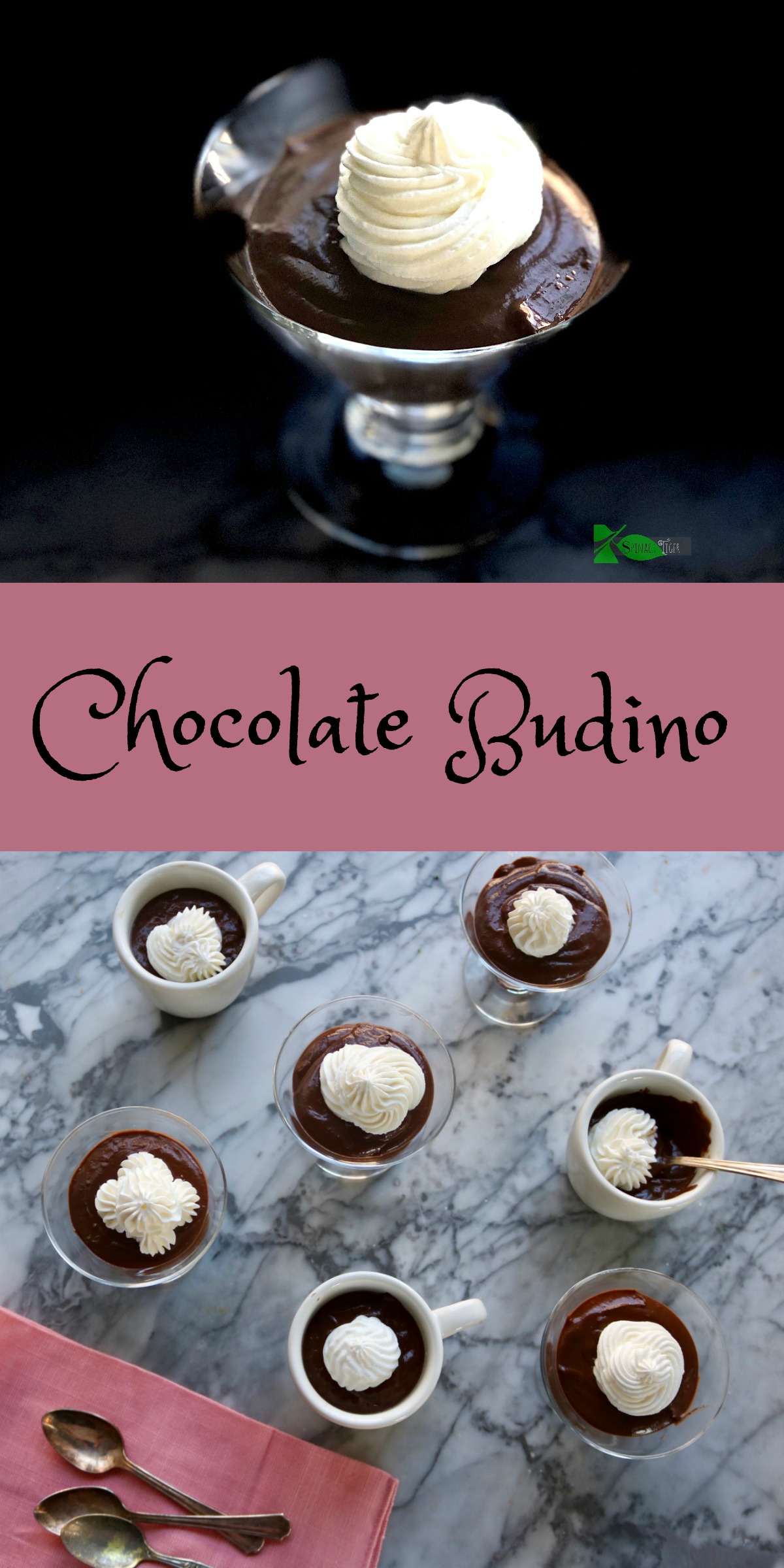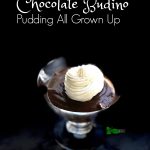 Print Recipe
Chocolate Budino with a Keto Option that Rocks
Chocolate Budino, has a low carb budino option, adapted from Nigella Lawson, a rich, creamy, Italian pudding, adapted from Nigella Lawson.
Ingredients
1

cup

whole milk

see notes

1/2

cup

heavy cream

1/3

cup

sugar or 1/2 cup Swerve

confectioner's

1/2

cup

unsweetened cocoa powder

2

tablespoons

boiling water

2

egg yolks

1

teaspoon

pure vanilla extract

2

ounces

dark chocolate 70%

very finely chopped

Stabilized Whipped Cream

1/2

cup

whipped cream

1

tablespoon

cream cheese
Instructions
Heat the milk and cream in a saucepan. Set aside.

In a separate saucepan, stir in sifted cocoa powder, boiling water and sugar to a paste.

Add egg yolks to chocolate mixture one at a time, whisking.

Add in milk mixture. Continue to stir for a few minutes until thickened.

Take off stove, add in chocolate. Stir until completely incorporated.

Pour into dessert cups. I like to use espresso cups to keep the serving small. That will make seven servings.

Stabilized Whipped Cream Instructions

Make sure cream cheese is softened.

Whip Cream first until you have soft peaks. Stir in cream cheese.

Whip until you have stiff peaks
Notes
If using swerve, dark 70% chocolate, carbs will 5 grams per serving.
Please follow me on instagram. If you make this recipe,  please tag me #spinachtiger.
If you love this recipe, please give it five stars. It means a lot. xoxo