How to Cook Spaghetti Carbonara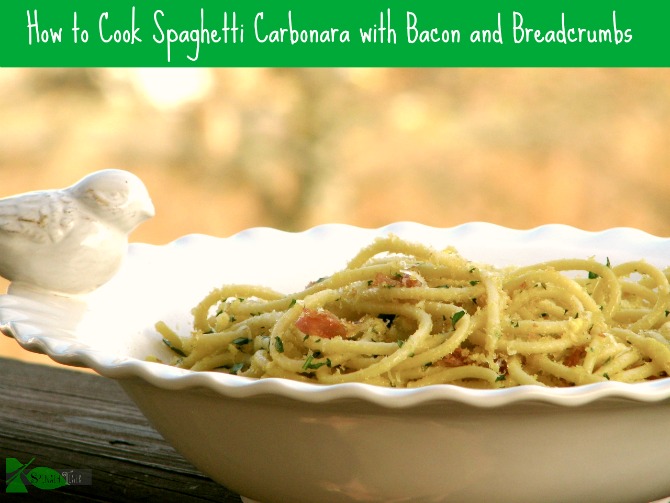 Let's take a little Italian break. In between the sweet and aromatic flavors of Fall, I need salty, and in this very busy season, you probably need easy.
This is easy Italian comfort food. This is carbs. This is pasta. This is close your eyes food.
This is a dish you should  eat at least once in your life time, preferably in Italy.
But if you can't get there this week, let me assure you that this does taste like what I had in Rome, only a little better, because I added some freshly made bread crumbs.
It's a simple recipe, where it's key to use very good ingredients.
If you want to know how to cook spaghetti carbonara with bacon, start with good ingredients. 
Buy a good spaghetti and cook it al dente. This is healthier, as starches are more slowly digested, and glucose is more slowly released into the blood stream. This is a bigger deal than you think, and eating seriously al dente might bring you pack to pasta. When you eat over-cooked pasta,  you will experience a peak in your blood sugar, and tend to eat more of everything. The Italians eat smaller portions of pasta than Americans which helps to explain why they are so thin compared to us, and they really are. In Rome, spaghetti alla carbonara almost has a crunch to it. We would think it was mistakenly not cooked, but it's a wise way to enjoy pasta.
Use pancetta and fry it nice and crispy, but feel free to use a smokey bacon like Benton's bacon. I used a little of both.
Use authentic Italian cheeses. Freshly grated pecorino romano and freshly grated parmigiano-reggiano will combine nicely, but if you must choose one, choose parmigiano-reggiano.
Use white wine and be sure to read my notes in the recipe. Wine and hot oil can be dangerous when combined.
Use very fresh eggs you buy at a farmer's market or use pasteurized eggs. (some folks will disagree and think that the link between raw eggs and salmonella is a myth. I just don't want to take chances with you.
Make sure to read the directions carefully, as to not turn the eggs into scrambled eggs.
Add the toasted breadcrumbs right at the end and enjoy.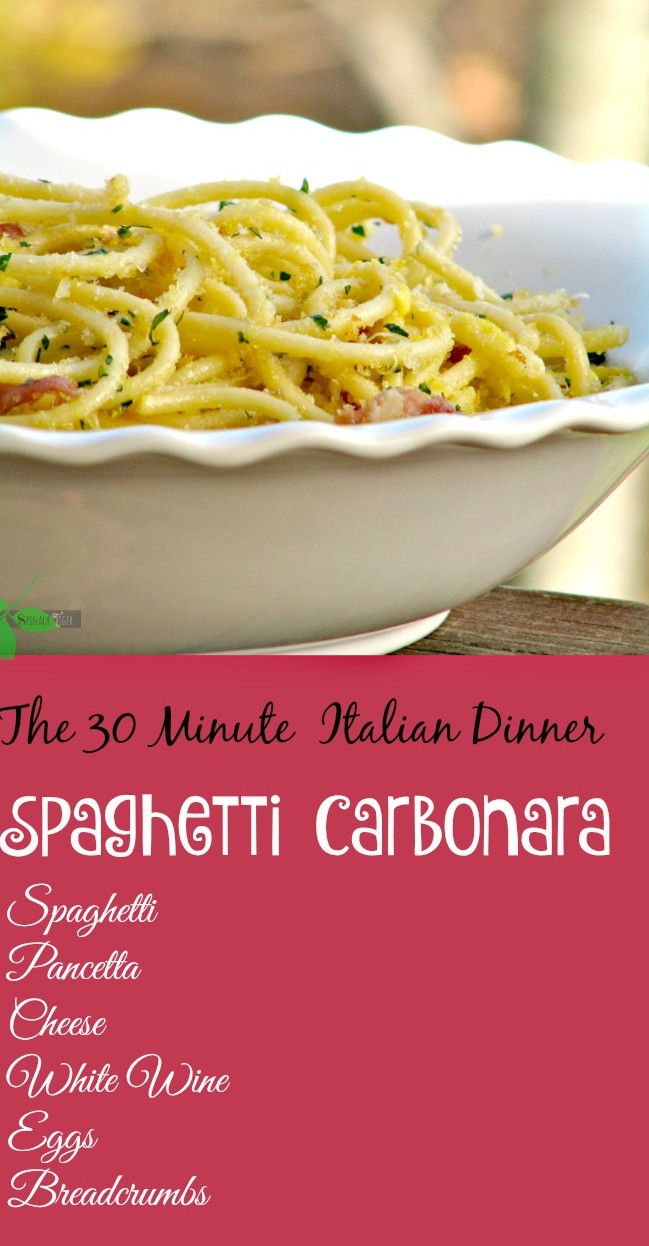 About that Bacon
Pancetta may be called Italian bacon, but it's quite different. It's pork belly, not smoked,  cured in salts and spices. It has a pronounced flavor to it which often gives the dish its personality. While you can substitute bacon (for all the right reasons, do find one that has personality like Benton's Bacon).
One of the more famous pasta dishes in Rome is  Pasta all'Amatriciana, which calls for tomatoes with pancetta and is ever so easy to make. Bolognese has pancetta, a long cooking dish,  this Ground Beef Italian Style, with kale and pancetta takes under twenty minutes.
Connect with me on Facebook. I'm starting to do Facebook Live, which will give you a preview of new recipes and videos I'm shooting for my cooking channel. Please follow.
More Pasta Recipes
How to Cook Spaghetti Carbonara with Bacon and Bread Crumbs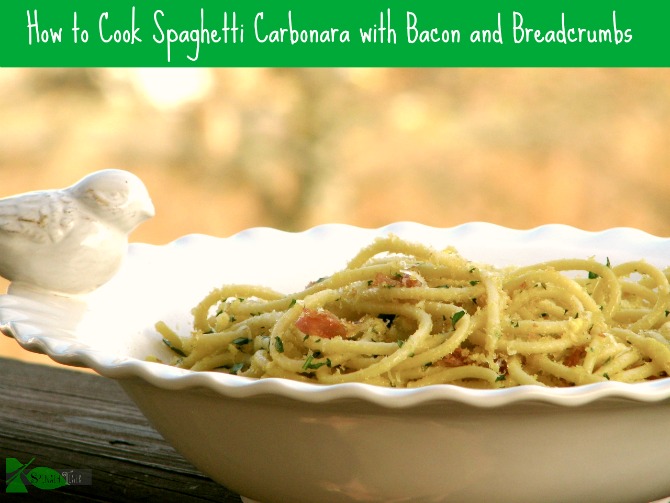 A twist on pasta carbonara is tossing toasted bread crumbs at the end.
Ingredients
8 oz. pancetta, bacon, either or, or both (sliced into ¼" inch pieces)
3 tablespoons olive oil
4 garlic cloves, smashed
¼ cup dry white wine
3 large eggs (I used pasteurized, but you can use very good farm fresh eggs)
¼ cup freshly grated pecorino romano
½ cup freshly grated parmigiano-reggiano
black pepper
3 tablespoons chopped parsley
1 pound spaghetti
Instructions
Fry garlic in oil until golden and then discard. Add pancetta (or bacon). I used half bacon and half pancetta, but you can do this anyway you like.
Once crispy, add wine. Before you do that, lower the heat, so the oil and wine do not form a geyser. Be careful, as you add wine, having a lid in hand. Cook for 1 or two minutes. Turn off heat.
Break three eggs in bowl you will serving spaghetti. Do NOT add pasta back into pot and add eggs, as eggs will cook.
Beat eggs and add in grated cheeses, pepper and 2 tablespoons parsley.
Reserve an extra tablespoon of parsley for garnish (along with a bit of micro greens).
Cook pasta al dente, drain well. (See notes on cooking pasta)
Add to bowl with beaten eggs and toss. Reheat pancetta and add to pasta. Serve at once