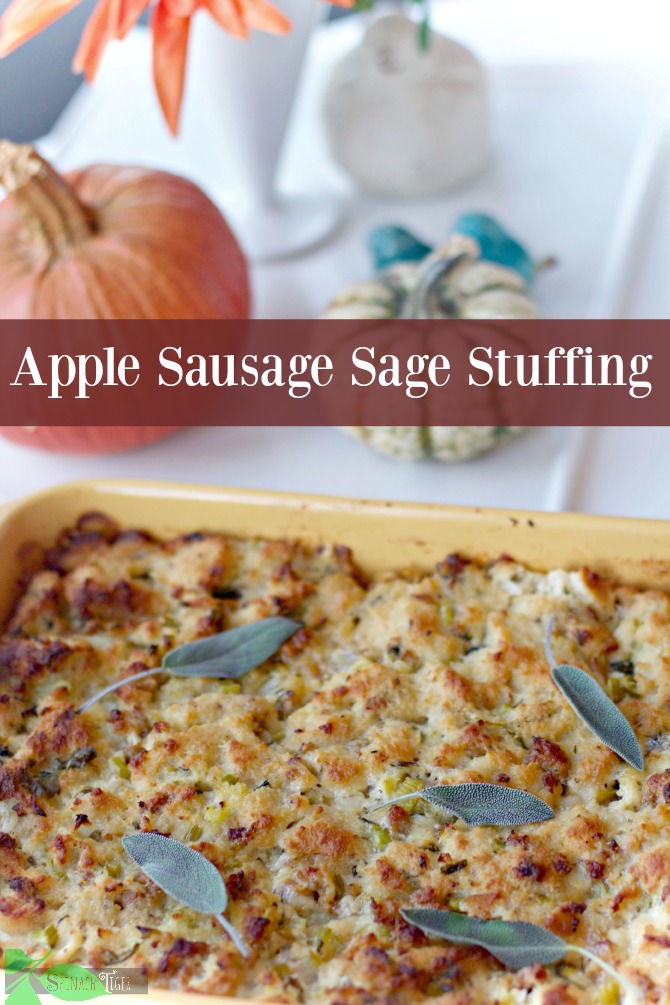 The single only reason I like the Thanksgiving meal is for stuffing. Stuffing to me is white bread with lots of sage, celery, onions, sausage and quite possibly apples. Sausage apple stuffing has it all, with savory flavor, texture and mouthfuls of comfort.
Why apples? Apples add just a touch of sweetness and texture. Apples compliment pork and I love sausage in my stuffing.
Now I know you have your own special stuffing or perhaps you're from the South and you eat corn bread dressing. At our dinner, we serve both, because people most remember and desire the stuffing or dressing they grew up on, and almost no one seems to be able to make it as good as their mom's.
I got extra help and Retro Rose got on Periscope with me this past weekend. In fact, we scoped a bunch of Thanksgiving recipes and connected live with people all over the world. It was pretty incredible to my 80 year old mom to be able to live broadcast from our kitchen.
I go so crazy for stuffing that I would the loaded dessert table and homemade biscuits just to eat more of this. I nearly made myself sick picking away at it after dinner. The crispier the ends get, the better I like it.
Serve this with my roasted cheesecloth turkey, pear cranberry sauce and Pennsylvania Dutch corn pudding. You can't go wrong with the traditional Thanksgiving dinner.
So tell me, is it stuffing or dressing? Is it cornbread or white bread, or do you get all fancy schmancy and use french baguette. Do you have a special recipe for stuffing? Leave me a link.
Let's connect. I am very active on Instagram, and my latest passion is doing live video broadcasting at Periscope, where you can watch me in action in my kitchen, LIVE. No editing.

Sausage Apple Stuffing
Prep time:
Cook time:
Total time:
Ingredients
2 loaves of bread (cubed, comes to about 20 cups)
1½ pounds mild Italian sausage
2 cups diced onion
1 cup finely chopped peeled apples
3 cups diced celery
2 apples, peeled, cubed
¼ cup fresh sage or 1 teaspoon dried
8 tablespoons butter
4 eggs
½ teaspoon salt
½ teaspoon black pepper
4 cups chicken broth
Instructions
Cut crusts off bread and allow to dry for a few days on counter, or dry in the oven at 275, for about 20 minutes. You don't want toasted bread, just dried out.
Either use loose sausage or take sausage out of casing.
Put butter in pan with sausage, onions, celery and apples.
Cook until sausage is done and celery is softened.
Set aside to cool.
Once sausage mixture is cooled, mix with bread.
Add sage.
Add beaten eggs. Add salt and pepper to eggs.
Add in broth. You will want a very moist stuffing.
Refrigerate overnight.
Take out one hour before baking to bring temperature down.
Bake for 45 minutes at 375 degrees F.
Notes
Taste stuffing prior to baking to adjust for salt and pepper.