Pork and Peach Bolognese helped me make sense of slow cooking in this long hot summer. While I love all things salad, there are moments I crave a bowl of pasta with bolognese.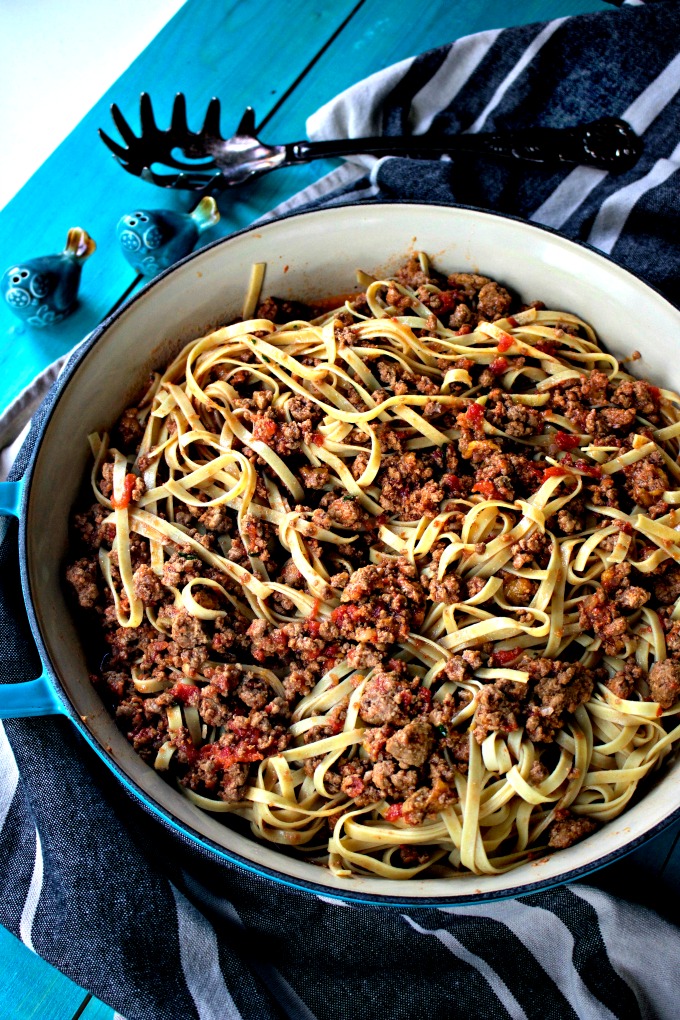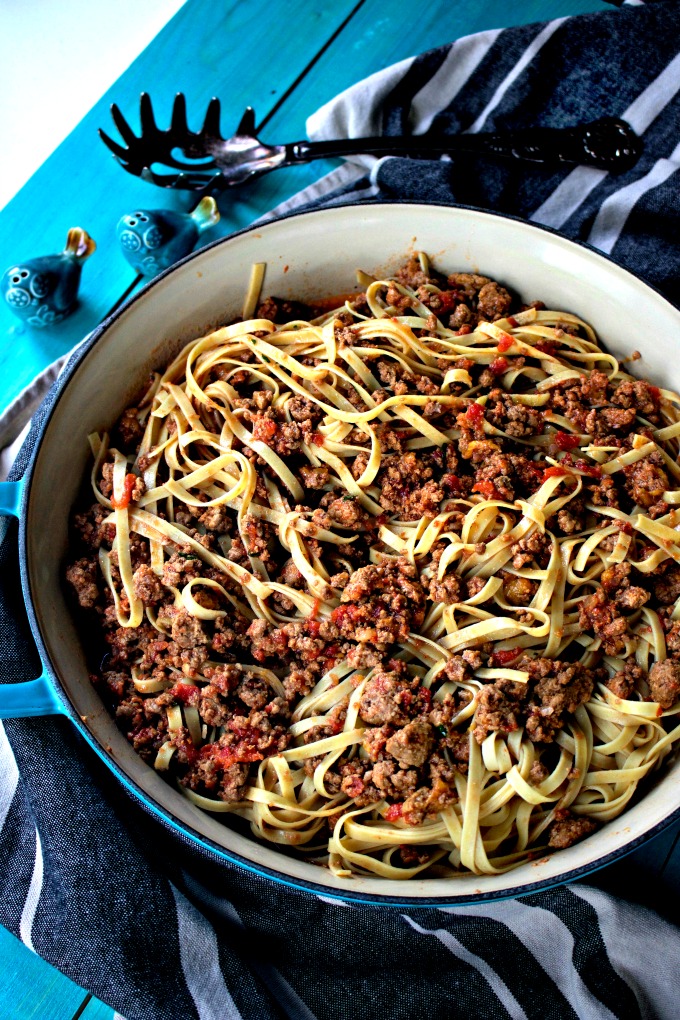 I've featured bolognese several times here at Spinach Tiger, but this is the first time I have made it with peaches. I switched out the usual carrots with this sweet favorite summer fruit, which added just enough sweet and helped to tenderize the meat.
We used a lower carb Papparadelle's Pasta (7 carbs per 2 dry ounces), which we found impressive. Pork and Peach Bolognese would be perfect with a thick spaghetti, or any wider noodle or homemade pasta.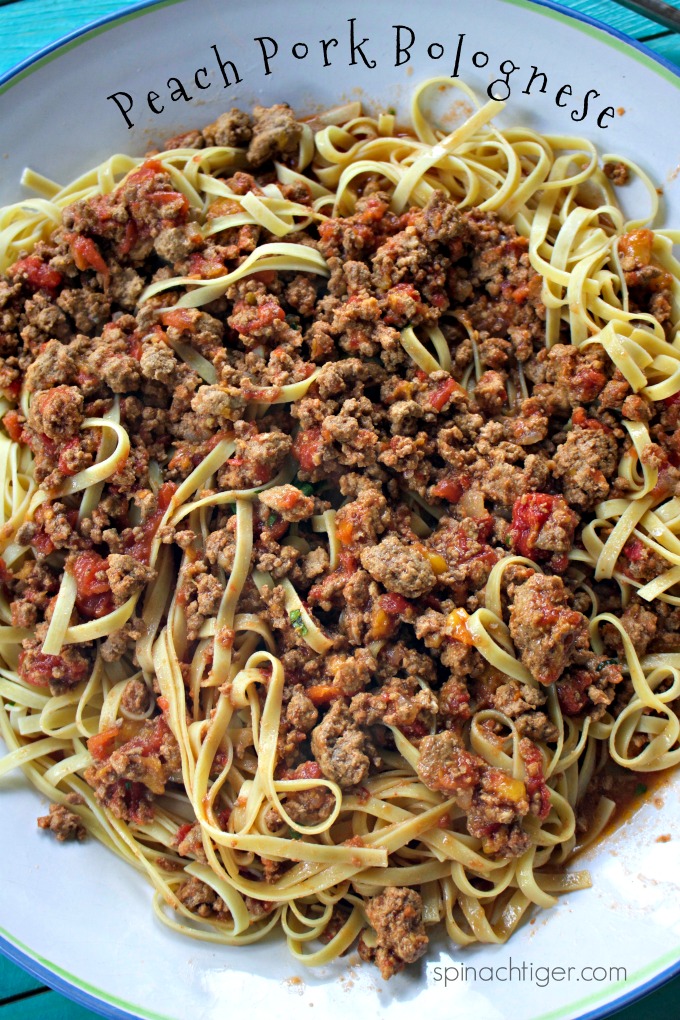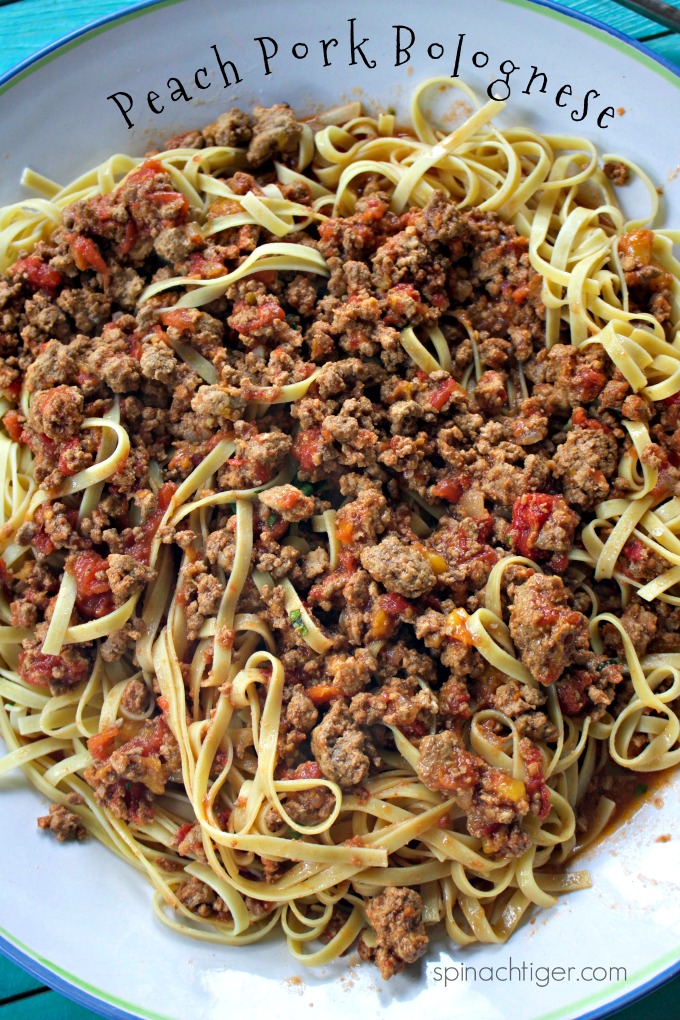 If you're new to what a bolognese sauce is, it's not a tomato sauce. It's a meat sauce with a little bit of tomato. Bolognese is slow cooked (the longer, the better), and includes milk and white wine. The meat has an unexpected layering of flavor from it's slow cooking and the aroma in the house is enticing.
I decided to use half ground pork, half ground beef, but you can mix it up as you wish. The next time I'm thinking I'll make a peach and shredded pork ragú, similar to this recipe.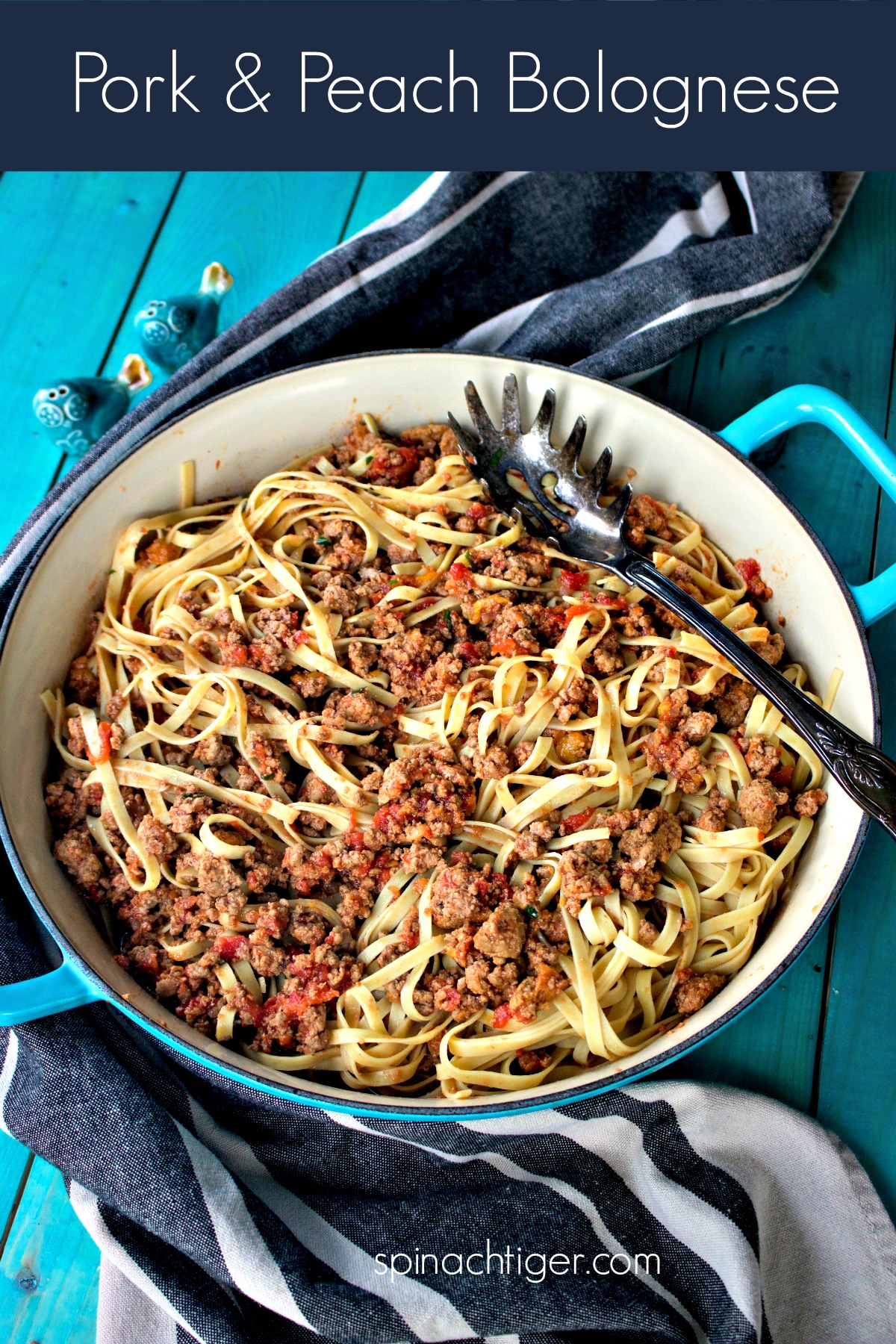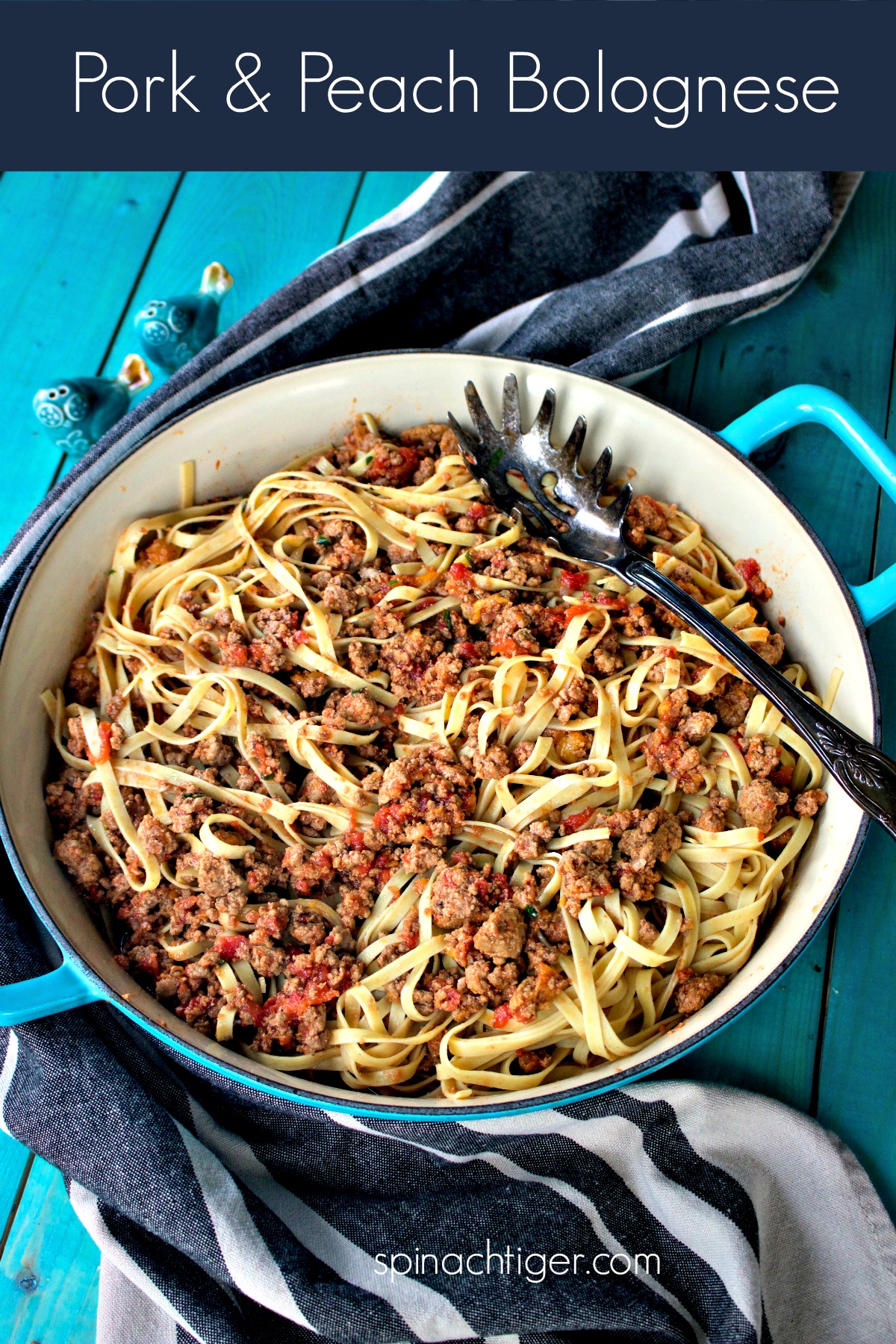 The Process Pork and Peach Bolognese
It will take 30 minutes of prep work as each step is done in sequence. Once you've added in the last ingredient, you can transfer to a slow cooker on low for six hours and walk away. There is nothing hard about this recipe and it's a great dish to freeze.  You will want to peel peaches, arrange ingredients, and I suggest using only San Marzano Tomatoes (amazon). I use this the Cento brand. You will know how good they are, as you only need your hands to break them into the sauce and there is almost no waste, unlike other brands I have tried.


You might want to serve this with my rosemary peach focaccia.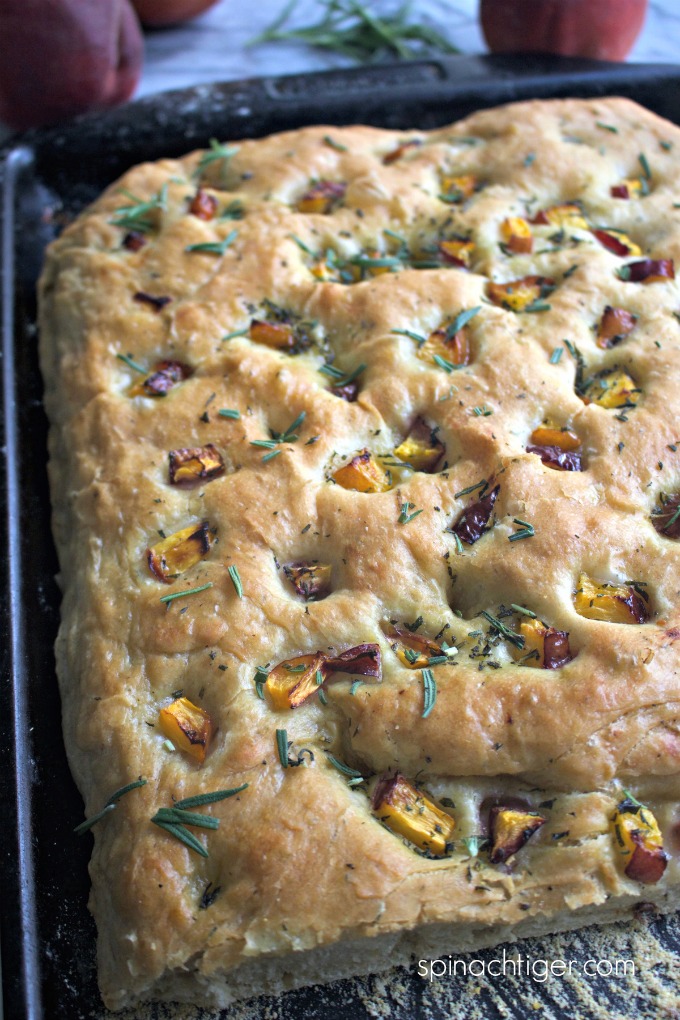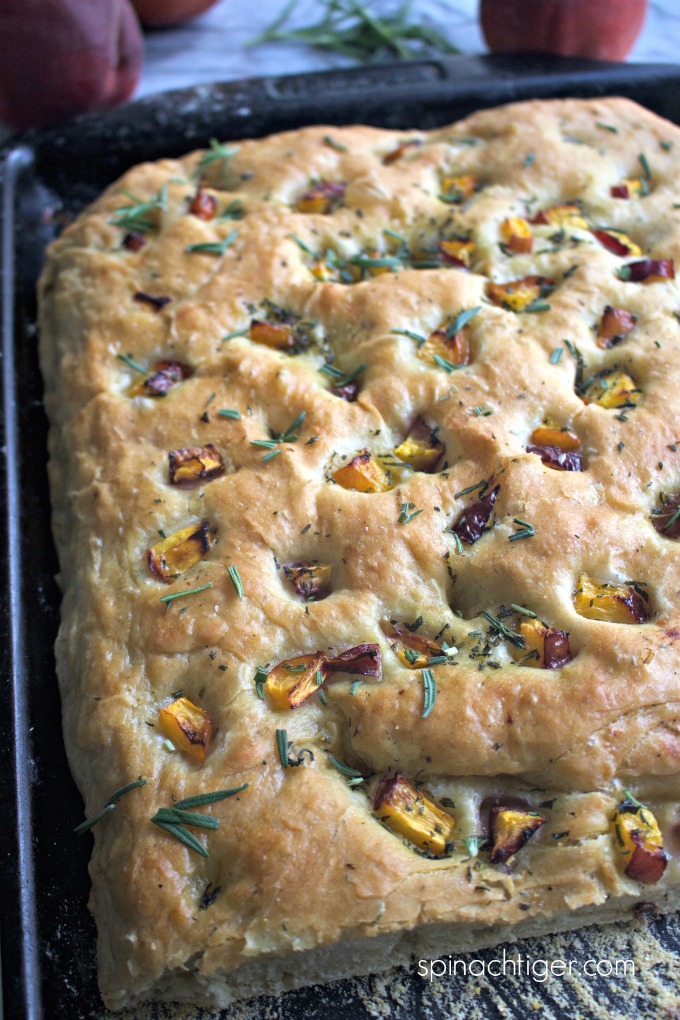 Disclosure: This site contains Amazon affiliate links which earn a small commission, but do not affect prices.

Pork and Peach Bolognese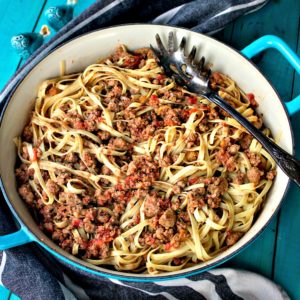 Ground Beef, Ground Pork, Peaches come together to make summer Italian comfort food.
Ingredients
1 tablespoon butter
1 tablespoon olive oil
1 medium to large sized onion, diced
2 peaches, peeled, diced
2 cups milk (see notes to low-carb application)
dash of freshly ground nutmeg ORDER HERE
2 cups white wine
1 28 -ounce can San Marzano Tomatoes ORDER HERE
1½ pounds ground pork
1 pound ground beef
handful fresh sage leaves (optional)
handful parsley leaves
2 pounds pasta
salt, pepper
Instructions
Bring a pot of boiling water together. Cut an x at bottom of peaches. Immerse in water for a minute or two. Cool. Peel peaches. Dice. Set aside.
On medium heat, add oil, butter, onion, until translucent.
Season meat with salt and pepper.
Add meat, break up with fork, and when no pink color is showing.
Add milk. Turn down heat to simmer, stirring frequently until milk has evaporated.
Add nutmeg.
Add wine, stirring thoroughly. Once wine has completely evaporated, add peaches and tomatoes, and simmer on very very low stirring every now and again. If sauce dries out, add ½ cup water a time.
Add herbs (to be removed later).
Cook for a minimum of 3 hours. I think 4-6 hours is better.
Taste and season with salt, pepper