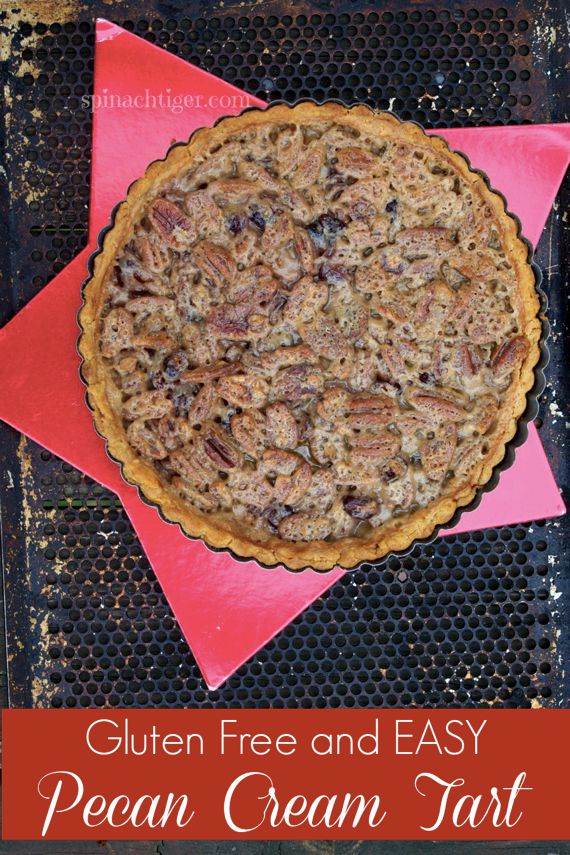 When I think of the Holidays, I think about pecans. They have to be somewhere on my dessert table.
The Pecan Bourbon Cream Tart Needs to be on Your Holiday Table
This year I decided to make a pecan bourbon cream tart very similar to this almond tart, and I made it gluten free using this tart crust recipe.
You can make it with all purpose flour using this shortbread tart crust recipe as another option. The original almond tart calls for almond extract, and in using pecans, I chose vanilla and bourbon, enough to make the kitchen smell amazing and Christmasy.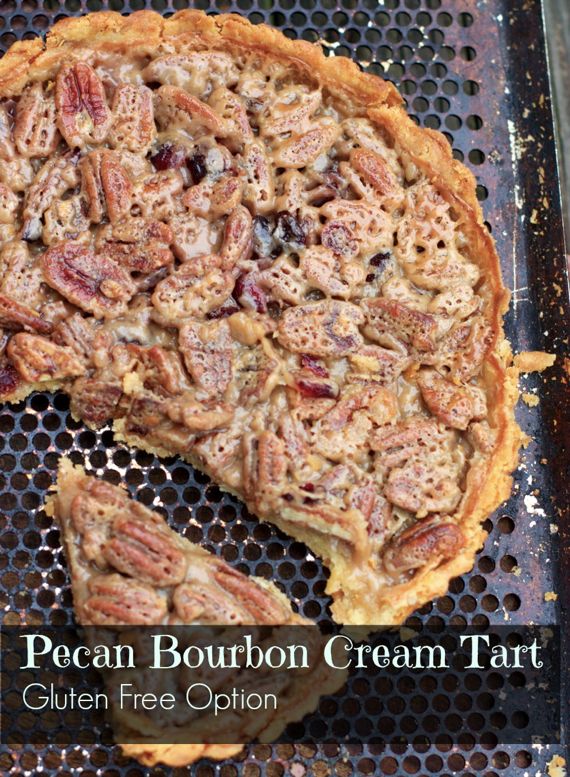 I have successfully baked gluten free this year, using various flours I have found in the grocery store, because more and more it seems there is someone who can no longer tolerate gluten. I used to think that would be a terrible fate, but now there are such good gluten free flour options on the market.
I'm very impressed. Everyone has agreed that you cannot tell that this tart is gluten free, and I'm known for my tart dough around here.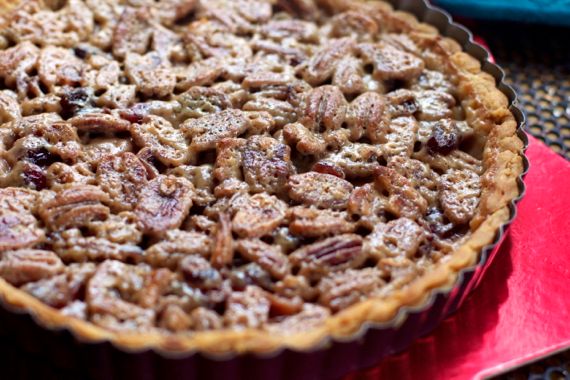 I've since altered my original tart dough recipe and posted that here. You can use any good quality gluten free flour. I like bob's red mill one to one (it already has the necessary xantham gum) and as an option. I added in more sugar which seems to give the tart crust more structure.
This is easy to make, so if you are fretting about putting together a Christmas dessert, this is rich, impressive and only stands to be improved with a bit of whiskey cream or ice cream. A little bit of chocolate drizzled over it wouldn't hurt either. However you decide to serve this gluten free pecan bourbon cream tart, it will be a treat.
Pecan Bourbon Cream Tart with Gluten Free Shortbread Tart Crust
Prep time:
Cook time:
Total time:
Gluten free Pecan cream tart.
Ingredients
1 pie dough (see below)
2 tablespoons cranberries (optional)
1 cup heavy whipping cream
¾ cups sugar
1 teaspoon vanilla
2 tablespoons bourbon
1½ cups pecans
Gluten Free Pie Tart
200 grams gluten free all purpose-flour (1⅓ cup plus ¼ cup)
1 stick (1/2 cup) unsalted butter, cut into small cubes, frozen for 15 minutes
1 tablespoon sugar
1 teaspoon xantham gum IF YOUR MIX DOES NOT HAVE IT
1 teaspoon salt
1 large egg yolk
2 tablespoons brown sugar
¼ cup confectioner's sugar
1 tablespoon iced cold water
Instructions
Preheat oven to 425.
Partially bake pie crust for 8 minutes. Reduce oven to 400.
Heat cream and sugar in small sauce pan, until it turns translucent.
Add in bourbon and vanilla and simmer for a few minutes.
Add in pecans. Turn heat off and allow to sit while oven is preheating, about 15 minutes, while pie shell is baking in oven.
Pour cream and pecans into par-baked pie shell. Remember to reduce heat to 400 and bake for another 20-25 minutes.
Check tart at 15 minutes, tamp down bubbles the cream forms and sprinkle in some dried cranberries.
Cool completely before cutting.
Pie Dough
Mix flour with sugar and salt.
Add in butter and process in food processor to a slow count of 10. Add in egg and process until mixed. Add in water and process just enough until dough forms.
Wrap dough in plastic and refrigerate at least one hour.
Take out, roll out and put in tart shell. Poke fork holes and put back in refrigerator to chill until ready to use. It's best to pre-bake a very cold tart shell.