Fluffy Keto Pancakes,Grain Free, Low Carb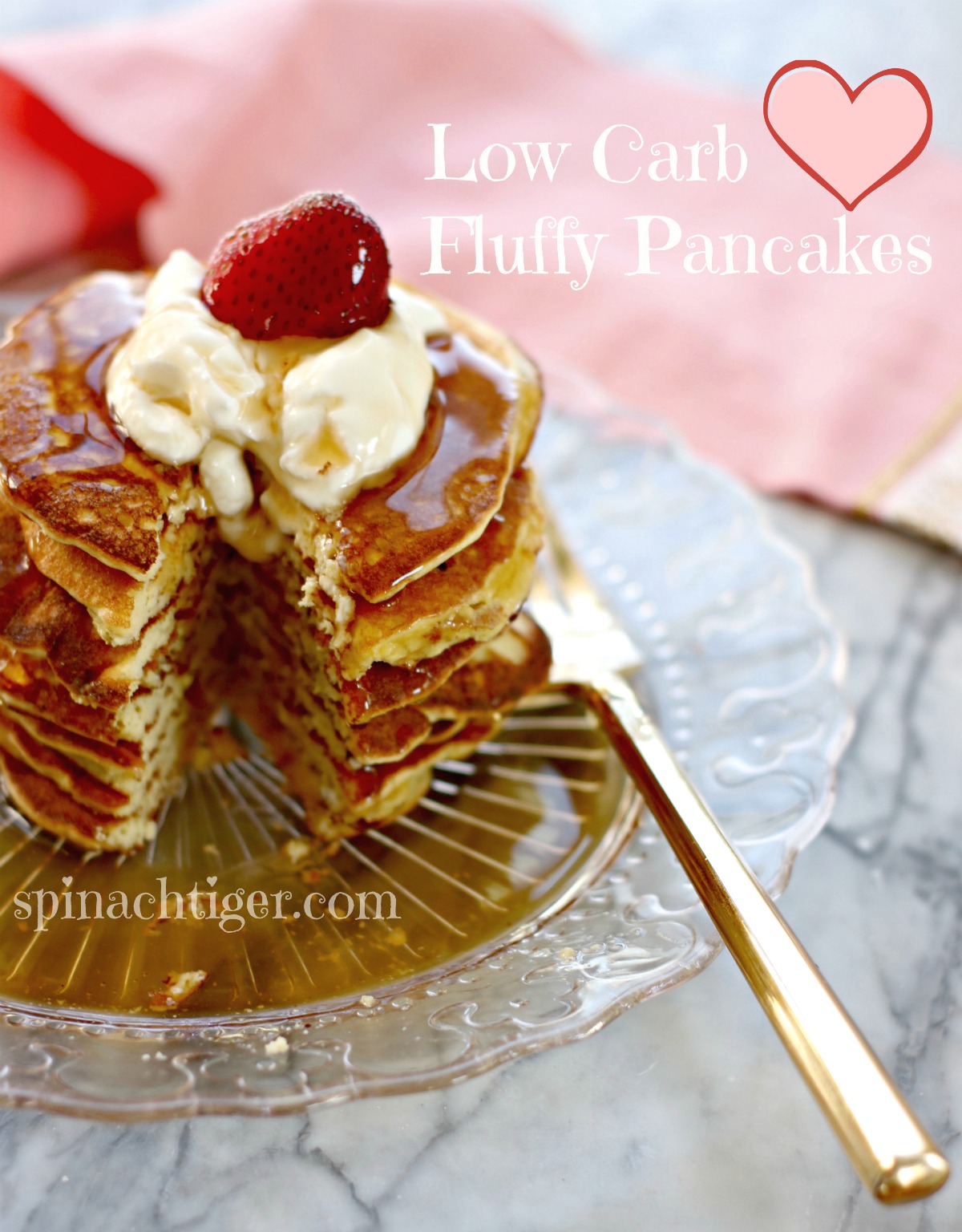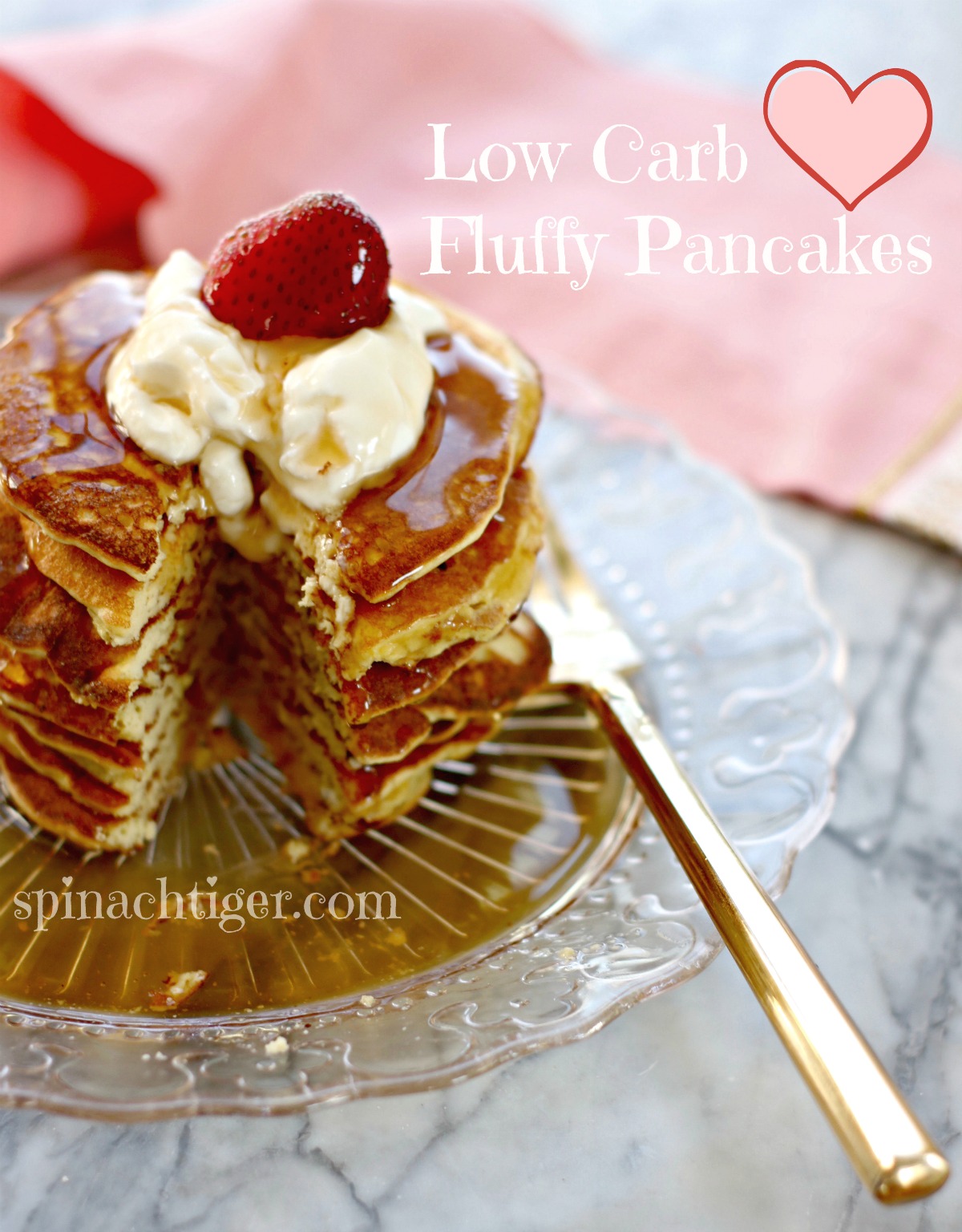 The typical low-carb breakfast is most often eggs, bacon, sausage, cheese,  etc. While I love eggs and have what seems like a zillion egg recipes here, I know you will need a change of pace if you're going to stick it out.
A combination of almond flour, coconut flour, eggs, baking powder,  and cream cheese make a perfect keto fluffy pancake.
You need pancakes, yet you don't want those weird, flat, eggy pancakes that tastes like well, eggs! You want want to see a little bit of height and have something to smother some whipped cream on so you can get your fat in and not be hungry for several hours. (One thing I like to do is mixed whipped cream with sour cream and add some erythritol sweetener).
Nutrition Value for Fluffy Keto Pancakes
See the Recipe Below for complete nutrition value. There are 2 net carbs per pancake.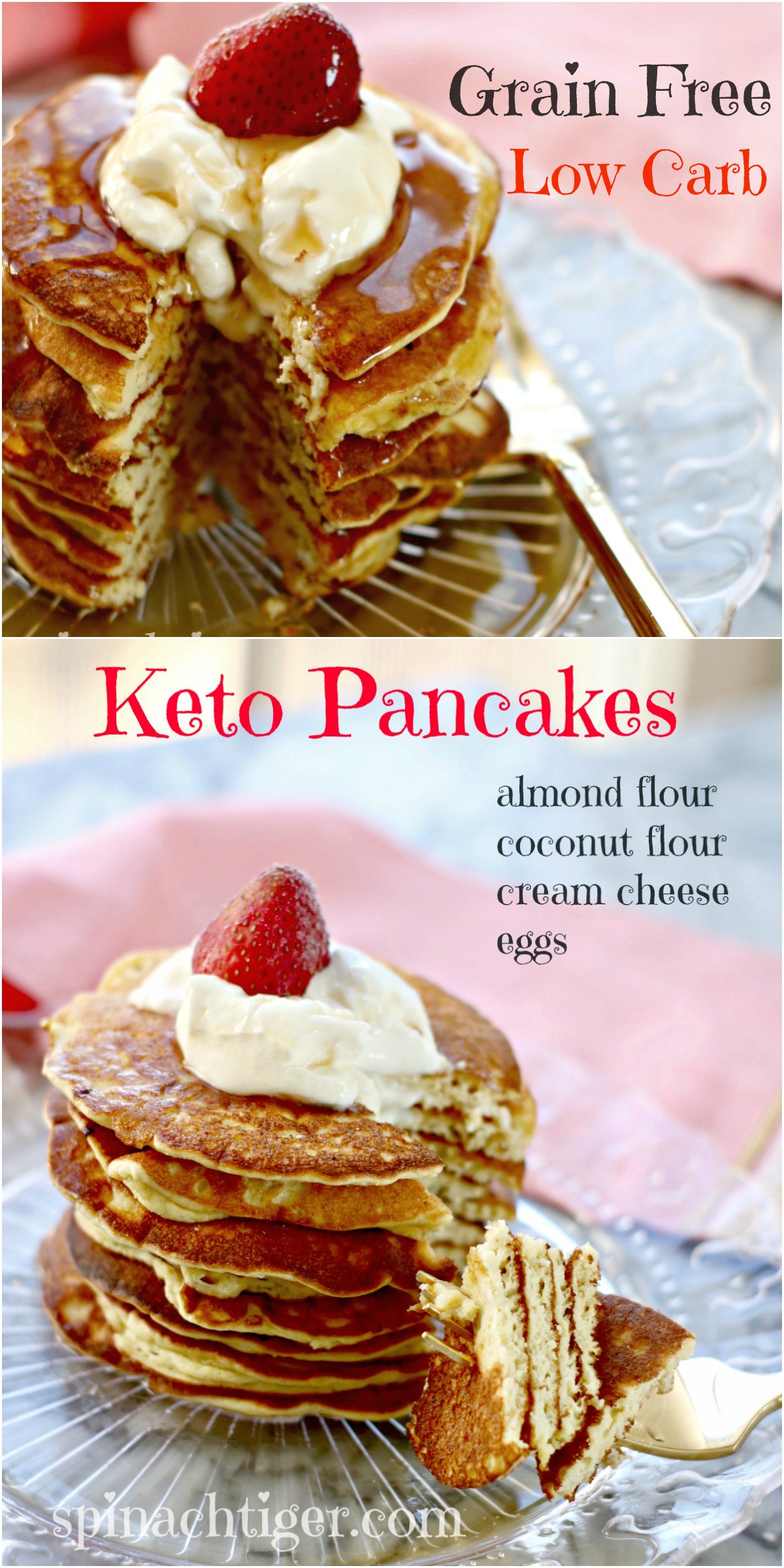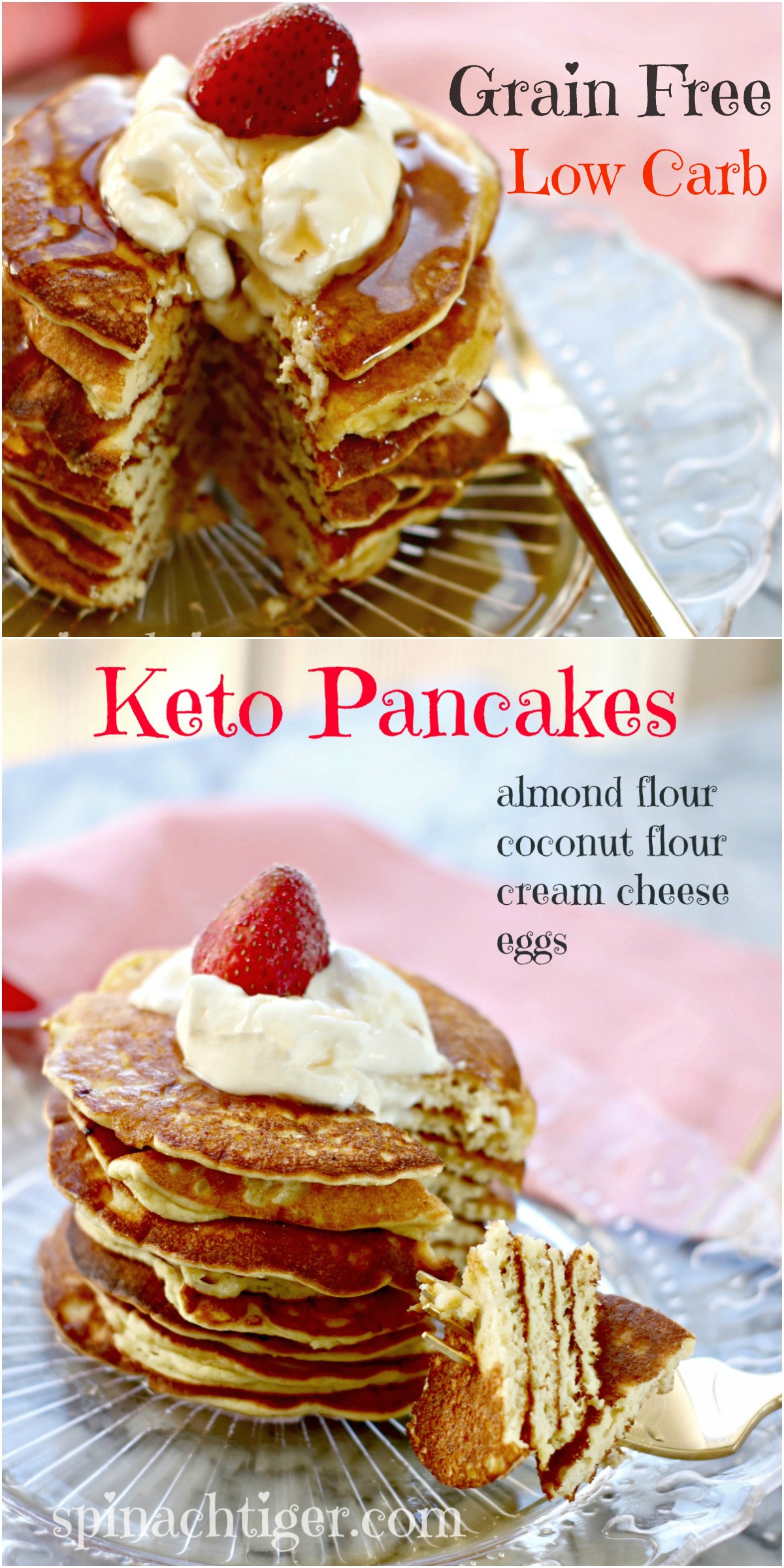 These are big fat healthy pancakes that will give you comfort food pleasure. I tried several combinations to get this good enough for Mr. Spinach Tiger to eat who is NOT on any kind of low-carb or keto program. He was the guy who ate all six batches until we decided this was it.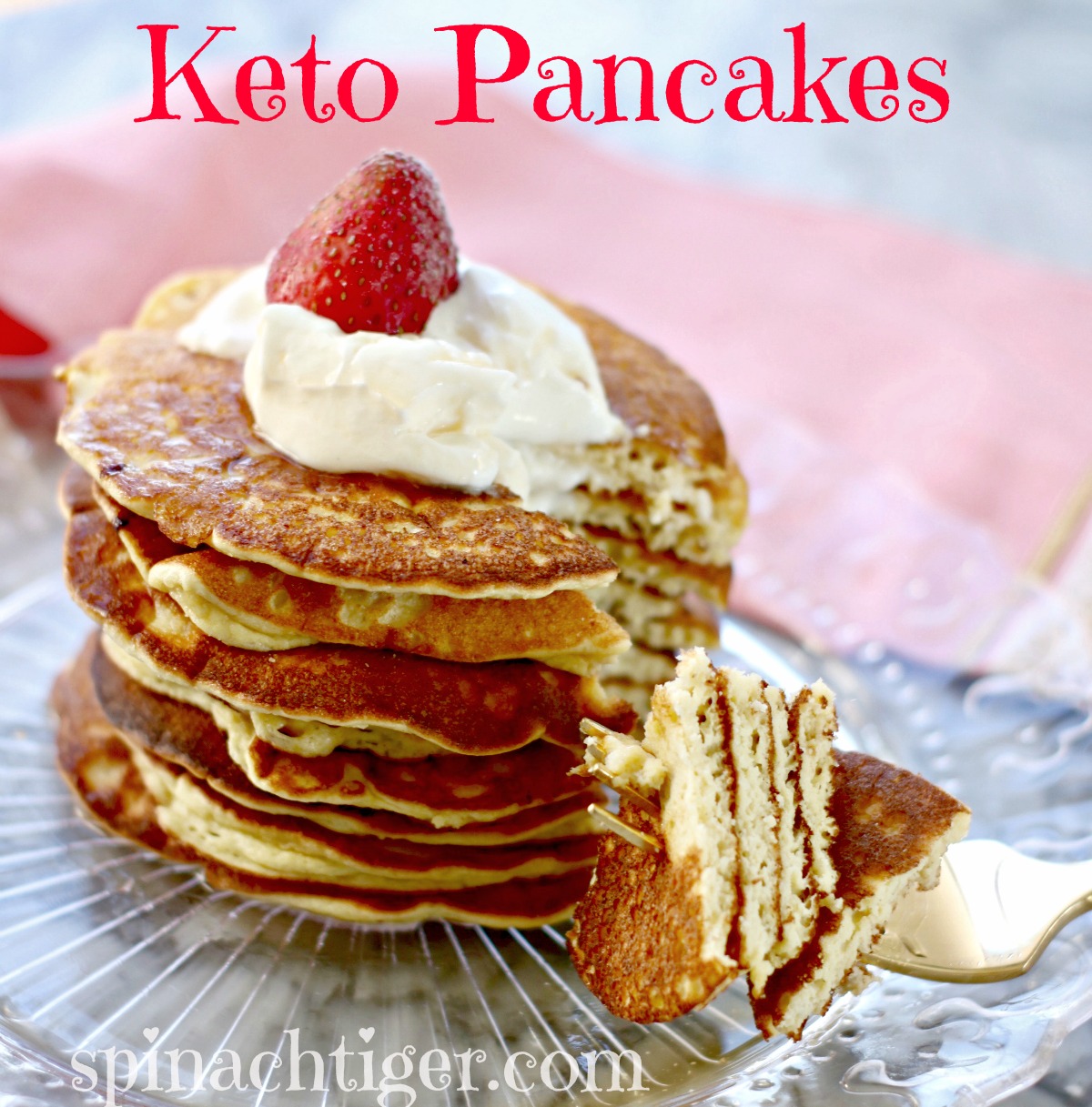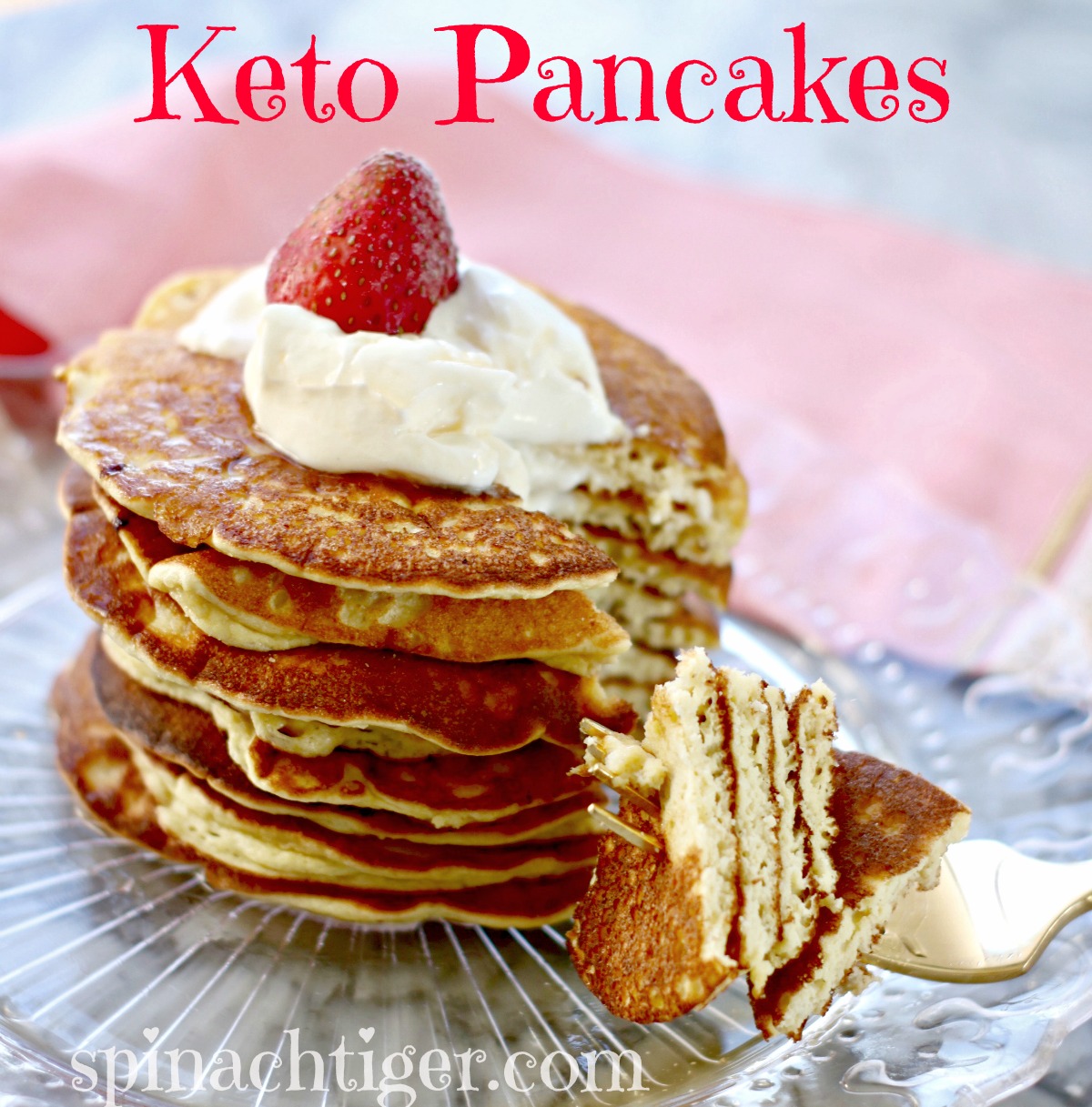 You Can Also Bake Fluffy Keto Pancakes
While I'm developing these kind of recipes for people who need breakfast on a Monday and not a leisurely Sunday, I'm thinking easy and do ahead.
I have great news for these. While you can make these on a griddle in a stack like the picture shows, I have some ground breaking news.
You Can Bake these Fluffy Keto Pancakes in a whoopie pie pan and they will be even fluffier. This way you can get a dozen pancakes all done in about 10 minutes.  How awesome is that?
Then you can freeze and use your toaster or microwave. I'll probably come back and do a separate post on this, but in the meantime, a non-stick whoopie pie sprayed with baking spray and baked at 350 F. for about 10 minutes. One side will be browned, one won't, so you can flip them over at 8 minutes and bake for about 4 more minutes if you want both sides browned. Then freeze, toast.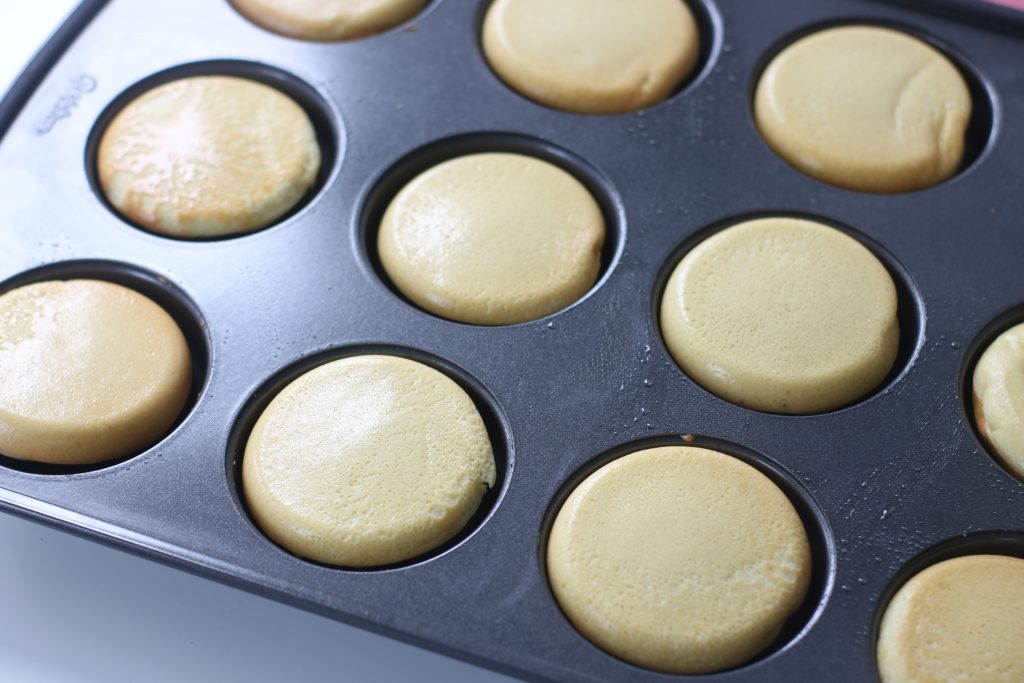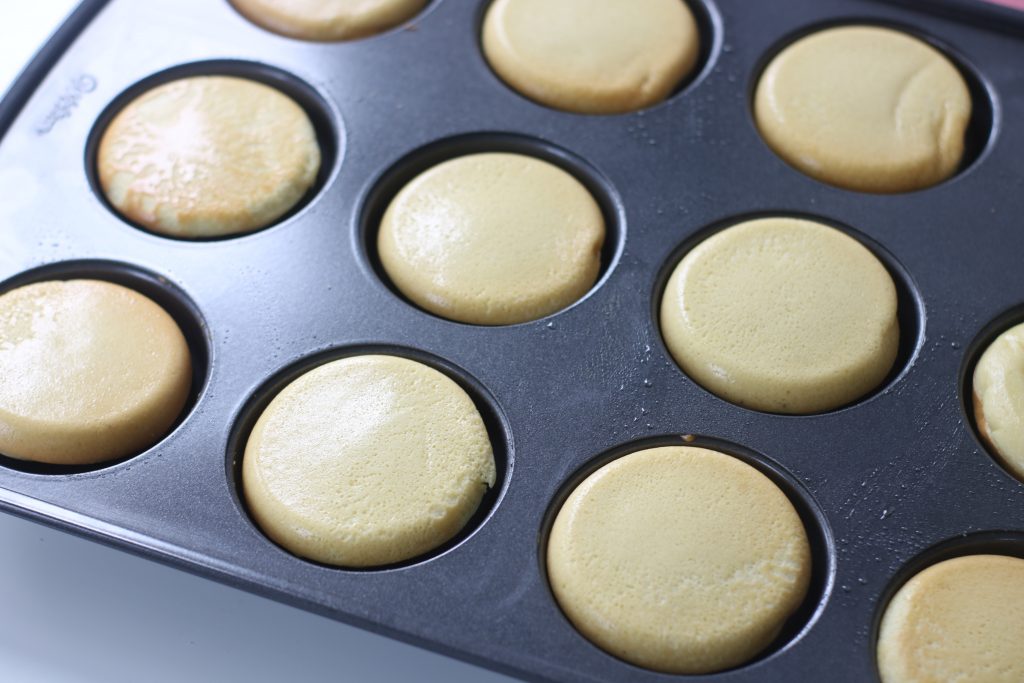 If you like this recipe, you will love my grain free biscuits (keto). I mean LOVE them. These can also be made and frozen in advance.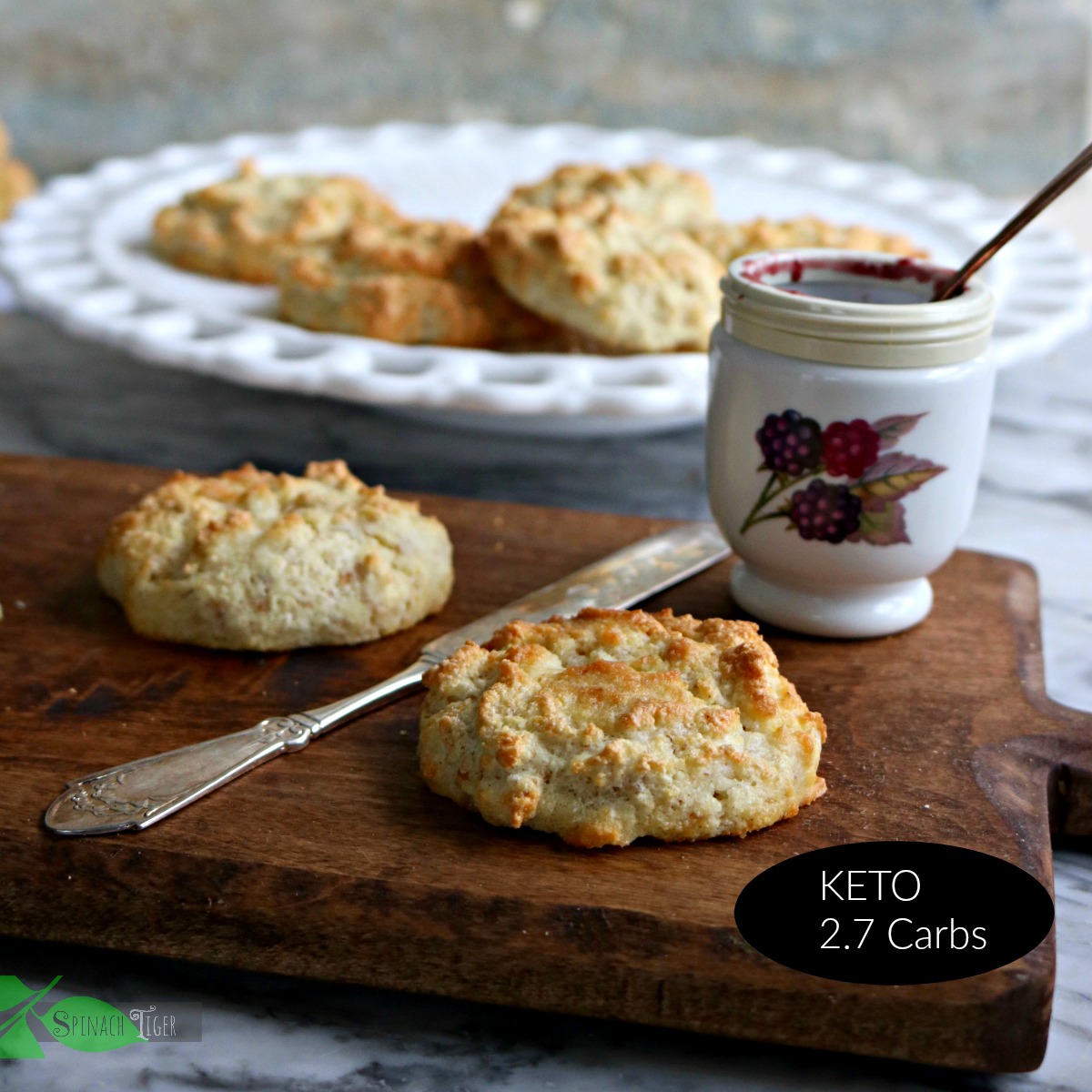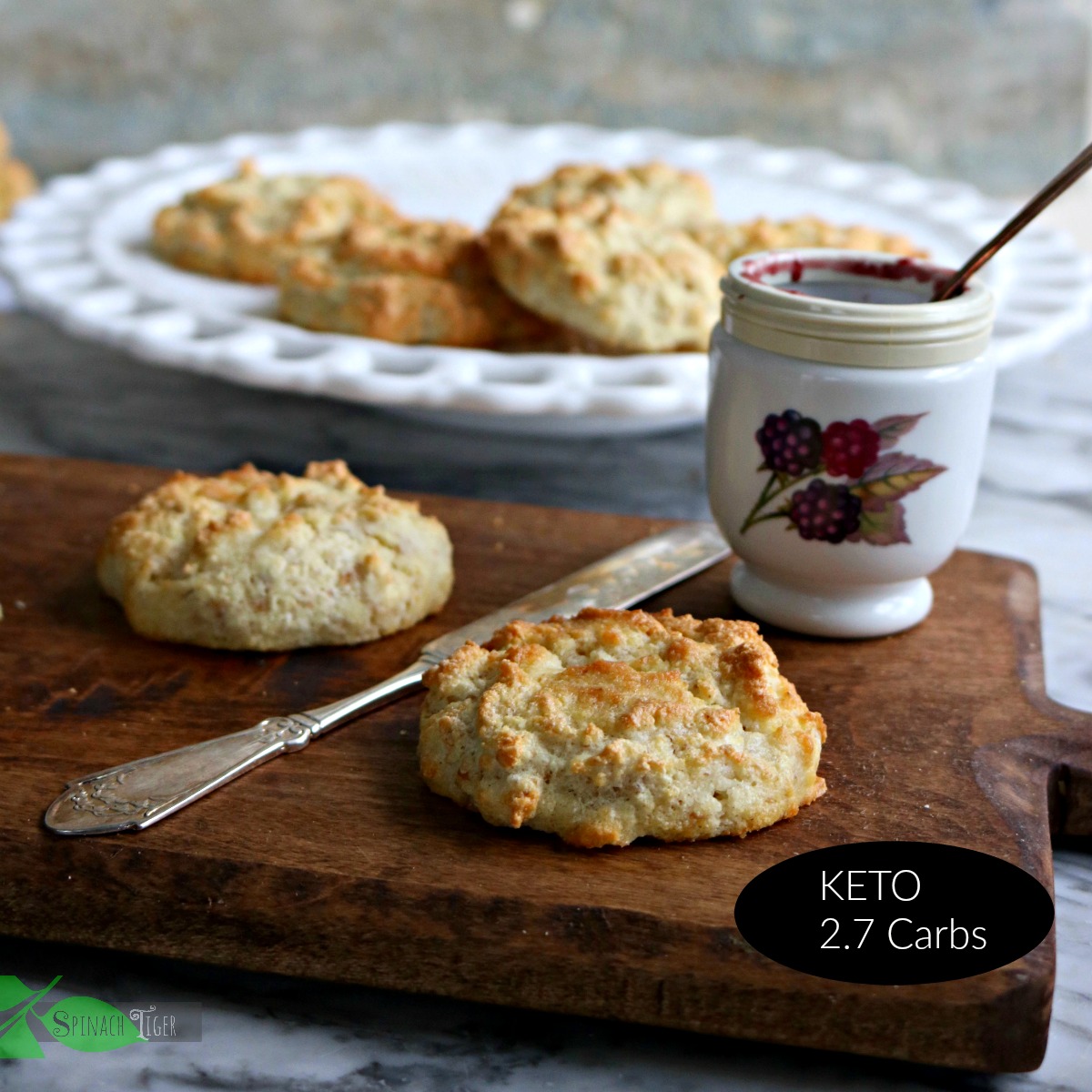 Fluffy Keto Pancakes, Grain Free, Sugar Free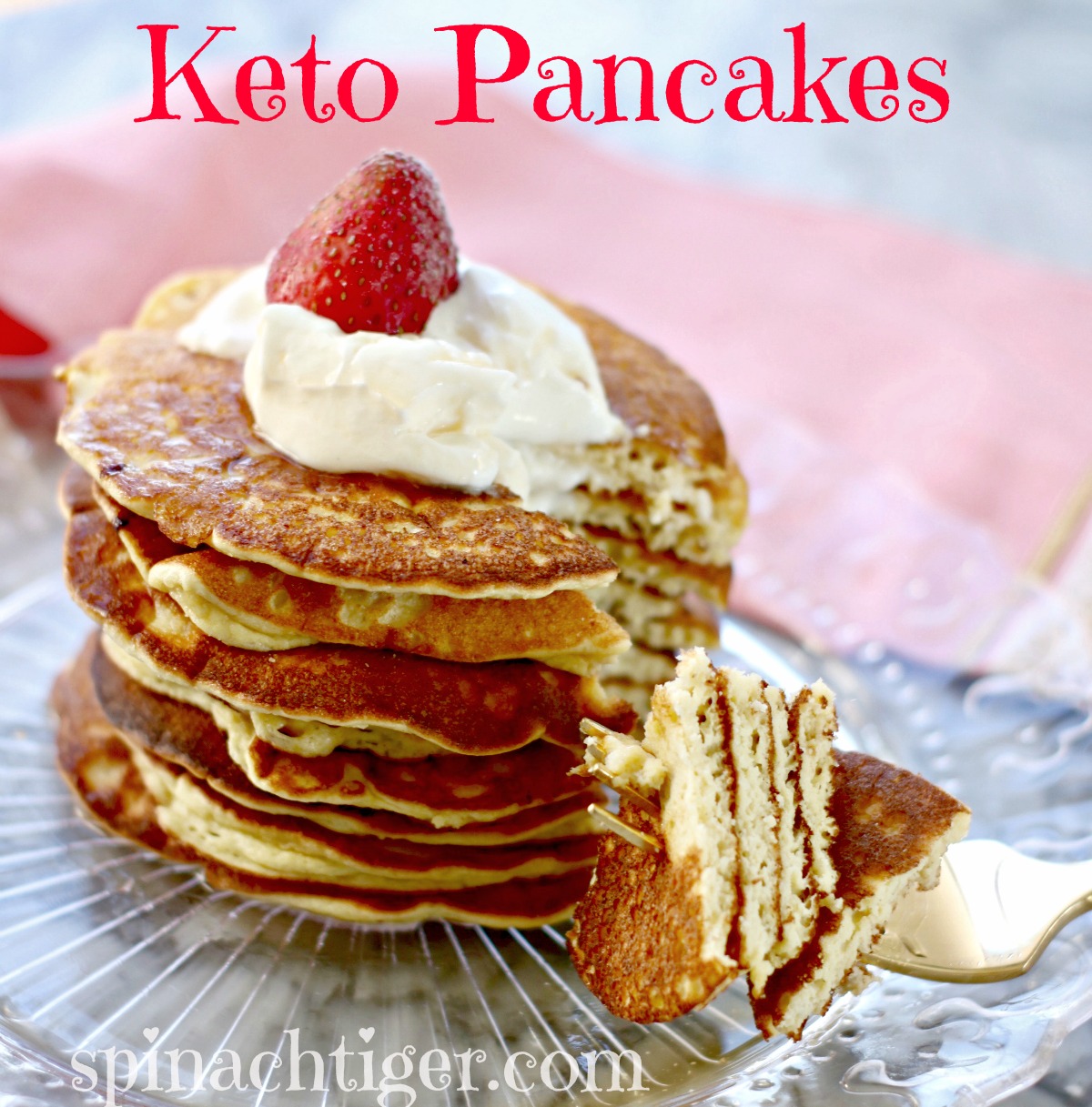 Low Carb, Keto pancakes that are fluffy and taste like the real thing.
Ingredients
⅔ cup almond flour
2 tablespoon coconut flour
1 teaspoon baking powder
4 ounces cream cheese
4 eggs
1 teaspoon vanilla
2 tablespoon swerve or to taste
½ teaspoon cinnamon to taste
⅛ teaspoon freshly ground nutmeg
Instructions
Makes 6-8 pancakes (Serving size for 2)
Mix all dry ingredients well.
Use room temperature cream cheese or microwave for 20 to 30 seconds (what I do). It has to be soft.
Once dry ingredients are mixed well, place all ingredients into a blender, and mix until completely combined.
Turn stove on to medium low.
Lightly grease your griddle (I use a cast iron griddle that has been well-seasoned) and slowly make pancakes. The key is low and slow.
Turn when the pancakes start to bubble. It's about 5 minutes per batch.
Notes
If you do decide to bake these, bake at 350 for about 8 minutes. Turn over bake another 3 or 4 minutes.

2 Net Carbs Per Pancake
Nutrition Information
Serving size:
1 of 8
Calories:
113
Fat:
9
Carbohydrates:
4
Fiber:
2
Protein:
5
This site contain affiliate links that earn a small commission and support the operation of Spinach Tiger.