Rosepepper Cantina  an all around East Nashville favorite and known for their margaritas.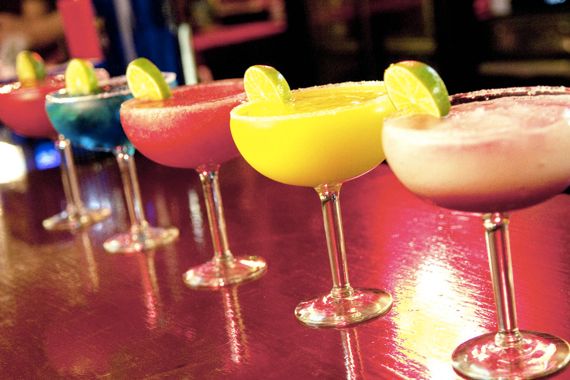 Soppapilla Fan favorite, clean, fresh take on Mexican and nice outdoor patio and winner of 2011 Toast of Music City Best Mexican. I love their fish tacos.
Sol Tag line, "It's Mexican Cuisine, not food. I agree and it's a beautiful atmosphere too. Just don't expect typical.
Cantina Loredo in the Gulch, which is always a fun place to go eat.
Taco Mamacita in Edgehill Village- Funky fusion tacos and skinny margaritas, but go for the sweet potato fries
Local Taco in Sylvan Park and Brentwood I admit I like the southern fried buttermilk chicken taco.
Baja Burrito in the Berry Hill Neighborhood. We've eaten there a zillion times. Casual
San Antonio Taco Company – Mr. ST's all time favorite. Very casual, make it your way.
La Hacienda Taqueria in Nashville. Nice owners. I did a lot of residential faux finishing for them They also have a tortilla factory next store. Authentic, tried and true.
Solario at the Opryland Hotel is off the hook.
Garcia's in Frankin (I've always enjoyed my food there.)
Chago's Cantina I just sampled the food at the Iron Fork. I say go.
Pueblo Real, my little secret cheap and wonderful place. Don't go this weekend unless you go at 4:00. They are just as crowded on Monday nights. I can't believe I'm sharing this. It's hard enough to get a seat.
Here's a Cinco De Mayo events calender for today from the Tennessean.
The cover picture featured Caribbean fish tacos from Riffs, posted here. They don't always them; but when they do, I consider them the best fish tacos in the area.
This is just a sampling of places. There are lots of great cheap taco places in the Nolensville  road area.
If you are staying home, these the best tortillas. This post will also lead to lots of taco recipes.
Have fun and keep safe. If you're going out tonight for Cinco de Maya, please take a designated driver. Warning from the Tennessee Highway Patrol : They will increase  highway traffic safety enforcement efforts on Saturday, May 5, to coincide with Cinco de Mayo celebrations. During the 24-hour holiday period, State Troopers will focus heavily on seat belt safety and DUI enforcement.
 Do you have a favorite I didn't mention? I'd love to include them.