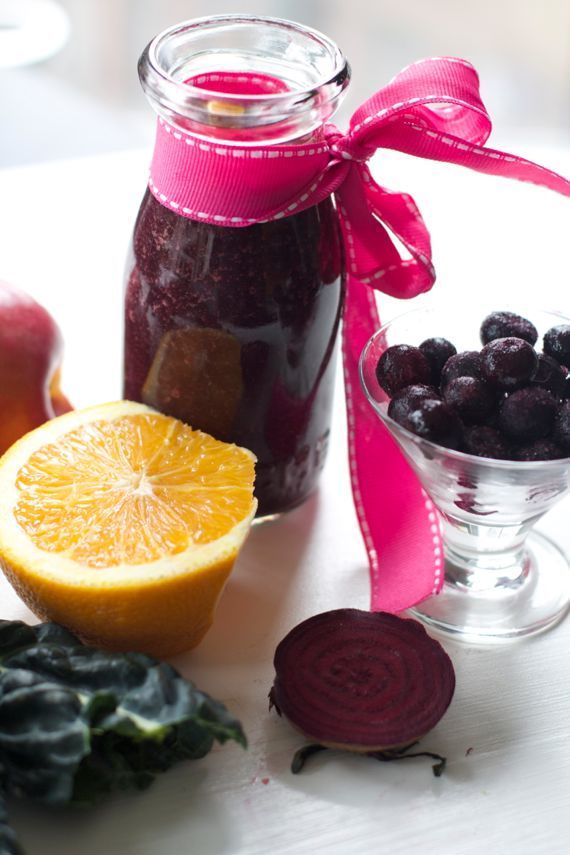 My Vitamix is truly a workhorse and a natural doctor in the kitchen. Just look at the color of this cold fighting smoothie which has blueberries, oranges, kale, apples, carrots, and even a little bit of red beet (for color). This was developed to boost the immune system of a sick child who had no appetite. The response upon the first sip, was "this is the best drink you ever made." And, he drank the whole thing.
Be sure to watch the video below.
When kids are sick, they tend to refuse food, even homemade chicken soup. This has been that kind of week and between snow days and sick days, I've had to fret over getting sick kids to eat.
That's when my Vitamix performs its magic by taking whole foods and crushing them to a delicious, icy cold refreshing drink, delivering not just nutrition but some needed quick energy.
Blueberries contained the most active antioxidants of any fresh fruit, thanks to their high levels of anthocyanins—one of the most potent antioxidants. Blueberries are also a brain food, so it's a win all the way.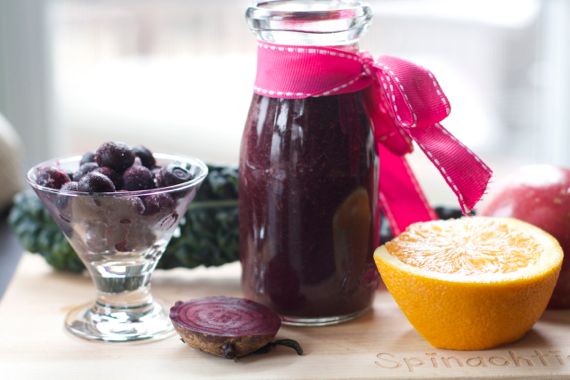 Kale helps clear congestion especially in the lungs.
Apple boosts the immune system, clears toxins through the liver, aids in diarrhea and constipation (often a part of a cold virus.)
Carrots, rich is beta-carotene (Vitamin A). Aids immune system and lungs.
Beets – Aside from these healthy benefits, beets are high in carbohydrates. When children are sick, they don't eat much, and beets can serve as energy fuel. I added a little bit of beets to this drink, more for color, as blueberries and kale together don't look appetizing and kids see their food first to decide if they want to try it.
The benefits of a cold fighting smoothie with blueberries, orange and kale are enormous, but the main thing about smoothies is that they are not all created equal. This is completely free of any dairy products which may promote mucus, and are tasty enough for someone not feeling so well to enjoy.

So tell me what kind of winter has it been at your house? This cold fighting smoothie is not just for when kids get a cold. It's a great preventative measure.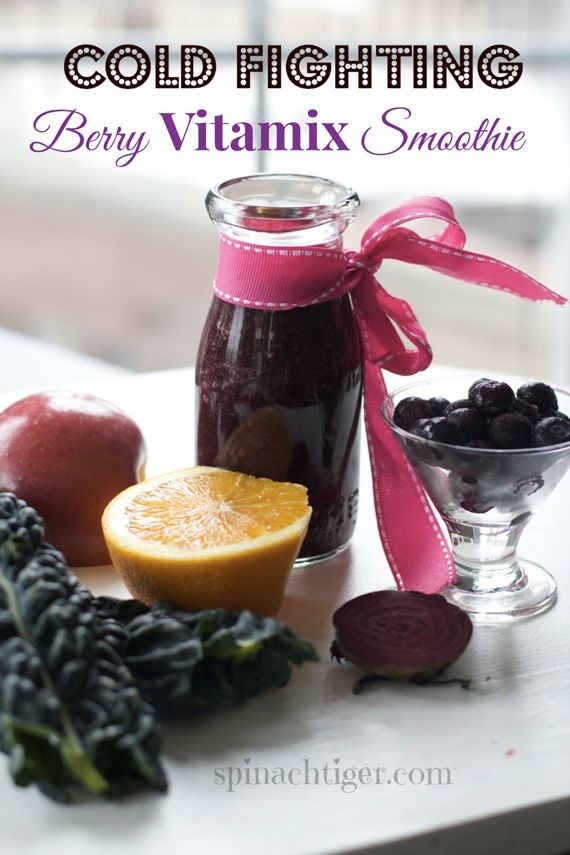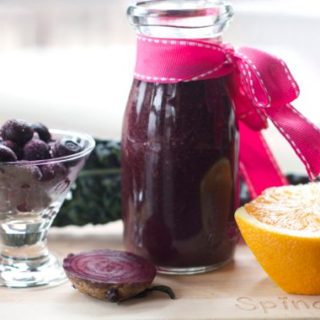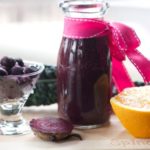 Print Recipe
Vitamix Cold Fighting Smoothie for Sick Kids with Blueberries, Orange and Kale
A smoothie made in the Vitamix with kale, blueberries and oranges, designed to boost the immune system and help with cold symptoms.
Ingredients
1

orange

peeled

1

handful kale

1

handful spinach

1

carrot

1

apple

cut in half, core and seeds removed

3

cups

of blueberries

1

small raw red beet

peeled

1/2

cup

water

1

cup

ice
Instructions
Place ingredients in Vitamix, and hit the smoothie button, or mix until all the ingredients are pulverized into a smoothie. Add more water if necessary.
Please follow me on instagram. If you make this recipe,  please tag me #spinachtiger.
If you love this recipe, please give it five stars. It means a lot. xoxo