I know today is the first day of summer, and I'm a little late bringing you my springtime version of chicken parmigiana or what we americans refer to as chicken parmesan.
Some years ago I stopped frying food (exception last week's fried squash blossoms  and, sadly, stopped making chicken parmesan. This dish evolved from the original veal parmigiana that was crumbled with Parma ham, originating in the town of Parma. Eventually, the popularity of the dish spread, and evolved to include tomatoes and cheese and became interchangeable with veal.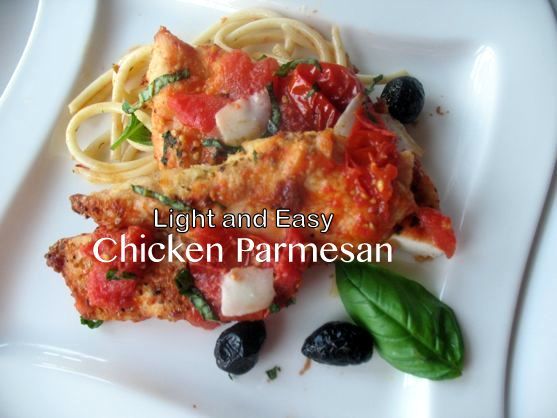 Just for you food history buffs, it's not called chicken parmesan because it's made with parmesan cheese. Like it's veal counterpart, and parmesan cheese, it is named for the town of Parma, where it originated.
Cheese was not part of the original recipe 400 years ago and I'm not including it either. I had the grape tomatoes on hand and thought a roasted tomato salsa would be delicious. I hardly open a can of tomatoes for any dish throughout spring and summer, and we go a little tomato crazy around here.
You can do a quick saute on top of the stove, or you can simply grill the chicken breasts. It's really hot here this week, and as I'm writing I'm thinking, you might want to also pop those tomatoes on the grill. I think skewering them may work just fine.
This can be tomorrow's sandwich or placed in a salad or served with pasta.

A lighter, lower calorie version of chicken parmesan
Ingredients
4 boneless chicken breasts, pounded thin
olive oil
2 tablespoons flour
parsley
sea salt
Instructions
Pound chicken breasts between two pieces of plastic.
Add salt and pepper, chopped parsley to flour.
Dredge chicken in flour, and saute in olive oil on medium low heat, about 5 minutes each side or until done.
See NOTES for Roasted Tomatoes
Notes
ROASTED TOMATOES Grape or Cherry Tomatoes (If you are using regular tomatoes, quarter Preheat oven to 375 Toss tomatoes with olive oil, salt, pepper Roast in shallow pan, do not layer on top of each other, spread evenlyRoast 30-45 minutes until soft