Vodka sauce with penne pasta,  known as Penne alla vodka,  is not a centuries old Italian recipe brought over on the boat. We never ate this growing up, and Italians are not typically at the ready with a vodka bottle in hand anywhere near their precious tomato sauce.
It's till being debated on how this recipe was developed, as there are both Italians and Americans who stake claim to the recipe. The Williams Sonoma cookbook states that it was created by an Italian chef in Rome who made it for a vodka company wishing to promote vodka in Italy. That makes the most sense to me, as the onion and short cooking time reminds me of another famous Italian red sauce that Rome is known for.
It may be hard to believe that this is my first time making vodka sauce yet it's been on my 2013 white board all year. I have a board with dishes I want to feature on Spinach Tiger, and I wanted to make vodka sauce. It has fallen out of favor in today's culinary world but I have a thing for retro food, and it's time to breathe some life back into it, in case you weren't around in the 80's when it was on every Italian menu in the States.
Amanda of Dancing Veggies  has vodka sauce on her blog, and I was reinspired to give it a go when I was assigned her blog to choose a dish to cook from for the Secret Recipe Club. Each month, we are assigned to select a recipe from a another food blogger and then we all reveal on the same day. If you see the links below you will see all the participants.
Amanda is a young newlywed who admirably taught herself to cook when her mother told her if she wanted something different, she'd have to cook it herself. She was a teen then, and set out to make food taste good for her own taste buds. My kind of girl, and maybe more moms should do this or whatever it takes to get children and teens to cook in the kitchen. You all know how passionate I am about that.
I didn't follow her recipe exactly. Amanda used fresh tomatoes because she had far too many in her garden. She uses yogurt and , while I think that's a brilliant idea, as there area few good Indian dishes that combine yogurt with tomato sauces, I chose heavy cream and added in a bit of butter in addition to the olive oil. While you'll probably never see me eat a krispy kream donut, I'm a bit old school when it comes to butter and cream as both can smooth out a tomato sauce. I admit to also being a little heavy handed with the vodka both in and out of the sauce. Shhhh.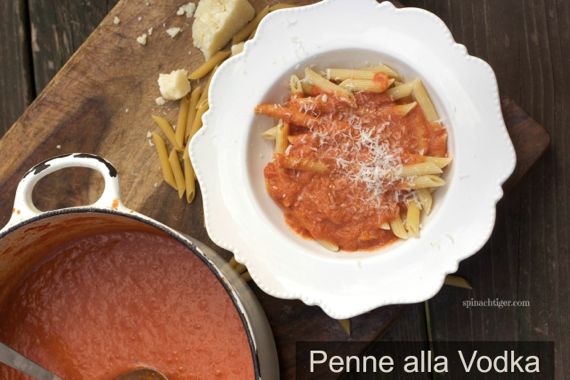 Penne Pasta is the typical pasta used to hold the thick creamy sauce, but I had vodka sauce on pizza last year in Memphis,  and it was quite memorable.  I still come from the camp that believes butter and cream are good ingredients to cook with and much healthier than anything jarred, canned, or processed. Of course, the tomatoes were San Marzano certified, as that is where I do my budget splurging. I hope you can find the irony in that I used it for some spaghetti squash for a light dinner last week and I do encourage you to use your creativity. Penne pasta is just the start of the places vodka sauce can travel.

Secret Recipe Club December
Vodka Tomato cream sauce with penne pasta 1 tsp fresh parsley 1 tbsp fresh basil 2 tbsp greek yogurt (coconut or cow - soy tends to give a bad aftertaste)
Ingredients
2 tablespoons olive oil
2 tablespoons butter
2 cloves garlic, minced
1 onion diced
2 32 ounce cans whole San Marzano tomatoes
½ cup vodka
handful fresh parsley
few fresh basil leaves (if you have it, don't use dried)
1 cup heavy cream
1 cup parmesan cheese, freshly grated
½ teaspoon crushed red pepper
1 pound of penne pasta
Instructions
Heat olive oil in sauce pan. Put in onion and garlic until onion is softened, but don't let garlic burn.
Chop tomatoes and add tomatoes and juice into pot.
Add in fresh herbs such as parsley and basil (remove later)
Cook for twenty minutes.
Add in vodka and cream.
Stir, simmering on low for twenty more minutes.
Stir in a ¼ cup freshly grated parmesan cheese
Add in crushed red pepper
Cook pasta to a few minutes before pasta is done.
Drain pasta reserving ⅓ cup of pasta water.
Add pasta to sauce. You might also add in pasta water if needed.
Finish cooking pasta in the sauce.
Serve with more parmesan cheese