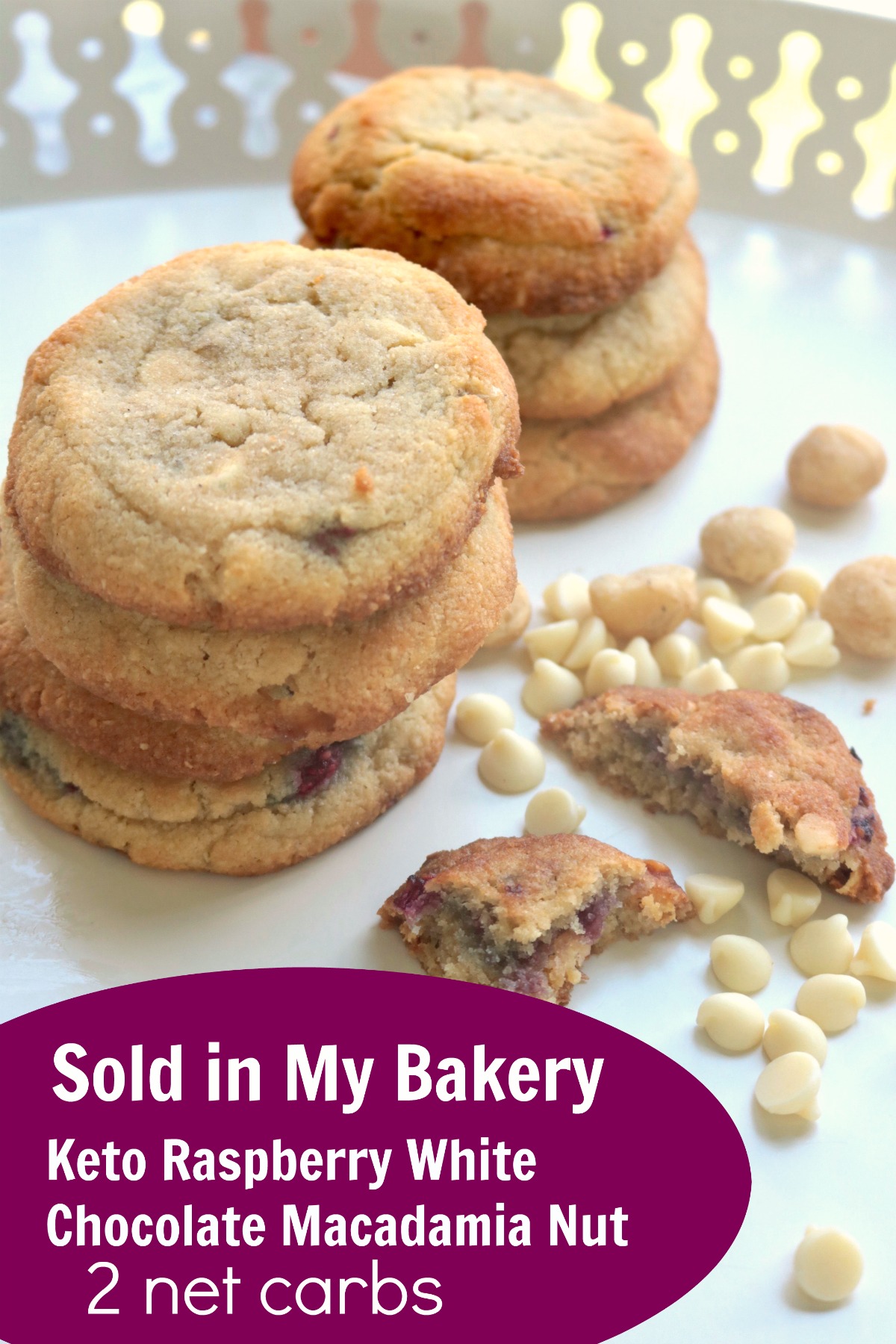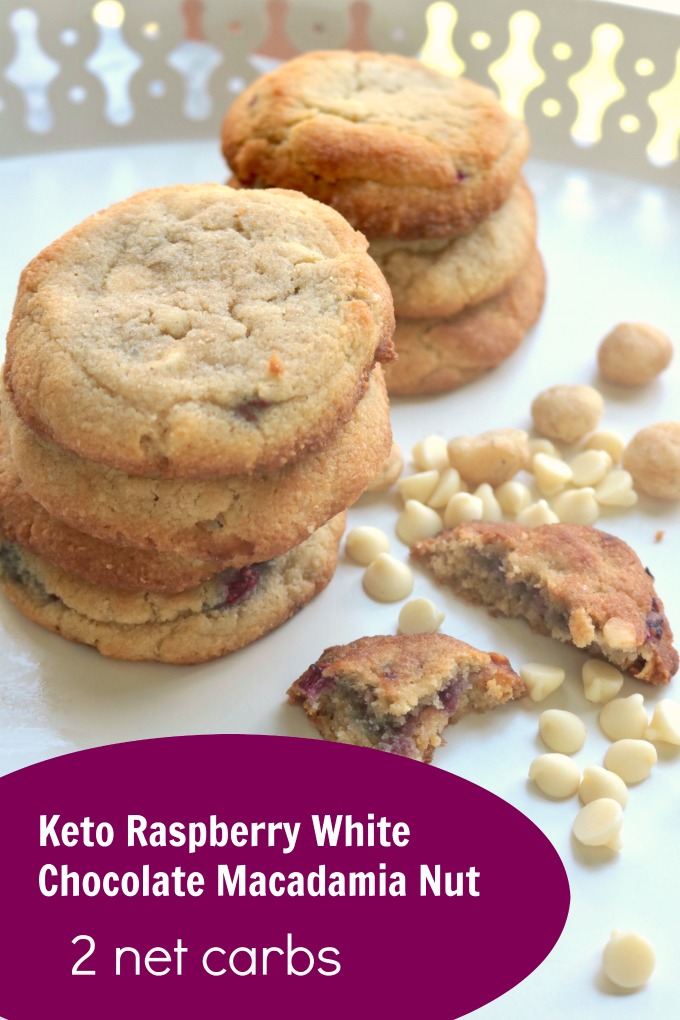 Keto white chocolate raspberry macadamia nut cookies are my favorite grain free cookies. You get the sweet from the chocolate, the tart from the raspberry and the salty from the macadamia nut cookies.
This was inspired by this white chocolate raspberry bundt cake that people love in my bakery.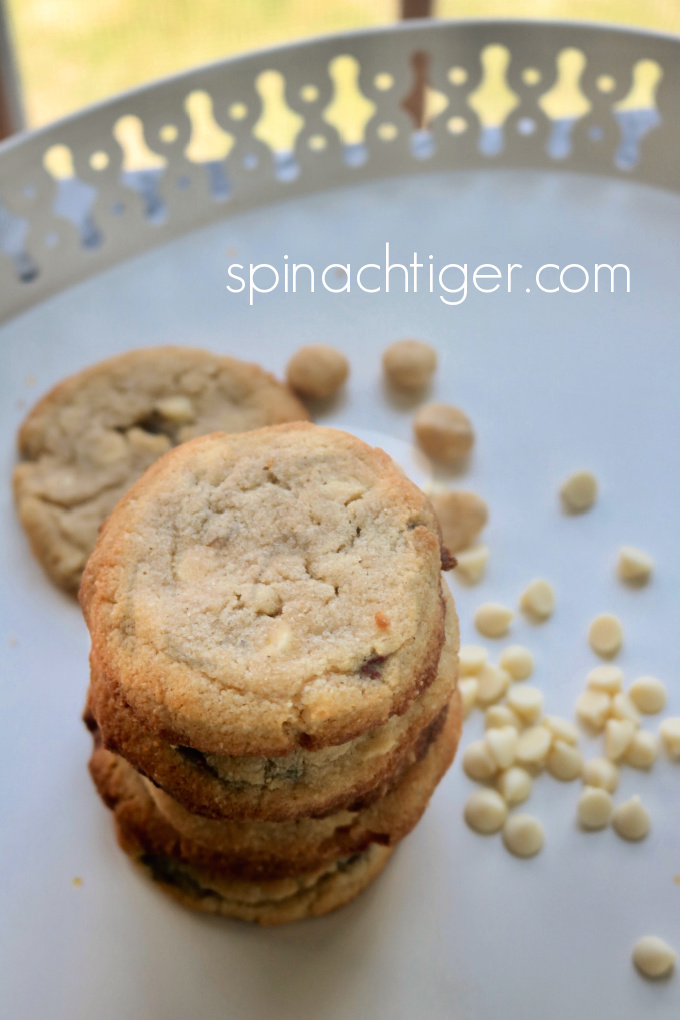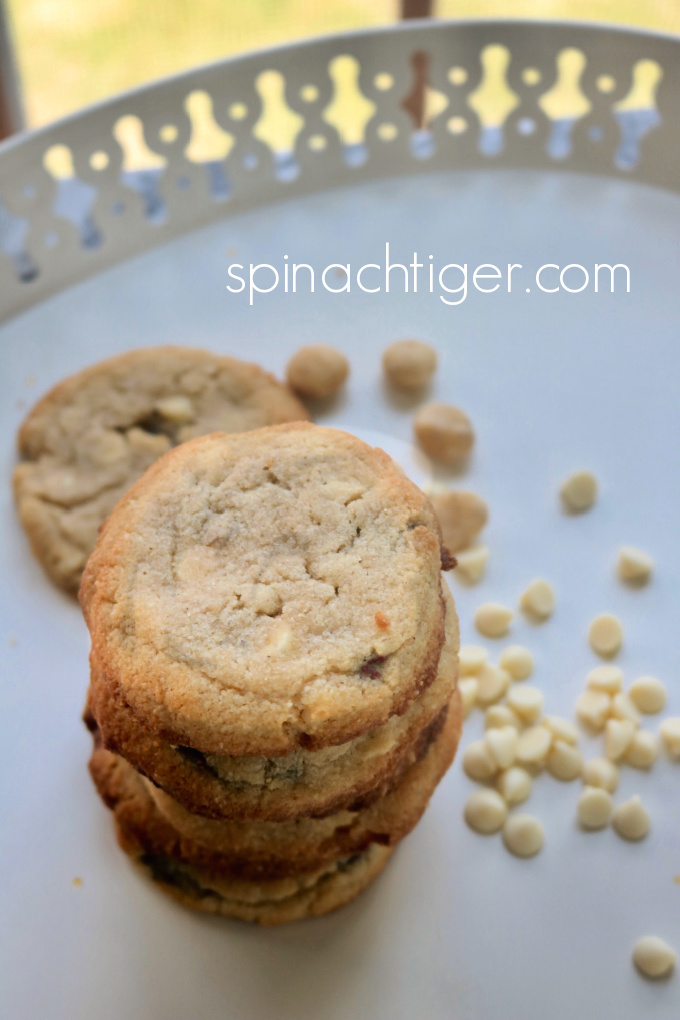 These are sold in my home keto bakery in the Nashville area and they are absolutely delicious, with a chewy texture and are only 1 net carb per cookie.
I am so happy with this recipe because it hits all my cookie notes.
This is a good time to introduce you to Spinach Tiger if you're new here. I have been writing this food blog since 2009. By sheer accident, I started a home bakery in 2019. The recipes grew out of the work on the blog, as I have evolved to a strict sugar free diet. You will still find some regular sugar/wheat recipes here, but the newer recipes lean to grain free/sugar free.
I didn't start out as a baker, as I lean heavily to savory food and have always considered myself more of a home cook than a baker. However, the more I baked, the more I liked the science of it and the pleasure baking brings to people.
These cookies were a labor of love, in that it took some time to find that right mix of almond flour, coconut flur and a few secret ingredients to get the chewy texture I was looking for.
There more good news on the these keto white chocolate raspberry cookies. You can make blondies with this recipe by adding one more egg.
How do I get a Chewy Cookie?
The secret to a chewy cookie is found two ways. Brown sugar which contains molasses will yield a chewier cookie. So will the addition of gelatin powder. I use a tablespoon of gelatin powder in my recipe and this yields that chewy texture I was looking for.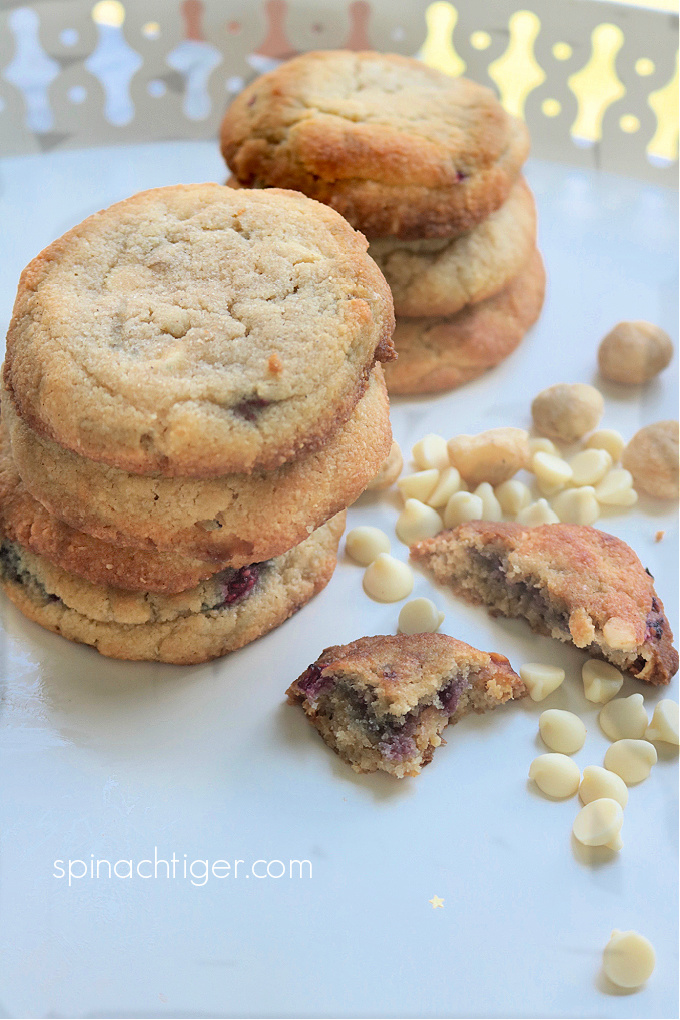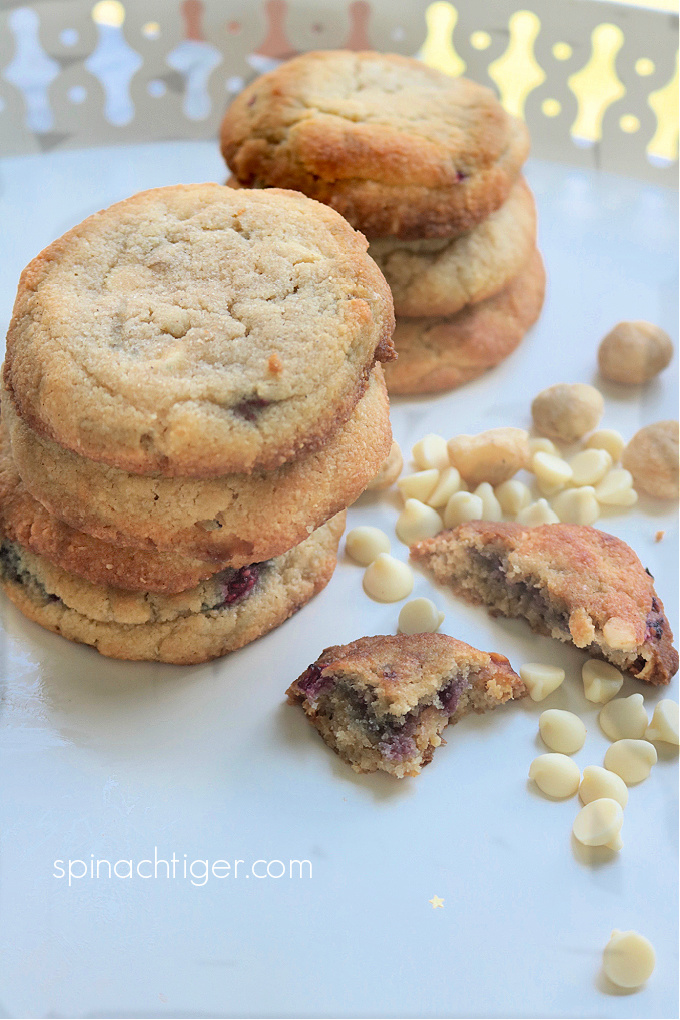 What are the best sugar free White Chocolate Chips?
I love the Choc Zero brand, which I am an affiliate. You can save 10% by using code: SPINACHTIGER. They taste just the way white chocolate chips should taste and work beautifully in the cookies.
What kind of raspberries do you use for a Keto white chocolate raspberry macadamia nut cookie?
I use frozen raspberries from a brand that packs whole raspberries. Not all frozen raspberries are the same. I like Publix Greenwise brand because they are packed as whole and not mushy. I use one raspberry per cookie.
How do you fill white chocolate raspberries?
This is a great question. Do NOT add raspberries to the dough. Divide each dough of the cookie into two. flatten slightly and place the raspberry between the two pieces and pinch together around the edges. This works so well. If you add the raspberries to the dough, you will end up with purple cookies as they bake.
Questions for Keto White Chocolate Raspberry Macadamia Nut Cookies?
Why are my cookies purple? You mixed the raspberries in the dough. You have to put the raspberry in the middle.
How coarse do you chop the macadamia nuts? Macadamia nuts are not easy to chop and you will end up with some very small pieces, even using this wonderful nut chopper from Amazon that I use in the bakery. That's okay because its the crunchy saltiness of the nut that gives this cookie its great flavor.
What kind of Macadamia nuts do you use? I used roasted, salted. This adds to the flavor.
What if my raspberries aren't whole when I open bag? Use a small spoon and add about a half teaspoon of the chopped raspberry to the middle as explained above.
Can these cookies be frozen? I find the best way to make these cookies in the bakery is to shape and freeze in stacks prior to baking. HOWEVER, I bake them only chilled, not frozen. Freezing after baking is okay.
How big are these cookies? I'm most interested in how many grams are in the cookies. These are 55 grams and about a half inch high unbaked. You can make your cookies bigger or smaller.
Is this cookie gluten free? Yes, it contains almond flour and coconut flour and no wheat or gluten.
What is Swerve? Swerve is a brand name for powdered erythritol. It's my sweetener of choice and you can read here why I use it and more about it.
What are the macros for this keto white chocolate raspberry macadamia nut cookie?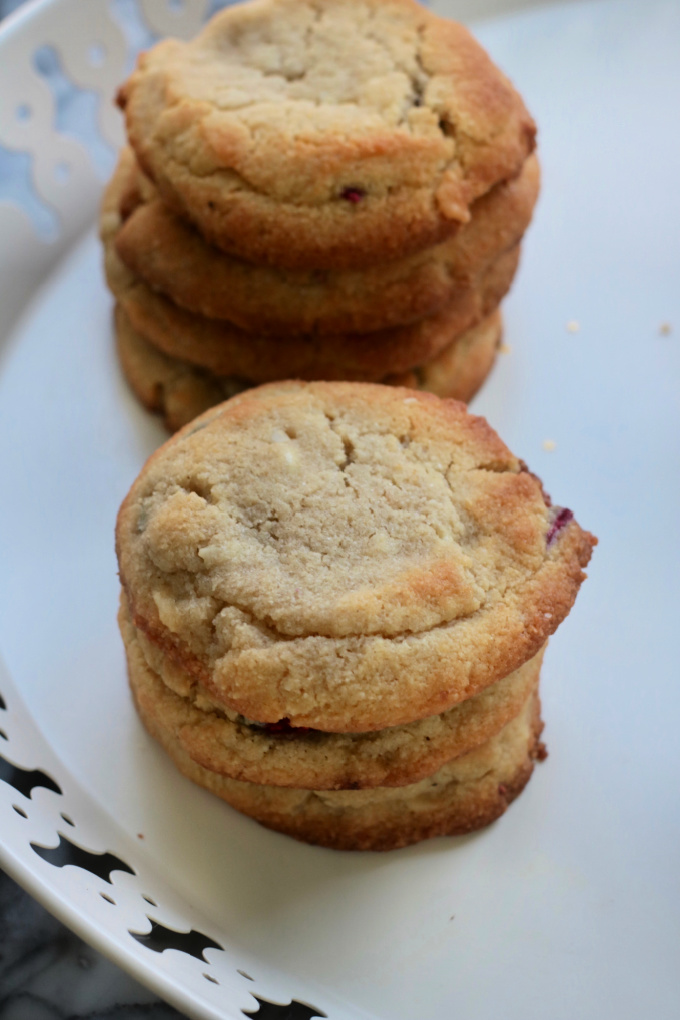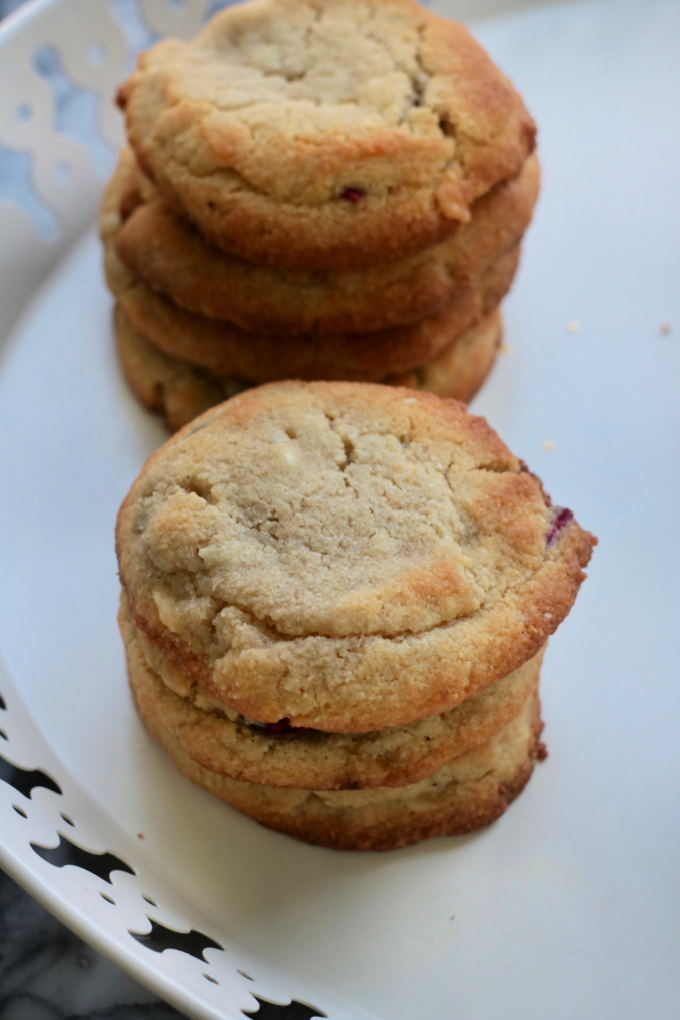 Net Carbs: 2 Calories: Fat:
If you are local to Nashville check out our Keto Bakery.
More Grain Free Keto Friendly Cookies from Spinach Tiger
Keto Coconut Flour Ricotta Cookies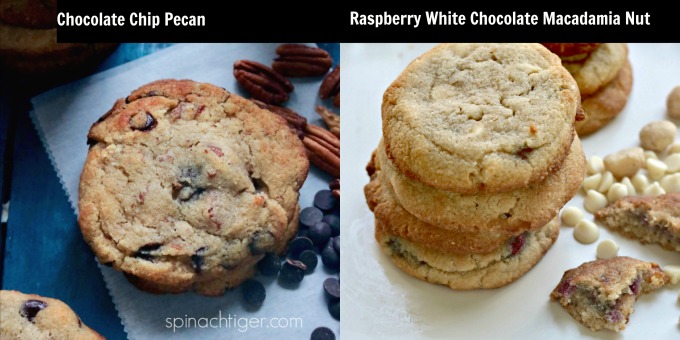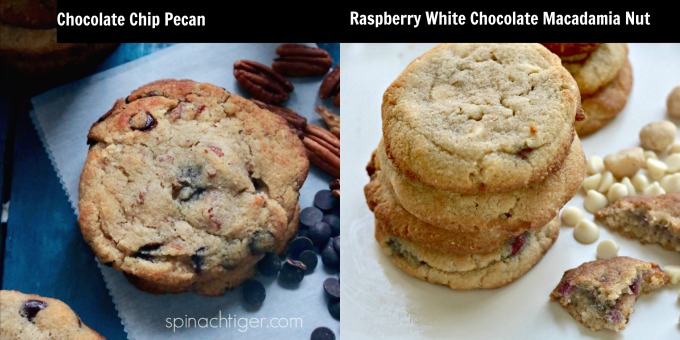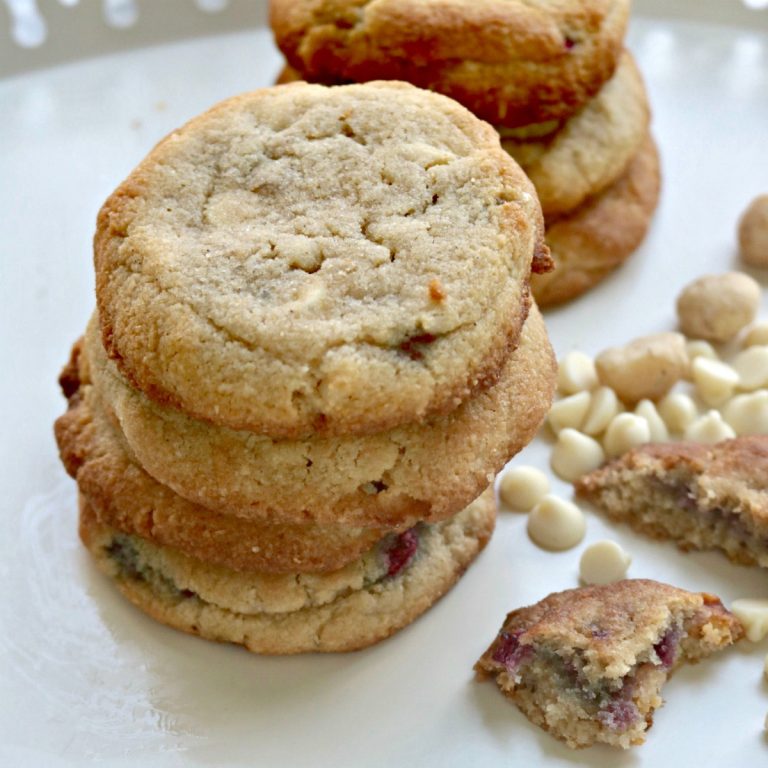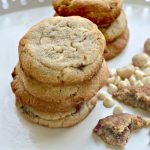 Print Recipe
Keto White Chocolate Raspberry Macadamia Nut Cookies
Keto Grain Free Cookies with white chocolate chips, raspberries, macadamia nuts, chewy and soft and only 2 net carbs.
Instructions
Dry Ingredient Instructions
Mix all dry ingredients together except the Swerve (erythritol).
Wet Ingredients Instructions
Beat butter with sweetener for a full five minutes.
Assemble
Add dry ingredients to the wet ingredients. Mix gently until just mixed. Don't overmix.

Fold in nuts and white chocolate chips.

Divide cookie dough into 12 balls. Divide each of these into two pieces and place raspberry in middle. Top with second piece. Flatten gently and close up edges

Shape and flatten to about 1/2 inch thick. Chill cookies. This is an important step. I stick in freezer for 15 minutes. I place on parchment paper or silpat and place into freezer. Then transfer that onto a baking sheet.

Bake at 325 degrees F. in convection oven or 350 on bake mode for approximately 13 minutes. Allow cookies to cool for at least 30 minutes up to an hour before moving. They will continue to harden as they cool, but will be very soft coming out of the oven.
Notes
Raspberries: I use whole frozen raspberries. You could use fresh if you choose. 
Nutrition
Please follow me on instagram. If you make this recipe,  please tag me #spinachtiger.
If you love this recipe, please give it five stars. It means a lot. xoxo