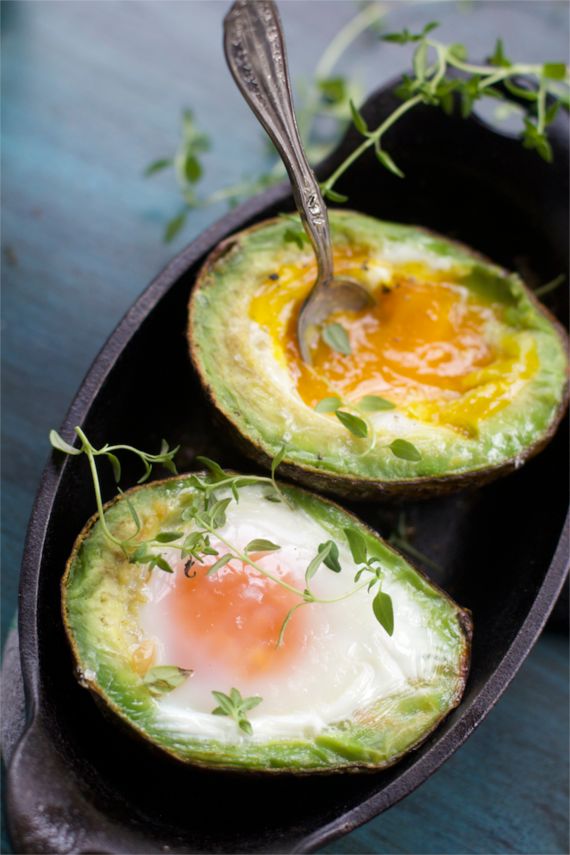 If you love avocados and if you love runny eggs, this may be your perfect breakfast. You will see this on a lot of blogs so I had to make it just a little more special. I added some lime hollandaise, which is just an option for a weekend brunch, but this is also good all bit itself.
Loaded with nutrition in the form of the good fat, the avocado is everything the body loves. Put an egg inside and bake and it's dreamy, creamy and protein loaded goodness. Honestly after my first bite, I wondered why this isn't normal breakfast fare everywhere.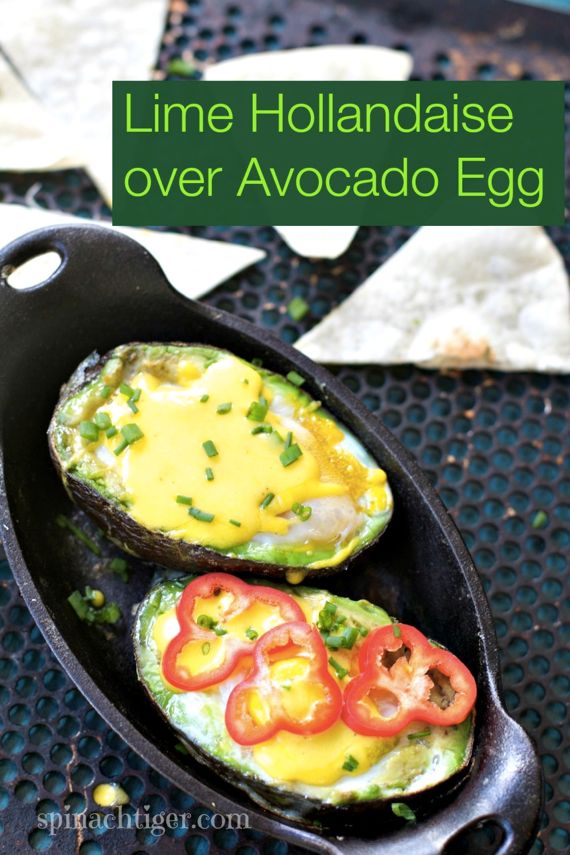 For about 310 calories (without that lovely hollandaise), you can go several hours without feeling a pinch of hunger and your body is happy. The fat in the avocado and the protein in the egg will keep your body running all the way to lunch time. You can scoop up the creaminess with some fried tortilla triangles.
I chose the Avocado Egg for the Secret Recipe Club because I've never made it before. In truth, I thought it wouldn't be good because a warmed avocado just sounds wrong. But it was so tasty,  and now I want it again. It may almost seem like cheating to do such a quick recipe for the SRC, but the idea is to get excited about a recipe I've not had before. I was assigned Cook Lisa Cook and as soon as I saw this I made it immediately. Right time, right ingredients kind of thing. I almost made Lisa's Hasselback potatoes with garlic sour cream until I saw the avocado egg. Lisa has a lot of interesting recipes but these were the two I was most drawn to.
To put my own twist on it I topped the avocado baked eggs with some lime Hollandaise sauce. Wow this was so good. I grilled some Tortilla Land tortillas and cut them into triangles to use to spread all this wonderful creaminess on. I love the Tortilla Land tortillas, as they are sold raw and are made in 30 seconds on top of the stove.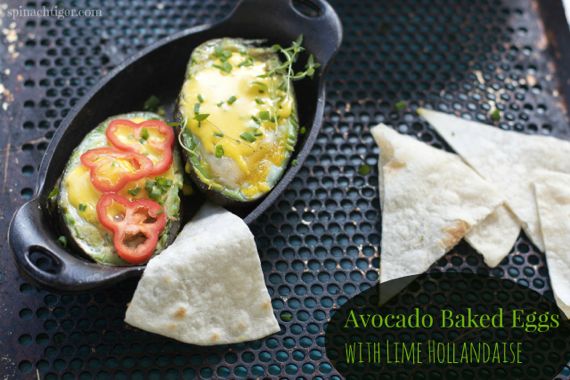 This was my first time making hollandaise sauce, and I was quite surprised how perfect it came out, using my Vitamix. I was unsure if lime would work as well as lemon, but it was an amazing pairing with the avocado. If you're afraid to make Hollandaise, try this blender method. It works so well in avoiding the dreaded separation. The sauce was smooth, rich and zesty.
So next weekend, bake some eggs in your avocados, and have a  Bloody Mary. Happy Brunch.

Baked Avocado Egg with Lime Hollandaise
Prep time:
Cook time:
Total time:
Egg baked inside avocado for a good fat great protein breakfast with an option of lime hollandaise sauce.
Ingredients
2 avocado
4 small eggs
fresh herbs such as dill, thyme, cilantro
salt and pepper
Lime Hollandaise Sauce
4 egg yolks
6 tablespoons butter
¼ teaspoons salt
juice of one lime
Instructions
Preheat oven to 450 degrees F.
Slice avocado lengthwise.
Remove seed.
Scoop out enough of the inside to fit the egg in. This could be tricky. I used very small eggs. Set aside the avocado for another use.
Place egg inside avocado. Place in baking sheet or pan.
Bake anywhere from 10 to 15 minutes until the egg is done. I had to bake extra long as my eggs were very cold. It's a good idea to use room temperature eggs.
Make hollandaise sauce while eggs are in oven.
Lime Hollandaise Sauce
Blend egg yolks, salt, lime juice in blender or Vitamix.
In a double boiler or a stainless steel bowl over simmering water, slowly melt butter.
Trickle the butter into the egg mixture while on very low speed. Return the mixture to the double boiler and whisk over low simmering water until the sauce is the consistency you want.
Loading InLinkz ...