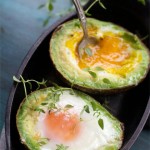 Print Recipe
Baked Avocado Egg with Lime Hollandaise
Egg baked inside avocado for a good fat great protein breakfast with an option of lime hollandaise sauce.
2

avocado

4

small eggs

fresh herbs such as dill

thyme, cilantro

salt and pepper
Lime Hollandaise Sauce
4

egg yolks

6

tablespoons

butter

1/4

teaspoons

salt

juice of one lime
Preheat oven to 450 degrees F.

Slice avocado lengthwise.

Remove seed.

Scoop out enough of the inside to fit the egg in. This could be tricky. I used very small eggs. Set aside the avocado for another use.

Place egg inside avocado. Place in baking sheet or pan.

Bake anywhere from 10 to 15 minutes until the egg is done. I had to bake extra long as my eggs were very cold. It's a good idea to use room temperature eggs.

Make hollandaise sauce while eggs are in oven.
Lime Hollandaise Sauce
Blend egg yolks, salt, lime juice in blender or Vitamix.

In a double boiler or a stainless steel bowl over simmering water, slowly melt butter.

Trickle the butter into the egg mixture while on very low speed. Return the mixture to the double boiler and whisk over low simmering water until the sauce is the consistency you want.