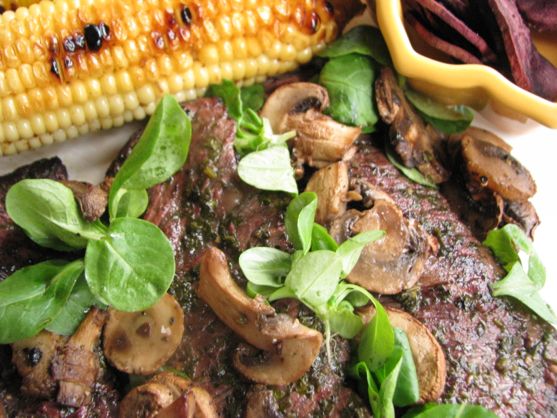 I am a little different in that I don't like too many marinades, at least the kind that call for soy sauce, heavy garlic, vinegar, etc. But, I saw a chimichurri marinade/sauce at a gourmet food shop, the color and beauty intrigued me. The jar proudly displayed a bright, grassy green mixture that was obviously parsley dredged in olive oil. Reading the label, I saw garlic, lemon juice, vinegar.
I have a hard time purchasing pre-made marinades. They are always too too! Too much garlic, and too much msg or sodium or something I can't pronounce. So taking a quick look at the ingredients, I decided to make my own chimichurri.
Chimichurri is an Argentinian sauce made mainly of parsley, olive oil, garlic, vinegar and lemon juice. After perusing several recipes, I set out to make my chimichurri based on my own personal taste….almost.
I need to back up a bit and tell you why I needed a marinade to begin with. I have crossed over into skirt steak territory, which is very foreign to me. Skirt steak is not something I typically purchase, cook or eat, at least not until now. I usually go for T-bone, filet mignon, or rib eye steak. Those steaks only require a bit of salt and pepper and a grill.
Standing in front of VERY affordable skirt steak in a good meat market I thought it's time to try cooking this, After all, it's a trendy restaurant item right now.
I was finding myself with a cut of meat I knew little about, except I knew it was tough and would need some help. The skirt steak is the diaphragm muscle, a long flat cut of meat, which is chewy, but flavorful. It's similar to a flank steak, but has more fat. It is THE cut of meat used for authentic fajitas, and I immediately thought chimichurri sauce.
A chimichurri marinade/sauce is perfect for this cut of meat, as the olive oil and acid from the lemon and vinegar act as a tenderizer, and the garlic and parsley deliver flavor.
Trust your own Instincts..especially your sensory gifts
I believe I make very good food. I have a great palate, and I know instinctively what tastes good. My husband has perfect relative pitch (music) and he can immediately tell when something is off, out of tune or flat. Hearing and tasting are similar in my opinion. These are sensory gifts and you may be able to fine tune them, but they are gifts you are born with.
What am I getting at? When I read the various recipes for chimichurri, I knew the ratio for vinegar and garlic was "off, but I proceeded to follow it against my better wishes. My recipe was garlic heavy and vinegar heavy, and while I did my best to fix it (adding more olive oil and parsley, I couldn't fix it enough. So, I am fixing it for you. Having said that, you have to please yourself, so please taste and adjust the recipe as you see fit. If you read Spinach TIger often, you will already know I have a thing about vinegar and garlic. I love them both, always have them in my pantry, but I think they are over-used, often purchased in poor quality and improperly proportioned in recipes. Don't even get me started on pasta salad. Those two words alone, make me wince and pucker because vinegar shouldn't touch pasta, but that's another post.
I served the skirt steak with grilled corn on the cob, glistened with scape lime butter, and fried purple sweet potato chips. It's a beautiful summer meal, and if you serve hot tortillas on the side, it's a meal you can eat with your hands.
Recipe for Skirt Steak
Marinate in chimichurri overnight or at least several hours.
Grill on hot grill 2-3 minutes per side.
Cut across the grain.
Mushrooms: Slice, toss minimally with olive oil, salt, roast at 375 for approximately 20 minutes.
Recipe for Chimichurri
Ingredients
1 cup flat Italian parsley, finely chopped (about 2 handfuls)
2 tablespoons fresh oregano, finely chopped (optional) just replace with parsley
1/2-3/4 cup olive oil
1/8 cup quality red or white wine vinegar**
3 garlic cloves, finely diced
1/4 teaspoon red chile pepper
Juice of 1 lemon
Course sea salt, freshly ground pepper
Mix ingredients together. Taste to season. Some prefer to use more garlic, and more vinegar. Adjust as you desire.
Grilled Corn with Lime-scape Butter & Roasted Purple Sweet Potato Chips
Corn on the Cob
We only eat corn on the cob cooked on the grill. There are many ways to do this. You can simply rub a little butter, salt, pepper, wrap in foil and cook on medium heat turning every 4-5 minutes for about 20 minutes. You can grill in the husk too. If I use sweet corn, I just use a tiny touch of butter, salt and pepper. In truth, sometimes I skip the butter because grilled corn is perfect as is.
For this corn, I just happened to have scapes and made scape-lime butter, but you can use garlic or just lime and butter, salt and pepper and grill away.