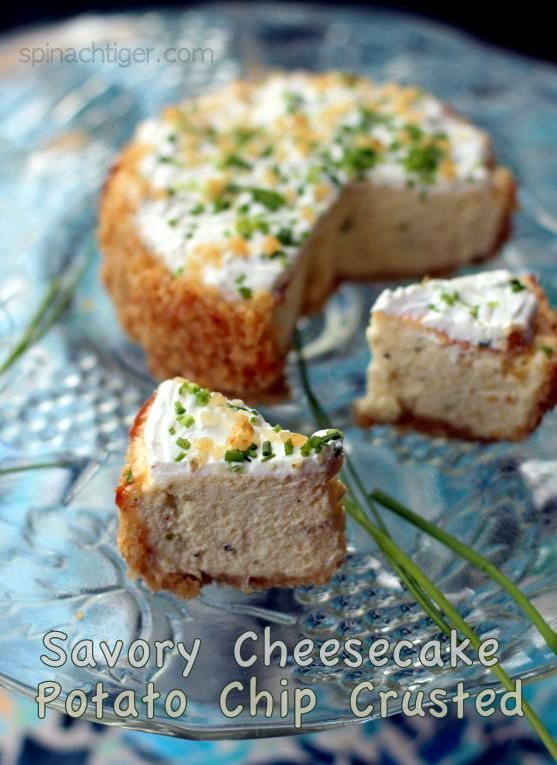 I admit that sometimes on rare occasions, my mind wanders during church. Not because our church is boring. Far from it. You know I wouldn't be at a boring service.  Sometimes, the pastor is a bit overly enthusiastic,  and if you've ever been to a Tyler Perry movie or play, you get the picture.  But sometimes, my earthly pleasures take over and this past Sunday right smack in the middle of the sermon, I whispered something to my husband.
"Savory cheesecake with a potato chip crust." He gives me two nods. One vertical nod that says "great idea." And one diagonal nod that says, "get your eyes back up there." Well, now I could concentrate. On the way to church I was telling him that it was  time for the 5 Star Foodie Makeover challenge and I had nothing. Every month, we are assigned either a theme or an ingredient and the challenge is to give it a 5 Star culinary makeover. This month the challenge was junk food.
At first I was excited.  I thought of my favorite junk food that I rarely allow to darken my door. Then I was not so excited because the junk food throws me. If it were up to me, several aisles in the grocery store would disappear, just because I don't partake. I do, however, have memories of purchasing  freshly bagged potato chips at the Farmer's Market in Pennsylvania. I never ate a sandwich without the crunch of chips in the middle. Not wanting to miss the challenge, I picked Kettle Cooked Potato Chips, but for days had no recipe. Then right in the middle of the church service it came into my head.
I've never made any type of cheesecake at all, so this was more than a challenge for me. I chose a sour cream and onion flavor profile, using spring onions and chives and a few spices. Everyone remember eating onion dip and I wanted to play off of that.  It's a fun appetizer, and something that could easily be taken to a party. The chips brings a crunch to the smooth creaminess of the cheesecake that makes you want to go back for just one more bite.
I consulted the Loveless Cafe Cookbook to see how they made a sweet cheesecake. Their approach is unconventional, not using a water bath and baking at a low 300 degrees. I also consulted my friend Angie of Angie's Sweet Natured Treats, as cheesecake is her specialty. She advised me to use a food processor to make sure the cream cheese is very smooth and said to start it at 475 degrees for 10 -15 minutes and then reduce to 300. My only concern was that I was baking six inch cheesecakes and wasn't exactly sure how to make adjustments. I tried both ways and discovered that both ways work. Angie's way gave me a more solid cheesecake with a golden top and I think I lean towards this approach. This is the recipe I will post.
Start by crushing potato chips with rolling pin. You could use a food processor, but I like crushing.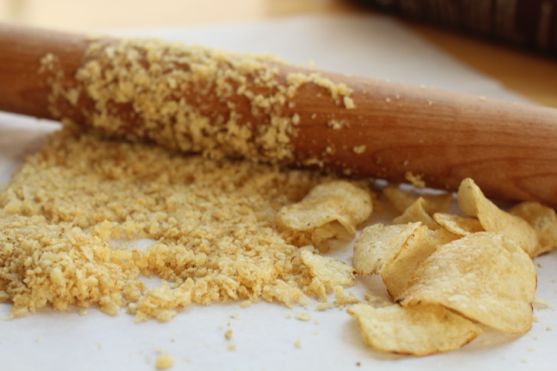 Press into pan.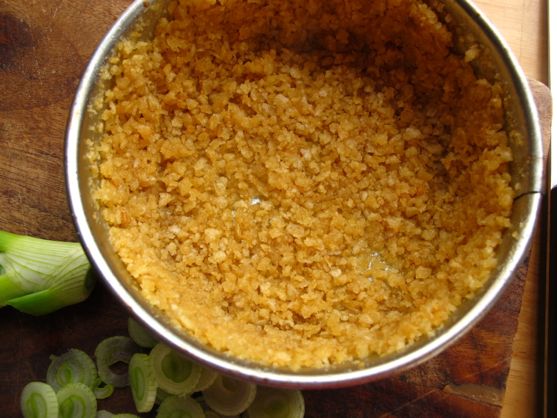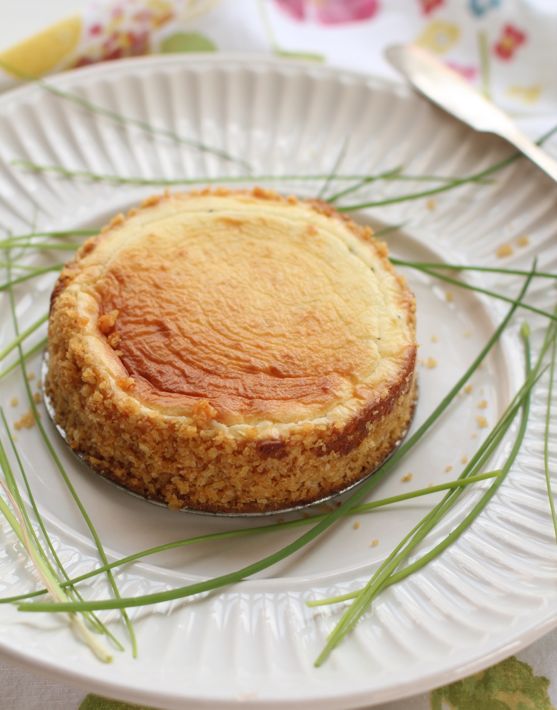 Top with Sour Cream, Chopped Chives and Crushed Chips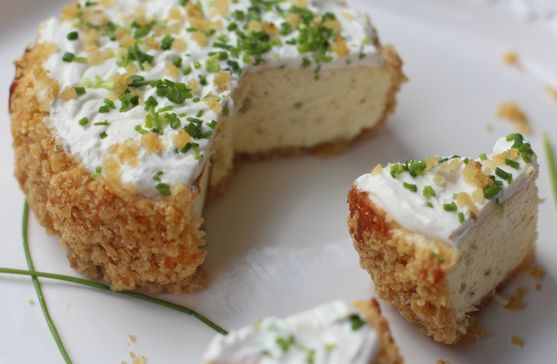 Another version is to garnish with chives before baking.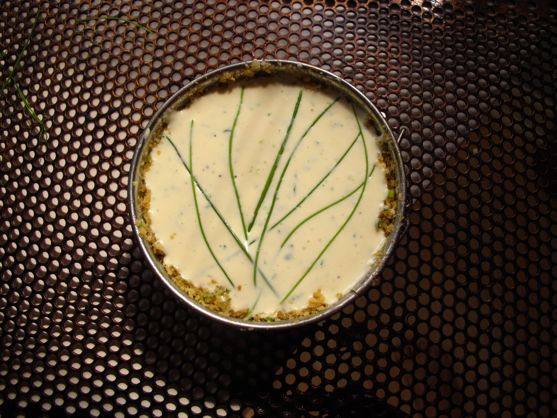 I can't wait to try a variety of flavors and serve this at my next dinner party. I'm thinking a smoked salmon might be nice crusted in what else, but bagel chips.
If you want to see a video of my other savory smoked salmon cheesecake, CLICK HERE.
What is your favorite kind of savory cheesecake or is this the first time you are hearing about a savory instead of sweet version?
More Savory Cheesecakes
Savory Caramelized Onion Cheesecake
Savory Cheesecake Bites, Perfect for a Party
Savory Smoked Salmon Cheesecake with video
Savory Sour Cream Chives Cheesecake with Potato Chip Crust
Prep time:
Cook time:
Total time:
A kettle chip crusted savory cheesecake reminiscent of a sour cream and onion chips and dip, but a much more elegant appetizer.
Ingredients
1 8 oz. bag kettle cooked or ruffled potato chips
4 spring onions, thinly sliced
2 tablespoon butter
1 pound full-fat non-whipped cream cheese
⅓ cup sour cream
2 tablespoons flour
1 tablespoon chopped chives
Extra chives for decorating
Sour Cream for topping (optional)
1 teaspoon garlic powder
¼ teaspoon cayenne pepper
sea salt, white pepper
4 eggs
chives for garnish
Instructions
Preheat oven to 475
Using a rolling pin or a food processor, crush chips into large crumbs. Add a tablespoon of melted butter to the chips and press into pans. Bake for five minutes. Set Aside.
Melt butter in a small frying pan. Gently soften green onions. Do not brown. Set aside.
Whip cream cheese in food processor. Once smooth, add in sour cream, flour, chives, spring onion, garlic powder.
Add eggs one at a time.
Pour into pans and bake at 475 for five minutes. Turn heat down to 250 and bake for another 10-15 minutes until set. Cheesecake should be a little jiggly.
Turn oven off, open oven door and allow to rest for 15 minutes.
You can choose to serve warm with crackers or bread toasts.
If refrigerated, bring to room temperature before serving.
Notes
I used two six inch spring form pans. You could also make one cheesecake in a 10 inch pan. Adjust baking times to 10 minutes 1t 475 and then 20 minutes at 250. I make one cheesecake with chives placed on top and one cheesecake topped with sourcream, chopped chives and some potato chips.