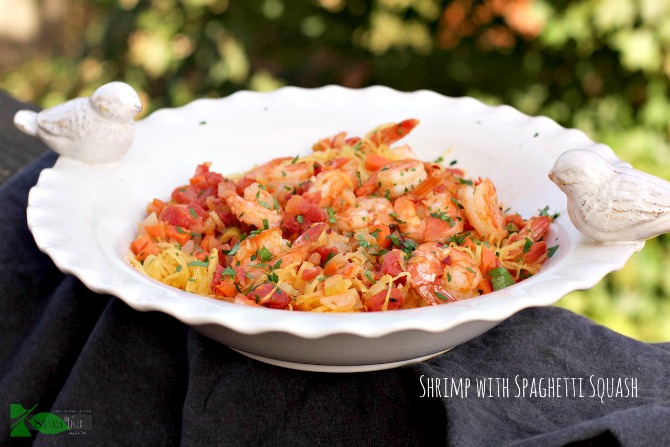 Have you ever ventured a grocery shopping trip at Aldi's Grocery Store?
If the answer is no, allow me to be your guide on how and why you might consider ALDi's.
I was given $100 gift certificate and asked to make a recipe for four for $10. Not only was I successful in making the kind of food I feel good about sharing with you, I easily could make several $10 dishes, and actually had a hard time deciding.
I'm choosing to highlight shrimp with spaghetti squash, because it's everything that Spinach Tiger stands for.
It's healthy – Whether you choose spaghetti squash or a pasta (they also carry gluten free spaghetti), this is light, yet hardy.
It's easy – Stop to start, ten minutes of active cooking, 40 minutes cooking.
It's delicious in a way that will entice you to make this again next week and put it on your recipe rotation.
It's affordable – Everything purchased came to under $10 and is enough to feed four.
Who and what is ALDI's?
ALDI's is a scaled back grocery chain that has eliminated all the bells and whistles in order to help you save money.
How do they do that? How do you shop there? I made a little video to show you how to get your shopping cart. 
ALDI's runs the store lean and mean, carrying only the best selling items, with many still sitting in the shipping boxes in the aisles.
You save a lot of money by doing the following:
Bring your own bag or find a few boxes along the way in the grocery aisles. Bags are $.10.
Bring a quarter to get your cart unlocked. Return the cart where you found it and get your quarter back.
Pay with cash, debit or ebt.
Pack your own groceries. Once you check out, which goes at lightening speed, you walk your cart over to a counter and pack up your groceries. This eliminates long lines, keeps staff low, and saves you more money.
Check the weekly ads, online or pick up a flyer at the front of the store.
What Drove me to ALDI's in First Place
As a food blogger, I've done food demonstrations, and  recipe development for other companies. This gets expensive, and when I have to buy big, serve big, or test recipes,  I head to ALDI's. No matter what I'm there to buy, I stock up on cheese, kale,  our favorite healthy snacks (sweet potato chips), baking supplies and chocolate every shopping trip.
This is going to be hard to believe, but I had Romaine lettuce left over for a salad demo. It had been, washed, dried, and wrapped in paper towels and lasted a full three weeks in my refrigerator. No kidding. The point is that nothing sits at ALDI's on the shelves for very long.
What does ALDI's carry?
The store is smaller than a regular grocery store, but carries all the basics, including special buys on non-food items, which change frequently. There is a small meat section, and a frozen seafood section where I was able to buy a bag of shrimp for $5.99, making it possible to make this dinner for under $10.
Fresh Produce – The spaghetti squash was a key buy this past week for $.99. You can't find that kind of price anywhere.
Organic Food at affordable prices. Look for organic apples, bananas, chicken broth.
Canned Goods – I used one 16 ounce can of diced tomatoes (which beat my normal brand in taste) for $.99.
Healthy Specialty Items – They carry LifeGlutenFree products which include pizza, waffles, chicken nuggets, pancakes in the frozen section.  This includes gluten free bread, pasta and wraps that are affordable.
The Simple Nature line of products  includes milk, almond butter and our favorite healthy snacks.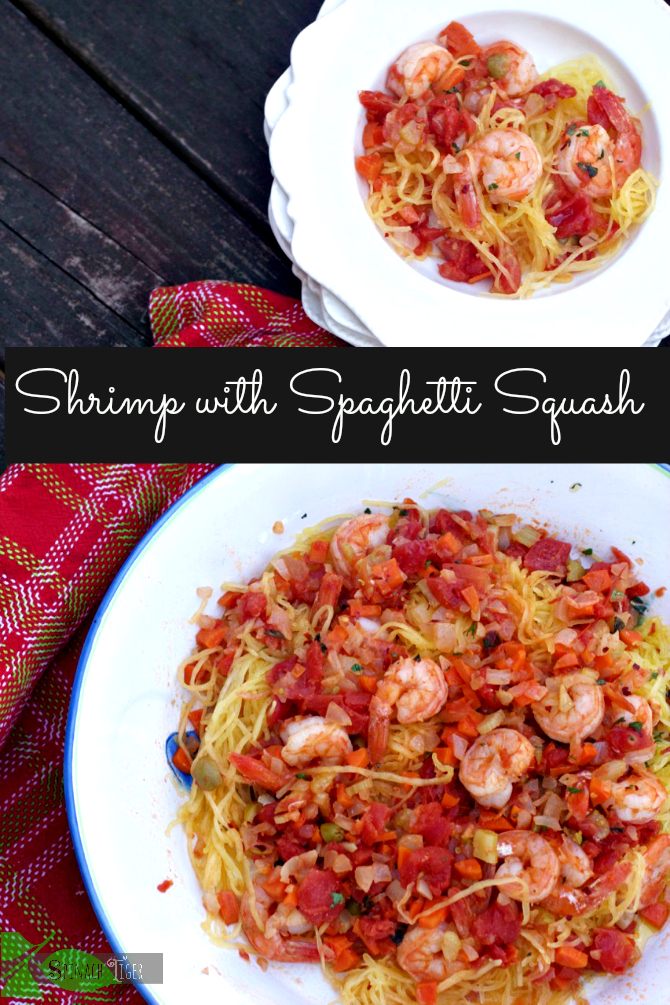 Spaghetti Squash and Shrimp Recipe Process
I mentioned above that I love the canned diced tomatoes at ALDI's. I want you to know that you do not have to slave over the stove, making a long sauce to have an Italian dinner. Sometimes, the best meals are those that are made in under 30 minutes. Shrimp is made in a few minutes and aside from chopping the onions, carrot and celery, there is not much to do.
Spaghetti squash is a great choice for a low-carb, grain free, gluten free diet, or Paleo life style but you could also serve the shrimp and tomatoes over a pound of spaghetti which you can also purchase at Aldi's for $.99.
The only thing that takes time is roasting the spaghetti squash. My method is a bit unique, as I steam/roast it.
Spaghetti Squash Steam Roast
Cut off the ends. Cut length wise (for longer strands) or cross-wise, using a sawing motion. Put cut side down into a baking dish that has about 2 inches of water. Bake at 400 degrees, until the skin yields 30-40 minutes.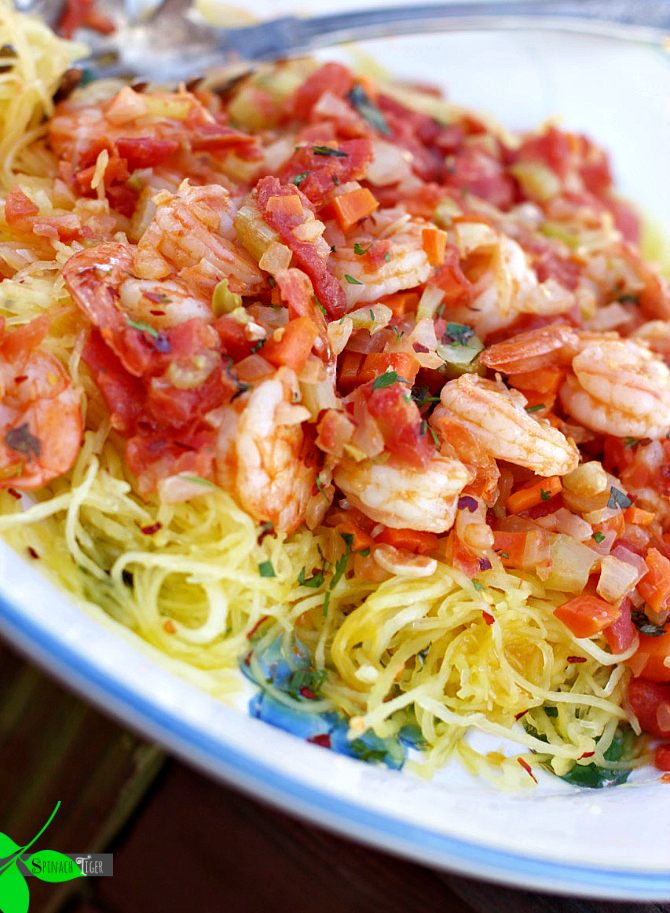 In the meantime, make the soffrito, which is basically chopped onions, carrots and celery, sautéed until softened and used as a base. Add your tomatoes, and any herbs you like such as basil or parsley, and continue to cook on low. Sauté shrimp for a few minutes, add to your tomatoes, throw in a few olives, and serve over the squash.  Enjoy a healthy, easy, meal that tastes expensive.
So tell me, have you ever shopped at ALDI's and what is your favorite item? We love the Simply Nature Vegetable Chips Exotic Blend, and usually open the bag on the way home.
A gift certificate for the purchase of food at ALDI's was provided, however, I was not paid to write this post. All opinions are my own, as I am a regular customer at ALDI's.

Spaghetti Squash with Shrimp
Prep time:
Cook time:
Total time:
A dinner for four under $10 shopping at Aldi's, shrimp, tomatoes and spaghetti squash
Ingredients
1 bag frozen shrimp
2 tablespoons olive oil
1 spaghetti squash
2 cloves garlic
1 small onion, diced
1 carrot, diced
1 celery stick, diced
salt
pepper
1 tablespoon chopped parsley or basil
½ teaspoon red pepper flakes
Instructions
Preheat oven to 400 degrees.
Cut cross wise, using a sawing motion.
Put into a dutch oven or baking dish with 2-3 inches of water.
Roast/Steam for 30-40 minutes.
Prepare sauce and shrimp.
Defrost shrimp by placing entire bag into a bowl of cold water. This takes about 10 minutes.
While spaghetti squash is roasting, make sauce.
Saute in a tablespoon of olive oil onion, carrots, celery on low until softened, not browned.
Season with salt and pepper.
Add can of tomatoes including the juice.
Cook on low until it is no longer watery.
Peel shrimp and saute in separate pan just until cooked on each side. Shrimp will turn pink and this takes a minute or two.
Put shrimp into the sauce and continue cooking on low, while preparing the squash.
Once the squash is cool enough to handle, scoop out center seeds of squash.
Scoop out squash into spaghetti strands.
Toss spaghetti squash with remaining olive oil, salt and pepper.
Serve shrimp and tomatoes over the spaghetti squash.
Garnish with herbs and red pepper flakes.
Notes
Note: Cutting a squash is a challenge. If you cut length wise, the strands are longer. However, you might want to pierce with a fork, and microwave for a few minutes prior to cutting to make the cutting easier.