Hattie B's is just one of the new places that serves up Nashville's Hot chicken. If you're from Nashville, you know what hot chicken is. At least I hope you do, because outside of goo goo clusters, it's the only food I know of that is strictly a Nashville dish. If you know of any others, please let me know.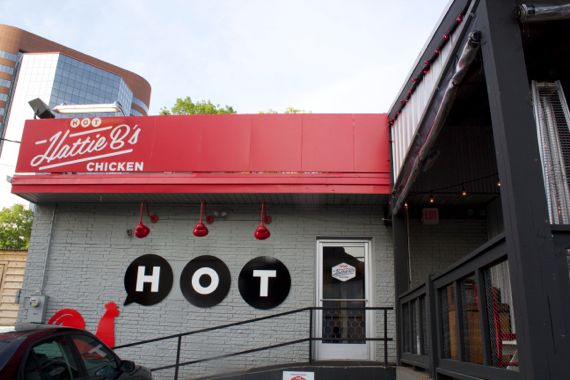 Hot chicken was Nashville's best kept secret until the last few years when it has gone viral. I have this feeling  hot chicken places with the words "Nashville" will be popping up all over the country in the same way Buffalo's hot wings took off. I hope they make it as good as Prince's or Hattie B's!
The chicken is fried and then made hot through either cayenne pepper or in some cases such as the hot chicken sold at Silo, ghost peppers. That's a little too hot for me.
The original hot chicken was created and is still served at Prince's Hot Chicken Shack and has become a Nashville signature dish. Prince's Hot Chicken was a recent recipient of the James Beard America's Classic Award. This popularity has opened up the doors for a few hot chicken entrepreneurs to get out the deep fryer and open up shop. Hot chicken is all the rage and if you come to Nashville, you can't leave here without trying it and I'm recommending Hattie B's as a must stop and visit. If you don't take my word, Hattie's B's was featured in Food and Wine magazine.
What is Nashville Hot Chicken, really?
If it's Nashville style hot chicken, it's Southern fried, and then glazed in every nook and cranny with heat that is usually made with a mixture of hot oil and cayenne pepper and then some secret spices, probably including paprika and sugar. I imagine each hot chicken place locks up their recipe and swears their employees to secrecy. In keeping with Prince's tradition, it's always served on plain white bread and served with pickles, unless, you are the biscuit love truck, which is where I had my first ever hot chicken.
Hattie B's Gets It Right
The sound of the typical recipe using the hot oil or lard normally would stop me, but at Hattie B's, it's delicious, tender, and not greasy. I never had any backlash after eating the chicken. I ordered the medium heat and I can't promise what might happen if you order "shut the cluck up" their hottest chicken, but I'm sure you'll cry. The medium heat called simply "hot" is seriously one of the my best bites of the year so far. It's hot enough to open up my senses, but not so hot that I can't enjoy the next bite.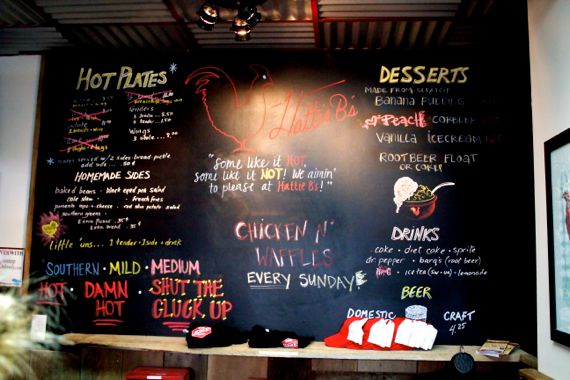 The chicken itself is cooked perfectly before the heat is added.  I ordered the breast/wing with two sides for $8.50.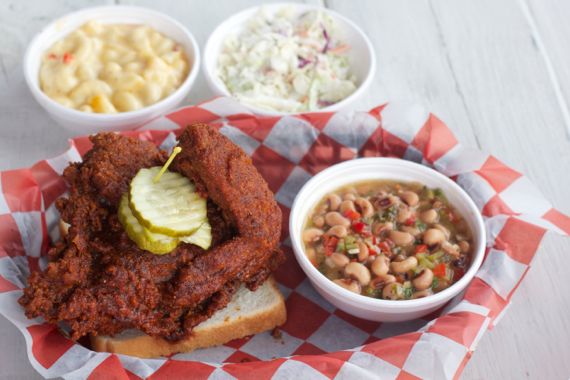 I want to talk to you about the sides. You want a few sides that will cut through the heat and richness of hot chicken.  Black eyed peas, turnip greens and cole slaw will do that.  The black eyed peas are in a vinegar base and the acid helps to balance out the heat.  The turnip greens are done to perfection, not too bitter, but again providing that right bite to offset the fat in the chicken.  The cole slaw is refreshing and the only cole slaw my husband will eat. There were three of us, and we like  to try to everything, so we added in pimento mac and cheese, which is the creamy kind that big and little kids like.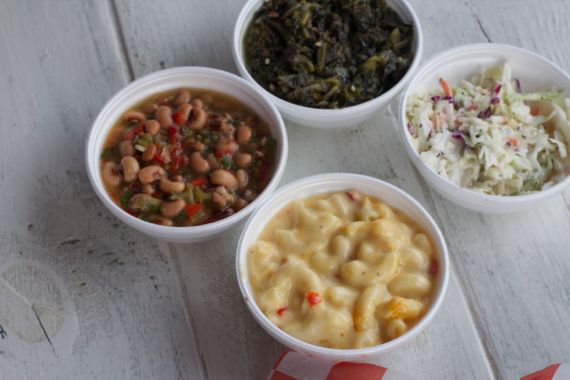 Hattie B's realizes that children probably aren't going to eat the heat, and you can order regular fried chicken too.  A kid's tenders plate is only $5.50, so this is a super family friendly place. The chicken is sold as white meat, dark meat, wings, or chicken tenders. If you have a giant appetite, you can order double or mix up your white and dark. They must brine the chicken because it's tender, juicy and  full of amazing flavor. It's oddly addicting, because I wanted to go back the next day and have it again. Every Sunday they have chicken and waffles, and that is calling my name. We didn't try a dessert, but the cobbler looks promising.
There are a few tables inside, and a very inviting patio with white washed picnic tables. The place is and located in midtown, making hot chicken a lot more accessible than in the past, and if I'm being honest, a lot cleaner.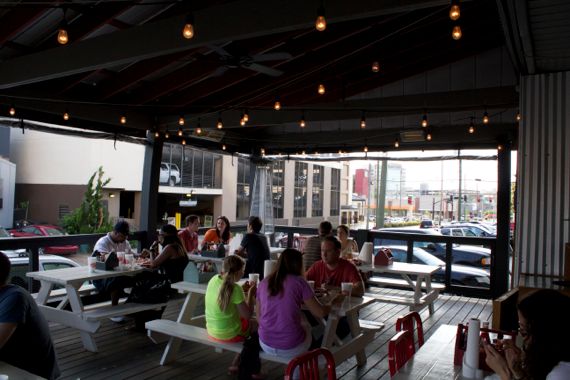 The trip to Hattie B's was part of a foodcation we did last weekend to celebrate our anniversary. It was the 5th place we visited that day, and we shared the dinner. Stay tuned to find out about the 13 places we visited over the long weekend.
By the way, Music City Hot Chicken Festival is Thurs., July 4th at 11:00am at East Park Community Center. 700 Woodland St
Nashville, TN 37206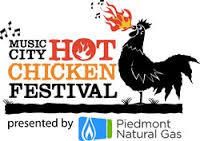 Hattie B's located in the Vanderbilt/Belmont Neighborhood
112 19th Avenue S
Nashville, TN