Strawberry Pecan Short Cake
The idea of strawberry pecan short cake must seem unusual and they are in a very good way.
Imagine your favorite little shortcake from childhood, but so much better, flavored by toasted pecans and resembling a Russian tea cake.
Remember those spongy cakes we all grew up on, shaped like a cup used for strawberry shortcake. Just for fun, I purchased a pan that makes those cakes . And, I thought this recipe would be a great as cup-shaped cakes for strawberries, as these muffins are not very sweet and are firm enough to hold fruit piled with whipped cream or, if it's breakfast time, yogurt, my personal favorite.
I am so in love with strawberries and every year come up with a million new ways to eat them, make them, cook them, bake them.
This little cake allows you to experience a baked good, and enjoy fresh strawberries. It's hard to get much better, unless you throw some strawberry ice cream on top.
For a more traditional shortcake, you might love this shortcake biscuit recipe.

Strawberry Pecan Short Cake with Vanilla Bean Yogurt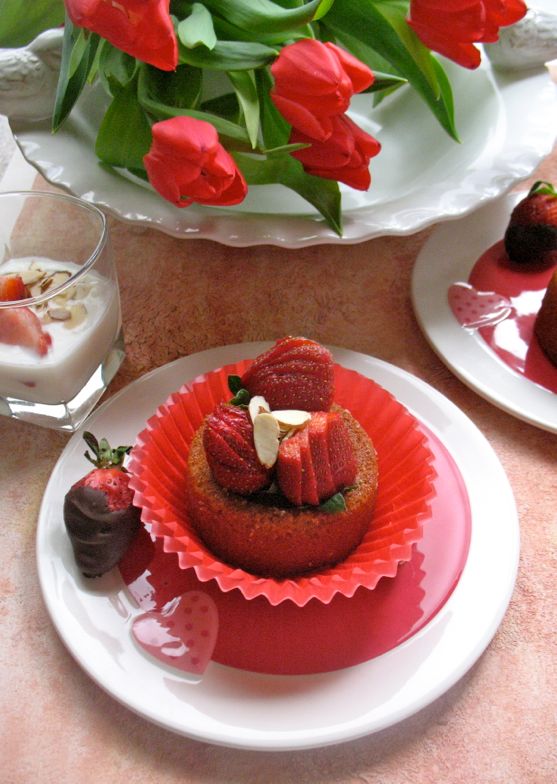 Little baby cakes for dessert or shortcake with fruit
Ingredients
1 cup butter softened
1½ cups sugar
2½ teaspoons baking powder
½ vanilla bean scraped
½ teaspoon salt
2¼ cups flour
½ cups pecans, toasted and ground
1¼ cups milk (you can use non-fat if you prefer)
Strawberries or fruit of choice for filling (optional)
Toasted almonds for garnish (optional)
Powdered sugar for sprinkling (optional)
Instructions
Whip softened butter, gradually add sugar.
Add eggs one at a time, add vanilla. Mix.
In a separate bowl, mix together baking powder and salt.
Add ground pecans. (I used a magic bullet to grind almonds. Make sure you just toast first, grind to a meal-like consistency, NOT a paste.)
Alternately add flour mixture and milk to butter mixture.
Grease muffin pans. (Don't use paper muffin cups)
Bake at 350 for 15-18 minutes. It will depend on size of your muffin. Test with toothpick.
Cool, remove from muffin tins.
This recipe makes 24 baby cakes .
I made six shortcake style cakes and 10 medium sized muffins.
For Breakfast, Serve with Yogurt
pint organic plain yogurt
tablespoon raw agave nectar (what I used for sweetener)
Add: ½ vanilla bean split, ½ C chopped strawberries
Garnish with toasted almond slices
Notes
If you don't have a shortcake pan, you can slice the muffins horizontally and make little layered shortcakes. When made with whole milk, each baby muffin is 190 calories. Add strawberries and non-fat yogurt and you have a dessert for under 250 calories