Roasted Broccolini wrapped in prosciutto is so tasty that I will confess here and now that when I made these, I ate them all at once. Enough said. But, wait, there's so much more to know.
Broccolini is related to broccoli, not a smaller version, a little sweet, a little pungent, and edible from stem to flower. It's attractive, and has no waste. Broccolini makes a nice side dish when plating for a dinner party, because a bunch is usually the same size. Of course, there are those health benefits such as boosting the immune system which has become very important this season.
Prosciutto is cured Parma ham boasting a 2000 year history. It's mostly meant to be eaten just as is, and rightly so. But, every now and again, we crisp it up in dishes like prosciutto wrapped asparagus or this prosciutto asparagus frittata.
Roasting broccolini that is wrapped in prosciutto is a clever idea, but not my own. Have you heard of the Secret Recipe Club? I like belonging to secret organizations, and when I was accepted in (there is a wait list), I was pleased. Each month, I get a food blog assigned to me and I have the pleasure of perusing and choosing to make one of their dishes. It's fun, and I can't wait to see what someone chose from Spinach Tiger. This is my first month in the club and I am in Group A (they are organized) and I was assigned Claire K Creations.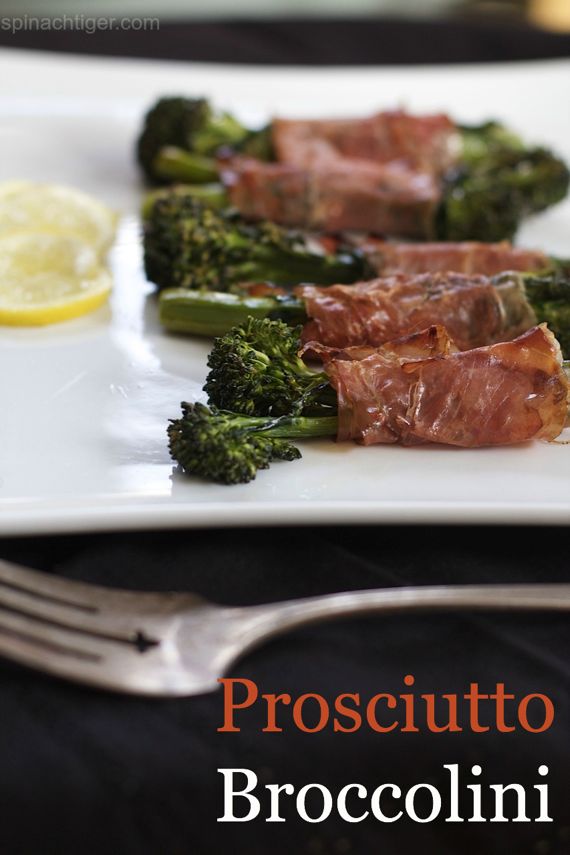 Right away I narrowed it down to two choices. This raspberry lemon buttermilk tart or these roasted broccolini prosciutto bundles.   I was invited to a dinner party and decided I would bring the bundles. Thank you Claire for having such an original recipe, and one I know I will make again and again.I highly recommend making them, but read on, because there is still more to learn about prosciutto. I hope by the end of this you appreciate this meat and gain a passion for it, as I have.
Prosciutto di Parma is what I'm most familiar with as an Italian. It's so special, it's nearly sacred in it's tradition and protected by a Consortium, and boasts the Protected Denomination of Origin (PDO) you will often see with products from Italy. The pigs are bred in North Central Italy and the prosciutto must be produced in Parma. Prosciutto is 100% natural with no additives or preservatives outside of salt. Prosciutto is made from the hind leg of a pig. They are fed cereal grains and whey from another Italian protected product, Parmigiano-Reggiano. The process is carefully adhered to and can take as long as two years.
Italian food is adored all the world over. One of the reasons is the long well kept traditions that have been perfected for hundreds to thousands of years. When I buy something like Parmigiano-Reggiano or Prosciutto di Parma, I don't just think about my recipe. I think about what it took to prepare the food, and import it. I think about the people generations ago who developed the methods, worked in the fields, raised the pigs (or cows for the cheese). I think about how they fretted over the right climate, the right feed, and the proper and safe way to preserve this succulent, sweet and at the same time savory wonderment called Parma Ham or Prosciutto di Parma. It is often eaten thinly sliced with fresh melon or figs. I like it with either and a drizzle of honey.
I hope you feel my passion here. I know my pastor's wife did. I need to tell you my story. My small vent, if you will. Sunday morning my pastor's wife, ran up to me to tell me that she had no idea how passionate I was about food, as she read my face book post regarding an experience I had purchasing prosciutto di parma. She said, "I need to get with you and and get this food passion. I was going to make a comment, but I'm a pastor's wife, it's facebook." I laughed because I know what she means. I'm very careful with what I tell the whole wide world. I vented my story on facebook and with much support, I wrote this open letter.
In the meantime, let me encourage you browse the many Secret Recipe Posts in the blog link and enjoy good food!
Food Note: I did not use authentic Prosciutto di Parma for this post. I tried to and my letter explains it all. This is a great substitute, a prosciutto from Boar's head and it costs a lot less.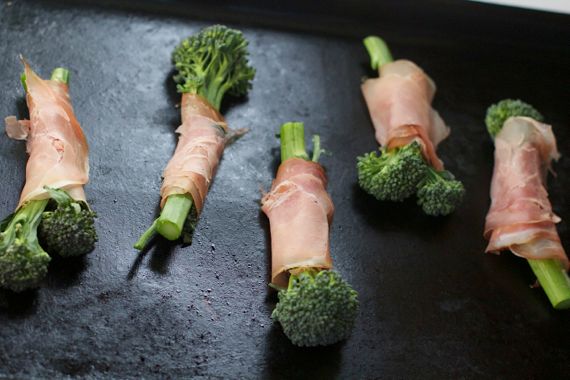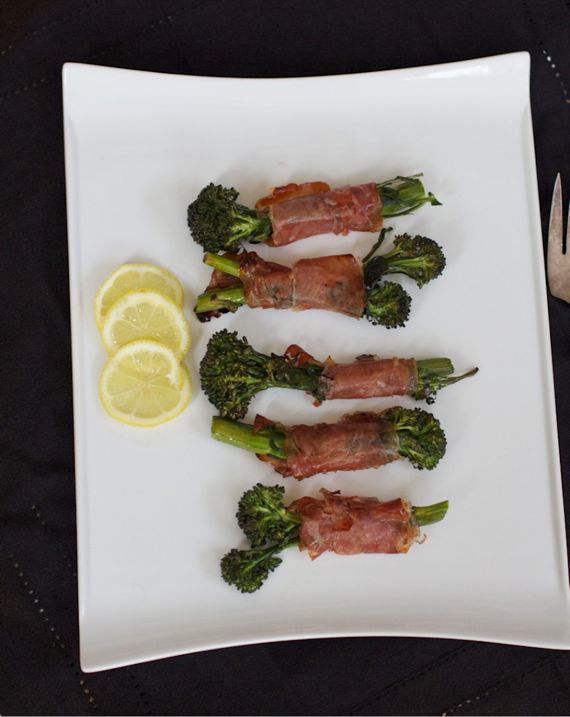 Roasted Broccolini Wrapped in Prosciutto
Prep time:
Cook time:
Total time:
Roasted Broccollini wrapped in prosciutto. Can be an appetizer or a side dish.
Ingredients
1 bunch broccolini
8 slices prosciutto (or enough for a slice (or half sliced per piece)
1 tablespoon extra virgin olive oil
1 tablespoon balsamic vinegar
¼ teaspoon dijon mustard
sea salt
black pepper
lemon slices
Instructions
trim the ends of the broccolini, wash and dry thoroughly.
wrap each piece with prosciutto. If the piece is too skinny, use two pieces. You could do a bundle, but I found it cooks better to do very small bundles or individual pieces.
Add mustard and vinegar together. Add in oil. Mix well.
Brush vinaigrette generously on the broccolini.
Roast for 15 minutes (checking 10) at 350 degrees.