About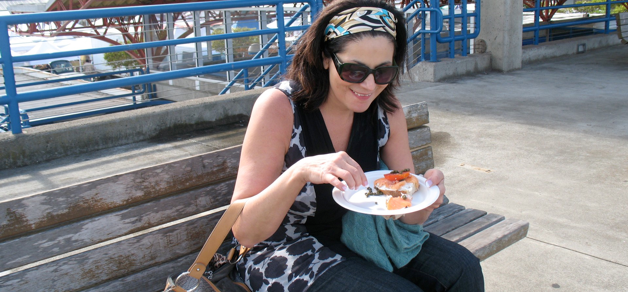 I am a faux artist; but, I love cooking so much, I even designed a wall finish named "Wasabi". Until recently, I would go back and forth between my paint studio and my kitchen, designing and developing something beautiful to look at, or something delicious to eat. It is such a pleasure to develop original recipes, style the food and photograph it in such a way so that you not only want to eat it, but you want to know more about the story behind the dish.
I learned to cook from "tasting" not from books. Cookbooks are guidelines, but your own taste buds, if properly developed, are your best eyes in the kitchen.
My food memories of childhood evolved around weekly trips to the farmer's market and a stop at the Italian store with my fussy grandmother. She was quite modern , and very ahead of her time as a proponent of healthful and "slow food" before the slow food movement was born. Her choices showed in her beauty and energy, as she continued to work, into her 70's. Good food should do that!
Our shopping would lead to sitting at the table to enjoy a long, delicious dinner with three insane guests, named drama, comedy and adventure, and a multitude of other drop-ins who came to see the show.
Examples of Drama, Comedy and Adventure:
Drama: I remember my mother turning a table of food over ala "Housewives of New Jersey" Style.
Comedy: My grandmother wanted to prove how great her body was and in her 60's stood up at the table and showed her girls, while my 17 year old boyfriend turned beet red. No one else stopped eating.
Adventure: You never knew who was coming to dinner. It could be a priest or a madame of a brothel. Really.
Everyone, even the men, cooked delicious, yet very different food, not limited to Italian, but influenced by the surrounding diverse, european heritage. I moved to California and developed my own food style, veering away from Italian traditional, always searching to create a new way to cook an old dish, with a more modern approach of brighter, healthier, super delicious food.
Many of my Spinach Tiger original dishes are designed for a man to want more of and for a woman to delight in without deprivation or excess. There is a very specific "spinach tiger" culinary viewpoint.
I never use artificial sweeteners, food substitutes, aerosol sprays, high fructose corn syrup products, or MSG.
Why Spinach Tiger?
I was nicknamed Spinach Tiger for stating my views during a rather lively discussion. It stuck, and here we are. It fits my approach to his and her cooking and my increasing flexitarian approach to food.
I aim for serious nutrition, while avoiding the scary "health nut" persona.
Who is Retro Rose?
My mom, Retro Rose is a great home cook, whose culinary fare belongs in the best diner in any town. Cooking BIG comfort food, paying absolutely no attention to anything that has happened in the last fifty years, such as sugar substitutes, fat-free, or anything in a box (Hooray). She makes her food from scratch and, while it's not exactly Spinach Tiger style, it's still good, slow food, and deserves a feature.
Why I decided to food blog:
I almost never cook the same dish twice. I have this compulsion to change everything, even the traditional family "food rules." Then, I can't remember what I did, because it was developed in that insane, creative, improvisational cooking zone and there is no recipe.
One night I googled a recipe for green lasagna, and, in one click, landed at a beautiful food blog, La Tartine Gourmande, which led to the next link and the next link. I was on food blog crack.
My food life took the elevator to the penthouse, as I discovered others out there who shared my passion in a similar way, and, for a year, I became obsessed with creating Spinach Tiger.
My camera has taken a permanent position in the kitchen and while I used to dream colors, I now dream recipes, tastes, and food pictures. I fear there will never be enough time for everything I want to cook.
There is a Mr. Spinach Tiger, my best friend, food taster, and the greatest person to share dinner with. In fact, we met at a dinner, and that is one of many stories to come.
My hope is to share, learn, connect, and inspire a healthy, hearty, happy slow food spinach tiger life style.
Credits
Published in 55 Knives On-Line Cookbook BSaveur.com July, September 2010
Published in Franklin Farmer's Market Newletter, September 2010
Featured as local food blogger  in the Tennessean October 09
Best of Blogs in Food Journal – December 09
Published in Blogger's Aid Cookbook 09
Food Buzz Finalist nominee as blogger you would most like to see with her own cooking show October 09
Second Place winner in cupcake contest for homebakers at Cupcake Palooza 2012
First Place winner in Whole Foods recipe contest for this recipe 2011
First Place winner in Royal Foodie Jaust with this recipe
Feel at home. Browse around, Leave a comment. Send a note and visit often.
Note: This blog is dedicated to two of the most influential and beloved people in my life, who left this world too soon. Classy, courageous and both incredible cooks, James, my brother, and Sam, my cousin, are painfully missed at the dinner table and every day of my life.