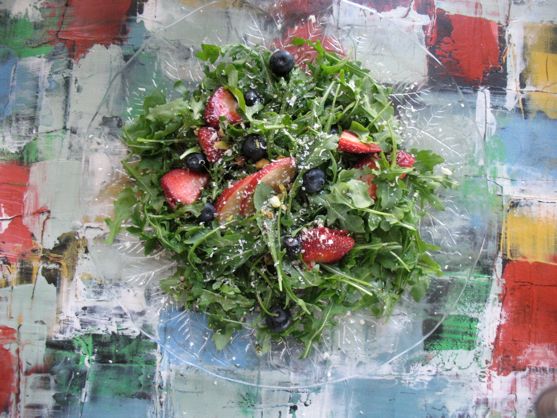 Today, the whole country was a bit giddy watching the inauguration and googling all things inaugural. It was reported that the most viewed page on the inaugural website was the "recipe" page. I say "hooray" to that. The American people have their priorities straight, and they have access to preparing the very first meal our new president enjoyed as Mr. President.
Spinach Tiger will never be about politics, except the politics of food, and my celebration today is as a proud American, teary-eyed for the hope that any man or woman can be a vehicle in bringing change, and that we thrive on the personality of freedom and embracing new ideas.
My hope, in spinach tiger spirit, is that we will embrace change for the good and that means changes in the way we approach food…to not fear foods we weren't raised with and to embrace food with new eyes, restraining from the processed fastness of this generation's food and reverting back to the wholeness of slower food, enjoyed for it's goodness.
We are a funny generation. We demand healthcare, but we don't care for our own day to day health, as we drive from food stop to food stop, eating what is familiar, burgers, donuts and sugary coffees. But, we can change. And, we can even demand that eateries and food companies change with us.
So on this special day of change, a day that has broken down barriers that at one time in our history seemed impossible, because we trailed down a terribly wrong road of inhumanity, I have hope that we can change the way we tend our land, our animals, and our own bodies.

Yes, we can cook, eat, and dine inside our homes sitting at a table with conversation. We used to do that, and I believe we can do that again. (And, I didn't even need a speech writer).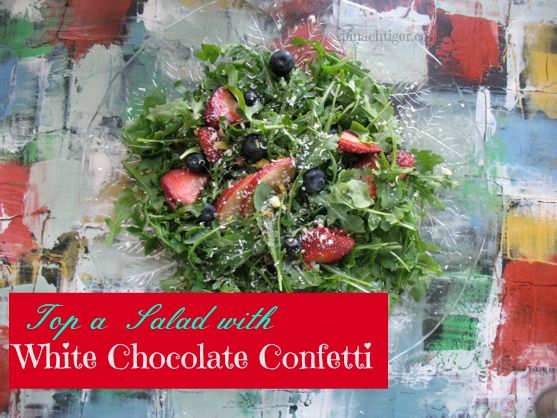 In honor of this special day I prepared a salad, a dish, in my opinion missing from the luncheon.
I chose arugula to embrace change from the familiar. It's one of those greens that might be new for you. It has a distinct, spicy taste and is often mixed with other greens, to balance it out. It is exceptionally nutritious, and, fitting for a president who cares about health and fitness.
I chose an apple and walnuts in honor of President Lincoln, two of his favorite foods. I chose blueberries (which I froze first) for a very cool Barack, and strawberries for the people. We all love strawberries, don't we?
And, if I couldn't get any more corny or sentimental, I chose to top this salad with a confetti of shaved white chocolate to sweeten the day even further. After all, this is a day of tremendous celebration, and a bit of splurge is called for. And, to finish it off…some grey sea salt, a perfect compliment to the sweetness.
The dressing is simple and most typical of a spinach tiger salad. Extra virgin olive oil and a very good balsamic vinegar.
What dish are you going to make to celebrate our new president?

Inauguration Salad - Arugula, Fruit and a Confetti of White Chocolate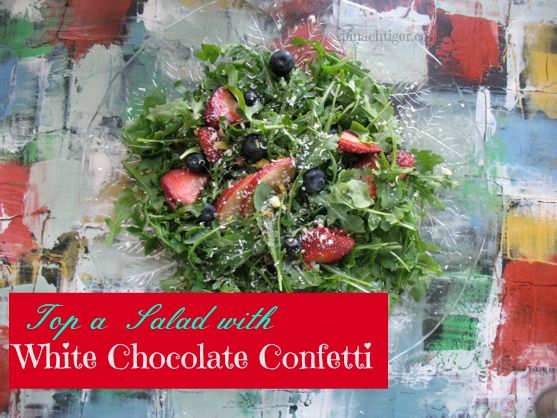 Salad with arugula, berries and shavings of white chocolate.
Ingredients
SALAD DRESSING
mix 1 to 3 ratio of vinegar to oil, emulsify and then very gently toss into arugula with your hands.
SALAD INGREDIENTS
4 cups arugula or mixed 50/50 with various salad greens
½ Thinly sliced gala apple
½ cup blueberries (freeze for at least 20 minutes)
½ cup strawberries, washed peeled, cut in large slices
2 tablespoons walnuts, toasted, finely chopped for topping
Shaved premium white chocolate (NOT chips) enough to shave over entire salad
Grey Sea Salt, Pepper
Instructions
Toss greens with salad dressing before adding fruit or fruit will get mushy.
Add fruit on top of greens. Put apples in center. Surround with berries.
Add toasted walnuts on top of apples.
Shave good white chocolate all over the salad.
Top with grey sea salt to taste.
Drizzle a few drops of balsamic vinegar over the fruit.
vinaigrette of extra virgin olive oil and balsamic dressing
Notes
Arugula wilts faster than any green, and is the only salad I dress right before serving. You may prefer to mix the arugula with some other greens to have a salad with a bit more body.
For the dressing,