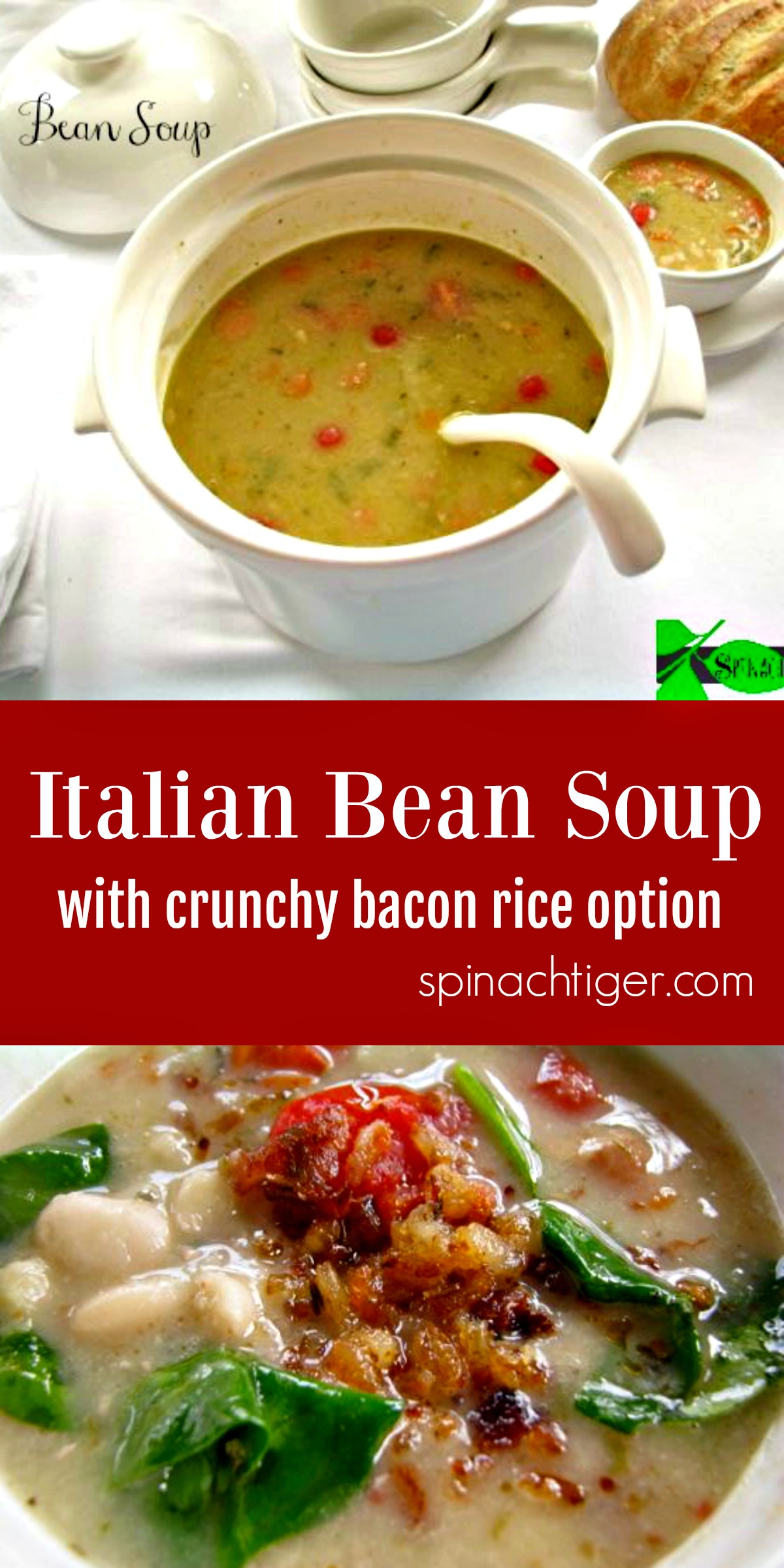 This might be the best bean soup you have ever eaten because there is a surprise crunch that packs big flavor. This is an Italian inspired bean soup.
Cannellini beans, arborio rice, pecorino cheese, are Italian but make no mistake about it, the bacon is American. No pancetta here.
The bacon flavor is profoundly aromatic and is crumbled up so that each bite gets a little bacon and crunchy rice, and when a tomato is captured in that bite the taste is redesigned comfort food because the tomatoes are not cooked, but added in at the end with just a bit of raw spinach.
It's memorable. It's well balanced. It's the perfect one dish meal, that can be eaten any time of year, but is especially good when tomato season is in full peak and you need yet one more way to use them.
This Bean Soup has Options
What I most like is that this soup has options. You can just as easily serve this with crunchy bacon laced rice on the side. Or you can add fresh baby spinach and tomatoes at the end, just before serving,for a vegetarian option.
I like every option. If you do use spinach, it's important to add it in raw, as it will wilt as it needs to, but won't get slimy or disappear. You could also add in some kale, which you will want to cook for about 15 minutes.
The color that the tomatoes and spinach bring to this soup enhance not just flavor and texture but visually appeal to that spring/summer desire to eat colorful whole food. I served it with rosemary bread, using freshly picked rosemary and white whole wheat flour.
Whoever said that comfort food is not healthy?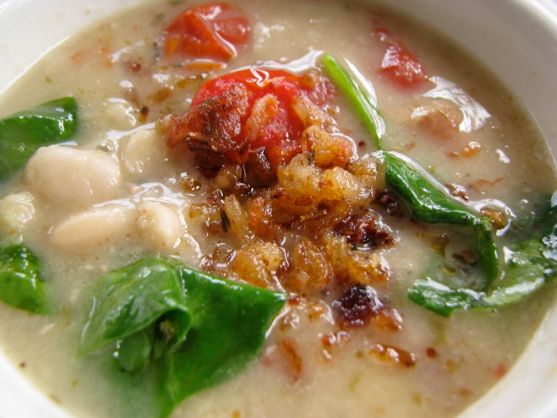 Serve with rosemary bread as seen below.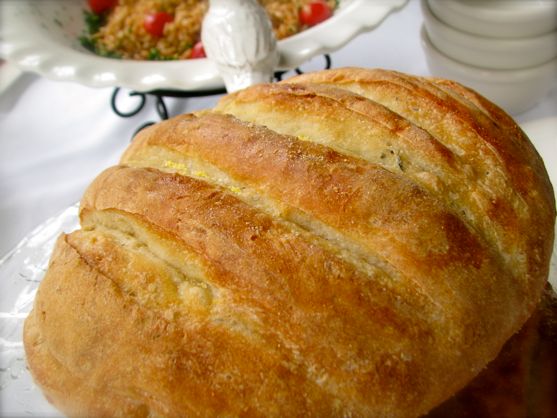 Bean Soup with Bacon and Crunchy Rice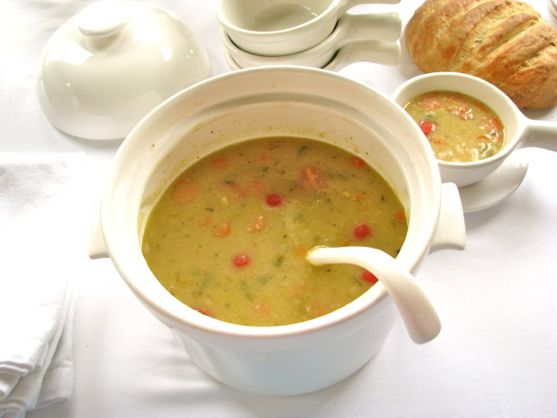 Bean Soup with Bacon and Crunchy Rice is a great way to make bean soup and use left over risotto.
Ingredients
4 cups dried cannellini beans
2 strips bacon
4 cups chicken broth
1 medium white onion, diced
4 cloves garlic, chopped
2 leeks, sliced
2 celery stalks, diced
2 carrots, diced
few fresh thyme sprigs (can use rosemary also)
1 handful chopped parsley
olive oil
bay leaf
1 teaspoon fennel seed (or 1 cup chopped fennel)
pinch of red chili pepper
(reserve leek, celery, carrot tops for first boil of beans)
grape tomatoes (3 per serving)
Left over risotto (optional)
Bacon (optional)
Instructions
sea salt, pepper to season
Soak beans overnight in large pot. Water should be at least 3 inches higher than beans.
Pick over beans, discarding any that are discolored.Bring beans to a boil in water using carrot tops, . Drain beans.
Add to prepared pot below.In large pot, saute bacon until crisp. Remove, chop finely.
Add in onion, carrot, celery (and fennel if using fresh) and cook until nearly soft.
Add in garlic, cook a minutes, but not browning.
Add in chicken broth. Add in beans that were brought to boil and drained)
Add in fennel seed, parsley, bay leaf, thyme, red pepper.
Cook for at least two hours.
Once beans are cooked through, remove ¼ to ⅓ and using a blender or immersion blender, blend to a puree. Return to soup. Remove thyme sprigs, bay leaf
Add in optional crunchy rice and bacon..
Notes
Crunchy Rice
Cook 4 slices bacon
Remove, finely chop, divide.
Add cooked rice to pan and stir fry until crisp.

Assembly:
Ladle bean soup into individual bowls. Add in 3-4 grape tomatoes, sliced lengthwise to each serving .
Add in some raw spinach leaves to each bowl. Mix. Top with sprinkle pecorino cheese, crunchy rice and extra bacon bits.
Bacon risotto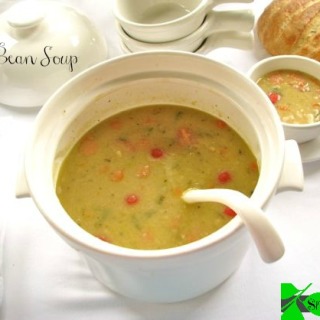 Bacon Risotto
Ingredients
Risotto with bacon
2 tablespoon butter, divided
4 slices bacon, chopped fine
1 medium white onion, or 1 large shallot, finely diced
¾ cup red wine (you can use white wine also)
1½ cups arborio rice
4 cups chicken broth, hot
¼ cup pecorino cheese, grated
¼ cup finely chopped parsley
1 cup grape tomatoes (sliced lengthwise)
Instructions
Saute bacon until crisp. Remove any bacon residue and bacon grease from pan. Save 1 tablespoon of bacon grease.
Saute onion in bacon grease until soft. Add butter if necessary.
Add rice until toasted. Add wine and cook for a few minutes.
Heat broth in a large saucepan on stove and add in very hot broth, one ladle at a time until each ladle has been incorporated.
Add in olive oil, 1 tablespoon butter, pecorino cheese, stir.
Add parsley and tomatoes.
Notes
Crunchy Rice
Cook 4 slices bacon
Remove, finely chop, divide.
Add cooked rice to pan and stir fry until crisp.

Assembly:
Ladle bean soup into individual bowls. Add in 3-4 grape tomatoes, sliced lengthwise to each serving .
Add in some raw spinach leaves to each bowl. Mix. Top with sprinkle pecorino cheese, crunchy rice and extra bacon bits.
3.2.2885