This dish will be featured on So So Simple Food with other pasta dishes as part of Presto Pasta Nights on Friday, April 13, your lucky pasta day!
This is not an ordinary sweet potato dish, nor is it an ordinary lasagna. It's a combination of sweet potatoes, four cheeses, shallots, and thyme. I baked this in a cast iron pan because I wanted to be able to cut this into wedges and serve as a side dish, but you can bake it in a regular lasagna pan.
Sweet potato lasagna has made it's way to this site before. This post made with homemade buckwheat noodles  gets so much traffic that I decided to do bring you a optional ricotta and goat cheese version. This might just top that first version, because it's a little creamier and the tang of the goat cheese is very complimentary to sweet potatoes.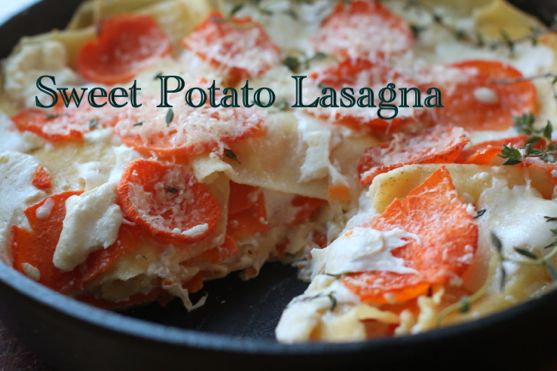 Easy enough to make, but it didn't hurt to have some help from Oxo. A few weeks ago I received an Oxo handheld mandolin in the mail and the first thing I thought  to slice were sweet potatoes. That's how this new version was born. Once  sliced and parboiled (or roasted), the potatoes were ready to layer.
The best thing about this one is how easy it is. It has a lock on it (which is good for me) and three positions, which is enough for just about anything in the kitchen. I used the mandolin for this potato soup, and it worked like a charm slicing thicker potatoes and thinner leeks.
Even if you have a mandolin, you will probably find yourself using this hand held version a lot more. The convenience and ease is wonderful. There is a place underneath to rest the mandolin over a bowl and slice right into it.
Oxo Hand Held Mandolin Give Away (USA only, Contest Closed)
WINNER ANNOUNCED: Amy Marantino won. Number 1 was chosen by Random.org.
Only Requirement: Enter the giveaway by leaving a comment telling me your favorite kind of lasagna or sweet potato dish.
Enter a second time by tweeting this giveaway.
Enter a third time by pinning this recipe to Pinterest.
Enter a fourth time by subscribing to Spinach Tiger.
Each entry must be a separate entry. Make sure I have your email address. Winner will be announced Monday, April 16  on twitter and on this post.  Oxo has already provided the mandolin and it will shipped out immediately.
This is a sponsored giveaway. I received two hand held mandolins from OXO.
Four Cheese Sweet Potato Lasagna is unique Fall expression of something Southern, something Italian.

Sweet Potato Lasagna Pie with Ricotta Cheese and a Mandolin Giveaway
Prep time:
Cook time:
Total time:
Sweet potato lasagna pie layered with 4 cheeses is a perfect lunch, side or light dinner.
Ingredients
Extra large cast iron pan or lasagna baking dish.
1 package lasagna noodles (you will have noodles left over)
3 large sweet potatoes, peeled
6 shallots, finely chopped
1 tablespoon unsalted butter
1 pound ricotta cheese
¼ teaspoon freshly ground nutmeg
1 cup mozzarella cheese, shredded
½ cup goat cheese, divided
½ cup parmigiano reggiano cheese, freshly grated (can substitute pecorino)
2 tablespoons Italian parsley, finely chopped
1 egg
sea salt
black pepper
fresh thyme for garnish
Instructions
Boil water in a large pot for lasagna noodles. Cook 3 minutes less than suggested time. Drain. Set aside.
Slice potatoes with mandolin at a medium thickness.
You can either boil or roast the sweet potatoes. Boil slices in pot of boiling water for about 2-3 minutes. Drain and paper towel dry. You can roast in oven at 375 for 10 minutes, turning once. I prefer roasted.)
In a small frying pan, saute butter and shallots until softened.
Mix ricotta cheese and ¼ cup goat cheese with parsley, one egg, salt and pepper, nutmeg, half of the parmigiano reggiano cheese.
Assemble: Layer pasta, ricotta cheese, sliced sweet potatoes, top with a small amount of the reserved shallots, pinch fresh thyme, mozzarella cheese and ¼ cup of goat cheese randomly.
You will make three layers.
The final layer will be covered lasagna noodle, mozzarella cheese, goat cheese, sweet potatoes and fresh thyme.
Bake for 30 minutes. Add Parmesan cheese. Bake another 10 minutes.
Notes
I used a homemade semolina pasta in this dish, but you can use regular lasagna noodles, undercooked by about 3 minutes.